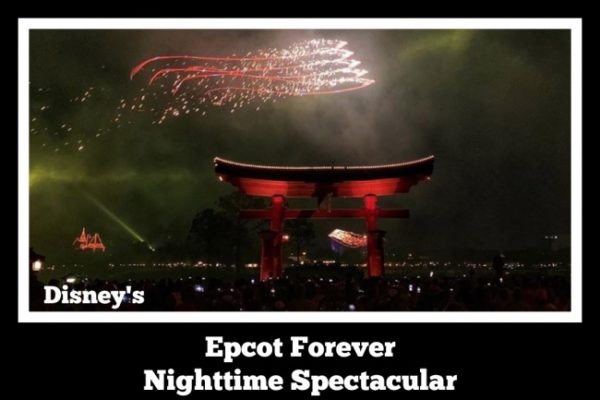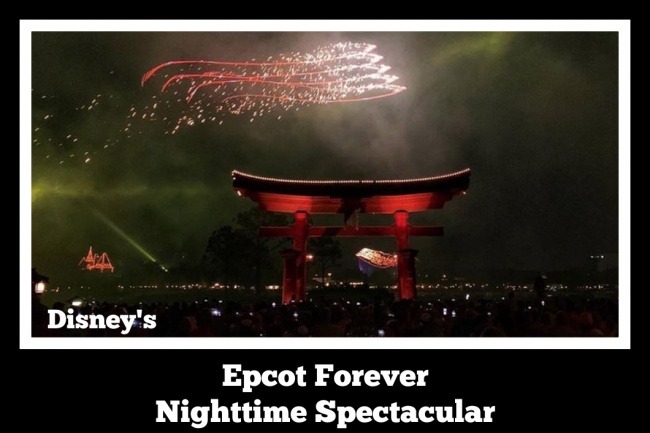 Epcot Forever is a nighttime spectacular in Epcot.
Witness the wonder as the story of Epcot and its next incredible chapter come to life in this new nighttime spectacular. Behold the single "spark of imagination" that started it all. Watch it grow, evolve and transform into an epic nighttime extravaganza that stirs the senses and captures all you love about Epcot—and all that's to come—with dazzling fireworks, stunning laser effects and choreographed kites set to tunes that have become theme park favorites.
EPCOT Forever will conclude its limited-time run on September 28, 2021. Harmonious will replace it on October 1, 2021.
Viewing Locations
Epcot Forever is shot from the middle of World Showcase Lagoon in Epcot. The fireworks are shot off of barges and kites circle around the edges of the lagoon.
Because Epcot Forever is shot in the middle of the lagoon nearly anywhere around World Showcase lagoon will provide an excellent view. When trying to decide where to stand remember that the fireworks are shot off of the barges that the pyrotechnicians put into place in the afternoon. If you can see all of the barges without anything barring your view, you will likely have an excellent view of the show. Another thing to take into consideration is whether or not you hope to exit the park quickly after the fireworks. If you want to leave immediately following the show, it may not be the best idea to be in the America pavilion as it is about as far away from the main exit of Epcot as is possible. If it is possible, we would recommend waiting for a few minutes after the show to allow crowds to disperse before making your way out of the park at a leisurely pace, it is wonderful to walk around Epcot at night with low crowds. There are great places to watch Epcot Forever in nearly every pavilion around World Showcase, a few favorite locations include: between the Mexico and Norway pavilions, in the America pavilion, the Japan pavilion, and the Italy pavilion. Most people recommend finding a viewing location between the Port of Entry shops, straight across the lagoon from the America pavilion. This location provides an excellent view of the show with nothing to block the way, and allows for quick park exit.
Most nights some areas of World Showcase will be roped off because they have been reserved for private dessert parties, weddings, or some other event. If you wish to attend the Frozen Ever After Sparkling Dessert Party you can check that out here. Another option for getting a great viewing location for the fireworks is to make a dining reservation for fireworks time at a restaurant that has a clear view of the lagoon. Remember that dining reservations open up 180 days in advance of your trip. A few restaurants with great views include: Spice Road Table, La Hacienda de San Angel, Tokyo Dining, Monsier Paul, and Rose and Crown. Most of these restaurants pipe in the music from the show, so you miss nothing of the experience.
An expensive option for viewing Epcot Forever is to experience the Fireworks Cruise. With the fireworks cruise, guests view the fireworks from a pontoon boat on the water, a front row seat. If these options sound too expensive to you, there is a decent view of Epcot Forever outside of the park near the International Gateway entrance to the park.
Fun Facts
Epcot Forever debuted on October 1, 2019 as a temporary show bridging the gap between Illuminations and the new HarmoniUS
The show's story line celebrates the history of Epcot through reimagined music paying tribute to music from Epcot's history
Epcot Forever features fireworks, stunning laser effects and choreographed kites
The show lasts about 14 minutes.
Noted conductor and composer Don Harper produced new arrangements of classic Epcot tunes for this show
This show is officially only going to be shown for a very short amount of time, so catch it while you can!

Planning a Walt Disney World Vacation?
For a Free no-obligation quote, contact our sponsor
The Magic For Less Travel
. Services are provided free of charge and their expert planning advice will help you make the most of your vacation time and money.