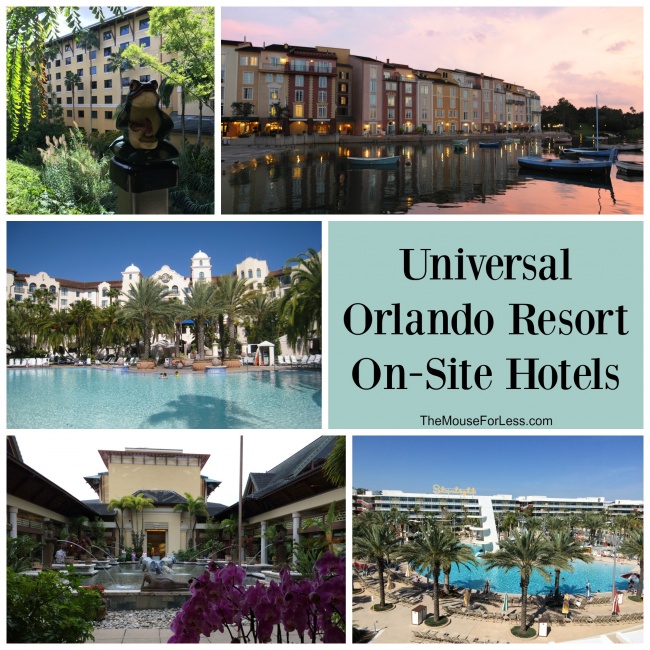 Universal Orlando Resort hotels offer guests the opportunity to stay onsite, just minutes away from the theme parks. Enjoy world-class accommodations and benefits! Choose distinctly-themed resorts across four resort categories – Premier, Preferred, Prime Value and Value.
Premier Hotels Preferred Hotels Prime Value Hotels Value Hotels On-Site Benefits The Mouse For Less Tips

Planning a Universal Vacation?
Universal Orlando Premier Hotels



These Universal Orlando Resort hotels offer the most spacious rooms, first-class service, and unique experiences.
Loews Portofino Bay Hotel – As the name suggests, Loews Portofino Bay Hotel transports guests to the Italian seaside village of Portofino. This town is famous for its picturesque harbor. Guests can walk along cobblestone streets and also dine in outdoor cafes.  In addition, you can relax at one of the hotel's three themed swimming pools. For the ultimate in pampering, book an appointment at Mandara Spa. This location offers massages, facials, and various other body treatments. Portofino offers 750 luxurious rooms and eight restaurants and lounges.
Hard Rock Hotel – Calling all rock stars (or those who want to be pampered like a rock star)! The Hard Rock Hotel features world-class service while immersing guests in the rich history of rock music and memorabilia. One of its unique features is the pool. It features interactive fountains, a sand beach, hot tubs, a waterslide, and also an underwater sound system. Guests can choose from several dining experiences, including the Palm Restaurant, The Kitchen, and the Velvet Bar. Hard Rock offers 650 spacious rooms.
Loews Royal Pacific Resort – Surrounded by swaying palm trees and beautiful waterfalls, the Loews Royal Pacific Resort will infuse guests with the sights and sounds of the Pacific islands. After a long day at the parks, take some time to enjoy the lagoon-style swimming pool.  You will also appreciate the water play area for children, hot tubs, and beach volleyball area. Guests can dine at an authentic Polynesian luau. You can also toast to fabled explorer Jake McNally at Jake's American Bar, or dine at the lobby sushi bar. Royal Pacific has 1,000 rooms and suites.
Universal Orlando Preferred Hotels

These Universal Orlando Resort hotels offer a perfect blend of convenience, amenities, and affordability.
Loews Sapphire Falls Resort – Loews Sapphire Falls offers a Caribbean-themed paradise.  It is built around a tropical lagoon and sparkling waterfall. The on-site hotel features a 16,000 square-foot zero-entry pool with a white sand beach, water slide, cabanas, and a fire pit. Enjoy Caribbean dining at the full-service restaurant. You can also kick back in the lobby lounge offering a tapas-style menu and rum tastings.  There is a pool bar, and grill. Sapphire Falls provides a quick-service marketplace as well as 24-hour room service. Sapphire Falls offers 1,000 rooms.
Universal Orlando Prime Value Hotels


Offer guests family suites, fun touches, and affordability.
Universal's Cabana Bay Beach Resort – Cabana Bay Beach Resort evokes the classic, retro-feel of the 1950s and 60s beach resorts. This hotel features two large pools, a lazy river, and a bowling alley. It also has a few dining options such as Starbucks, lobby and pool bars, and a table service restaurant in the bowling alley. Cabana Bay also offers the most rooms on property: 900 rooms and 900 family suites (1,800 rooms total).
Universal's Aventura Hotel – Aventura Hotel features views of all 3 Universal parks and is walking distance to them as well. Choose from a standard or deluxe guest room. You can also stay in a kids' suite which sleeps six adults comfortably. Enjoy dinner at Bar 17 Bistro with stunning views of the theme parks. In addition, you can grab a quick meal at Urban Pantry, or grab your favorite Starbucks treat at the on-site Starbucks.
Universal's Value Hotels

Universal's Endless Summer Resort –  Surfside Inn and Suites and Dockside Inn and Suites
Universal Orlando Resort offers two high-quality, high-value hotel options in the form of Universal's Endless Summer Resort. You will find the Surfside Inn and Suites and Dockside Inn and Suites. These resorts are for families looking for theme park thrills, exclusive benefits, and a seamless Universal Orlando Resort experience.  The room pricing starts at less than $100 per night.  The hotels will feature a combined  2,800 guest rooms.  This includes 1,450 two-bedroom suites designed to accommodate families of all sizes. Both options will be value-driven, with nightly rates as low as $79 per night. The 2 Bedroom Suites will also sleep six for as little as $131 per night.
Guests will enjoy a relaxed and comfortable vibe. Fun surf and beachy details will be woven in throughout the Surfside Inn, and Suites & Dockside Inn and Suites experience. Surfside Inn and Suites opened June 27, 2019. Details for the opening of its sister property, Dockside Inn and Suites, will be announced at a later time.
Universal On-Site Hotel Benefits
Universal Orlando Resort on-site hotel benefits help you make the most of your vacation time. Stay at an on-site hotel and enjoy exclusive theme park benefits you can't get by staying anywhere else! Enjoy great dining options as well as transportation to the parks. You'll also find fantastic recreation options and unique shopping. You can choose the tropical relaxation at Loews Royal Pacific Resort. Find fun and excitement at the Hard Rock Hotel. Enjoy the laid back elegance at Loews Portofino Bay Hotel. Savor the Caribbean-inspired surroundings at Loews Sapphire Falls. Cabana Bay Beach Resort has classic fun and standard, as well as family suites available. Universal's Aventura Hotel has modern simplicity and style. Universal's Endless Summer Resort – Surfside Inn and Suites and Dockside Inn and Suites features surf-vibe suites and standard rooms with extra affordability.
Universal Orlando Resort's On-Site Hotel Benefits Include:
Premier Resorts* Benefits Include:
Skip the regular Lines for free with Universal Express Unlimited ride access.
Priority Seating at select Universal Studios and Islands of Adventure theme park restaurants. Also, receive first available seating at select Universal Orlando CityWalk restaurants.
*Premier Resorts include Loews Royal Pacific Resort, Hard Rock Hotel, and Loews Portofino Bay Hotel
The Mouse For Less Tips
All Universal Orlando Resort hotels are conveniently located within walking distance of Universal's amazing theme parks. They also offer incredible guest benefits, including complimentary transportation to the theme parks and Universal CityWalk.  In addition, all guests staying at an on-site hotel receive early park admission to the theme parks, resort-wide charging privileges with their room key and much more.
Guests who stay at Loews Portofino Bay Hotel, Hard Rock Hotel, and Loews Royal Pacific Resort receive complimentary Universal Express access to bypass the regular lines at participating attractions in Universal Studios and Universal's Islands of Adventure.
All of the on-site resorts have one or more restaurants to eat at.  In addition, at Cabana Bay Beach Resort and Aventura Hotel, you can order pizza to be delivered straight to your room.
When you stay at Aventura Hotel, your room key can be used as an entrance pass for select clubs at Universal's CityWalk.
Visit our Amazon Storefront where we have some great gift ideas and deals in our super convenient Amazon affiliate store. The Mouse For Less has put together some great idea lists to help make your holiday shopping a little easier!