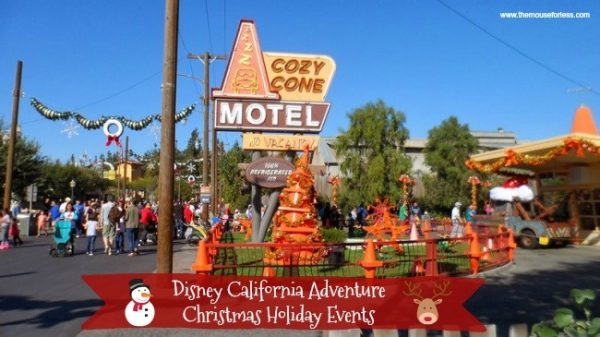 Disney California Adventure Park Holidays
It's a merry and bright time during the Christmas Holiday season at Disney California Adventure. This is the place where traditions are shared, memories are made and new experiences make the spirit of the season shine even brighter.
The following is information for 2018. Updated information for 2019 will be posted when released.
What's New World of Color Disney Festival of Holidays Decor Treats
What's New
Two Cars Land attractions will be transformed for the first time this holiday. Luigi's Rollickin' Roadsters becomes Luigi's Joy to the Whirl and Mater's Junkyard Jamboree becomes Mater's Jingle Jamboree. Mater and Luigi add even more cheer to the seasonal fun by singing new holiday tunes for the occasion.
World of Color – Season of Light
World of Color is currently under refurbishment. There is no word of World of Color – Season of Light will be returning for the 2018 holiday season.
Through January 7, 2018, the World of Color – Season of Light spectacular transforms water, light, story and song into breathtaking holiday magic.  Beloved moments from favorite Disney and Pixar films illuminate a towering wall of mist. Hundreds of sky-high fountains dance to holiday music while glistening snow floats across the screen. It's a mesmerizing display that stretches across more than 18,000 square feet!
Guests can obtain a FASTPASS for both World of Color shows at the FASTPASS distribution center near Grizzly River Run. Let the Cast Member know your preferred show and time to be directed to the proper FASTPASS machine.
World of Color – Season of Light Dining Packages
Plan an amazing dining-and-entertainment experience that begins with a memorable meal and ends with watching World of Color from a preferred viewing area in Disney California Adventure.
Each dining package includes one full-service, 3-course meal (appetizer, entrée and dessert) from a prix-fixe menu during lunch or dinner, plus a non-alcoholic beverage and one voucher reserving your spot in the World of Color preferred viewing area at Paradise Park.
Guests can choose from one of three restaurants. They are:
Ariel's Grotto
Enjoy a menu  that includes seafood, slow-roasted tri-tip or vegetarian dishes while dining indoors "under the sea" or outdoors on the Paradise Pier waterfront patio.
Pricing
Dinner – starting at $49 for adults; $25 for children (ages 3 to 9)
Please note: Character Dining at Ariel's Grotto is only offered during breakfast and lunch.
Wine Country Trattoria
Become immersed in the heart of Napa Valley or a Tuscan villa while feasting on California- and Mediterranean-inspired dishes.
Pricing
Lunch – starting at $38 for adults; $21 for children (ages 3 to 9)
Dinner – starting at $49 for adults; $25 for children (ages 3 to 9)
Carthay Circle Restaurant
Savor eclectic, Southern California flavors by selecting from a mouthwatering menu of seafood, meat and vegetarian options made with fresh, locally sourced ingredients.
Pricing
Lunch – starting at $46 for adults; $25 for children (ages 3 to 9)
Dinner – starting at $62 for adults; $25 for children (ages 3 to 9)
The reserved viewing areas are divided into clearly marked sections indicated by the name of a dining package restaurant. World of Color Dining packages are available by calling 714 781-DINE. Meal time should be at least two hours prior to the desired show time. Make sure to indicate your preferred show when making reservations.
World of Color –  Season of Light Dessert Party
Reserve your seats for the World of Color Dessert Party and end an enchanted day with a great view. Guests can sit back and relax in our dedicated dining area by the Paradise Pier waterfront, where you'll enjoy decadent desserts and sensational views of World of Color. Each World of Color Dessert Party Package includes:
A sweet and savory dessert selection served with sparkling beverages
Paradise Park reserved seating in the World of Color preferred viewing area, located at Disney California Adventure Park
 Pricing
$79 includes tax and gratuity
The reserved viewing areas are divided into clearly marked sections indicated by the name of a dining package restaurant. Reservations for the World of Color Dessert Party are highly recommended and can be made by calling (714) 781-DINE.
Fun Wheel Challenge
While you wait for the show, play against other Guests for a chance to control the lights on Pixar Pal-A-Round. You just need a Wi-Fi enabled mobile device―no app or download is needed to play!
Get Ready to Play in 3 Quick Steps
Enter the World of Color viewing area.
Open a browser on your mobile device.
Connect to the wireless network, PierGames.
The fun starts 15 minutes before each World of Color show begins. PierGames is only available in the World of Color viewing area and is available 45 minutes before the start of each World of Color show.
Let's Play!
Focus on Pixar Pal-A-Round as it becomes a giant game board. Can you recall the increasingly complex sequences of changing colors? You'll compete against other Guests around Paradise Bay as you enter the colors on your mobile device.
The top player gets to use their device to control the lights on Pixar Pal-A-Round for 30 seconds!
Put on Your Blinking Caps
For even more fun while you play, be sure to activate any of your Made with Magic accessories. You'll be amazed by what happens!
Additional Information
You must be in the World of Color viewing area to access the PierGames wireless network. Fun Wheel Challenge subject to change or cancellation without notice.
Made with Magic
Using the latest interactive technology, special pieces of merchandise will let you Glow with the Show with these Made with Magic products. The merchandise will change to complement and harmonize with what's happening around you, allowing you to become a part of the magic of World of Color. Made with Magic merchandise can be purchased for $25 (tax included) at locations throughout the park, including Off the Page, Seaside Souvenirs and many merchandise carts.
Disney Festival of Holidays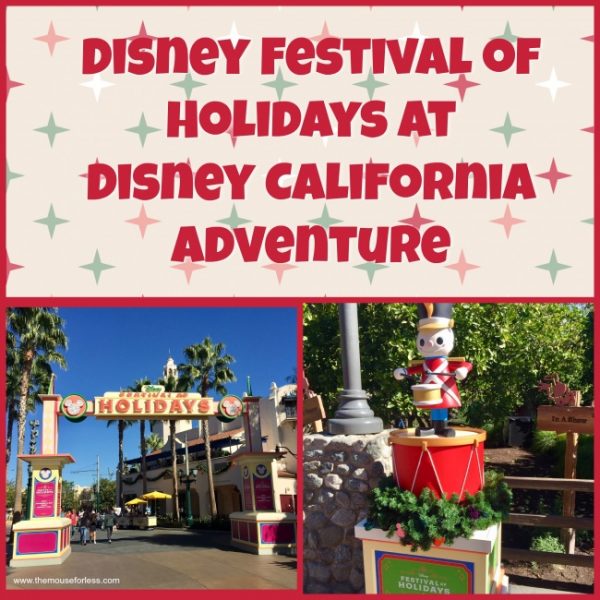 During the Disney Festival of Holidays, discover a holiday celebration inspired by diverse cultural festivities with food, music and dance. This heartwarming holiday celebration is inspired by Christmas/Navidad, Hannukah, Diwali, Kwanza and Three Kings Day.
Festive Foods Marketplace Kiosks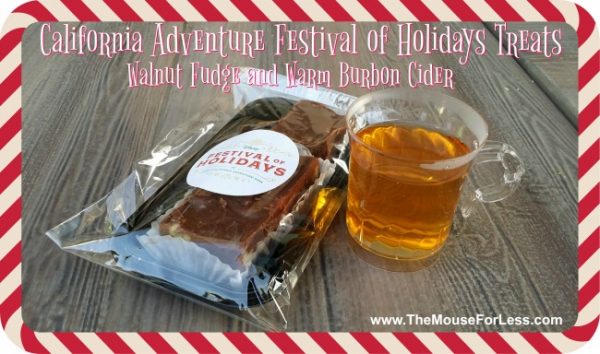 The Marketplace Kiosks have not been announced for 2018. This information will be updated when released.
Nosh your way through holiday favorites in a culinary celebration of different cuisines and traditions. From belly-loving bites to spirited libations and decadent desserts—there's a world of possibilities to please your palate at these Festive Foods Marketplace Kiosks during Disney Festival of Holidays, happening through January 6, 2019 at Disney California Adventure.
The global sounds of special guest musical groups will ring throughout the Disneyland Holidays. Guests will enjoy delicious, internationally inspired food and beverage at 12 themed festival marketplaces.
Chips, Breads & Holiday Spreads: serving up the upper crust of holiday helpings
Making Spirits Bright: celebratory toasts and festive clinks
Joy to the Sauce: seasonal favorites accompanied by savory holiday sauces
Spicy Celebrations: delicious dishes featuring a festive kick
Brews & Bites: frosty beers and tasty snacks
Holiday Duets: perfect pairings curated for your culinary delight
Classic Crocks & Casseroles: fills hungry bellies with comfort foods galore
Blissfully Braised: slow-cooked savory favorites full of flavor
A Twist on Tradition tempting twists on holiday classics
Winter Sliderland: hand-held helpings
Grandma's Recipes: time-honored treats
Festive Holiday Extras: decadently delicious side dishes that pair perfectly with any meal
¡Viva Navidad!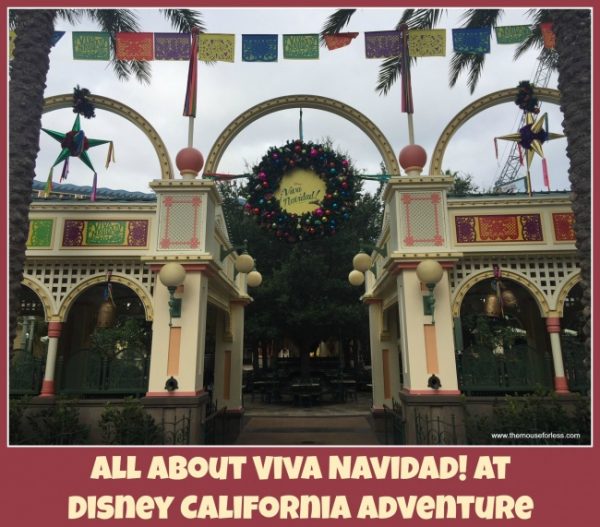 From November 9 through January 6, 2019, Disney ¡Viva Navidad!  Street Party will bring Disney California Adventure to life with vibrant colors, live Latino music, jubilant dancing and dance lessons, character appearances, delicious food and fun activities for the whole family such as crafts and face painting for children.
Disney ¡Viva Navidad! Street Party
Several times each day, the high-energy "Disney ¡Viva Navidad! Street Party" led by the "Three Caballeros" – Donald Duck and his life-long amigos Panchito Pistoles from Mexico and Jose Carioca from Brazil. The infectious mix of Mariachi and Samba musicians, folklórico and carnaval dancers, 12-foot-tall mojiganga puppets and those ambassadors of holiday cheer, Mickey Mouse and Minnie Mouse, will really get the crowd going, as Santa and Mrs. Claus join in to cheer and celebrate ¡Viva Navidad!.
The grand finale of "Disney ¡Viva Navidad!" will be the special celebration of Three Kings Day (Dia de los Reyes Magos) January 6 through 8, 2019. The Día de los Reyes Magos celebration will feature "scenic displays depicting holiday rituals," as well as craft projects for kids and special food offerings.
Three Kings' Day
The Epiphany—or twelfth day of Christmas—is celebrated around the world in many ways. In Mexico, Central and South America the holiday is known as El Día de los Reyes Magos. At Disney California Adventure, we'll mark this festive occasion with enchanting Latin American traditions the whole family will enjoy.
Fanciful Displays
Discover finely crafted figures of the Three Wise Men bearing gifts to Bethlehem. Guests will also be able to learn why, according to traditions throughout Latin America, the sight of children's shoes have been left outside to be magically filled with toys by the Three Kings during the night.
Kids' Activities
Have fun coloring pictures of the Three Kings or design custom crown with sparkling "jewels."
Traditional Treats
Savor a taste of the circular cake known as Rosca de Reyes—and enjoy good luck for the year if your piece contains a secret baked-in surprise!
Disney Characters
Keep an eye out for favorite Disney friends dressed in their holiday best.
Dazzling Décor
Paradise Gardens will be decked out with special festive accents. You won't want to miss the bright and cheerful holiday decorations, featuring colorful hanging papel picado banners, piñatas and more.
Delicious Delicacies
Stop by Paradise Garden Grill to savor the authentic Mexican specialties throughout the holiday season.
Entertainment
Gather together to enjoy the heartwarming delights of live music, dance and holiday-inspired performances.
The Sound: celebrates Kwanzaa and Christmas with soulful, heartwarming a cappella renditions of holiday songs.
Mariachi Divas: a festive spin on classic holiday tunes.
Mostly Kosher: honors Hanukkah while weaving together musical styles of klezmer, jazz, Latin, rock and hip-hop.
Blue13 Dance Company: celebrate Diwali with traditional styles of folk dance that culminate in a Bollywood party.
Phat Cat Swinger: brings its brassy, classy, swinging selections of holiday music presented with a fresh new style.
Holiday Toy Drummers: march to the beat.
Santa and His Helpers
Santa and his clever elves are here for their annual visit and you're invited to join the merry-making! The elves have turned Redwood Creek Challenge Trail into a jolly playground filled with seasonal games and outdoor activities for you to explore.  Come to Ahwahnee Camp Circle near the entrance of Redwood Creek Challenge Trail for a visit with Santa. You'll be able to take pictures and have a chance to discuss how good you've been this year. Be sure to sign Santa's nice list to discover your secret elf name!
From December 25 until January 6, 2019, Santa Goofy will be at Ahwahnee Camp Circle to pose for photos and sign autographs.
When you enter Redwood Creek, be sure to pick up an activity map that will guide you to all the elfish games. Head around to the different sections of the Trail and track how many decorations and toys you can find along the way. When you're done, bring your map back to discover which type of elf you are.
Holiday Decor
Buena Vista Street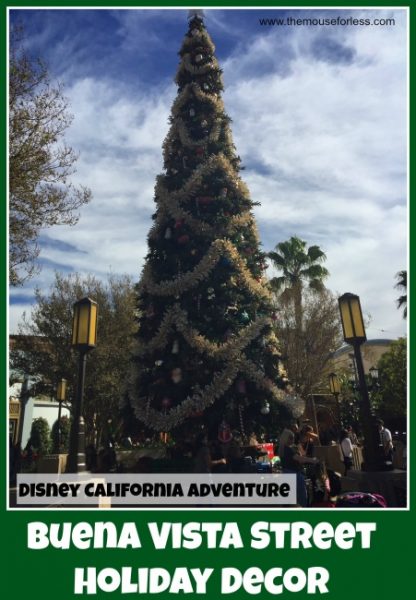 Buena Vista Street will be decked out in vintage-style ornaments and decor, with Disney California Adventure's 50-foot-tall Christmas tree going up in Carthay Circle. All of the tree's decorations are large-scale replicas of actual decorations that would've been on a Los Angeles Christmas tree in the 1930s. The oversized Red Car Trolley ornament features Mickey and Minnie, and a smaller version of the ornament is available for purchase in the park. Under the tree will be custom-made 1/16th-size train chugging along with sound and lights, and all sorts of vintage toys for display, from a tin robot to a blimp and other hidden surprises from the 1930's time period. Even Mickey and his friends will sport a retro holiday look. And don't forget to pick up a Holiday edition of the "Buena Vista Bugle" or stop by Carthay Circle Restaurant and Lounge and sip a "Poinsettia," a cool glass of Cointreau, cranberry juice and Champagne garnished with a twist or orange zest.
The Buena Vista Street Holiday Entertainment
The Buena Vista Street Community Bell Ringers will perform as they wander up and down the street in a ring-along, sing-along encouraging guests to join in by singing familiar carols and ringing in the season. The bell ringers will also participate in the nightly tree lighting.
Tree Lighting
The tree on Buena Vista St. will be light daily from November 9 to December 30 at 4:55 p.m. outside Elias & Co. Here holiday cheer and festive decorations fill the air, as you watch in wonder as this towering tree twinkles to life with a kaleidoscope of colored lights, hundreds of whimsical ornaments and swags of gleaming garland.
Cars Land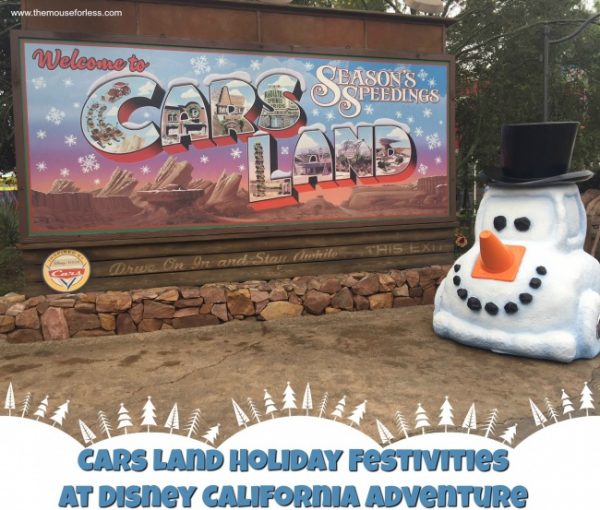 In Cars Land, each address along Route 66 – Flo's V-8 Café, Fillmore's Taste-In, the Cozy Cone Motel, Luigi's Casa della Tires – will feature wacky holiday decorations reflecting the personality of the "Cars" character who lives there. Mater has a nine-foot-tall tree made of tires with an arching sparkplug on top. The Cozy Cone Motel's tree is made of orange traffic cones and powered by a battery. Luigi and Guido added holiday flair to the red, white and green color scheme of their shop—the colors of the Italian flag. Sarge sports a six-foot-tall, red, white and blue tree with a military star on top and a large patriotic display. Fillmore's tree is adorn with peace signs and a car angel at the top. And Flo's shiny tree has a music theme! Around almost every corner of Cars Land, you'll discover new imaginative decorations and surprises — even the 20-foot-tall tree at the courthouse has a hubcap for every ornament. The courthouse statue of Stanley, the founder of Radiator Springs, is adorned with a Santa hat and a big bag of rims, wheels, accessories and other goodies for all the good residents of Cars Land. Air filter garland with snowflakes constructed of wrenches is strung up over Route 66. Be sure to stop in Cozy Cones Motel, where Sally has a gingerbread replica of the Motel in the lobby area.
Attractions
For the holiday season, two attraction in Cars Land will have their own fun holiday take. Luigi's Rollickin' Roadsters becomes Luigi's Joy to the Whirl and Mater's Junkyard Jamboree becomes Mater's Jingle Jamboree. Mater and Luigi add even more cheer to the seasonal fun by singing new holiday tunes for the occasion.
Holiday Characters
Be on the lookout for Cars Land's version of a snowman, Snowy the Snow Car at the entrance to Cars Land. You won't want to miss a photo op with this endearing, seven-foot automotive holiday friend. And of course, a holiday visit to Cars Land is not complete without saying hello to Santa Mater outside the Cozy Cone Motel where he waits to meet with guests!
Pixar Pier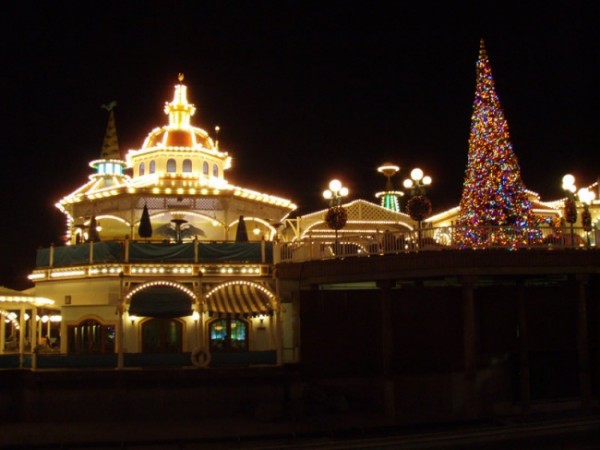 The holiday scene along the Paradise Bay boardwalk includes a beautifully decorated Christmas tree and lampposts decked out with seasonal wreaths. Plus, the lights on the Pixar Pal-A-Round on Pixar Pier will are specially programmed for the holidays.
Holiday Treats
Hand Made Candy Canes
This much anticipated treat is an annual favorite during the Disneyland Holidays and can be found on Buena Vista Street at Disney California Adventure' Trolley Treats on select days during the holiday season. Visitors line up in the morning at Trolley Treats to receive wristbands with the date and batch time on it, which can be redeemed when the candies are ready. You must be present in person to obtain a wristband. Each wristband will entitle the bearer to one candy cane, but guests must pick it up by 4:00 or the candy cane goes to someone in the standby line. Candy makers usually make three batches of 40 treats each or about 120 candies each day. These are large candy canes, weighing in at 5.25 ounces. Dates are subject to change and updates will be added as they become available.
2017 Candy Cane Dates
Trolley Treats at Disney California Adventure
November 25
November 28
December 2
December 5
December 7
December 9
December 12
December 14
December 16
December 19
December 21
December 25
See dates for candy cane schedule at Disneyland.
Sweets and Treats
Special food and beverages are available throughout the Disney California Adventure. Be on the lookout for treats like holiday krispies, candy cane beignets, peppermint ice cream, holiday cookies, brownies, and Yule logs. Also popular are popcorn buckets, drink steins, and more.