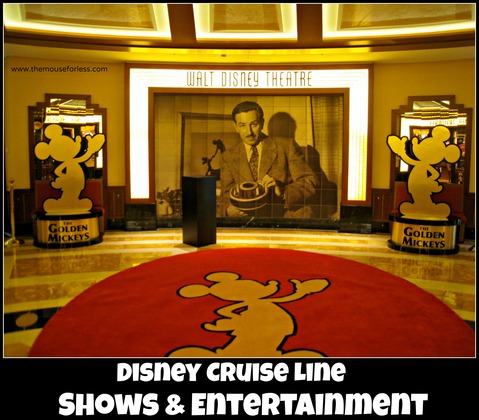 Entertainment abounds on the sea with Disney Cruise Line. Through live shows, deck parties, movies, and character experiences, Disney Cruise Line provides many opportunities for families to bond and have fun together on board the ship.
Disney Cruise Line Entertainment – Theatres
Buena Vista Theatre – (All 4 Disney ships) The Buena Vista Theatre is the place to go to see first-run films, including 3D films, plus other movies.  It is decorated in the Art Deco style of the 1920s and 1930s.

 Order some snacks from room service and fill up some sodas or coffee on the top deck for your movie treats.
Walt Disney Theatre – (All 4 Disney ships) Decorated in the styles of the 1930s and 1940s, the Walt Disney Theatre is the place to see Broadway-style shows as only Disney can bring them to sea. This is also the place to see Movie PremEars (Disney movie premieres at the same time as or before they are making their debut back home).  Not to be underrated, there is visiting guests who put on some spectacular shows here as well.   The Walt Disney Theatre is equipped with Disney Digital 3D and is top of the line Disney Cruise Line Entertainment.  Make sure to visit the theatre at least once, or every night as many guests do.
Disney Cruise Line Entertainment – Live Shows
All Aboard: Let the Magic Begin – (Disney Magic) – cruises of 7 or more nights) The many activities on board the ship are covered in this entertaining show that also gives tips on different ways to maximize a cruise vacation on the Disney Magic.

Beauty and the Beast – (The Dream) – The tale as old as time comes to life in an Broadway caliber enchanting spectacular while you are off sailing in the great wide somewhere.
Disney's Aladdin – A Musical Spectacular – (Disney Fantasy) Enjoy this fast-paced Broadway-style production based on the Disney animated movie, Aladdin. Laugh along with the Genie's jokes as Aladdin goes on to save Agrabah.
Disney's Believe – (Disney Fantasy, Disney Dream) When Dr. Cornelius Greenway forgets his daughter's birthday, his daughter (Sophia) makes a special wish. Genie from Disney's Aladdin shows up to make Sophia's dream come true. There are more than 20 Disney characters in this show.
Disney Dreams…An Enchanted Classic – (Disney Magic, Disney Wonder) tells the story of Anne Marie. Anne Marie is a little girl who just can't believe. One night, she is visited by the Blue Fairy, Peter Pan, and someone very special, and they all have a story to tell.  Who will that special guest be?
Disney Wishes – (Disney Fantasy) Follow best friends as they go to Disneyland for their high school graduation celebration. Not knowing what will happen after high school, they wish to go on the "Ride of Their Lives". Throughout their journey, the teenagers are led by several Disney characters.
Frozen, The Musical Spectacular – (Disney Wonder) Enjoy the full length retrelling of Disney's hit movie Frozen, where a special love between two sisters is enough to get them through after the tragic loss of their parents.  Watch for lots of frozen side effects in this spectactular show.
Remember the Magic: A Final Farewell – (Disney Magic and Disney Wonder – cruises of 7 or more nights) Enjoy this farewell show that brings together many of the memorable moments from the different shows seen during the voyage.
The Golden Mickeys– (Disney Wonder & Disney Dream) The Golden Mickeys is an award show that celebrates the music of Disney films. Because the Master of Ceremonies fails to show up, the stage manager is left to host the show. Watch as he learns that dreams really can come true.
Tangled – The Musical – (Disney Magic) – Be transported to enchanted world of Rapunzel, Flynn, Maximus and all their friends and enemies.    This productions includes favorite songs from the movie as well as original songs created just for this spectacular, that follows the plot line of the movie, with just a bit of a twist.
Twice Charmed – An Original Twist on the Cinderella Story – (Disney Magic – cruises of 7 nights or more) Twice Charmed – An Original Twist on the Cinderella Story starts where the original Cinderella movie ends. Only, there is now a new character named Fairy Godfather. When the Fairy Godfather promises Cinderella's stepmother that one of her two daughters will get a wedding proposal from the prince, the whole story changes. This musical contains six original songs.
Celebrity Visitors –  Disney books a variety of entertainers, magicians, comedians, artisits, to entertain you.
Disney Cruise Line Entertainment – Deck Parties
Whether for a sail-a-way celebration or to party as a pirate, deck parties are a fun way to join in the action. There is more information on the different deck parties available on our Deck Party page.
Disney Cruise Line Entertainment Movies
In addition to the two theatres mentioned above, you can catch movies and some times some sports games on the top deck above the pool with the funnelvision.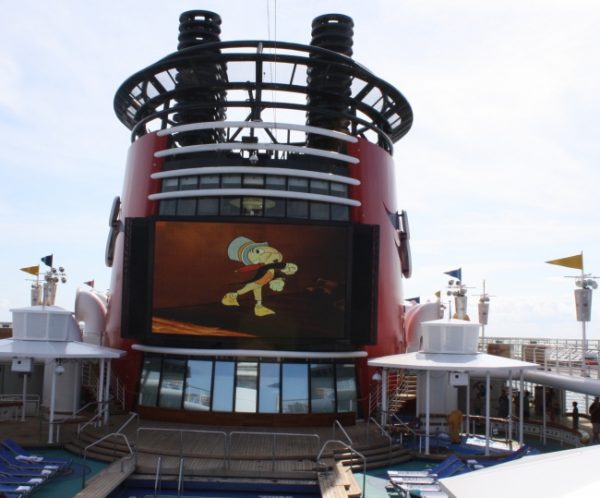 Disney Cruise Line Entertainment -Character Experiences
What can Disney Cruise Line offer you that no other cruise line can? A chance to create memories with Disney characters. Because the characters love to cruise, too, you don't have to go to a Disney Park to see them. All cruises end with a final farewell reception, so you can get a final hug and picture of your favorite character.   Some events require tickets, check with guest services, if not plan to arrive at these events early as the lines grown long.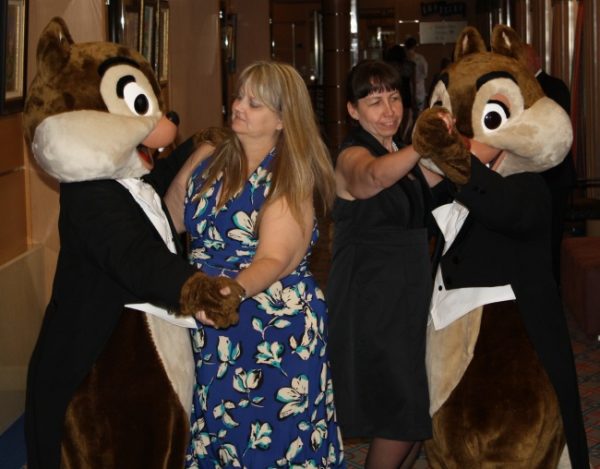 Disney Cruise Line Entertainment – Lounge Games
Check your daily naviagator to see what fun games are being offered in the lounges from trivia and Family (or group of cruise mates) Feud to night time fun with Match your Mate.
Disney Cruise Line Entertainment in the Dining Room
Do not count your wait staff and the venue itself in the dining rooms out for some fabulous entertainment!
Disney Cruise Line Entertainment – live music
Check your navigator for times for live music in the lounges, by the adult pool and in the lobby.    Find a comfy chair, lean back and enjoy!
Disney Cruise Line Entertainment Tips

  Be sure to check your Personal Navigator for times and locations of the various shows and entertainment opportunities.

  Some character greeting locations are designated as photo-only, and no autographs will be allowed.

  Besides the Personal Navigator, you can check for character greeting times and locations by calling 7-PALS from your stateroom phone, or you can check the message board in the Lobby Atrium.