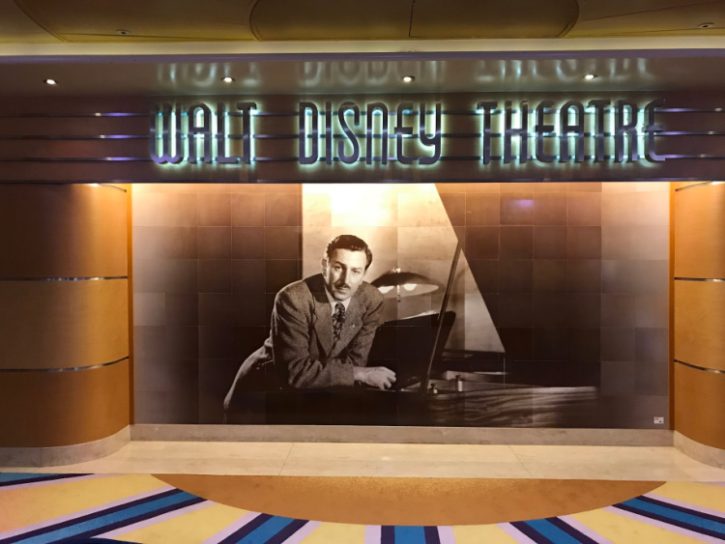 Disney Cruise Line Entertainment provides many opportunities for families to bond and have fun together aboard each ship. Guests can attend a number of character experiences, live shows, and even a lavish theatre to see movies from Disney throughout the years.
Theatres Live Shows Character Experiences Lounge Games & Entertainment Dinner & A Show The Mouse For Less Tips

Planning a Disney Cruise Vacation?
For a Free no-obligation quote, contact our sponsor
The Magic For Less Travel
. Receive the best prices, free concierge travel planning & a shipboard credit of up to 5% of your cruise price when you book any new Disney Cruise Line vacation with The Magic For Less Travel
Disney Cruise Line Theatres
Walt Disney Theatre
Decorated in the styles of the 1930s and 1940s, the Walt Disney Theatre is the place to see Broadway-style shows as only Disney can bring them to sea. Live shows will be performed twice each evening to accommodate first and second dinner times. In addition to live performances, Movie PremEARS are also offered in the Walt Disney Theatre when a nationwide opening of a film coincides with a sailing. Guests can check their Disney Cruise Line Navigator app to see shows and showtimes.
Although the theatre recalls a bygone era, it is fully equipped to handle complex productions. The 40-foot wide stage and state-of-the-art lighting and sound systems are not to be missed. There are even pyrotechnic capabilities in this theatre!
The Walt Disney Theatre is located on Disney Dream, Fantasy, Magic, and Wonder and is not to be missed. Aboard Dream and Fantasy there are 1,340 seats, and 977 seats on Magic and Wonder. The Disney Wish and Disney Treasure offer 1200 seats on two levels.Guests can arrive up to 30 minutes prior to show time to find their seats.
Buena Vista Theatre
The Buena Vista Theater is the state-of-the-art movie theater on the Disney Magic, Disney Wonder, Disney Dream and Disney Fantasy. The Buena Vista Theatre is the best place to check out original Disney Classics, 3D motion pictures, and even first run films while sailing across the seas. This theatre is equipped with the best of both worlds, or generations. The Buena Vista is detailed with incredible décor and ambiance of 1920s and 1930s glamour. When the movie begins guests will definitely notice the new-age technology projecting the day's film. Movies are played throughout the day. Check the Disney Cruise Line Navigator app for show times and details.
The Buena Vista Theatre is similar for each of the four Disney Cruise Line ships. Enjoy lavish seating and plenty of legroom while snacking on sweets and treats you can purchase outside the theater. As for viewing, there is not a spot in the house that does not have a good view. When traveling aboard the Disney Fantasy and Dream there are two seating levels to choose from, and 399 available spots. If you are traveling on Disney Wonder or Magic there are 278 seats. Accessibility viewing is available at all theatres, just notify a crew member 10 minutes prior to showtime.

Wonderland Cinema & Neverland Cinema
The Disney Wish and the Disney Treasure  offer two cinemas for movies fans to enjoy. As with the Buena Visa Theater, these two cinemas also offer a variety of films. There are family options throughout the day and current releases in the evening. Wonderland Cinema offers 84 seats and Neverland Cinema offers 86 seats. As with the theaters on the other ships, accessibility viewing is available.
Wonderland Cinema is located on deck 4 forward port side and is decorated with an "Alice in Wonderland" theme. Neverland Cinema is located on deck 4 forward starboard side is is decorated with a Peter Pan theme.
Poolside Movies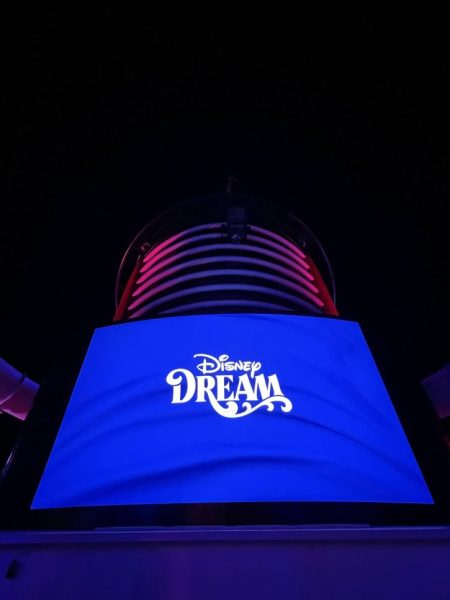 In addition to the heatres mentioned above, you can catch movies, Disney channel shows, and cartoons on the Funnel Vision screen above the top deck pool.  This is a great spot for poolside entertainment and a relaxing day at sea.
Live Shows

Beauty and the Beast – (The Dream) – The tale as old as time comes to life in an Broadway caliber enchanting spectacular while you are off sailing in the great wide somewhere.
Disney's Aladdin – A Musical Spectacular – (Disney Fantasy) Enjoy this fast-paced Broadway-style production based on the Disney animated movie, Aladdin. Laugh along with the Genie's jokes as Aladdin goes on to save Agrabah.
Disney's Believe – (Disney Fantasy, Disney Dream) When Dr. Cornelius Greenway forgets his daughter's birthday, his daughter (Sophia) makes a special wish. Genie from Disney's Aladdin shows up to make Sophia's dream come true. There are more than 20 Disney characters in this show.
Disney Dreams…An Enchanted Classic – (Disney Magic, Disney Wonder) tells the story of Anne Marie. Anne Marie is a little girl who just can't believe. One night, she is visited by the Blue Fairy, Peter Pan, and someone very special, and they all have a story to tell.  Who will that special guest be?
Frozen, The Musical Spectacular – (Disney Wonder) Enjoy the full length retrelling of Disney's hit movie Frozen, where a special love between two sisters is enough to get them through after the tragic loss of their parents.  Watch for lots of frozen side effects in this spectactular show.
Tangled – The Musical – (Disney Magic) – Be transported to enchanted world of Rapunzel, Flynn, Maximus and all their friends and enemies.    This productions includes favorite songs from the movie as well as original songs created just for this spectacular, that follows the plot line of the movie, with just a bit of a twist.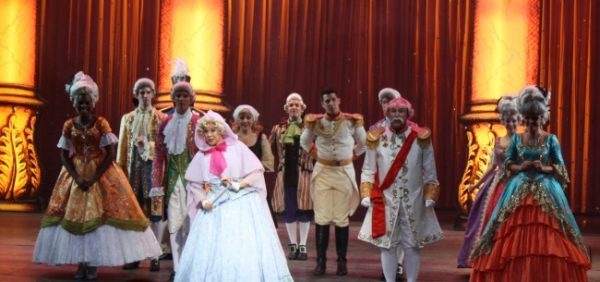 Twice Charmed – An Original Twist on the Cinderella Story – (Disney Magic – cruises of 7 nights or more) Twice Charmed – An Original Twist on the Cinderella Story starts where the original Cinderella movie ends. Only, there is now a new character named Fairy Godfather. When the Fairy Godfather promises Cinderella's stepmother that one of her two daughters will get a wedding proposal from the prince, the whole story changes. This musical contains six original songs.
Disney The Tale of Moana (Disney Treasure) – Follow the journey of Moana onstage for the first time. Characters and songs you know and love from the original film will be featured in this musical.
Character Experiences
What can Disney Cruise Line offer you that no other cruise line can? A chance to create memories with Disney characters. Because the characters love to cruise, too, you don't have to go to a Disney Park to see them. All cruises end with a final farewell reception, so you can get a final hug and picture of your favorite character.   Some events require tickets, check with guest services, if not plan to arrive at these events early as the lines grown long.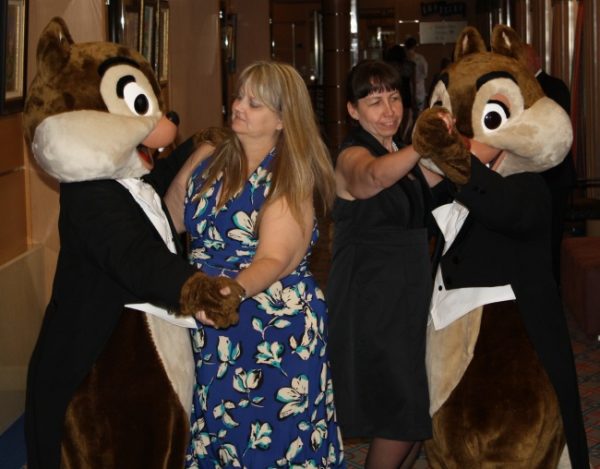 There are a number of character experiences offered aboard any of the Disney Cruise Line ships. For more details about character meet & greets available, click here.
Whether for a sail-a-way celebration or to party as a pirate, deck parties are a character experience like no other. Join in the action where you can sing and dance with your favorite characters. There is more information on the different deck parties available on our Deck Party page.
Lounge Games & Disney Cruise Line Entertainment
Check your daily naviagator to see what fun games are being offered in the lounges from trivia and Family (or group of cruise mates) Feud to night time fun with Match your Mate. Lounges will often offer live musical performances as well so be sure to check the Personal Navigator.
Many of the lounges are open late for adult only entertainment where drinks are flowing and fun is abundant! View our Adult Activities page for nightlife shows and Disney Cruise Line entertainment.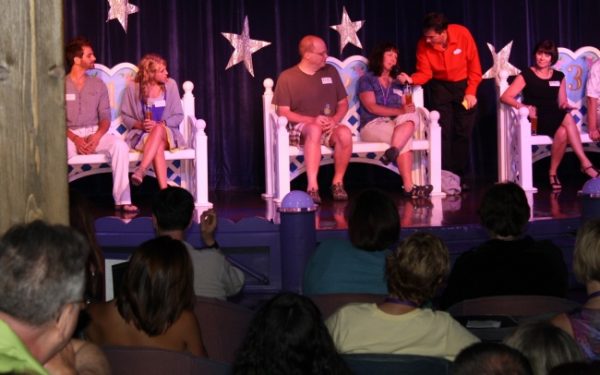 Animator's Palate
Guests can enjoy dinner and a unique show aboard any of the 4 Disney Cruise Line ships.
Drawn to Magic
Sorcerer Mickey leads guests in this musical animated journey where you will see the entire dining room transform from black and white sketches into a spectacular array of colors by the end of your meal. Drawn to magic is presented when sailing aboard Disney Magic or Disney Wonder.
Animation Magic
When guests book a Disney Magic or Fantasy cruise for 7 nights or longer the Animation Magic dinner show is an option. This exclusive dinner is interactive where guests can drew up their own character and watch as it is featured with the rest of the Disney characters.
Undersea Magic
This dinner is all about Finding Nemo! Enjoy as characters like Crush and other friends of Nemo's make visits to each table. The entire restaurants is transformed into an underwater spectacle the family will talk about for years to come! Experience the Undersea Magic aboard Disney Fantasy and Dream.
The Mouse For Less Tips

  Be sure to check your Personal Navigator for times and locations of the various shows and Disney Cruise Line entertainment opportunities.

  Some character greeting locations are designated as photo-only, and no autographs will be allowed.

  Besides the Personal Navigator, you can check for character greeting times and locations by calling 7-PALS from your stateroom phone, or you can check the message board in the Lobby Atrium.
Disney Cruise Line Free Quote
Book your next Disney Cruise Line vacation with our sponsor, The Magic For Less Travel! They are your go-to experts when it comes to planning the most magical Disney cruise experience ever! Start planning your dream getaway and embark on a journey filled with enchantment, fun, and unforgettable memories! Services from The Magic For Less Travel are provided FREE of charge and their expert planning advice will help you make the most of your vacation time and money.

Request your FREE No-Obligation Quote Below
"*" indicates required fields