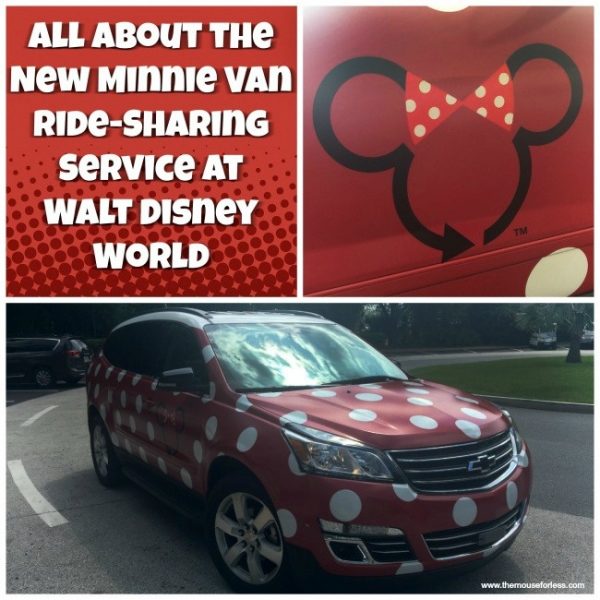 Minnie Van Ride Sharing Service
The Walt Disney World Resort has introduced their brand new Minnie Van ride-sharing service. The Minnie Vans are similar to Uber and Lyft (Disney is actually partnering with Lyft with this venture), but will only be available on Walt Disney World property. With the Minnie Van service, Guests can be taken from point-to-point throughout the Walt Disney World Resort. Guests can arrange their own private Disney vehicle right from their smartphone, and a Disney Cast Member will drive them wherever they want to go around the resort.
Details How It Works To/From Orlando International Airport Tips
Details
Vehicles used for the Minnie Van Service are Chevy Traverses and they come with all the bells and whistles. The Minnie Vans can fit up to six passengers and features a distance-based pricing model, no matter how many passengers you have. The cost will depend on the distance of where you are traveling from and to where you will be going and it will be fluid. For example, if you are looking to travel from Disney Springs to Disney's Contemporary Resort, the cost could potentially be in the ballpark of $33.
Vehicles will include two car seats, so those with little ones will still be able to utilize this service. There will also be a few accessible vehicles available for Guests who require them. Each driver is a friendly Disney Cast Member trained to take you where you need to be and any Guests visiting the Walt Disney World Resort (not just those staying at a Walt Disney World Resort hotel) may utilize the Minnie Van service. The private Disney ride service has been expanded to hotels outside of only the Disney operated locations and includes Bonnet Creek, Flamingo Crossing and Hotel Plaza Blvd hotels.
The Minnie Van service is currently available from 6:30 a.m. until 12:30 a.m.
How It Works
First, you'll need to download the Lyft app onto your mobile device. You can then open it from anywhere at Walt Disney World Resort and select the Minnie Van service option. From there, you'll need to follow these steps:
Confirm your current pickup location.
Enter your Walt Disney World Resort destination and tap "Request."
The app will display a map tracking the vehicle en route and give you an identifying vehicle number to help you spot your car.
The best part is that since you are using the Lyft app, you can request your ride from your smartphone and pay right there conveniently through the app.
Minnie Van Service to/from Orlando International Airport
Now, guests staying at any Walt Disney World Resort hotel can also use Minnie Vans for travel to and from Orlando International Airport. Each Minnie Van can hold up to six passengers and six pieces of luggage. Up to three complimentary car seats can also be provided and ADA accessible vehicles are available.
The cost to use this service to the airport is a flat $155, no matter how many Guests, gratuity not included. The cost for the Minnie Van Airport Shuttle will be charge to your room. Please note Minnie Van Airport Shuttles are not bookable online or via the Lyft app.
Those who wish to use the Minnie Vans airport shuttle service must make a reservation by calling 407-WDW-PLAY.
Please note Minnie Van shuttle service to and from Orlando International Airport is also available for the Walt Disney World Swan and Dolphin Hotels, Four Seasons Resort Orlando, Disney Springs Resort Area Hotels (Including B Resort & Spa, Best Western Lake Buena Vista, DoubleTree Suites by Hilton, Hilton Orlando Buena Vista Palace, Hilton Orlando Lake Buena Vista, Holiday Inn Orlando, Wyndham Lake Buena Vista and Wyndham Garden Lake Buena Vista), Bonnet Creek Resorts (Hilton Orlando Bonnet Creek, Waldorf Astoria Orlando, and Wyndham Grand Orlando Resort Bonnet Creek), and Flamingo Crossings Resorts (SpringHill Suites Orlando and TownePlace Suites Orlando)
Arrivals
The pick up location at the Orlando International Airport can be found by the baggage claim escalators. Luggage delivery through Disney Magical Express is not included with the Minnie Van Airport Shuttle service. Luggage is transported in the vehicle and Guests wishing to use this service must retrieve their luggage off the carousel.
Hours of operation for flight arrivals are 7:00 a.m. to 12:00 a.m.
Departures
It is recommended that Guests take part in the Resort Airline Check-In. Guests should have the following information ready:
Date and time of departure
Airline
Flight number
If they are TSA PreCheck
Number of passengers traveling in the Minnie Van
Number of car seats that will be needed
Guests may book Minnie Van service to Orlando International Airport MCO once they have checked in at their resort and up to one day before their flight departs.
Hours of operation for flight departures are 9:00 a.m.-12:00 a.m. Guests will need to catch their Minnie Vans airport shuttle two hours prior to their flight.
Tips from TheMouseForLess:
One good use for these vehicles is for those who maybe have early morning breakfast reservations at one of the Disney Resort Hotels. Now you don't have to worry about how you're going to get there and what time Disney's bus service starts.