Orlando International Airport Travel Information
Orlando International Airport is comprised of 2 terminals with 129 gates. The airport offers free Wi-Fi throughout the public areas of the airport terminal. Orlando International Airport Travel Information can be found at http://www.orlandoairports.net/. The airport code is MCO.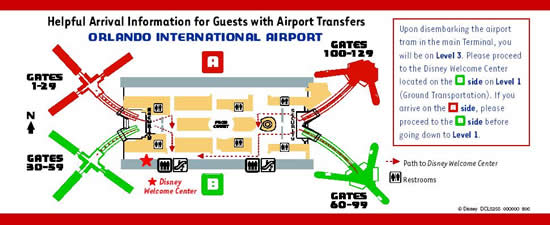 Last minute theme-park shopping is available at the Sea World, Universal Studios and two Disney stores (Disney's "Earport" with park merchandise and the Magic of Disney). If time allows, don't miss some of the specialty stores like Ron Jon Surf Shop, SeaWorld, Harley Davidson, and the Kennedy Space Center store. The airport also has over 20 snack and food vendors and the Hyatt Regency. Orlando International Airport has several restaurants and a bar, including the ninth-floor Hemisphere.
The largest rental car market in the world is represented with all major companies located both in and outside of the airport. For information on Airport car rental options, visit our Car Rental page.
A variety of other transportation options are available from Orlando International Airport including Luxury Sedan, Limo and Van Transfers, and Mears Airport Shuttle.
Orlando International Airport is the third airport to initiate "self-select" security lines at the East checkpoint (Gates 60-129). The program named after the signs used in skiing to denote skill level directs passengers based on their travel needs and knowledge. "Expert" (left lane) for the business traveler, "Casual" (middle lane) for passengers that travel less frequently and are familiar with TSA procedures and "Families and Special Assistance" (right lane) for passengers traveling with small children, the elderly or those passengers who may need special assistance. The lane signs are not easy to spot from the back of the line, so look for them before queuing up.
Free iPhone Web Flight Applications
Airline Apps for the iPhone give users the ability to purchase and change flight reservations, check flight status, check-in and much more, all from their phones. Click on the Airline or Application you want to download for more information.
Before leaving home, be sure to check this airline delay map.