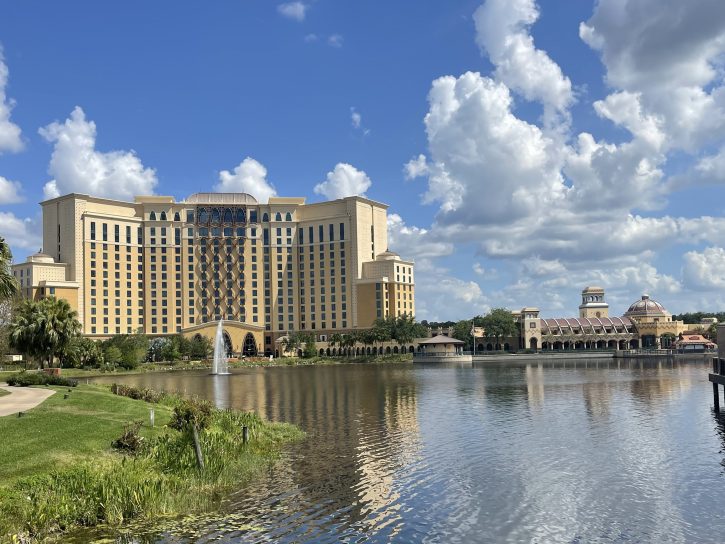 If you are trying to decide if you should upgrade from a Walt Disney World Value Resort to a Moderate Resort, we can help!
Making this decision may seem difficult, but staying at a Disney resort is always a magical experience! No matter whether you stay at a Value Resort or a Moderate Resort option, the Disney difference is certainly prevalent!
Resorts Accommodations Location
Amenities The Mouse For Less Tips
Value Resort vs Moderate Resort
Walt Disney World Value Resorts are perfect for those wanting to stay in a a themed room on Disney property with fun pools and food courts, but at a Value price.  All Walt Disney World Resorts have access to on-site benefits – even the Value Resorts.
Disney Value Resorts
Pop Century Resort
All-Star Music Resort
All-Star Movies Resort
All-Star Sports Resort
Art of Animation Resort.
Walt Disney World Moderate Resorts also offer an immersive room, but the resort also offers a bit more for guests to enjoy such as slides at the pools, table-service restaurants, and even more theming.
Disney Moderate Resorts
Caribbean Beach Resort,
Disney's Coronado Springs Resort
Port Orleans Riverside
Port Orleans French Quarter
The Cabins at Fort Wilderness
Accommodations
Room Size
Standard rooms at Disney Value Resorts each accommodate 4 guests, plus 1 child under 3 in a pack and play crib. Some of the Moderate resorts can accommodate up to 5 guests with the addition of a pull-down bed in certain rooms. The square footage of a Disney Moderate Resort is bigger than a Value Resort.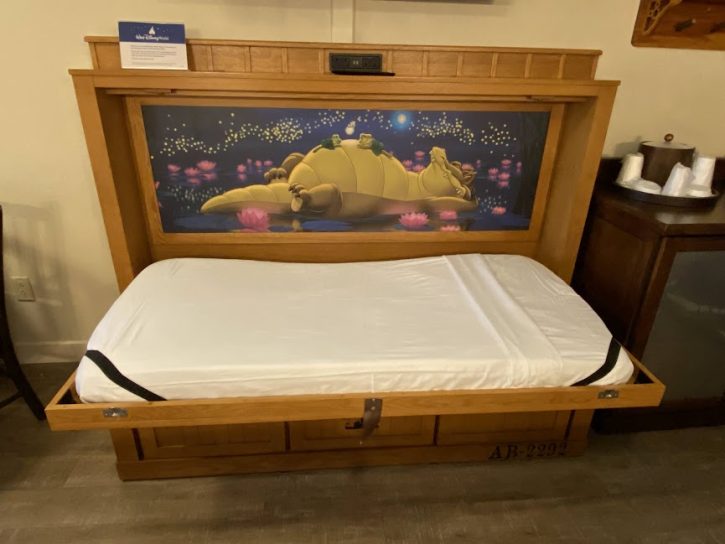 Vanity Areas
In addition, the Moderates have a much larger vanity area and most have double sinks. A larger vanity area is helpful when it's time to get ready in the morning for a day in the theme parks!
Location and Transportation
Boat & Bus Rides
Disney's Port Orleans Resorts and Disney's Fort Wilderness are special in that these Moderate resorts feature boat transportation. Port Orleans has have boat transportation to Disney Springs. But Fort Wilderness has boat transportation to the Magic Kingdom. Transportation can be a great benefit at a Disney resort because the property is so large and it is extremely time consuming to travel from park to park. To stay at a resort that has monorail service or is within walking distance to a Theme Park, you will have to consider one of Disney's Deluxe properties.
The bus stop areas at Moderate resorts are covered, while the bus stop areas at Value resorts are not fully covered. It is a small convenience that may be important to you. Most Moderate resorts have a number of conveniently located bus stops instead of the one bus stop area that is available at the Value resorts. This can save you from walking a long distance to transportation.  At the end of a long day walking through the parks, those few saved steps are important!

Disney Skyliner
Disney's Caribbean Beach Resort offers direct access to The Disney Skyliner, which will take guests to Epcot and Disney's Hollywood Studios. This is a huge perk for guests who stay at this Disney Moderate Resort!
Amenities
Dining Options
When you upgrade from a Value Resort to a Moderate Resort, you also receive additional amenities. Moderate resorts have improved dining options over Value resorts. Value resorts only have a quick service dining location generally in a food-court style setting. Conversely, Moderate Resorts all have a table service dining location in addition to a counter service location. However, Disney's Port Orleans French Quarter is the only Moderate Resort that does not have a table service restaurant. Guests staying at Disney's Port Orleans French Quarter can visit its sister resort, Disney's Port Orleans Riverside Resort to enjoy a table service meal.
Upgraded Pools
The pools at Moderate Resorts are upgraded compared to the pools at Value Resorts. The Moderate resort pools all have pool slides, whereas the Value resorts will typically have a themed pool, but will lack a slide. In addition, the Moderate resort pools have a hot tub while the Value resorts don't. After a long day of walking in the park, a hot tub may seem like a necessity and not an option.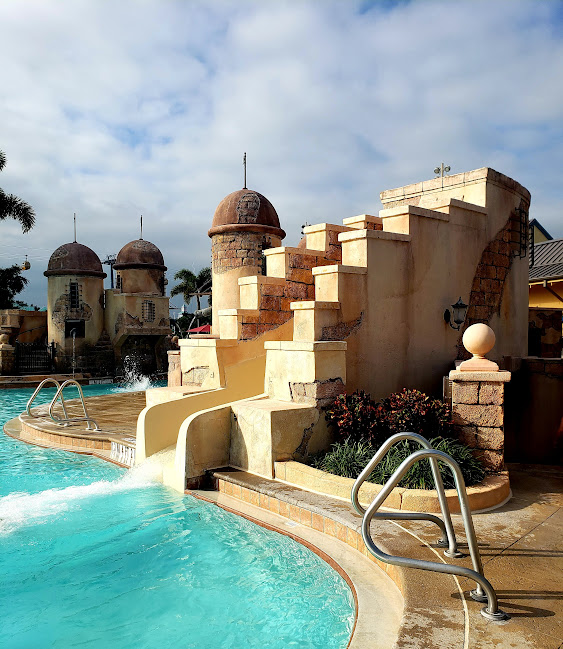 Resort Activities
Moderate Resorts also have more activities than the Value Resorts. To look at the weekly activities at the resorts check out the activity schedule at each resort. There are several differences between Moderate and Value Resorts.  If you are planning some time to relax at your resort, this may be a good reason to upgrade from a Value Resort to a Moderate Resort
The Mouse For Less Tips
Art of Animation Resort and Disney's All-Star Music Resort are the only Value Resorts with a room option (family suite) larger than a Moderate Resort room. Family Suites are larger in size, but do cost more than a typical Value Resort room.
Don't forget to consider how much time you intend to spend at the resort. If you plan to stay in the parks as much as possible, then room size may not be an important feature of a resort, as if you plan to have a non-park day
Transportation is not a consistent benefit when comparing Moderate and Value resorts. Some Moderates have better bus transportation, but others do not.
Do keep in mind that resort dining is not necessarily an exclusive benefit. Any guest can make a reservation to dine at a table service restaurant. It is nice to be within walking distance from your resort room to a nice table service restaurant.
Port Orleans Riverside and Caribbean Beach Resort each have rooms that can accommodate up to five guests. This is the least expensive option for a family of five to stay on-site at a Walt Disney World Moderate Resort.