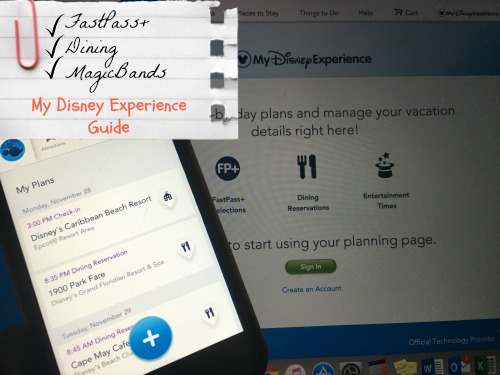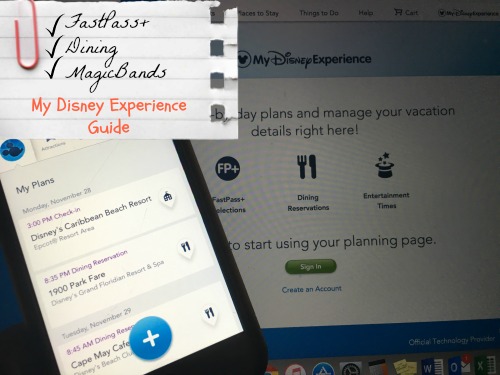 My Disney Experience Overview
My Disney Experience is an online tool that helps guests manage their Walt Disney World vacations. To get started with this tool, begin with this My Disney Experience Overview.
My Disney Experience is a combined website and mobile application that provides one-stop for every phase of a guest's vacation. Guests may use My Disney Experience to get information on all Walt Disney World attractions or characters, reserve dining and other experiences and make FastPass+ selections in advance.  My Disney Experience gives guests the flexibility to plan as much or as little as they'd like to create the exact Disney experience they want.
The My Itinerary section of the web site gives guests a daily view of their plans; here guests can choose to add plans such as resorts, Advance Dining Reservations, and parks or locations they plan to visit on a specific day. My Reservations contains a list of resort and dining reservations, including confirmation numbers. FastPass+ allows guests to reserve and manage FastPass+ reservations. Guests can also use the My Disney Experience system to connect with Family and Friends to coordinate plans and share photos. There is no charge to use the My Disney Experience system.
Guests can access My Disney Experience in two ways. There is an online website for managing your vacation at home. Plus a mobile application helps manage your trip on the go.
To successfully plan a Walt Disney World vacation, begin by creating an account at StartYourDisneyExperience.com. If you already have an ID/password on a Disney website, you can use it to log on to your account.
What My Disney Experience Can Do
Once registered, begin by adding any reservations that you may already have. If you booked your Walt Disney World trip with a travel agent, you received your confirmation number for your resort reservation. You can use our step-by-step guide with screenshots for adding plans to your My Disney Experience account.
Once you link your reservation, you will see any components of your Walt Disney World Disney Resort Hotel Package in your account. Tickets or a dining plan that is part of the package as well as Memory Maker will be there.
Within the application, you can make new dining reservations (or link a confirmation number if you have one). When calling in to make a dining reservation, the Cast Member asks for your email address associated with this account so dining booked over the phone should pull into the system as well.  If it doesn't, you can always add the reservation to your My Disney Experience account.
When your booking window for FastPass+ opens, you will also have the option of booking and changing FastPass+ reservations through MyDisneyExperience. These can be booked beginning at 60 days for onsite guests and 30 days for offsite guests. This is the only tool to use for booking FastPass+ prior to your trip. It is also a great way to make changes or check the times of existing reservations.