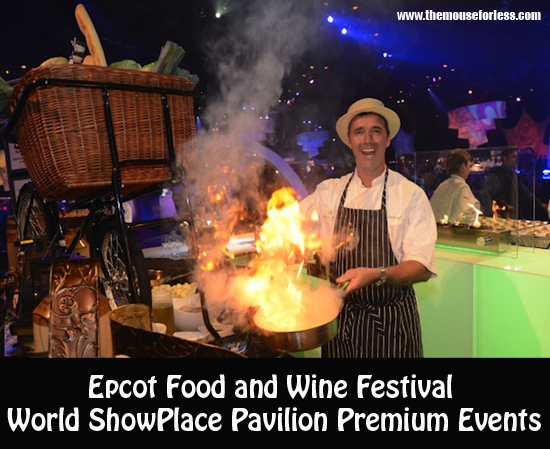 While there are plenty of events included with Epcot admission for the 21st Epcot International Food and Wine Festival, this year's "premium events" include some don't-miss options.
Reservations open to the General Public for booking on Thursday, July 21, 2016 at 7 a.m. ET. (Chase Disney Visa  cardholders, Annual Passholders and Disney Vacation Club member can book with limited availability beginning 7 a.m. July 19.) Call 1-407-WDW-FEST (407-939-3378) or visit the Festival Welcome Center at Epcot Theme Park for additional information and reservations. Additionally, many events can be booked online at epcotfoodfestival.com. Please note that these Epcot Food and Wine Festival special events and experiences require additional admission fees. Space is limited, so be sure to book in advance.
World Showplace Pavilion is located between and to the rear of the Canada and United Kingdom pavilions in World Showcase.
Party for the Senses Rockin' Burger Block Party
Party for the Senses
This is the premier culinary experience of Epcot's Food and Wine festival. Enter World ShowPlace Events Pavilion for a sensational evening wandering among more than 50 tempting tasting stations. Epcot admission required.
Category #1 – Wine View Lounge: Includes a private reserved table, entrance into World ShowPlace Pavilion at 7:15 p.m. a specialty cocktail toast to begin the event, premium bar access, and an artisan cheese station among other amazing offerings. Cost is $329 per Guest, plus tax. Gratuity included.
Category #2 – Reserved Seating: Gives Guests reserved main-floor seating with private table seating. Cost is $199, per Guest plus tax. Gratuity included.
Category #3 – General Admission: Allows guests to explore all 50 tasting stations as they enjoy the sights and sounds of this Party for the Senses. Limited seating may be available. Cost is $179 per Guest, plus tax. Gratuity included.
Where: World ShowPlace Events Pavilion
When: Select Saturdays from 7:30 PM to 10:00 PM during the Festival.
September 23
October 7
October 14
October 21
November 11
Make sure to take a look at the official calendar including featured appearances and presentations.
Themed Nights
Mark your calendars for an epicurean extravaganza with the world's most renowned chefs during the themed nights for the Party for the Senses during the Epcot Food and Wine Festival!
Party for the Senses Featuring Chefs from Disney Springs
On September 23, during this one-time event, dine on an incredible array of dishes from the finest eateries in Disney Springs.
Party for the Senses Featuring Chefs from Disney Parks
On October 21, embark on a flavorful evening while sampling global cuisine with the pros! For one night only, Disney Chefs will gather together to lead Guests on an unforgettable gastronomical journey. Each tasting station will feature dishes that best represent their country, culture and the Disney theme park they call home.
TheMouseForLess Tip: The food and beverage offerings for each Epcot Food and Wine Festival's Party of the Senses is different depending on the Disney chefs and guest chefs for the evening. And, with 25 food stations and 25 beverage stations, each featuring at least three offerings, that's a lot of variety!
---
Call your travel agent or contact The Magic For Less Travel at (888) 330-6201 to book your Walt Disney World stay during this event.