April 1, 2018
Every Easter, the Easter Bunny and his wife, Mrs. Bunny, visit the Walt Disney World Resort for some rest and relaxation in the days leading up to Easter's annual holiday basket delivery. The Bunnies, who have spent most of the year painting eggs and stocking up on jelly beans, will spend their Disney Parks vacation meeting and greeting families at the Magic Kingdom. You won't want to miss meeting them and other special activities that take place in the parks, restaurants and resorts of the Walt Disney World Resort.
Easter Information
Theme Park Easter Activities Easter Extras
Easter Day Dining Activities at the Resorts Easter Religious Services Grand Floridian Easter Egg Display Easter Baskets and Gifts
Theme Park Easter Activities
Magic Kingdom:
Easter Bunny Meet & Greet – Mr and Mrs Easter Bunny are available at Bunny Lane Garden (at the Town Square Courtyard between City Hall and Chamber of Commerce on the left side of Main Street when entering the park) to meet & greet with guests. They will be meeting from 9:00 a.m. until 2:00 p.m. until Easter. PhotoPass photographers will be on hand to take pictures.
Easter Procession – Guests can look for Mr. Bunny to make a special pre-parade appearance along with other springtime characters and dancers, and the Azalea Trail Maids. Typically, Mr and Mrs Easter Bunny are joined by butterflies, flowers and dancing hippos for this procession down Main Street, U.S.A.. Of course, the Bunnies will be unavailable for meet & greets during their pre-parade appearances.
Spring Trolley Show – The citizens of Main Street, U.S.A. in Magic Kingdom park are bursting with excitement now that spring is in the air. Dressed to the nines in bright pastels and with a few new songs in their hearts, they arrive in town on a horse-drawn trolley adorned with colorful bouquets of flowers and ribbons.
The MouseForLess Tip:
When making your Easter vacation plans, plan on arriving at the Magic Kingdom early, especially days the week prior to Easter as the park often closes due to reaching capacity.
Epcot: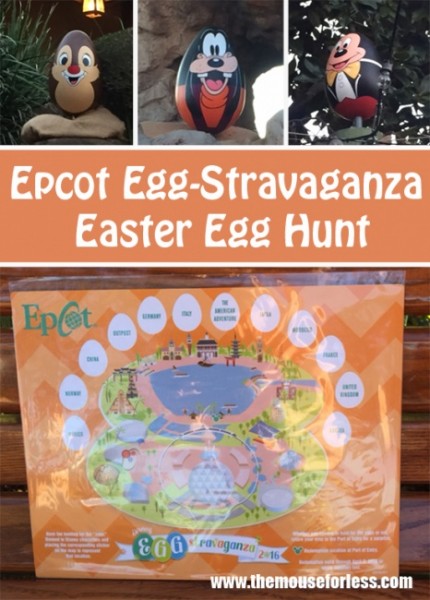 Easter Egg Hunt – Easter Egg Hunt Maps can be purchased at Heritage Manor at the American Adventure Pavilion, Disney Traders, Pin Central, or Port of Entry for $5.99. Once guests have their maps, they will be able to record hidden eggs, themed after Disney characters, by placing the right character sticker in the matching location on the special map. Whether you choose to hunt for eggs or not, return your map to Disney Traders in Epcot and participate in an 'egg-scramble' to pick up your surprise. This year, the fun lasts even longer as Egg-stravaganza will run through the end of the Epcot International Flower & Garden Festival on May 29 (while supplies last).
Sweet Treats: Looking for a sweet treat? You'll find two specialty cupcakes here. At Fountain View pick up a chocolate cupcake with marshmallow filing, buttercream frosting bunny feet and a tail. At Sunshine Seasons, there is a chocolate chip cupcake is filled with chocolate-caramel mousse, topped with buttercream, crushed chocolate cookies and jelly beans.
Easter Day Meals and Buffets
A number of special meals are held at select resort locations on Easter Day. Details for Easter meals are usually announced several weeks prior to the holiday. Holiday meals can be reserved up to 180 days in advance by calling (407) WDW-DINE (939-3463).
During the busy Easter season, many of the Walt Disney World dining locations experience an increase in guest demand. As a result, Disney has implemented seasonal pricing for many of the fixed-price dining locations (buffets and character meals). For more information on seasonal dining prices, visit our Seasonal Dining page.
Restaurants offering Easter dining include:
1900 Park Fare – Disney's Grand Floridian Resort
Easter Brunch 12:45 p.m. – 2:15 p.m.
Buffet Offerings: omelets made to order, Hickory Smoked Ham, Herb Roasted NY Striploin, a Breakfast Burrito Bar, and much more.
The Wave – Disney's Contemporary Resort
Easter Brunch 7:30 a.m. – 3:00 p.m.
Cooked-to-Order Eggs and Omelets: Choice of Onions, Mushrooms, Peppers, Spinach, Swiss, Cheddar, and Feta Cheese
Buffet Offerings: Mini Crab Cakes with spicy Rémoulade; Steamed Mussels with Lemon Grass and Ginger; Thompson Farms Pork Loin with Port Wine and Sund-dried Cranberry Reduction, and Braised Red Cabbage; Tillamook Cheddar and Smoked Bacon Grits; Thick-cut Bacon, Pork Sausage, or Chicken Sausage; Whole-grain Mickey-shaped Waffles; Sweet Potato Pancakes
Assortment of Pastries: A 25-foot assortment of Breakfast Pastries with Chocolate Showpieces
Fresh Local Fruit and Salads: Assortment of Cold Meat, Strawberries, Melons, Organic Citrus, Blackberries, Raspberries, Watermelon, and Honeydew
Cheese Course: with Buffalo Mozzarella, Organic Basil Oil, Toasted Pine Nut Brittle, and a Balsamic Fig Emulsion
Cape May Cafe – Disney's Beach Club
Easter Buffet Breakfast 7:30 a.m. -11:30 a.m.
Cold Offerings: Fresh-cut Fruit, Selection of Cheeses, Yogurt Bar
Hot Offerings: Scrambled Eggs, Frittatas, Pork Sausage Links, Breakfast Potatoes, Smoked Bacon, Mickey Waffles with Accompaniments, Seasonal Vegetables with Hollandaise Sauce, Creamy Cheddar Grits Biscuits with Home-style Sausage Gravy, Hot Oatmeal with Toppings, Hot Apple-Quinoa Cereal
In addition to the normal buffet menu, Cape May Cafe will feature a carving station of Candied Bacon (subject to change)
Bakery Offerings: Assorted Fresh Baked Pastries
Easter Dinner Buffet 4:30 p.m. – 9:00 p.m.
Soups: Cape May Seafood Chowder, Soup of the Day
Carving Station: Roasted Leg of Lamb with Onion Jam, Hand-carved Strip Loin with Horseradish Cream
Cold Offerings: Fresh Fruit Salad in an Orange-Basil Dressing, Selection of Cheeses Hot Offerings: Steamed Mussels, with a side of Tomato Sambuca Broth, Snow Crab Legs, Steamed Clams, Market Fish, Batter-fried Shrimp, Pasta of the Day, Mashed Potatoes, Seasonal Vegetables, Steamed Red Potatoes, Steamed Corn on the Cob
Seafood Offerings: Steamed Snow Crab Legs, Steamed Clams, Steamed Mussels with a side of Tomato Sambuca Broth, Herb-marinated Salmon
Sides: Mashed Potatoes, Steamed Red Potatoes, Seasonal Vegetables
Bread Selections: Assorted fresh Baked Breads from the Yacht & Beach Bakery
Kids Offerings: Macaroni & Cheese, Chicken Drumsticks, Fried Cod Nuggets, Cheese Pizza
Captain's Grille – Disney's Yacht Club
Carving Station: Roasted Strip Loin and Baked Ham with assorted Sauces
Omelet Station: Omelets made to order
Buffet Breakfast Selections: French Toast, Scrambled Eggs, Roasted Potatoes, Buttermilk Pancakes, Sausage and Bacon, Oatmeal and Grits, Fresh Seasonal Fruit Salad, Chef's Selection of Cheeses, Mickey Waffles, Bread Pudding, Seasonal Frittata, Assorted Cold Cereals
Brunch Selections: New England Clam Chowder, Peel-n-Eat Shrimp, Baked Alaskan Cod with Herb Butter, Crab Cakes with House-made Tartar Sauce, Grilled Asparagus with Shaved Parmesan, Tomato-Mozzarella Salad, Roasted Beet Salad with Blue Cheese, Field Greens and Candied Walnuts, Sautéed Haricot Verts with Garlic and Walnut Butter, Home-style Mashed Potatoes
Assorted Bakery Selections: House-made Hot Cross Buns, Assorted Pastries, Fresh Breads, Muffins, Cookies, Brownies
Trail's End Restaurant – Disney's Fort Wilderness Resort
Easter Dinner Menu: Soup of the Day; Chili; Salad Bar; Peel-n-Eat Shrimp; Seasonal Vegetables; Smoked Pork Ribs; Fried Chicken; Assorted Pasta & Sauces; Cheese Pizza; Hand Carved Roasted Meats; Fresh Catch of the Day; House-made Fruit Cobbler; Sundae Bar with toppings; mac and cheese; mashed potatoes, Caesar salad, tomato mozzarella salad, marinated cucumbers, mixed vegetables, corn, honey-glazed carrots, green beans, maple salmon, baked chicken, sausage, baked ham, brisket, pulled pork, corn bread, soft serve ice cream, fruit, cookies, and bread pudding.
Boma – Flavors of Africa – Disney's Animal Kingdom Lodge
Easter Sunday Brunch 7:30 a.m. – 2:00 p.m.
Easter Menu: One mimosa per paying adult plus Zebra Domes; Mini Cheesecakes; Peel and Eat Shrimp; Mixed Green Salad; Watermelon Tomato Salad with Blue Cheese; Soup Du Jour; Butternut Squash Soup; Hand Carved Lamb Shoulder; traditional breakfast fare.
Garden Grove – Walt Disney World Swan Hotel
Disney Characters entertain from 5:00 p.m. to 10:30 p.m.
Characters (subject to change): Chip and Dale, Goofy, Pluto
Price: Adult: $42.99, Child: $19.99; 18% gratuity will be added to all checks
Easter Dinner Buffet Menu: Broccoli Leak Soup; Clam Chowder; Assortment of Chef's Favorite Salads; Charcuterie Board; Smoked Salmon; Prime Rib; Smoked Pork Loin; Seared Seabass; Osso Buco; Wild Mushroom Ravioli; Rotisserie Chicken Chicken; Spring Succotash; Twice Baked Red Potato; Roasted Garlic Mashed Potatoes; Green Bean Almandine; Assortment of Petite Pastries and Desserts.
Kids Buffet: Chicken Fingers; Tater Tots; Chicken & Penne Marinara; Daily Vegetables
Several other Disney Springs restaurants will offer custom Easter menus.
Additional Easter meal information will be added as it becomes available.
For more information on visiting during Easter week, visit our Spring Break page.
Easter Activities at the Resorts
Most Disney resorts, Moderate and above, will hold some sort of Candy Scramble Easter morning at 9:00 am. and other organized activities. Easter activities at Deluxe and Deluxe Villa resorts and at Disney's Fort Wilderness Resort and Campground will be more extensive. A character meet & greet with Disney characters in their Easter finest is held at ALL resorts. Activities listed below are subject to change. Consult the front desk of your resort for a list of activities that will be held on Easter weekend.
Easter Religious Services
For those who wish to attend a religious service Easter morning at Walt Disney World Resort, two denomination are held on Easter Sunday, in the Fantasia Ballroom of the Disney's Contemporary Resort. A Catholic Mass is held at 8:00 a.m. and 10:30 a.m. The Protestant Service is held at 9:15 a.m.
Parking at the Contemporary Resort is restricted to guests with hotel reservations only; all others must take Disney transportation to reach the Contemporary Resort. Typically parking at the Polynesian and Grand Floridian lots will be restricted for parking during service hours as well. Guest staying a monorail resorts are advised to use resort transportation via the resort monorail or Contemporary boat dock. All other Walt Disney World Guests must use Resort transportation to the Magic Kingdom and then transfer to a shuttle bus to Disney's Contemporary Resort. The shuttle will begin running at 7:00 a.m.
For worship outside of Disney property, consult our Houses of Worship Near Walt Disney World Guide.
Grand Floridian Resort Easter Egg Display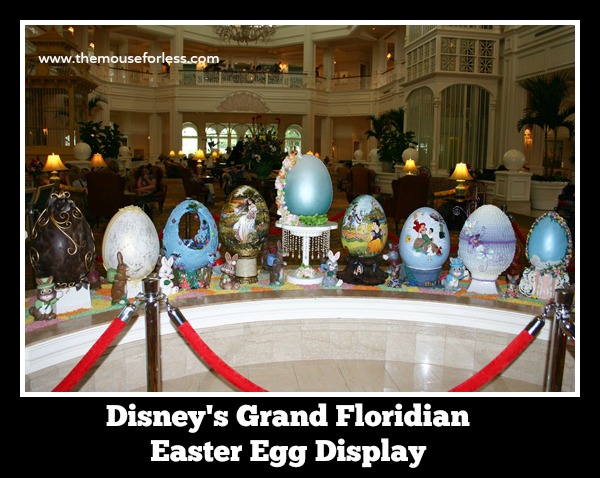 Hop on over to Disney's Grand Floridian Resort & Spa at Walt Disney World Resort for a delectable Easter egg display. The Disney pastry chefs there are known for their fabulous sugar shacks at Christmastime, but the Grand Floridian bakery team also spends weeks crafting yummy chocolate egg masterpieces. Each over-sized, 9- to 12-pound hollow chocolate egg stands 16-20 inches tall and is completely edible – hand decorated with modeling chocolate, fondant, sugar, royal icing, colored cocoa butter and themed sculpted sugar pieces. The chocolate bunnies are all hand-painted with a rainbow of cocoa butters and adorned with whimsical designs. The display have featured themes from "Frozen," "The Little Mermaid," "Inside Out" and "Lady and the Tramp," among others. The decorative display is presented in the resort lobby. During Easter weekend, Guests are invited to vote for their favorite egg on display.
Easter Baskets and Gifts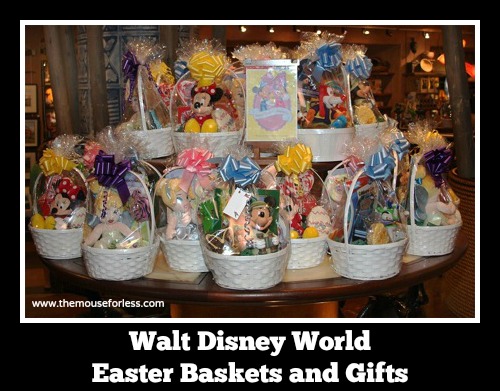 Easter Baskets are offered for sale at each of the Disney-owned Walt Disney World resorts. Each resort will have some pre-made baskets containing a variety of merchandise items. The retail for the pre-made baskets varies based on the items included (typically between $40-$65). There will also be cast members available to make customized baskets based on guests' requests. The customized baskets usually started at $7.00 plus tax for an empty white basket, grass, bow and shrink wrap. Anything added to a custom basket is extra – just purchase the items that you would like to include at the store.
Guests can also choose to pick up themed sweet treats from Goofy's Candy Co., specialty apples from Candy Cauldron.
Guests of Shades of Green, an Armed Forces Recreation Center for United States military members and their families located on Disney property, can pick up an Easter basket shaped like an egg on April 16 for $13.00 at Java Cafe from 6:00 a.m. until 10:00 p.m.; Express Cafe from 7:00 a.m. until 2:00 p.m.; or Evergreens from 11:00 a.m. until midnight. Baskets will include toys, novelties, eggs, and candy. Limited supplies available.
As the holiday draws closer, a variety of Easter Baskets, Surprises and Gifts are also available for delivery to Disney-owned resort rooms through Disney Floral & Gifts. Mickey's (or Minnie's) Easter Surprise is available for $95.99. Each of these predesigned offerings comes with activities, and snacks to share. Or, channel your inner "Imagineer" by creating an original Easter basket for your loved one laced with the power of storytelling and (of course) the one of a kind magic only Disney can give! Simply visit the Custom Gift Builder tab, choose an Easter basket, tote, or cinch bag from the selection of containers and fill with your favorite Easter or Disney treats. Become the captain of your very own crew with chocolate coins, an eye patch and all things pirate! Or dream up a happily ever after, adding a crown and a wand to complete your very own fairy tale. For more information on Disney gifting experiences, call a Dream Maker at 407-WDW-GIFT, or visit Disney Floral & Gifts to browser their Easter selections.
If you would like to capture your family's memories at the parks, you can book a session with Disney Fine Art Photography and Video, even if you're not staying at the Walt Disney World Resort. For more information on capturing the memory of your Easter visit or to book a Disney Fine Art Photography session call 407-934-4004, or visit Disney Fine Art Photography.