March 31, 2024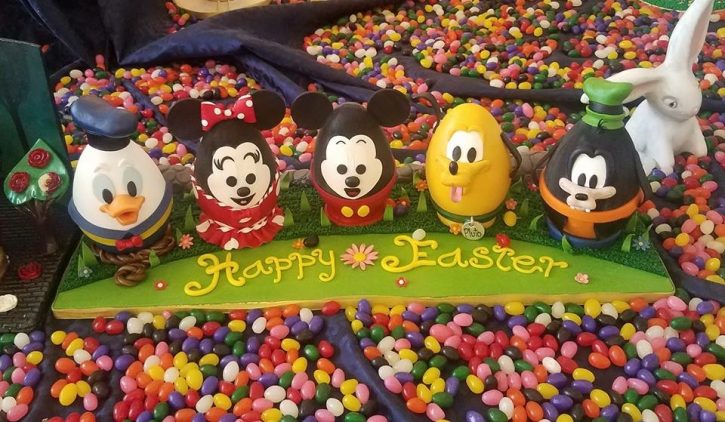 Easter is an extremely popular time to visit the Walt Disney World Resort and to celebrate the holiday, Disney pulls out all the stops! Guests can experience special meet and greets, a mini parade, egg hunts, Easter egg displays, unique treats, special meals, and more!
The following is information for 2023 festivities. Details will be updated for 2024 when announced. 
2024 Easter Information
Theme Park Easter Activities Easter Day Dining Activities at the Resorts Easter Religious Services Easter Egg Displays Easter Baskets and Gifts
Theme Park Easter Activities
Magic Kingdom
Easter Bunny Meet & Greet – Every Easter, the Easter Bunny and his wife, Mrs. Bunny, visit the Walt Disney World Resort for some rest and relaxation in the days leading up to the annual holiday basket delivery. The Bunnies, who have spent most of the year painting eggs and stocking up on jelly beans, will spend their Disney Parks vacation meeting and greeting families at the Magic Kingdom. Mr. Easter Bunny will be available at Bunny Lane Garden (at the Town Square Courtyard between City Hall and Chamber of Commerce on the left side of Main Street when entering the park) to meet & greet with guests.  PhotoPass photographers will be on hand to take pictures.
Easter Procession – Guests can experience a special pre-parade that features Mr. and Mrs. Easter Bunny along with other springtime characters and dancers. Typically, the parade includes butterflies, flowers and dancing hippos, Daisy Duck, and Thumper & Ms. Bunny. There is also White Rabbit, Rabbit, Clara Cluck, Ostriches, Dancing Chicks for this procession down Main Street, U.S.A.
Spring Trolley Show – The citizens of Main Street, U.S.A. in Magic Kingdom park are bursting with excitement now that spring is in the air. Dressed to the nines in bright pastels, they arrive in town on a horse-drawn trolley adorned with colorful bouquets of flowers and ribbons.
The MouseForLess Tip:
When making your vacation plans, plan on arriving at the Magic Kingdom early. This is especially true for the days the week prior to Easter, as the park is often extremely busy. Guests will want to make sure to make their Disney Theme Park Pass Reservations for all four parks early, but definitely for the Magic Kingdom.
EPCOT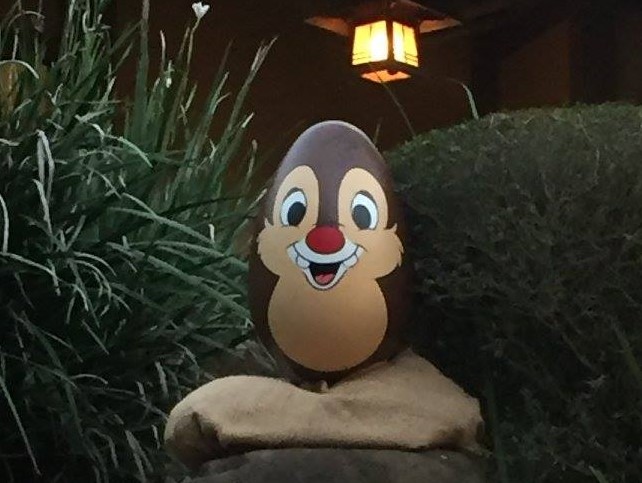 Easter Egg Hunt – Each year, EPCOT holds the Eggstravaganza. Easter Egg Hunt Maps can be purchased at select merchandise locations for $9.99. Once Guests have their maps, they will be able to record hidden eggs, themed after Disney characters, by placing the correct character sticker in the matching location on the special map. Guests will then need to return your map to Disney Traders or World Traveler in EPCOT. Once returned, you will be able to pick up your surprise.
Easter Day Meals and Snacks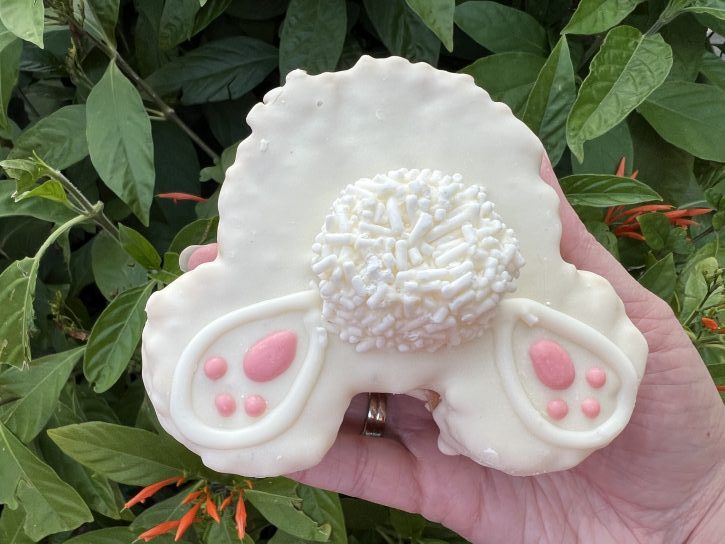 A number of special meals are held at select resort locations on Easter Day. Details for special meals are usually announced several weeks prior to the holiday. Holiday meals can be reserved up to 60 days in advance by calling (407) WDW-DINE (939-3463).
Pick up your Easter snacks at a number of locations around the Walt Disney World Resort. Find out all the locations and treats available here.
Resort Activities
Most Disney resorts will hold some sort of egg hunt in the morning. There are also a number of other organized activities. A character meet & greet with Disney characters in their Easter finest is held at many resorts. There are also games, dancing, and more. Activities are subject to change. Consult the front desk of your resort for a list of activities that will be held on Easter weekend.
Religious Services
In the past, the Walt Disney World Resort used to hold religious services on Easter morning. They used to offer a Catholic Mass and a Protestant Service. These services are now no longer taking place.
For worship outside of Disney property, consult our Houses of Worship Near Walt Disney World Guide.
Easter Egg Displays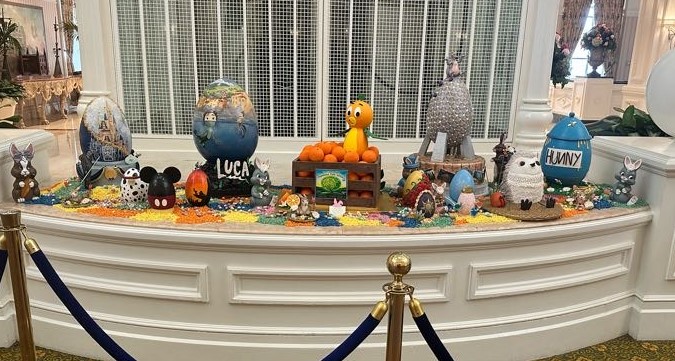 Hop on over to Disney's Grand Floridian Resort & Spa at Walt Disney World Resort for a delectable Easter egg display. The Disney pastry chefs there are known for their fabulous sugar shacks at Christmastime, but the Grand Floridian bakery team also spends weeks crafting yummy chocolate egg masterpieces. Each over-sized, 9- to 12-pound hollow chocolate egg stands 16-20 inches tall and is completely edible. They are hand decorated with modeling chocolate, fondant, sugar, royal icing, colored cocoa butter and themed sculpted sugar pieces. Enjoy a variety of Disney-themed and traditional eggs displayed in the main lobby of the resort. There is also an Easter Egg display at Disney's Contemporary Resort.
Baskets and Additional Gifts
Baskets are often offered for sale at each of the Disney-owned Walt Disney World resort hotels. Each resort hotel tends to have some pre-made baskets available containing a variety of merchandise items. The cost for the pre-made baskets varies based on the items included in the basket.
As the holiday draws closer, a variety of Baskets, Surprises and Gifts are also available for delivery to Disney-owned resort rooms through Disney Floral & Gifts. For more information on Disney gifting experiences, call a Dream Maker at 407-WDW-GIFT. You can also visit Disney Floral & Gifts to browser their Easter selections.
If you would like to capture your family's memories at the parks, you can book a session with Disney Fine Art Photography and Video. You can do this even if you're not staying at the Walt Disney World Resort. For more information on capturing the memory of your visit or to book a Disney Fine Art Photography session call 407-934-4004, or visit Disney Fine Art Photography. Guests looking to capture holiday photos in the parks can also consider the Capture Your Moment option. This is a photo package with a Disney PhotoPass photographer and allows for a personalized photo session. This session is available during regular park hours and is the perfect option for those looking to capture celebrations. Find out more details here.
For more information on visiting during Easter week, visit our Spring Break page.