Epcot| World Showcase (Canada)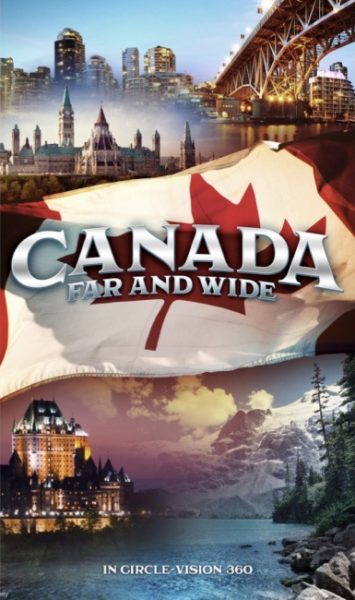 Description Ride Information Restrictions Location Fun Facts Top 5 Tips
Canada Far and Wide Description
Explore Canada in a newly updated edition of the classic, 12-minute Epcot Circle-Vision 360 presentation.
Ride Information
Opening Day: January 17, 2020
Type of Ride: Travelogue film in Circle-Vision 360
Age Recommendation: All ages, though adults will likely enjoy it more
Duration of Ride: 12 minutes
Typical Queue Time: None; wait until next show begins
Single Rider Line: No
Chicken Exit Available: No
Baby Swap Available: No
Type of Vehicle: Leaning bars
Type of Restraint: None
Attraction Open During Early Theme Park Entry: No. See our Early Theme Park Entry page for more information.
Ride Photo Available For Purchase: No
Ride Restrictions
Height Requirements: None
Flash Photography or Video Allowed: No
Location
Shopping: Guests can shop among several locales in the Canada Pavilion. The Northwest Mercantile features hockey jerseys, lumberjack clothes, and more to transport you North. The Trading Post has wood carvings, maple syrup, and other reminders of your time visiting.
Dining/Refreshment: Several dining options are offered in the Canada Pavilion. Le Cellier Steakhouse is the premiere location, serving fine dining in the château's cellar. You'll want to try the Canadian Cheddar Cheese Soup.
If you aren't looking for a full meal, you can also try special Canadian flavored popcorn at the Popcorn Cart or try Poutine at the Refreshment Port.
Restroom: Facilities convenient to Canada Far and Wide are situated at the entrance to the adjacent UK Pavilion or next to the Refreshment Port.
Smoking Location: Smoking is permitted in designated smoking areas only. Disney parks are smoke free.
Canada Far and Wide Fun Facts
Did you know?
Canada Far and Wide is narrated by Eugene Levy and Catherine O'Hara.
The original film in this location, "O Canada," ran from 1982 to 2007, with an updated version featuring Martin Short taking over until 2019.
Some of the footage in Canada Far and Wide is taken from the earlier films, but much more of the country is seen, including the territories of Yukon, Northwest, and Nunavut
Canada Far and Wide concludes with the song "Canada (You're a Lifetime Journey)" as the previous versions also did.
Top 5 Tips for Canada Far and Wide
Even if you have seen "O Canada" before, the update is worth checking out
See Canada Far and Wide at your convenience after the bulk of World Showcase opens at 11AM. It could provide some relief from the elements mid day.
Many guests will enter the the World Showcase and immediately do the first thing they see, so it can be best to wait until after this first wave to see the movie.
Prepare to hear some excellent music and be singing "Canada, My Canada…" to yourself the rest of the day.
Once you are done grab a Canadian-themed snack nearby, either some flavored popcorn or poutine should keep the feeling going.