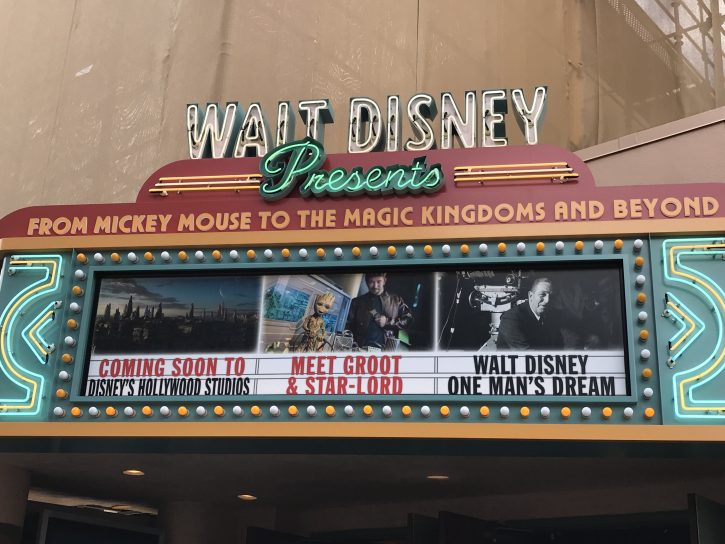 At Walt Disney Presents, guests can immerse themselves in both the life of the man behind the magic, Walt Disney, and the projects of the modern Walt Disney Company at this self-guided museum attraction.
Ride Information  Restrictions  Location  Fun Facts  Top 5 Tips
Ride Information
Opening Day: October 1, 2001
Type of Ride: Walk-through museum
Age Recommendation: All ages
Duration of Ride: Unlimited
Typical Queue Time: None
Single Rider Line: No
Chicken Exit Available: Yes
Baby Swap Available: No
Type of Vehicle: None
Type of Restraint: None
Attraction Open During Early Theme Park Entry: No. See our Early Theme Park Entry page for more information.
Ride Photo Available For Purchase: No

Planning a Walt Disney World Vacation?
For a Free no-obligation quote, contact our sponsor
The Magic For Less Travel
. Services are provided free of charge and their expert planning advice will help you make the most of your vacation time and money.
Ride Restrictions
Height Requirements: None
Flash Photography or Video Allowed: Yes
Location
Shopping: Assorted souvenirs can be purchased near Walt Disney Presents at "Toy Story Dept." and "Disney Studio Store."
Dining/Refreshment: Two table service restaurants, The Hollywood Brown Derby and the Sci-Fi Dine-In Theater Restaurant, are located in close proximity to Walt Disney Presents. The former establishment offers a variety of upscale dishes, including a massive Cobb Salad, filet of beef, pork chops, duck, grouper, and salmon, in a classic Hollywood setting; while the latter restaurant serves a plethora of sandwiches and specialty beverages in a room themed to a drive-in movie theater; most tables at Sci-Fi Dine-In Theater are cars, and clips from classic science-fiction movies are screened.
Restroom: Facilities are situated near Pixar Place.
Smoking Location: Smoking is permitted in designated smoking areas only. Disney parks are smoke free.
Walt Disney Presents Fun Facts
Walt Disney Presents originally debuted as Walt Disney: One Man's Dream on October 1, 2001 as part of the "100 Years of Magic" celebration for the 100th birthday of Walt Disney, who was born on December 5, 1901. A giant Sorcerer Mickey hat based on the hat adorned by Mickey in Fantasia (1940) was concurrently installed in front of the Studios' replica of Grauman's Chinese Theatre, which house the "Mickey and Minnie's Runaway Railway," an innovative new attraction that will transport guests into the world of a Mickey Mouse Cartoon. The Sorcerer's Hat was removed in January 2015.
Walt Disney: One Man's Dream debuted on the thirtieth anniversary of the opening of the Magic Kingdom, October 1, 1971.
Walt Disney: One Man's Dream officially changed its name to Walt Disney Presents on September 8, 2017.
"Walt Disney Presents" was the name of Walt Disney's weekly television anthology series on NBC-TV from 1958 to 1961. The series had been titled "Disneyland" from its 1954 debut to 1958 and was subsequently renamed "Walt Disney's Wonderful World of Color" when the show moved from NBC-TV to ABC-TV to take advantage of the latter network's greater desire for color television programming in 1961.
Walt Disney: One Man's Dream was the second attraction in the history of Walt Disney World to directly focus on the life of Walt Disney, following "The Walt Disney Story," a twenty-three minute film that operated in the Magic Kingdom's Hospitality House, now Exhibition Hall, from 1973 to 1992.
Walt Disney Presents houses artifacts and dioramas concerning important aspects of both Walt Disney's life and the history and future of the Walt Disney Company. Displays seen in the attraction have included photographs of Walt Disney from his childhood to his announcement of the "Florida Project"; descriptions and photographs concerning the importance of television to Walt Disney; descriptions, photographs, and dioramas about the history of Disney's theme parks throughout the world; costumes worn by actors in various Disney films; Walt Disney's second-grade school desk from Marceline, Missouri; a recreation of one of Disney's early animator's desks; a multiplane camera; early Disney merchandise; early animatronic demonstrations;  and a recreation of Walt Disney's studio office.
Top 5 Tips for Walt Disney Presents
Guests are encouraged to tour at your convenience and pace.
Walt Disney Presents is a must-see attraction for fans of anything Disney.
Take some photographs of the displays.
Walt Disney Presents often features dioramas of the upcoming expansions to Disney's Hollywood Studios and the Walt Disney Company. In addition, it often houses meet-and-greets with various unique Disney characters.
An approximately fifteen-minute film about the life of Walt Disney is presented in the "Walt Disney Theater" at the back of Walt Disney Presents, though the film is usually preempted for a preview of an upcoming Disney movie. Be aware of the changing exhibits and films at Walt Disney Presents.