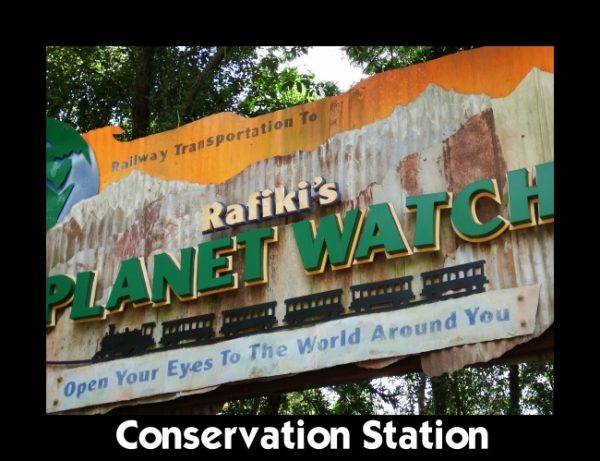 Immerse in a plethora of exhibits and activities at Rafiki's Planet Watch's main facility, Conservation Station.
Ride Information  Restrictions  Accessibility  Location  Fun Facts  Top 5 Tips
Ride Information
Opening Day: April 22, 1998
Type of Ride: learn to draw, center for animal exhibits, demonstrations, and activities
Age Recommendation: All ages
Duration of Ride: Unlimited
Typical Queue Time: None
Single Rider Line: No
Chicken Exit Available: Yes
Baby Swap Available: No
Type of Vehicle: None
Type of Restraint: None
Attraction Open During Early Theme Park Entry: No. See our Early Theme Park Entry page for more information.
Ride Photo Available For Purchase: No

Planning a Walt Disney World Vacation?
For a Free no-obligation quote, contact our sponsor
The Magic For Less Travel
. Services are provided free of charge and their expert planning advice will help you make the most of your vacation time and money.
Ride Restrictions
Height Requirements: None
Flash Photography or Video Allowed: Yes
Safety, Accessibility, and Guest Policies
Accessibility: Guests may remain in wheelchairs
Location
Shopping: Find apparel, bags, books, and animal plush dolls available for purchase at "Out of the Wild."
Dining/Refreshment: No dining options are available at Rafiki's Planet Watch. In Harambe, in the park's Africa section, guests craving a quick service lunch or dinner should consider eating at Harambe Market which serves skewers, flatbreads, and grilled vegetables among other things. Those preferring a sit down meal can make ADRs for breakfast, lunch, or dinner at the Tusker House buffet. Tusker House serves a mixture of American and African dishes at all three meals with regular appearances from Donald Duck and friends.
Restroom: Find facilities at the Conservation Station.
Smoking Location: Smoking is permitted in designated smoking areas only. Disney parks are smoke free.
Conservation Station Fun Facts
Did you know?
The Conservation Station is only accessible via the Wildlife Express Train from the Animal Kingdom's Africa section with a walk of about six minutes to reach the Conservation Station once you exit from the train station.
A large mural of various animals adorns the walls at the Conservation Station.
Varied activities are offered at Conservation Station. Guests can learn how to draw some of their favorite Disney characters, enjoy rotating shows featuring animals in their habitats; view tarantulas, scorpions, millipedes and snakes; join Grandmother Willow from Pocahontas (1995) in listening to the sounds, both good and destructive, of a rainforest; watch actual veterinary treatments of animals that weigh less than 500 pounds; learn about conservation efforts around the world; view nutritionists preparing meals for the animals; look into animal care areas via camera; and watch scientists investigate relevant wildlife issues.
Reported treatments in the veterinary room have included regular examinations, dental procedures, and radiography.
Conservation Station features an exhibit where guests can learn about animal feces. Here, a table is lined with stuffed animals and their respective poop samples, encased such as to obviate odor, as well fecal concoctions, including paper derived from elephant dung. For two weeks in the summer of 2015, respective chocolate snacks based on giraffe, elephant, tamarin and hippo poop were sold at Zuri's Sweets Shop.
From the Animal Kingdom's opening day, April 22, 1998, until 2001, Conservation Station was the name for the entire area of the park accessed via the Wildlife Express Train, including Conservation Station and Affection Section. In 2001, "Rafiki's Planet Watch" became the moniker for the overall area in an effort to attract more guests. Rafiki is the baboon shaman from The Lion King (1994).
Hidden Mickeys:
Find a Hidden Mickey in the ostrich's eye, though many more exist within the murals.
Sponsored Ad: Learn more about Hidden Mickey details and location throughout Walt Disney World in A Field Guide to Walt Disney World's Best Kept Secrets
.
Top 5 Tips for Conservation Station
Guests wanting to view veterinary treatments at Conservation Station should visit as early as possible. The treatments usually culminate by 11:30 AM.
This is a must-experience attraction for animal aficionados.
Be sure to eat before journeying to Conservation Station if you are hungry. No restaurants feature at Rafiki's Planet Watch.
Consider watching movies such as The Lion King, Pocahontas, and Bambi before your visit such as to better appreciate Conservation Station.
Conservation Station now features the ability to learn how to draw some of your favorite The Lion King characters with The Animation Experience.