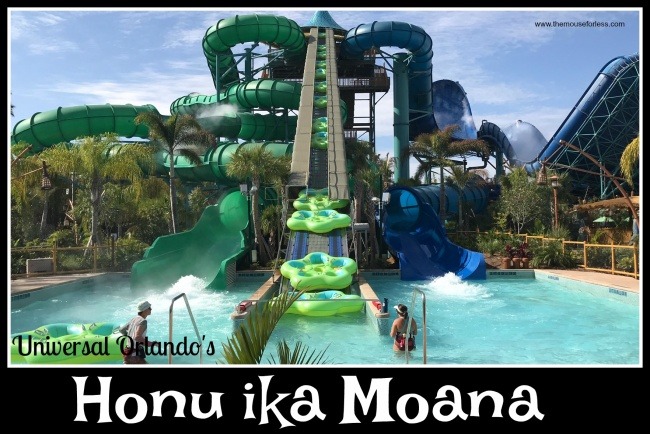 Honu (and ika Moana) of Honu ika Moana are two massive water slides that twist and turn side by side until riders splash into the landing pool. Honu will have you racing all of the way down, and ika is a bit slower. This set of slides is based off of the Waturi mythology characters Honu (a turtle) and ika (a whale) who are close friends. Both are great for families as one holds up to 6 people and the other up to 4 people.
Ride Information  Ride Restrictions  Location  Tips

Planning a Universal Vacation?
Ride Information
Opening Date: May 25, 2017
Type of Ride: Water Slide
Age Recommendation: All Ages
Typical Wait Time: Virtual Line
Single Rider Line: No
Express Pass: Yes
Early Park Admission: Yes
Child Swap: No
Wheelchair Accessible: No
Ride Photo: Yes
Ride Restrictions
Height Requirements: Minimum 48″ (121.9cm)
Weight Requirements: Maximum 700lb (317kg) combined per raft
Accessibility: Guests must be able to walk up stairway and exit landing pool without assistance to ride.
Location
Nearby Attractions: Kopiko Wai Winding River | Ko'okori Body Plunge
Nearby Dining: Whakawaiwai Eats | Dancing Dragons Boat Bar
The Mouse For Less Tips
Ika of Honu ika Moana is the calmer slide of the two; so the height requirement is actually a minimum of 42″ (106.7cm). Riders under 48″(121.9cm) must ride with a supervising companion. The weight has a combined 800lb (363kg) limit. So be sure you know which slide your party is going to ride.
If the names are tricky to remember, the green slide (ika) is the more gentle one, and Honu (blue) will race to the bottom with it sharp twists and turns.
Although both slide of Honu ika Moana have different height and weight restrictions both require at least two passengers per raft.
For more information about TapTapu Volcano Bay's virtual lines, click here.