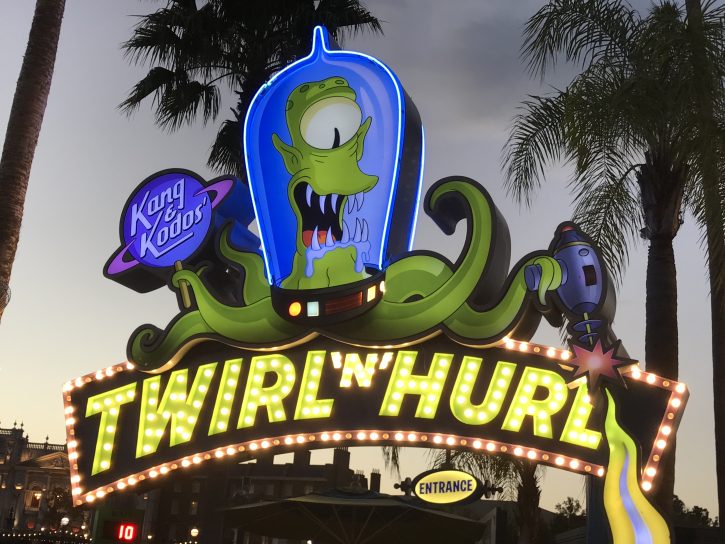 Kang & Kodos' Twirl 'n' Hurl is a Simpson's themed flying saucer ride controlled by aliens Kang and Kodos. Don't be off put by the dramatic name of this ride as it is similar to Disney classics such as Dumbo the Flying Elephant and The Magic Carpets of Aladdin.
Earthlings board the ride to discover that they have been tricked by the aliens as part of a plan to attack the town of Springfield. The joystick located inside the saucer can control the height of your "spaceship" which can be used to hone in on your "targets" or the faces of different Simpson's characters.
Ride Information  Ride Restrictions  Location  Fun Facts  The Mouse For Less Tips

Planning a Universal Vacation?
Kang & Kodos' Twirl 'n' Hurl Ride Information
Opening Day: August 11, 2013
Type of Ride: Carrousel-Style
Age Recommendation: Young Children
Ride Duration: 2 Minutes
Typical Wait Time: 10-20 Minutes
Single Rider: No
Express Pass: Yes
Child Swap: Yes
Wheelchair Accessible: No
Ride Photo: No
Ride Restrictions
Height Requirements: Anyone under 48″ (121.9cm) must have a supervising companion to ride with them.
Wheelchairs: Guests will need to transfer from the wheelchair (ECV) in order to ride.
Location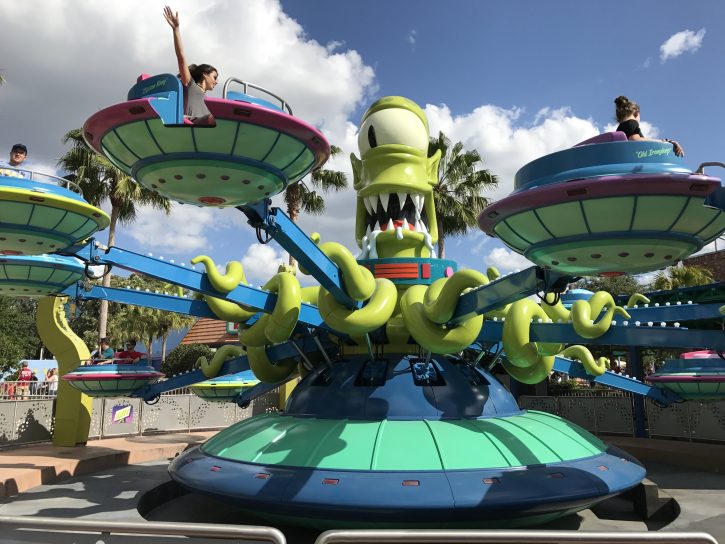 Nearby Attractions: The Simpsons Ride & Men in Black: Alien Attack
Dining: Duff Brewery & Fast Food Boulevard
Shopping: MIB Gear Shop
Did You Know?
Every saucer has its own unique name such as Barf Simpson and Ronald Raygun.
Aliens Kang and Kodos were made famous from the popular "Treehouse of Horror" Simpson's episodes.
Kang and Kodos' Twirl 'n' Hurl was the last piece added to complete Springfield USA.
The Mouse For Less Tips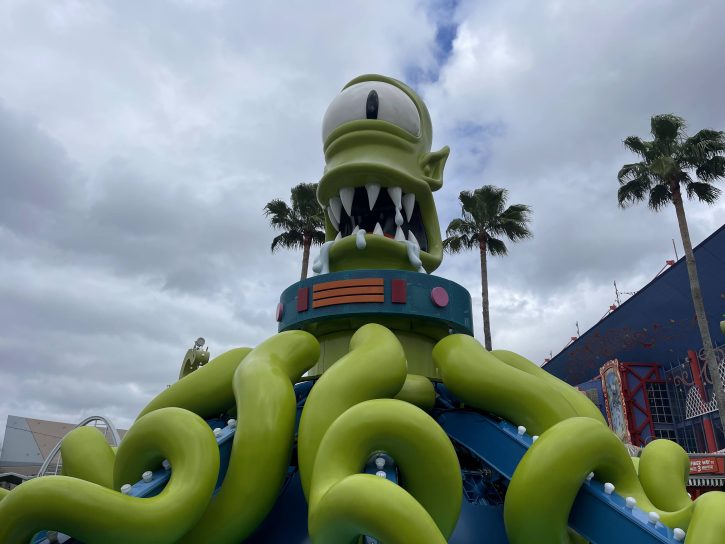 Although Kang & Kodos' Twirl 'n' Hurl is geared towards the younger children, true fans of The Simpsons will appreciate it and all its humor.
This is a great ride for guests visiting with young children. The wait even on Universal Orlando Resort's busiest days is never outrageous.
Also, Kang & Kodos' Twirl 'n' Hurl is located just a short distance from Woody Woodpecker's Kidzone.