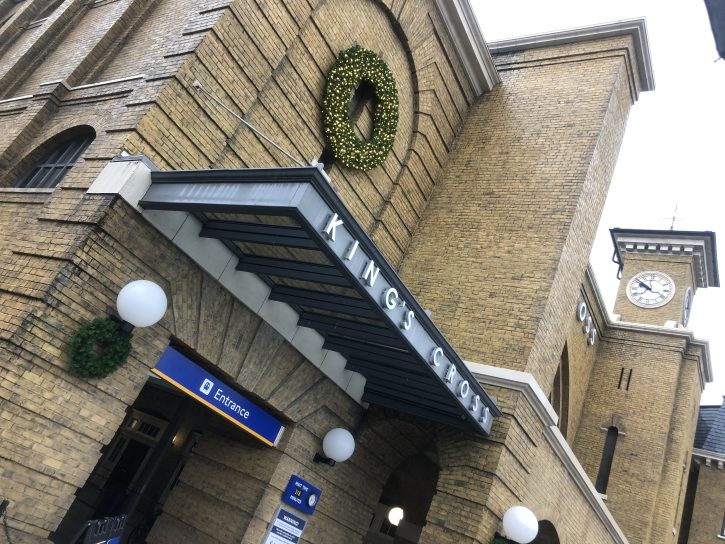 Hogwarts Express is like no other train ride you'll ever take. Stations are located in both Hogsmeade and Diagon Alley so you can travel between Wizarding Worlds without walking through the crowds. If you board in Diagon Alley you will go to Kings Cross Station where you get to walk through the famous brick wall to the platform. Once you board the Hogwarts Express sit back and enjoy the ride, but keep your wits about you because you just never know who or what might be flying by. You can also ride Hogwarts Express from Hogsmeade to Diagon Alley by boarding the train at the Hogsmeade Station. Both sides offer a different experience, so make sure you complete a round trip!
Ride Information  Ride Restrictions  Location  Fun Facts  Tips

Planning a Universal Vacation?
Ride Information
Opening Day: July 8, 2014
Type of Ride: Thrilling Train Ride
Age Recommendation: All Ages
Ride Duration: 5 Minutes
Typical Wait Time: 20-50 Minutes
Single Rider Line: No
Express Pass: Yes
Child Swap: No
Wheelchair Accessible: Yes
Ride Photo: No
Ride Restrictions
Height Requirement: Under 48″ (121.9cm) must be accompanied by a supervising companion.
Admission: In order to ride the Hogwarts Express from one park to the other you have to have a park to park admission ticket, even if you're only visiting The Wizarding World of Harry Potter.
Location
King's Cross Station
Nearby Attractions: Harry Potter and the Escape from Gringotts
Dining: Leaky Cauldron & Florean Fortescue's Ice-Cream Parlor
Shopping: Knockturn Alley
Hogsmeade Station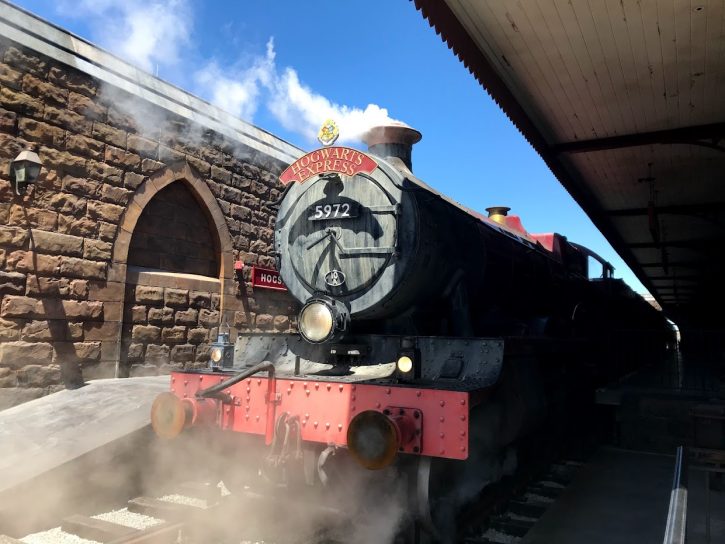 Nearby Attractions: Harry Potter and the Forbidden Journey | Hagrid's Magical Creatures Motorbike Adventure
Dining: Hog Head's Pub & Three Broomsticks
Shopping: Olivanders Wand Shop
Did You Know?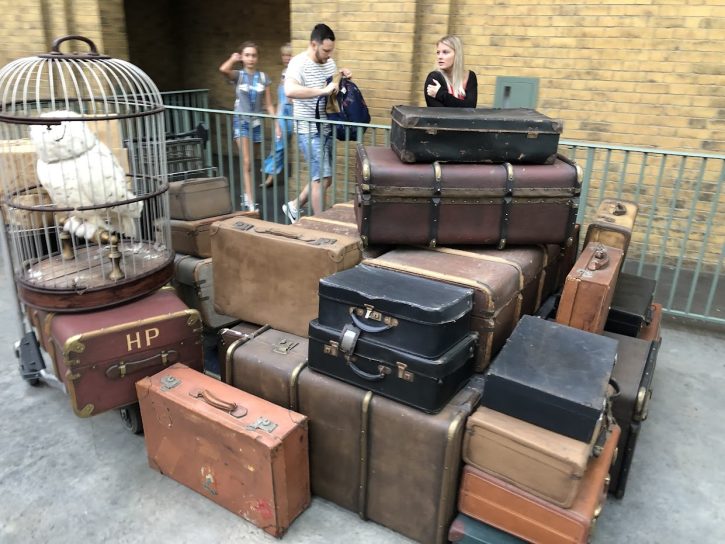 In the United Kingdom strollers are called "prams". This is how they refer to them in both Hogsmeade and Diagon Alley stations if you're in need of a rental. Guests can rent strollers outside of both Hogwarts Express locations, in both Diagon Alley and Hogsmeade.
Hogwarts Express is the only ride in the Universal Orlando Resort parks that lets Guests go back and forth between the two theme parks.
Food and beverages are welcome on the Hogwarts Express.
The Mouse For Less Tips
Although you can use your Universal Express Pass for Hogwarts Express, you may want to hold on to them for other rides where lines can be an hour or more of wait time. Since the Hogwarts Express holds so many people the wait time is really cut down, especially during the slower crowd days. However, there are times when it would be necessary to use your Express Pass. Make sure to look at the wait time before getting in line.
If you are renting a stroller – "pram" – you can leave the one you have at the station and then pick up another when you arrive at the other station.
Strollers, wheelchairs, and service animals are all allowed aboard the Hogwarts Express as most people use it for transportation to and from each park. For more information regarding disability assistance in the parks, click here.
In order to ride the Hogwarts Express, you must have a park to park ticket. Guests with base tickets that only access one theme park per day will not be allowed to ride.