Universal Orlando | Springfield USA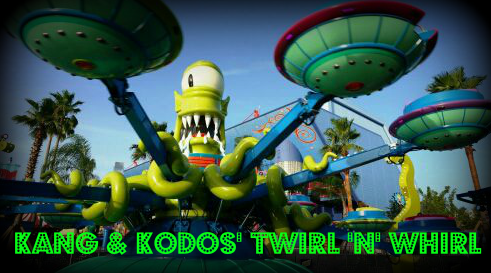 Overview           Fun Facts           General Info
Kang & Kodos' Twirl 'n' Hurl Overview
Kang & Kodos' Twirl 'n' Hurl located in Universal Studio's Springfield USA is a Simpson's themed flying saucer ride controlled by aliens Kang and Kodos. Don't be off put by the dramatic name of this ride as it is similar to Disney classics such as Dumbo the Flying Elephant and The Magic Carpets of Aladdin.
Earthlings board the ride to discover that they have been tricked by the aliens as part of a plan to attack the town of Springfield. The joystick located inside the saucer can control the height of your "spaceship" which can be used to hone in on your "targets" or the faces of different Simpson's characters.
This ride will primarily be entertaining for younger guests. However, older guests that are fans of The Simpsons will appreciate the humor and characters incorporated into the ride.
Kang & Kodos' Twirl 'n' Hurl Fun facts
Every saucer has its own unique name such as Barf Simpson and Ronald Raygun.
Aliens Kang and Kodos were made famous from the popular "Treehouse of Horror" Simpson's episodes.
Kang and Kodos' Twirl 'n' Hurl was the last piece added to complete Springfield USA.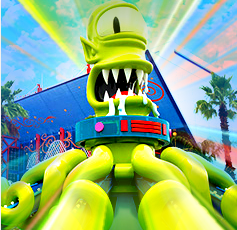 Kang & Kodos' Twirl 'n' Hurl General Info
Height Restrictions
48 inches to ride without an adult
Scare Factor
1 out of 5

Nearby Dining
Cletus' Chicken Shack
Krusty Burger
Lard Lad's Donuts
Nearby Shopping
Kwik-E-Mart
Ride photo
None provided