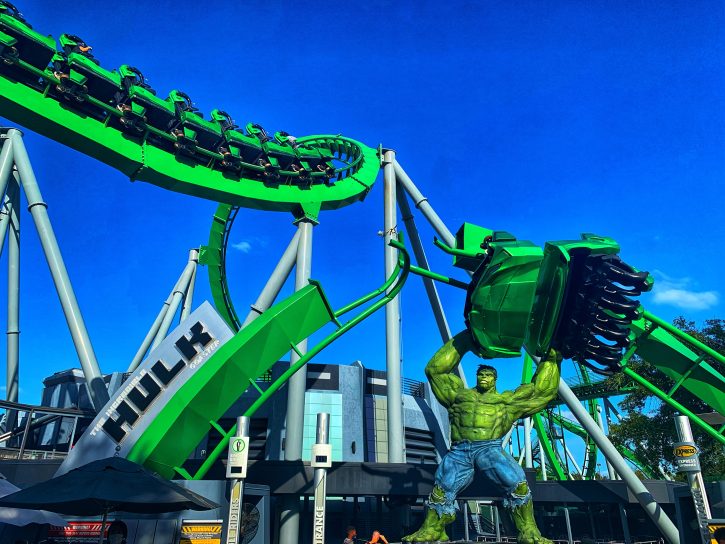 The Incredible Hulk Coaster is one of Universal Orlando Resort's most memorable roller coasters in Universal Islands of Adventure. On this attraction you will walk through the laboratory that created the Hulk-like DNA, here you will be a "volunteer test subject". When you have taken your seat with other test subjects a blast of radiation shoots over you. Then just like Bruce Banner you catapult into a frenzy and feel what it feels like to turn into the Hulk!
Ride Information  Ride Restrictions  Location  Fun Facts  The Mouse For Less Tips
Ride Information
Opening Date: May 28, 1999
Type of Ride: Roller Coaster
Age Recommendation: Young Adult +
Height Requirement: 54″ (137.1cm) Minimum
Duration of Ride: 2.5 Minutes
Typical Wait Time: 40 – 55 Minutes
Express Pass: Yes
Single Rider Line: Yes
Child Swap: Yes
Wheelchair Accessible: No
Ride Photo: Yes
Ride Restrictions
Accessibility Information: Riders will need to transfer from wheelchairs, as well as secure or remove any prosthetics. This ride contains high speeds, deep plunges, and loops. 
Restraints: The Incredible Hulk Coaster has restraints that may not be conducive to all body types. In order to keep all guests safe all restraints must fasten together properly.
Location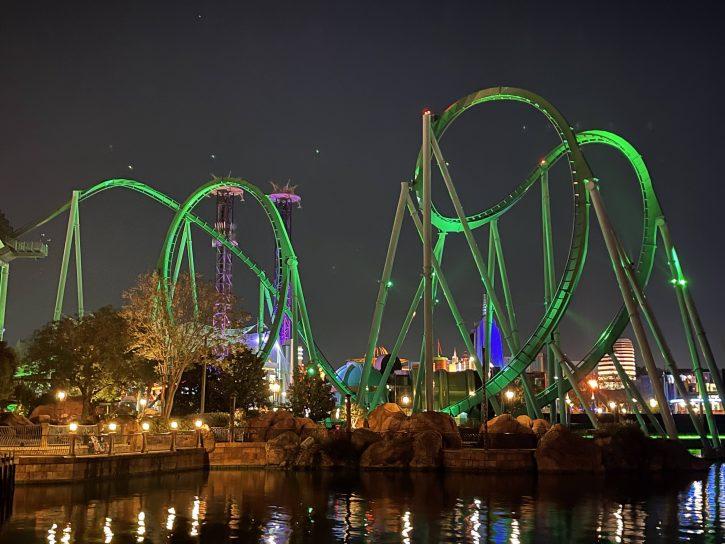 Nearby Attractions: Storm Force Accelatron | Doctor Doom's Fearfall
Dining: Café 4 | Captain America Diner
Shopping: Marvel Alterniverse | Spider-Man Shop
Did You Know?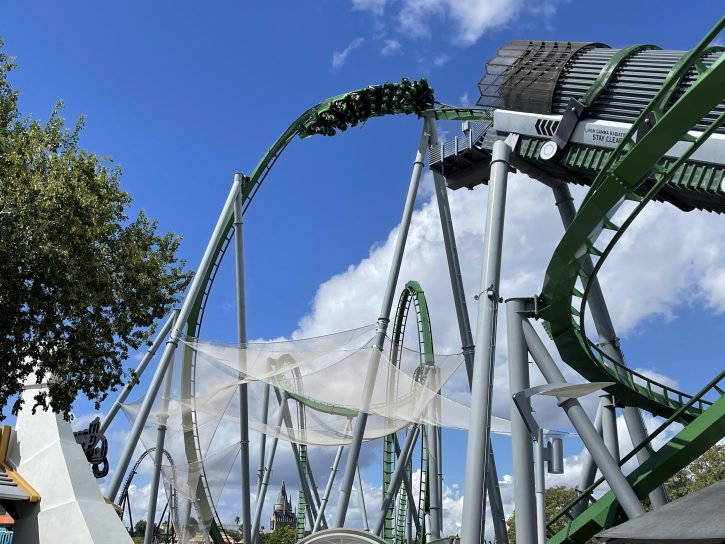 The Incredible Hulk Coaster pushes the limit when it comes to it's fear factor. Riders are launched up to 150 feet before the first deep plunge, reaching speeds of 67mph.
This particular rollercoaster has a grand total of 7 inversions! Hold on tight!
In August 2016 The Incredible Hulk Coaster reopened with a full makeover. It now has a completely new track, lighting, and updated audio.
The Mouse For Less Tips
The average wait time for this ride can easily be up to an hour long, longer during peak seasons. Your best bet for a shorter line is to visit within the first 30 minutes of the park opening. Or use one of your express passes.
While in the park download the official Universal Orlando Resort app to see current wait times.
Loose items must be stored in lockers provided, be sure to remember hats, sunglasses, etc.