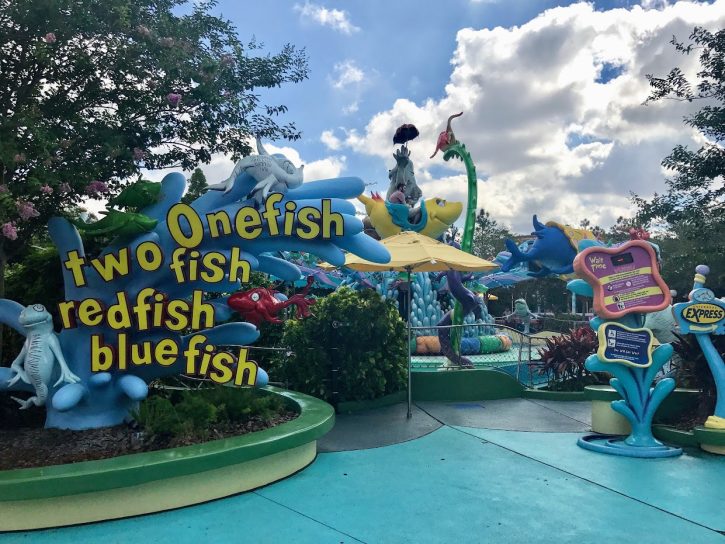 One Fish, Two Fish, Red Fish, Blue Fish is a fan favorite, especially for the little ones. It's similar to the Walt Disney World's ride, The Magic Carpets of Aladdin in Magic Kingdom. However, in Seuss Landing each ride has a special twist. On One Fish, Two Fish, Red Fish, Blue Fish riders will circle around fountains, but watch out they will spurt water at you! See if you can dodge the spray by maneuvering your fish up and down with the controls in the ride vehicle.
Ride Information  Ride Restrictions  Location  Fun Facts  Tips
Ride Information
Opening Date: May 28, 1999
Type of Ride: Spinner
Age Recommendation: All Ages
Duration of Ride: 4 Minutes
Typical Wait Time: 10-15 Minutes
Single Rider Line: No
Express Pass: Yes
Child Swap: Yes
Wheelchair Accessible: Yes
Ride Photo: No
Ride Restrictions
Height Requirements: Riders under 49″(121.9cm) must be accompanied by a supervising companion.
Wheelchair Accessibility: Guests will need to transfer to a manual wheelchair for this attraction. If you are traveling with an ECV (electric convenience vehicle) ask an attraction attendant about complimentary manual wheelchairs (for specific rides only).
Location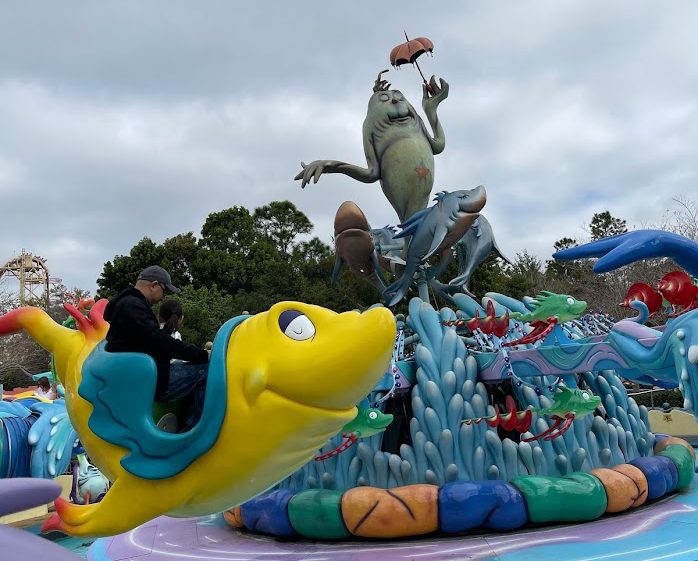 Nearby Attractions: Caro-Seuss-el | The Cat In The Hat
Dining: Circus McGurkus Café Stoo-pendus
Shopping: Cats, Hats, & Things | All The Books You Can Read
Did You Know?
While riding the One Fish, Two Fish, Red Fish, Blue Fish attraction at Universal Orlando Resort, each fish (ride vehicle) will go more than 15 feet off the ground!
Although this ride is on the simple side, it was designed for al lages to enjoy. The challenge for older kids and adults is to see if you can time the music and the water to avoid getting sprayed – or to make sure you get your riding partner as soaked as possible!
One Fish, Two Fish, Red Fish, Blue Fish first opened this ride when Islands of Adventure and Seuss Landing were unveiled.
The Mouse For Less Tips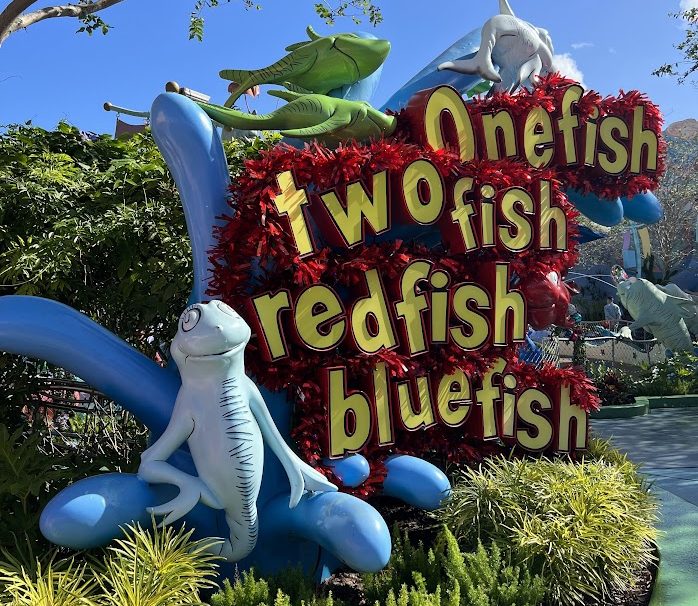 Since this attraction involves water there is a high chance of leaving quite wet. It's a good idea to ride this one (and any other water rides) early on in the day so you will dry off quickly in the sun. (Also, make sure you listen to the song being played…especially if you don't want to get wet.)
Depending on the time of day and crowd levels this ride can et up to a 30 minute wait. If you ride early or later in the day the line is much sorter.
Express Passes are available to use for this ride, however because the lines are usually no more than 30 minutes you should consider saving your Express Pass for something more popular. Many of the long wait times can be avoided by simply timing when you visit each attraction.