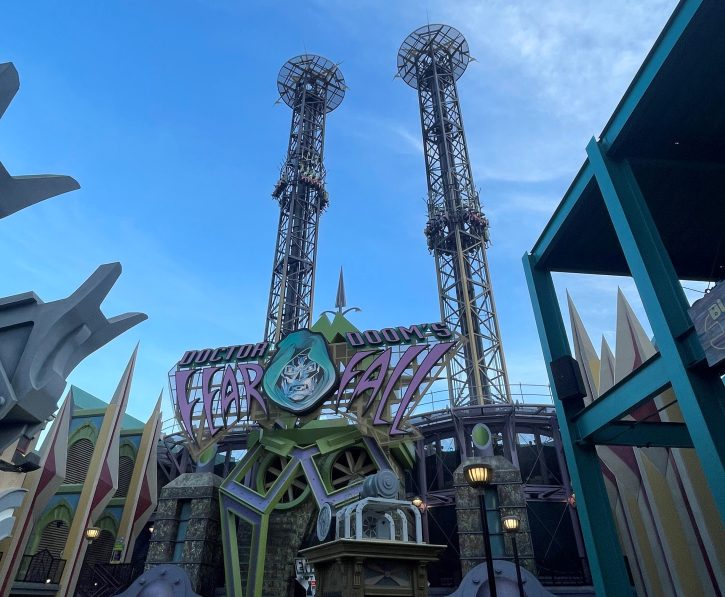 Doctor Doom's Fearfall is a true test of bravery. In this attraction at Universal Islands of Adventure, the evil Doctor Doom will have you strapped into his new invention that sends you 185 feet into the air, then suddenly jolting you back down in a frenzy. His goal? To turn your fear into screams, and then to use those screams against the Fantastic Four team to defeat them.
Ride Information  Ride Restrictions Location  Fun Facts  The Mouse For Less Tips
Ride Information
Opening Date: May 28, 1999
Type of Ride: Thrill
Age Recommendation: All Ages (meeting height requirements)
Ride Duration: 2 Minutes
Typical Wait Time: 20 – 30 Minutes
Express Pass: Yes
Single Rider Line: Yes
Child Swap: Yes
Wheelchair Accessible: No
Ride Photo: No
Ride Restrictions
Height Requirements: 52″ (132cm)
Accessibility: Riders will need to transfer from wheelchair (ECV) to seat with or without the assistance of a party member or attraction attendant.
Safety Restraints: This ride requires safety restraints that may not be compatible with all body shapes or sizes. All restraints must be able to fasten completely  and properly in order to ride. A test seat is located at the front of the attraction for your convenience.
Location
Nearby Attractions: The Amazing Adventures of Spider-Man | Storm Force Accelatron
Dining: Café 4 | Captain America Diner
Shopping: Comic Book Shop | Spider-Man Store | Marvel Alterniverse
Did You Know?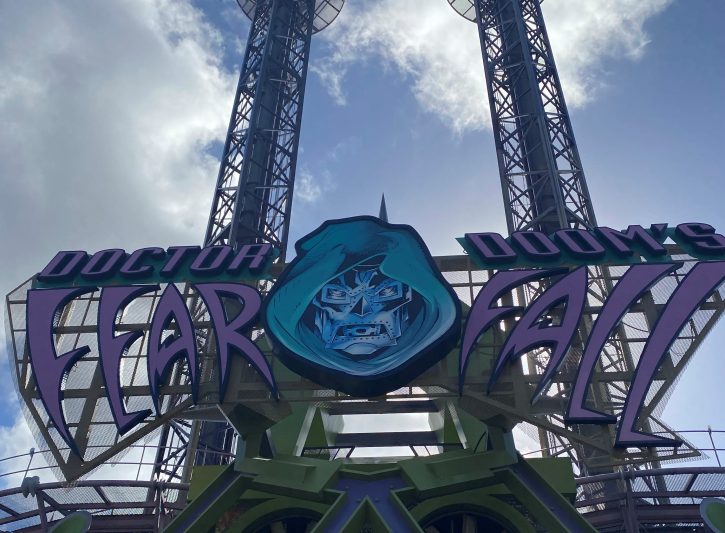 On Doctor Doom's Fearfall, the initial take off uses more power than a 747 jet, and it accelerates faster than the space shuttle.
When you're walking up to the ride notice the small stones in the pavement. Due to the success of Doctor Doom's Fearfall this is all that is left the Fantastic Four team!
The Mouse For Less Tips
The average wait time for this attraction is usually now more than 30 minutes. Even on the park's busy days you may want to save your express pass. Since the attraction is only a couple of minutes long the lines move fairly quickly.
This is a great ride to stop by after a visit through Toon Lagoon in order to "air-out". Both Popeye & Bluto's Bilge-Rat Barges and Dudley Do-Right's Ripsaw Falls are water attractions which means you will be sopping at the end.
While Doctor Doom's Fearfall may look terrifying for some, the scariest part is simply the high speed take off. If you can open your eyes you will want to check out the spectacular view of Universal Orlando Resort as well as International Drive. Try riding after the sun goes down so you can see everything lit up in the night sky.