Select Nights – September – November 2019

2019 Universal Orlando Halloween Horror Nights
Universal Orlando Halloween Horror Nights, the nation's premier Halloween event, puts you right into some of the most pulse-pounding moments in horror history. On select nights from September 6 through November 2, 2019, the streets of Universal Studios Florida theme park come alive with hordes of horrifying mutants, monsters and maniacs. With over 25 years of experience to draw from, nobody creates a more nightmarish Halloween event filled with truly original scares and authentic horror movie moments. Each night of Halloween Horror Nights, you can explore terrifying haunted houses, make your way through multiple scare zones where creatures lurk around every turn, enjoy outrageous live shows, and experience many of the park's most exciting rides and attractions.
This year marks the 29th year for the event and there will be 41 nights that Halloween Horror Nights will be held. Dates for 2019 are:
September
6, 7, 8, 12,13, 14 15, 18, 19, 20, 21, 22, 25, 26, 27, 28, 29
October
2, 3, 4, 5, 6, 9, 10, 11, 12, 13, 17, 18, 19, 20, 23, 24, 25, 26, 27, 29, 30, 31
November
1, 2
Please keep in mind due to the intense nature of this event, it is not recommended for children under the age of 13.
Tickets Stay & Scream Video Attractions Map Dining  Tips
2019 Ticket Options
In order to experience this event, guests must purchase separate Halloween Horror Night ticket media.
For 2019, there are two different options that can be purchased that relate to Halloween Horror Nights. Gusts can purchase the Single Night General Admission ticket, or they can choose from a Multi-Night Ticket, called the Frequent Fear Pass.
Halloween Horror Single Night Tickets
Halloween Horror Nights Single Night Tickets let you decide when you'll dare to experience the most frightening Halloween event ever. For 2019, Guests can purchase the Single Night General Admission tickets start at $66.99 and range to $93.99.
Halloween Horror Night Frequent Fear Pass

For those who would like to experience Halloween Horror Nights on multiple evenings, you can purchase the Frequent Fear Pass.
Rush of Fear
Come back any event night during the first 17 nights of Halloween Horror Nights. Advance price – $109.99
Rush of Fear + Express
Take on the terror the first 17 nights of Halloween Horror Nights. When you include Halloween Horror Nights Express Pass with your Rush of Fear Pass, you'll be able to bypass the regular lines one time at all the haunted houses, plus at participating rides and attractions. Advance price – $334.99
Frequent Fear
Get up to 23 nights of fear. EVERY Sunday–Thursday event night, the first Friday and Saturday, plus the last Friday. Advance price – $119.99
Frequent Fear + Express
Get up to 26 nights of fear. EVERY Sunday–Thursday event night, the first Friday and Saturday, plus the last Friday. When you include Halloween Horror Nights Express Pass with your Rush of Fear Pass, you'll be able to bypass the regular lines one time at all the haunted houses, plus at participating rides and attractions. Advance price – $374.99
Frequent Fear Plus
Get up to 34 nights for one low price. Experience EVERY Sunday–Friday event night, plus the first two nights, and the last Saturday. Advance price – $139.99
Frequent Fear Plus + Express
Get up to 30 nights for one low price. Experience EVERY Sunday–Friday event night, plus the first two nights, and the last Saturday. When you include Halloween Horror Nights Express Pass with your Rush of Fear Pass, you'll be able to bypass the regular lines one time at all the haunted houses, plus at participating rides and attractions. Advance price – $459.99
Ultimate Frequent Fear
Attend ALL event nights with the Ultimate Frequent Fear Pass. Advance price – $259.99
Ultimate Frequent Fear + Express
Attend ALL event nights with the Ultimate Frequent Fear Pass. When you include Halloween Horror Nights Express Pass with your Rush of Fear Pass, you'll be able to bypass the regular lines one time at all the haunted houses, plus at participating rides and attractions. Advance price – $679.99
Vacation Packages
Guests wishing to enjoy a full Halloween Horror Nights experience can choose to purchase both tickets to the spooky fun, as well as their on-site hotel stay. Vacation packages provide Guests with on-site hotel accommodations, Park-to-Park daytime admission to theme parks, admission to Halloween Horror Nights. and more. Packages start at only $139 per adult, per night, tax inclusive.
Vacation Package Includes:
4-Night Hotel Accommodations
3 Park, 2-Day Park-to-Park Ticket with 3 Days Free to Universal Studios Florida and Universal's Islands of Adventure
1-Night Admission to Halloween Horror Nights
Early Park Admission – one hour before the theme park opens to one Universal Orlando theme park
Access to select live entertainment venues at CityWalk
More Options
Halloween Horror Nights Express Pass
In addition, due to the popularity of Halloween Horror Nights, (the haunted houses can quickly shoot up to having 1 to 2 hour waits) one of the best suggestions for those wishing to participate in the fun is to purchase the Halloween Horror Nights Express Pass. This pass allows you to cut past the regular lines at all the haunted houses, as well as at participating rides and attractions. Do be aware that only a limited number of these Express Passes are sold each night. Price starts at $89.99.
Halloween Horror Nights VIP Experiences
There are many Halloween Horror Nights VIP Experiences you can partake in. Guests can choose to participate in the R.I.P. VIP Tours where they can receive in-depth behind-the-scenes tour of some of Horror Nights' most intriguing houses.  During the Behind the Screams: Unmasking the Horror Tours get a daytime, lights-on, chilling look into how Universal Orlando's Art & Design team transforms the biggest names in horror into haunted houses.
Stay and Scream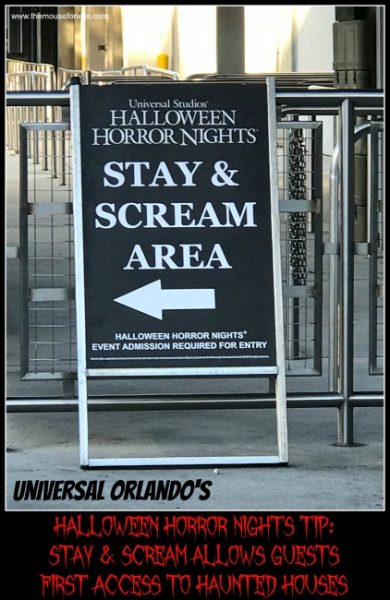 Will you be spending the day at Universal Studios Florida, but spending the evening at Halloween Horror Nights? Consider participating in the Stay and Scream option! The park closes to daytime guests at 5:00 p.m. on Halloween Horror Nights nights, but if you have a ticket from that evening's event, you are allowed to remain inside the park in a designated "Stay and Scream" holding area. By staying in the park in the "Stay and Scream" area, Guests will be able to have a jump on the general public and are typically able to experience at least one or two houses before the masses begin to really hit the houses. Anyone can access this opportunity if they have any valid daytime park ticket, including annual passholders.
Tip: You'll want to make sure you're in the par before 4:30 p.m. to avoid the massive arriving Halloween Horror Nights crowd.
Stay and Scream locations are:
The Springfield section near Fast Food Boulevard features priority access to the first two haunted houses that open each evening. Guests are allowed into the two houses with entrances there between 5:30 and 5:45 p.m. Guests are released from the area at 6:00 p.m., and can be the first to queue for the house nearest to Men In Black.
The New York area holding area includes Finnegan's bar, which offers a full liquor bar and table service food. (Reservations are necessary and almost impossible to obtain. However, you can traditionally "walk up" to the bar and order a drink, with a substantial wait.) Guests who stay here are released around 5:45 p.m. and can enter the houses near Rip Ride Rockit and Race Through New York Starring Jimmy Fallon.
A small overflow holding area is located in Hollywood near the near the Hello Kitty store. There is no food or beverage available here, but you do get early access to the sound stages.
Video Overview
Attractions
2019 Haunted Houses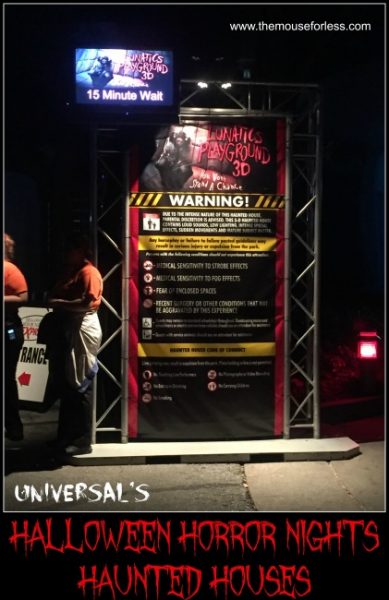 Each year, Halloween Horror Nights features multiple haunted houses. Many are themed after horror intellectual properties. Last year's IP houses include Stranger Things, Halloween 4, Trick 'r Treat, and The Horrors of Blumhouse.
In addition, each year, the creative and demented minds of Universal Creative include unique creations that are designed to frighten. Last year, Guests could experience Dead Exposure: Patient Zero, Slaughter Sinema, and Carnival Graveyard: Rust in Pieces.
This year, there will be 10 houses in all for 2019. Here's what's been announced so far:
Stranger Things
Things are about to get stranger. Universal will be working closely with Netflix to bring this popular series to life. This house will spotlight the second and third season of the hit show and will recreate some of the show's most iconic scenes. During the trip to Hawkins, Indiana this time, Guests will come face-to-face with snarling Demodogs, as well as make their way through iconic scenes and locations, from Chief Hopper's cabin to the Starcourt Mall.
Nightingales: Blood Pit
Nightingales: Blood Pit is an original Halloween Horror Nights concept that will transport Guests back to Ancient Rome where a ruthless emperor reigns and gladiatorial games are put on for bloody entertainment. As if the bloodshed that occurs just normally during something like this isn't enough, things get worse thanks to the creatures that are introduced! The nightingales feed on both the dead and dying. You'll try to survive them alongside the gladiators as the ravenous nightingales notice that fresh blood has come into their midst.
Universal Monsters
Universal is going back to their roots with the next house announced. The iconic classic monsters that we all know will be out to terrify. They are ready to unleash havoc and are thirsty for anything in their path. Of course, as you try to escape, you'll enter each of the monster's domains, but they are determined not to let you leave. Guests will be able to come face-to-face with Dracula in his gothic castle, the Wolfman in a dark Bavarian forest, the man-made monster within Dr. Frankenstein's lab, have an encounter with vicious Creature of the Black Lagoon, and the ancient evil of the Mummy.
Depths of Fear
This non-IP announced house called Depths of Fear will take Guests into a deep-sea mining company where the miners have found themselves in a dire situation, as they've gotten too deep in the water and they've now come across a parasitic and deadly race of creatures called Mouthbrooders. Here, you'll find yourself trapped in the claustrophobic underwater installation with these slithering monsters and your worst nightmares will come to life as these Mouthbrooders spew flesh-eating acidic eggs at human hosts and you witness miners being driven mad by the infection. Oh and let's not forget the fact that pressure is mounting as the self-destruct sequence counts down to the inevitable implosion of the facility.
2018 Scare Zones
The scares are all around during Halloween Horror Nights and that couldn't be more true in the various Scare Zones located throughout the park. Terror is lurking behind ever corner to jump out and scare you courtesy of scare actors. Whether you're just walking through or watching others get the snot scared out of them, the Scare Zones can't be missed! The following are the Scare Zones for 2018.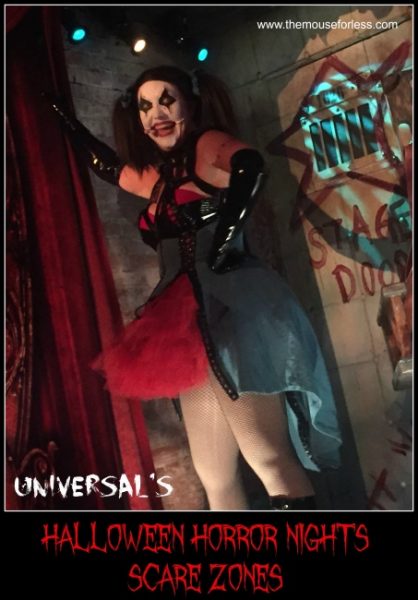 Revenge of Chucky
This scare zone will keep you moving quickly as your favorite childhood toys and dolls come to life to prey on you! Chuckie, the famous and deadliest doll will have help from the others portraying your worst nightmares through the streets of Hollywood. You'll need to be quick on your toes to get out with all of your organs in tact.
Killer Klowns From Outer Space
Step right up! One and all! This circus will have you questioning all of those clowns you came to know and love as a child. Killer Klowns landing in their circus tent right in the middle of Universal Studios Florida will entice you with a classic circus with classic treats and fun for everyone. Little do you know these clowns are not after your joy, but after you! Laughing along together they will come after you to turn you into their specialty, human cotton candy.
The Harvest
Take a stroll through an abandoned barn house where you can really feel the presence of the souls who once walked the halls. Perhaps these souls are not as long gone as we thought? Be careful for lingering ghosts and spirits as they try to drive you out. This Scare Zone is along the Avenue of Stars which makes a great photo op, if you dare stop long enough! Waring: do not stop for a rest on hale bales of any kind. You never know what might be lurking behind the others.
Twisted Tradition
As tradition would have it, Halloween is not official without a pumpkin patch. Located in Central Park, a abomination has been awakened, turning everything about fall into a gruesome graveyard. Pumpkins rotting with the smell of corpse in the air, you will have to try to get out alive. Do not become like the other victims you see rotting inside viscous Jack o' Lanterns. Yet this is not even the most frightening part. Beings of the night are seeking out human sacrifices and you wouldn't want to be one of them!
Vampire 85: New Years Eve
On the streets of New York this is now 1984, New Year's Eve to be exact. Although the party may seem normal keep your guard up! This eve is much different. Blood thirty vampires are lurking around the edges as you count down your own slaughter. Partygoers are the least aware and these vamps know this well. Thinking of asking for help? Even the DJ himself is a blood sucker. Happy New Years!
2018 Live Shows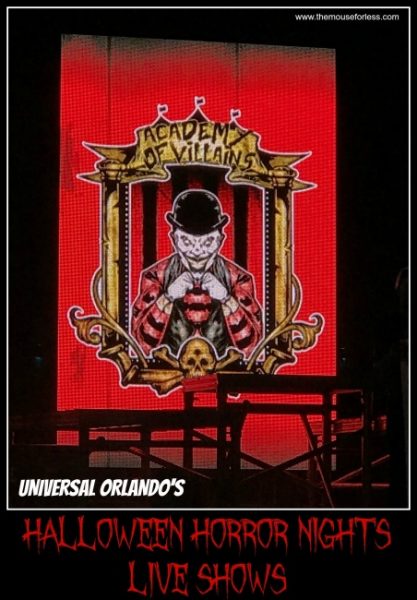 The terror continues with live shows during Halloween Horror Nights.
Academy of Villains: Cyberpunk
With a wicked mix of dance, acrobatics and theatrics, Academy of Villains is back for an all-new performance of pounding synths and neon lights.
Universal Orlando Attractions
During Halloween Horror Nights, it's not only about the frights. Sometimes you need a breather. Many of Universal Studios Florida's popular attractions are opening throughout the evening to enjoy. Attractions that will be open for Guests include:
Halloween Horror Nights Map
If you will be attending the event this year, take a look at the map to see where each of the houses, scare zones, and more will be located.
Dining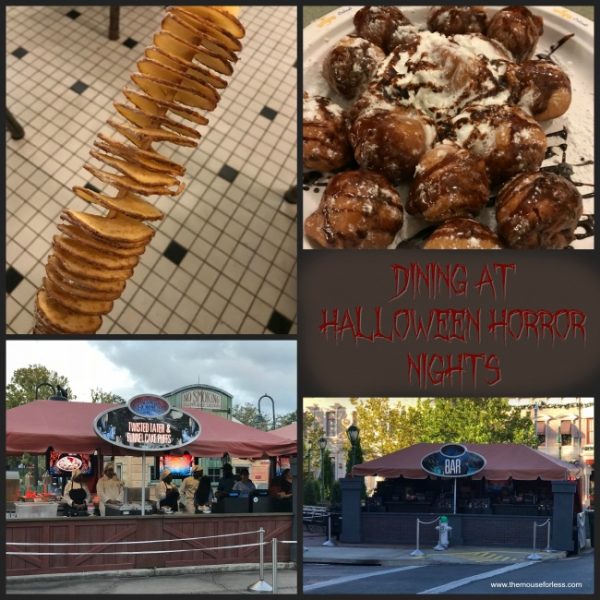 Each year during Halloween Horror Nights, there are special food and beverage options specific to the event. Items include mini doughnuts on a stick, chili garlic chicken sandwich, onion ring burger, fresh calzones, pizza fries, and more. Here's some of the special offerings from 2018 and where you can find some of them, but be on the lookout for more great treats throughout the event.
Pizza Fries:  French fries topped with tomato sauce, mozzarella cheese, and pepperoni and sausage, baked like a pizza – KidZone Pizza Company
Twisted Taters: It's not your everyday potato chip – but a twisted version twirled around a stick and fried. Flavored seasonings include Sour Cream & Chive, Garlic Butter, Seasoned Salt or Salt & Vinegar
Strawberry Shortcake: two waffles, fresh strawberries, strawberry sauce and whipped cream – San Francisco Bakery
Bananas Foster: Two waffles with banana cream cheese and hazelnut spread, topped with raisins, walnuts, whipped cream and a bananas foster sauce. – San Francisco Bakery
Triple Decker Extravaganza: triple-decker featuring three waffles filled with layers of whipped cream, chocolate, peanut butter morsels and jelly beans. – San Francisco Bakery
Fudge Dipped Waffle on a Stick: can top with peanuts or sprinkles – Benny's Burgers, New York Area
Waffle Ice Cream Pocket Sundae: The ultimate ice cream sandwich with 2 chocolate chip waffles and stuffed with strawberry ice cream. Top it off with whipped cream, chocolate sauce, caramel sauce, sprinkles, chopped peanuts, and a cherry! – Louie's Gelato Window
Christmas Tree Light Cupcakes: Chocolate or red velvet
11 Mini Donuts: Covered in drizzles of red frosting. Choose from powdered sugar or cinnamon donuts
"Fiery Onion Ring" Burger: Spicy jack-pepper cheese and a dash of hot sauce – Mel's Die-In
Chili Garlic Chicken Sandwich: Grilled chicken breast, seasoned to spicy perfection with pepper jack cheese, spicy chili sauce and served with a side of fries – Richter's Burger Co
Halloween Horror Nights Tombstone doughnut: yeast-raised doughnut with raspberry Bavarian cream, cookie crumble dirt and green grass sprinkles – Voodoo Doughnut
Beverages
For those 21 and up, there are three new signature alcoholic beverages to choose from. The signature beverages are available only in select locations. There will also be expanded beer and wine throughout the event. Signature drinks include:
Totally L.I.T. (Long Island Iced Tea) – Vodka, tequila, gin, rum with triple sec, lime, sour and Coca-Cola
Wicked Rad Punch – Blueberry vodka, raspberry vodka, triple sec, lemonade and grenadine
Gnarly Twist – A perfect sweet and sour combo of both the Wicked Rad Punch and Totally L.I.T.
Non-alcoholic option are also available. Syrup & Waffles, which was inspired by "Stranger Things." It's a delicious blend of flavors that even has tiny waffles on top. There's also Candy Corn. The bottom layer is toasted marshmallow; the middle is your traditional candy corn flavor; and the top is whipped cream with sprinkles.
Halloween Horror Nights Scareactor Dining Experience
Also, you can have the opportunity to fuel up for the fear with the Halloween Horror Nights Scareactor Dining Experience which occurs every event night at Universal Studios' Classic Monsters Cafe. Enjoy an all-you-care-to-eat themed dinner buffet with a special menu and a digital download of one photo taken during the dining experience. Plus, you might run into some of this year's most popular scareactors.
To check-in for the Scareactor Dining Experience, Guests should head over to the Blue Man Group entrance before the scheduled check-in time in order to be escorted into Universal Studios Florida.
The cost is $49.99 per person, plus tax. To reserve your seating call 407-224-7840.
TheMouseForLess Tips
Arrive early. Due to the massive popularity of the event, the earlier you arrive, the more you will have the opportunity to experience the thrills and chills!
Make sure to purchase tickets ahead of time. Not only do you get to save a little money, but the lines for Halloween Horror Nights ticket purchases are extremely long, delaying your ability to enjoy the haunts.
Halloween Horror Nights has a pretty active social media presence. Make sure to follow along for all the latest details and while you're there, make sure to use the hashtag #HHN28
 Looking for a break from the scares? Diagon Alley is open to Guests and doesn't feature any Halloween Horror Nights overlays.
No masks or costumes will be allowed.
Looking for the wait times of each of the haunted houses? Get real-time wait times with Universal Orlando Resort's app. For those that don't have the app downloaded, there will be in-park wait time boards found throughout the park.
Universal CityWalk is a great place to grab dinner and drinks before the event begins.
You get free admission to select CityWalk clubs with your event ticket, so head over after to keep the night going.
We know that these events are scary, but don't attack scareactors.
For more information about Halloween Horror Nights, visit their event website.