Select Nights – September 2  – October 31, 2022
Universal Orlando Halloween Horror Nights, the nation's premier Halloween event, puts you right into some of the most pulse-pounding moments in horror history. On select nights from September 2 through October 31, 2022, the streets of Universal Studios Florida theme park come alive with hordes of horrifying mutants, monsters and maniacs. With 31 years of experience to draw from, nobody creates a more nightmarish Halloween event filled with truly original scares and authentic horror movie moments. Each night of Halloween Horror Nights, you can explore terrifying haunted houses, make your way through multiple scare zones where creatures lurk around every turn, enjoy outrageous live shows, and experience many of the park's most exciting rides and attractions.
This year marks the 31st year for the event and there will be 43 nights that Halloween Horror Nights will be held. Dates for 2022 are:
September
2, 3, 4, 7, 8, 9, 10, 11, 15, 16, 17, 18, 21, 22, 23, 24, 25, 28, 29, 30
October
1, 2, 5, 6, 7, 8, 9, 12, 13, 14, 15, 16, 19, 20, 21, 22, 23, 26, 27, 28, 29, 30, 31
Please keep in mind due to the intense nature of this event, it is not recommended for children under the age of 13.
Tickets Stay & Scream Video Attractions Dining  Tips

Planning a Universal Vacation?
2022 Ticket Options
In order to experience this event, guests must purchase separate Halloween Horror Night ticket media.
For 2022, Gusts can purchase the Single Night General Admission tickets and Multi-Night Tickets, called the Frequent Fear Pass.
Halloween Horror Single Night Tickets
Halloween Horror Nights Single Night Tickets let you decide when you'll dare to experience the most frightening Halloween event ever. For 2022, Guests can purchase the Single Night General Admission tickets start at $73.99 and range to $104.99.
Halloween Horror Night Frequent Fear Pass
For those who would like to experience Halloween Horror Nights on multiple evenings, you can purchase the Frequent Fear Pass.
Rush of Fear
Come back any event night during the first 17 nights of Halloween Horror Nights. Advance price – $129.99
Frequent Fear
Get up to 27 nights of fear. EVERY Sunday–Thursday event night, plus the first weekend. Advance price – $179.99
Frequent Fear Plus
Get up to 36 nights for one low price. Experience EVERY Sunday–Friday event night, plus the first and the last Saturday. Advance price – $219.99
Ultimate Frequent Fear
Attend ALL event nights with the Ultimate Frequent Fear Pass. Plus get free regular parking after 5:00 p.m. on all event nights. Advance price – $324.99
More Options
Halloween Horror Nights Express Pass
In addition, due to the popularity of Halloween Horror Nights, (the haunted houses can quickly shoot up to having 1 to 2 hour waits) one of the best suggestions for those wishing to participate in the fun is to purchase the Halloween Horror Nights Express Pass. This pass allows you to cut past the regular lines at all the haunted houses, as well as at participating rides and attractions. Do be aware that only a limited number of these Express Passes are sold each night. Price starts at $119.99 and goes to $189.99.
Halloween Horror Nights VIP Experiences
There are many Halloween Horror Nights VIP Experiences you can partake in. Guests can choose to participate in the R.I.P. VIP Tours where they can receive in-depth behind-the-scenes tour of some of Horror Nights' most intriguing houses.  During the Behind the Screams: Unmasking the Horror Tours get a daytime, lights-on, chilling look into how Universal Orlando's Art & Design team transforms the biggest names in horror into haunted houses.
Stay and Scream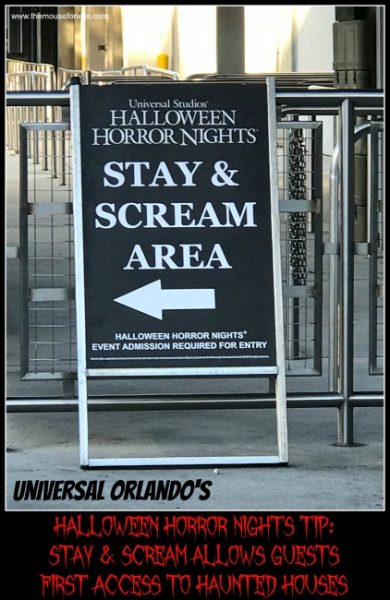 Do you want to spend some of the day at Universal Studios Florida, but spend the evening at Halloween Horror Nights? Consider participating in the Stay and Scream option! Guests will be able to enjoy the park from 3:00 p.m. – 5:00 p.m. The park closes to daytime guests at 5:00 p.m. on Halloween Horror Nights nights, but if you purchase a Scream Early ticket for that evening's event, you are allowed to remain inside the park in a designated "Stay and Scream" holding area. By staying in the park in the "Stay and Scream" area, Guests will be able to have a jump on the general public and are typically able to experience at least one or two houses before the masses begin to really hit the houses. Event admission for the same day is required and not included. Guests who arrive at Universal Studios after 5 pm forfeit their Scream Early Ticket.
Tip: You'll want to make sure you're in the park before 4:30 p.m. to avoid the massive arriving Halloween Horror Nights crowd.
Stay and Scream locations are:
The Springfield section near Fast Food Boulevard features priority access to the first two haunted houses that open each evening. Guests are allowed into the two houses with entrances there between 5:30 and 5:45 p.m. Guests are released from the area at 6:00 p.m., and can be the first to queue for the house nearest to Men In Black.
The New York area holding area includes Finnegan's bar, which offers a full liquor bar and table service food. (Reservations are necessary and almost impossible to obtain. However, you can traditionally "walk up" to the bar and order a drink, with a substantial wait.) Guests who stay here are released around 5:45 p.m. and can enter the houses near Rip Ride Rockit and Race Through New York Starring Jimmy Fallon.
A small overflow holding area is located in Hollywood near the Hello Kitty store. There is no food or beverage available here, but you do get early access to the sound stages.
Video Overview
Attractions
2022 Haunted Houses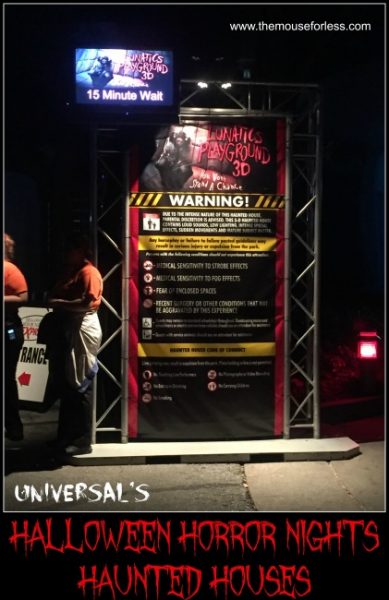 Each year, Halloween Horror Nights feature multiple haunted houses. Many are themed after horror intellectual properties. 2022's IP houses include The Horrors of Blumhouse, The Weeknd: After Hours Nightmare, Halloween, and Universal Monsters: Legends Collide.
In addition, each time, the creative and demented minds of Universal Creative include unique creations that are designed to frighten. In 2022, Guests can experience Spirits of the Coven, Bugs: Eagen Alive, Fiesta de Chupacabras, Hellblock Horror, Dead Man's Pier: Winters' Wake, and Descendants of Destruction.
This year, there will be 10 houses in all for 2022. Here's what's been announced so far:
The Weeknd: After Hours Nightmare
Prepare to enter the macabre mind of The Weeknd in this haunted house as he stalks your squad through the surreal nightmare of his After Hours music. A slasher carving a smile at an otherworldly rave. Bandaged maniacs performing extreme plastic surgery. A grotesque mannequin masquerade. His nightmare is now yours.
Halloween
Visit Haddonfield, Illinois, where Michael Myers is about to don his mask and embark on his first brutal spree. You don't want to go alone as you go back to where it all began. This year, step into the original 1978 horror classic, Halloween.
The Horrors of Blumhouse
It's a new double-feature of Blumhouse horror. First, you'll find yourselves trapped between a frantic teen and the ruthless serial killer she's swapped bodies with in Freaky. Then, you'll try to make a desperate escape from the dark basement of The Grabber before you become his latest victim in the terrifying The Black Phone.
Universal Monsters: Legends Collide
If you thought one Universal Monster was scary, how about three? You're about to get caught in the middle of an epic battle between The Wolf Man, Dracula and The Mummy, together for the first time ever. Their mission: To find the amulet that will break their curse. And they'll destroy anyone who gets in their way.
Spirits of the Coven
A coven of beautiful flapper witches will lure you into their 1920s speakeasy, reveal their haggish true form and turn your scream squad into a witch's brew. They'll be cackling; you'll be screaming.
Bugs: Eaten Alive
While touring a 1950s home of the future, you'll be surrounded by the slime of bugs everywhere as hordes of many-legged terrors descend upon you and your scream squad. You'll be dropping like flies.
Fiesta de Chupacabras
Visit a Latin American village where the legend of the creature Chupacabras is celebrated with a colorful fiesta. And the streets are lined with the crimson blood of tourists like you.
Hellblock Horror
Enter a prison whose savage inmates are monstrous creatures. If they break free from their cells, it's a death sentence for everyone.
Dead Man's Pier: Winter's Wake
In a New England fishing village, undead fishermen emerge from the waves to seek their revenge. You may have escaped their hooks in their scare zone. Now they'll reel you in and drag you under.
Descendants of Destruction
Careful not to leave any of your scream squad behind as you descend the subway tunnels of a deserted New York. Lurking in the dark are hungry mutants looking to feast on the last remnants of humanity.
2022 Scare Zones
The scares are all around during Halloween Horror Nights and that couldn't be more true in the various Scare Zones located throughout the park. Terror is lurking behind ever corner to jump out and scare you courtesy of scare actors. Whether you're just walking through or watching others get the snot scared out of them, the Scare Zones can't be missed!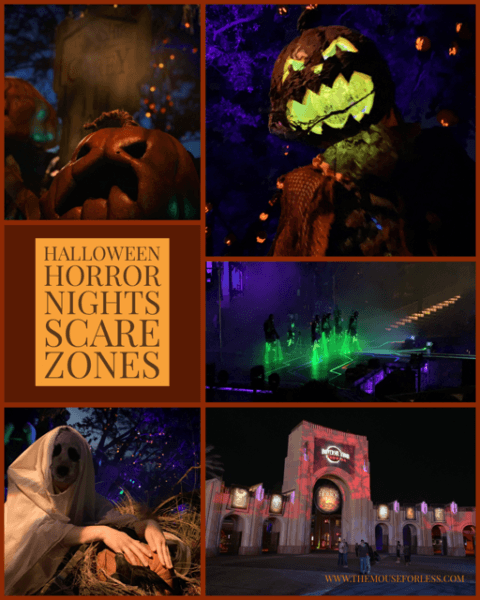 Horrors of Halloween
The Pumpkin Lord, the spirit of Halloween, has taken over this year's event, summoning hordes of fiendish creatures. Terror has taken root.
Scarecrow: Cursed Soil
At an abandoned farm, scarecrows have risen from the crust of the earth to hunt you and seek revenge. They'll harvest your screams.
Sweet Revenge
The sweets from Major Sweets' candy company have turned children into crazed killers. This Halloween's all trick, no treat and total mayhem.
Graveyard: Deadly Unrest
On All Hallow's Eve, a dark storm descends upon a cemetery and awakens long-dead spirits. No one living can escape them
Conjure the Dark
On the first All Hallow's Eve, an evil sorceress called forth monstrosities from dark dimensions. Now your blood will fuel them.
2022 Shows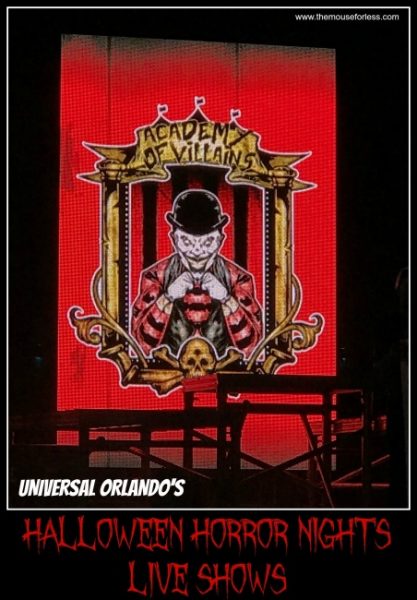 The terror continues with live shows during Halloween Horror Nights.
Halloween Nightmare Fuel Wildfire
The show that sparked a firestorm last year is ablaze with a new nightmare. The pyro and aerial performers are back to reignite your fears.
Ghoulish! A Halloween Tale
On a Halloween night, a ghost story becomes reality as you go beyond the grave in a spectacularly spooky show on Universal Studios' lagoon.
Universal Orlando Attractions
During Halloween Horror Nights, it's not only about the frights. Sometimes you need a breather. Many of Universal Studios Florida's popular attractions are opening throughout the evening to enjoy. Attractions that will be open for Guests include:
Dining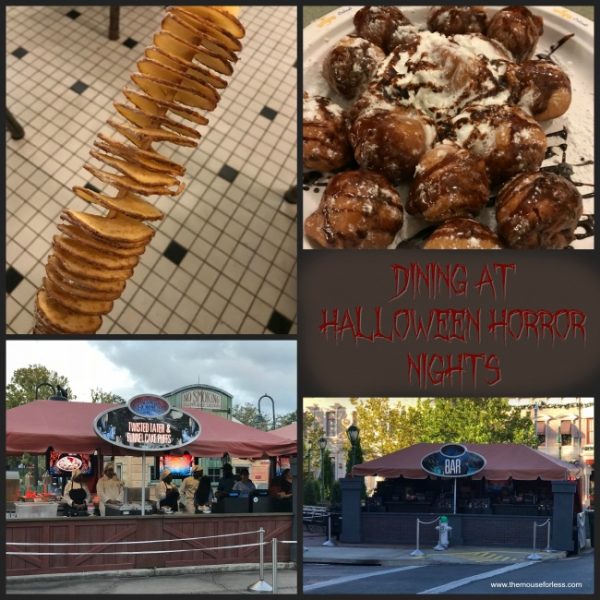 Each year during Halloween Horror Nights, there are special food and beverage options specific to the event. Feed your fear at select dining locations, some featuring food and drinks themed to the 2022 event
TheMouseForLess Tips
Arrive early. Due to the massive popularity of the event, the earlier you arrive, the more you will have the opportunity to experience the thrills and chills!
For those who are looking to make sure that they accomplish every house in one night, buying Universal Express may be your only option, as the event crowds have gotten much larger.
Make sure to purchase tickets ahead of time. Not only do you get to save a little money, but the lines for Halloween Horror Nights ticket purchases are extremely long, delaying your ability to enjoy the haunts.
Halloween Horror Nights has a pretty active social media presence. Make sure to follow along for all the latest details and while you're there, make sure to use the hashtag #HHN31
 Looking for a break from the scares? Diagon Alley is open to Guests and doesn't feature any Halloween Horror Nights overlays.
No masks or costumes will be allowed.
Get real-time wait times of each haunted house with Universal Orlando Resort's app. For those that don't have the app downloaded, there will be in-park wait time boards found throughout the park.
Keep the screams going beyond Halloween Horror Nights at a Universal Monsters-themed photo gallery experience and a spooky lobby lounge at Universal's Cabana Bay Beach Resort. Universal Monsters Gallery of Legends is exclusive to guests of any Universal Orlando Resort hotel. Hotel room key card is required for entry.
Universal CityWalk is a great place to grab dinner and drinks before the event begins.
You get free admission to select CityWalk clubs with your event ticket, so head over after to keep the night going.
We know that these events are scary, but don't attack scareactors.
For more information about Halloween Horror Nights, visit their event website.