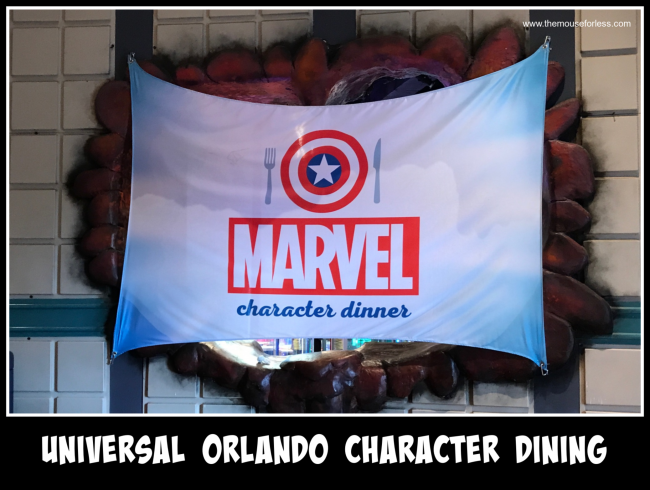 What better way to start the day than with your favorite TV and movie characters? Create memories, take photos, and get autographs, all while enjoying a delicious meal with Universal Orlando Character Dining! Universal Orlando Character Dining at the Universal Orlando Resort gives guests the opportunity to spend some time with their favorite characters while enjoying a delicious meal.
Universal Studios Florida Character Dining
Halloween Horror Nights Scareactor Dining Experience
During Halloween Horror Nights season you can reserve a dining experience like no other. Dine on an all you can eat dinner buffet and take photos with scary characters. Dinner not recommended for children under the age of 13. (Seasonal)
Universal Studios' Classic Monster Cafe
Halloween Horror Nights Ticket and Scareactor Dining Experience Ticket needed to attend. $49.99 per person plus tax
2019 Dates 
September 6, 7, 8, 12, 14, 15, 19, 21, 22, 26, 28, 29
Oct 2, 3, 5, 6, 9, 10, 12, 13, 17, 19, 20, 23, 24, 26, 27, 30, 31
First seating begins at 5:00pm.
Islands of Adventure Character Dining
Marvel Character Dinner
Team-up with your favorite Super Heroes after a long day of adventures.
Cafe 4
Adults – $49.99 plus tax
Children (ages 3 – 9) – $24.99 plus tax
Available All Year
Thursday – Sunday
Beginning at 5:00pm
Separate Theme Park Admission Required
• Enjoy a dinner buffet with items such as fresh salads like orzo and mozzarella and tomato, roasted rosemary lemon chicken, shrimp scampi and chicken scaloppini, Penne Bolognese, stuffed jumbo shells, specialty pizzas and assorted desserts.
• Opportunity for photos and autographs with Captain America, Spider-Man, Wolverine, Cyclops, Storm and Rogue. Separate theme park admission is required. Characters are subject to change without notice.
• Guests will also receive one digital photo taken during the Dining Experience via My Universal Photos.
The Grinch & Friends Character Breakfast
Dig into a delicious, hearty breakfast hosted by the maven of mischief from Mt. Crumpit himself, The Grinch. Don't worry, it's perfectly acceptable to laugh with your mouth full! (Seasonal)
Circus McGurkus Cafe Stoo-pendous
Separately Ticketed Event. Theme Park Admission Required
Adults – $34.99 plus tax
Children (ages 3 – 9) – $20.99 plus tax
Available Select Nights
2019 Dates
November 16 – 17, 23 – 24, 27 – 30
December 1, 5 – 8, 12 – 15, 19 – 25
Seating between 8:00 am – 10:00 am
• Choose from a menu of breakfast entrée options including Green Eggs and Ham, Continental Fruit and Yogurt ; All-American; Pancakes; and a Combo breakfast with pancakes, sausage, bacon, hash browns, croissant, and eggs. (All breakfasts are available in adult and child portions).
• One (1) digital photo with The Grinch (via My Universal Photos)
• Opportunity for photos and autographs with The Grinch and other Dr. Seuss characters.
On-Site Hotel Character Meals
Despicable Me Breakfast
Each Saturday morning at Loews Royal Pacific Resort Gru and his minions host a delicious buffet-style breakfast. Margo, Edith, and Agnes will be there as well for photos and autographs.
Pacifica Ballroom
Adult $34.99 + tax
Child $20.99 + tax
Available All Year
Every Saturday
Seating Times 8:00 am, 9:30 am, 11:00 am