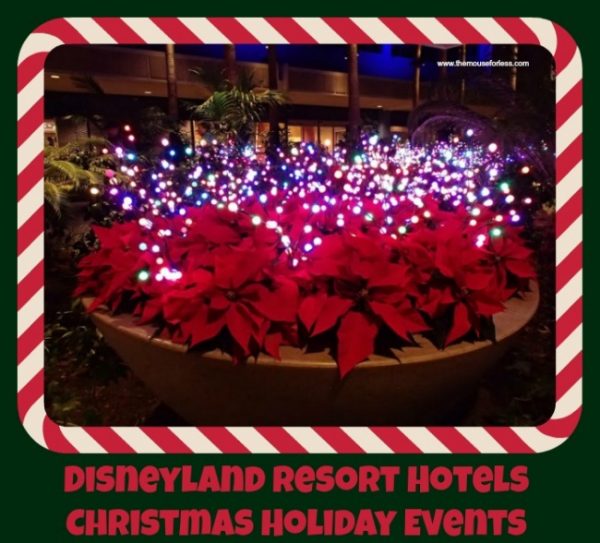 Disneyland Resort Hotels Christmas Holiday Events
Disneyland Resort hotels Christmas holiday events invite Guests to join in the holiday merriment with twinkling lights and ornaments, special entertainment and holiday dining. Each Resort hotel features a unique holiday tree decorated with whimsical flourishes, traditional trimmings and dashes of pure Disney magic.
More information for both the Disneyland hotels will be added as it becomes available.
Carolers at Disneyland Resort Hotels
Carolers in traditional Victorian holiday garb make regular appearances throughout the season at each of the three Disneyland Resort hotels: Disney's Grand Californian Hotel, the Disneyland Hotel and Disney's Paradise Pier Hotel.
Santa Meet & Greets at Disneyland Resort Hotels
During the Disneyland Holidays from November 17- December 24, 2017, Guests of the hotels are encouraged to meet, greet and take a seat with St. Nick!
Resort Hotel Christmas Trees & Gingerbread Displays
A fun free activity during the Disneyland Holidays can be found at each of Disneyland Resorts.  Each of the three hotels will have a huge Christmas tree as the centerpiece in the lobbies. Don't miss the tree at Disneyland Hotel which is decorated with space-age ornaments and smells like marshmallows!
At Disney's Grand Californian Hotel & Spa, stop by the lobby to marvel at a giant gingerbread replica of the hotel itself. Standing 7.5 delicious feet tall and 12 feet wide, this delightfully detailed structure was created from over 500 pounds of gingerbread and 60 gallons of frosting and icing.
Disneyland Holidays Sweets and Treats
Snowman Shortbread Cookie
Ornament Stein
Gingerbread Man
Peppermint Mocha
Pumpkin Spice Latte
Gingerbread Man
Peppermint Mocha
Ornament Stein
Gingerbread Man
Peppermint Mocha
Pumpkin Spice Latte
Snowman Shortbread Cookie
For more information about celebrating the Christmas holiday season at the Disneyland Resort, check out our Holidays at Disneyland page.