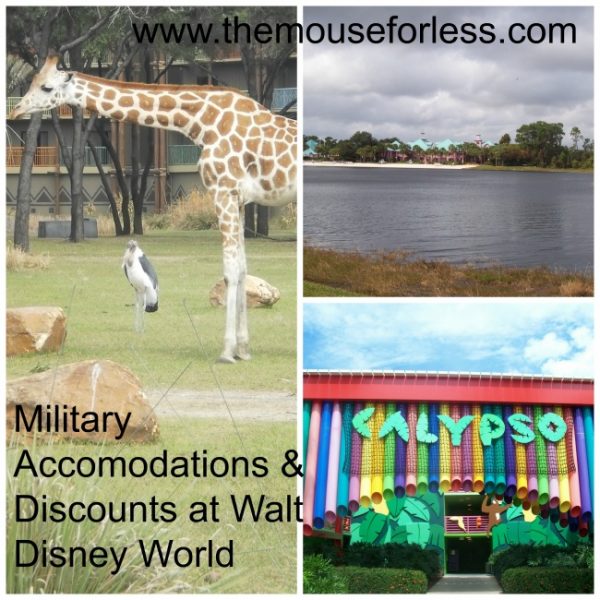 There are a few options for military accommodations that are discounted at Walt Disney World: Shades of Green and Disney military discount rooms, as well as an offer at The Swan and Dolphin.   In addition, Shades of Green offers special programs for AFRC Survivors, Veterans, and OEF/OIF U.S. Military and DoD Civilian Personnel. Eligibility and dates available may apply.
Military Deals at Walt Disney World Owned Resorts
Deeply discounted rooms and packages are available for Military at Walt Disney World owned and operated resorts.  Savings are up to 30% depending on room category. See our Walt Disney Current Code page for additional info and blackout dates.  Contact a travel agency like The Magic for Less Travel, that specializes in Disney Vacations to assist with military discounts at the Disney Resorts.
Active and Retired U.S. Military can also currently purchase special 4-Day Disney's Armed Forces Salute Tickets for themselves and up to five (5) family members and/or friends. See our Walt Disney World Military Discounts section for additional info, rules and blackout dates.
Swan and Dolphin Military Accommodations Deals
The Walt Disney World Swan and Dolphin Resort, a Four Diamond luxury resort ideally located in the heart of Walt Disney World offers special room and food discounts for military. No minimum night stay required. Military personnel must present proof of service and valid drivers license, passport or birth certificate to verify birth date. See our Walt Disney Current Code page for additional info on Military deals at the Swan and Dolphin resorts.
Shades of Green
Active and retired military, as well DOD employees and other authorized patronage, can stay at Shades of Green, an Armed Forces Recreation Center (AFRC) located on Walt Disney World Property.  This military retreat offers spacious rooms and many amenities.
Shades of Green is not owned and run by Walt Disney World and is not a part of the Walt Disney World reservation system and guests are not eligible for many Walt Disney World on-site benefits. Shades of Green Guests are eligible for Disney's Early Theme Park Entry and delivery of theme park purchases to their resort.  Shades of Green does not have Disney transportation, and there have been some complaints that the buses shuttling guests to and from parks are smaller and run less often than those in Disney's fleet. Because of this, many guests consider taking advantage of the great Walt Disney World Military room discounts.  Room rates at Shades of Green, except for suites, are based on pay grade.  Please contact Shades of Green for specific ID requirements.
AFRC Survivors Program Discount
Shades of Green  offers programs and discounts honoring Survivors from ALL services. The AFRC Survivors' Family Program provides  discount from normal room rates by applicable category and extends to Family Members and sponsored guest accompanying authorized users. Visit the Shades of Green web site for more info.
For additional information regarding Walt Disney World military discounts, visit the ITT office on your base or visit disneyworld.com/military.