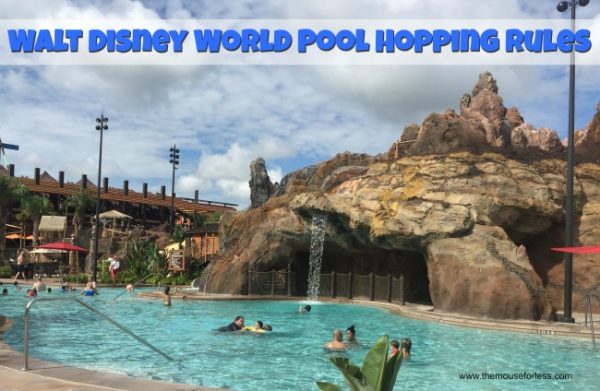 Walt Disney World Resort Pool Hopping
At Walt Disney World there are a number of resorts to choose from. This decision is often based on the quality of the resort's pool. Each of the Walt Disney World Resorts has a unique pool layout. Some are very large, some have kid-friendly splash areas, and others are equipped with elaborate water slides. Pool hopping is Not permitted at Walt Disney World Resorts. However there are a few places that will allow for it.
Resort Pool Hopping Rules
The Mouse For Less Tips
If you are traveling with a large group you will want to stay somewhere everyone will enjoy. The pool is usually everyone's main concern. By knowing which pools you can and cannot hop to you will narrow down your options.
On arrival day, guests may want to unwind and settle in before hitting the parks. When you start your Disney vacation out with a resort day by the pool of your choosing you set the tone for your entire vacation!
Guests traveling together but staying in separate resort areas will want to know which resorts allow for pool hopping so that the groups can go back and forth on resort days.
Disney maintains pool security by way of gates that only open with the MagicBand and via a number of cast members and lifeguards surrounding the busy pool areas. It would be quite challenging to use the pool of a resort you are not staying at, particularly a feature pool at a Deluxe resort.