February 28 – May 28, 2018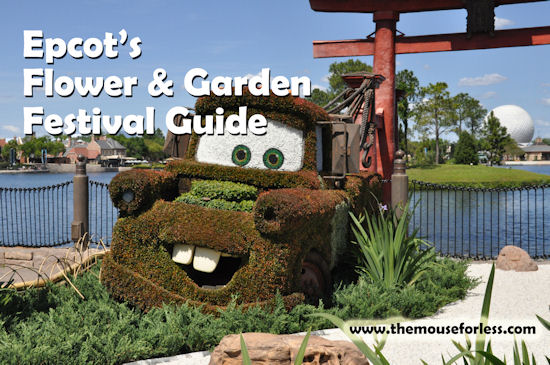 Epcot Flower and Garden Festival
The Epcot International Flower and Garden Festival will take place this year for an unprecedented 90-days. This spring special event is filled with Disney character topiaries, a colorful array of flowers, gardens, live music, special presentations and garden marketplaces featuring festival taste treats. It's where Disney springs to life!
Disney gardeners will paint the landscape with rainbows of blooms while Epcot chefs tempt guests with marketplace tastes during the 25th Epcot International Flower and Garden Festival from February 28 – May 28, 2018, at Walt Disney World Resort.
Epcot admission is required. Most Epcot International Flower and Garden Festival events, including all gardening programs and exhibits, are included with admission to Epcot.
Additional 2018 information will be added as it becomes available.
2017 Epcot Flower and Garden Festival Information
New for 2017 Festival Highlights Photo Gallery Outdoor Kitchens Menus Festival Center Highlights Merchandise Fun Facts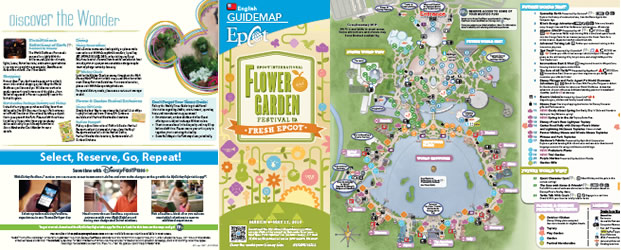 New for 2017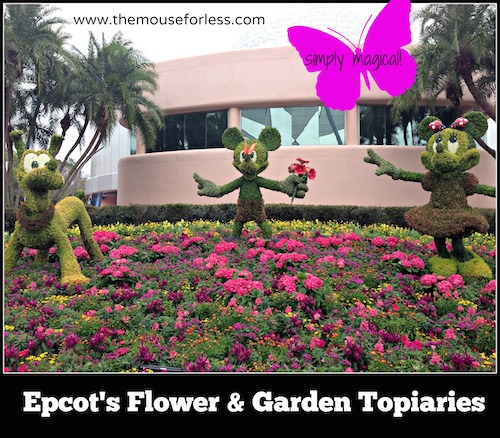 New Topiaries
The new generation of princess topiaries featuring topiary facial features will welcome a brand-new Belle topiary from "Beauty and the Beast." Located outside the France pavilion with the Beast topiary, Belle will come to life with sculpted facial features and her yellow ball gown created with golden blooming Joseph's Coat plants.
Another festival first will be a 6-foot-tall topiary of Figment, the mascot of the park's Imagination! pavilion, perched atop a 5-foot-diameter ball fashioned from yellow Joseph's Coat.
The brand-new Epcot front-entrance topiary garden inspired by a vintage Walt Disney short film will spring to life with a floral-festooned maypole featuring Mickey Mouse, Minnie Mouse, Daisy and Pluto.
New Outdoor Kitchens and New Menu Items
Fresh, farm-market food and beverage flavors will debut at two new Outdoor Kitchens that will join 13 returning Outdoor Kitchens. The two new kiosks are Northern Bloom which focuses on fantastic fare from Canada and The Berry Basket, which will serve dishes that include berries.
New Kids Play Areas
Reimagined interactive play gardens will include a new take on the "Cars"-themed garden introducing a new character topiary from the June 2017 release of the Disney•Pixar sequel, "Cars 3." Music Garden Melodies play area will return with new garden and topiary elements.
The popular Garden Rocks concert series will expand to four days each week, with three concerts each Friday through Monday that present pop musicians that span multiple genres over four decades. New Garden Rocks Dining Packages will also be available on select days at a number of Epcot restaurants. Concerts are held each weekend evening in the America Gardens Theatre at 5:30, 6:45, and 8:00 p.m. See the complete line-up.
Festival Center
For the first time, the event's Festival Center will extend operating hours from Wednesday, March 1 through Sunday, March 5. Throughout the rest of the festival, the center will be open each Friday through Sunday with an entertaining mix of gardening seminars and DIY workshops.
PhotoPass Magic Shots
In Future World, Guests can join topiaries of Donald and Chip & Dale or they can stand on the back of a butterfly in flight near Club Cool. In World Showcase, grab a pick ax and freshly-mined jewels to join topiaries of Snow White and the Seven Dwarves for the fairest photo of them all!
Epcot Flower and Garden Festival Highlights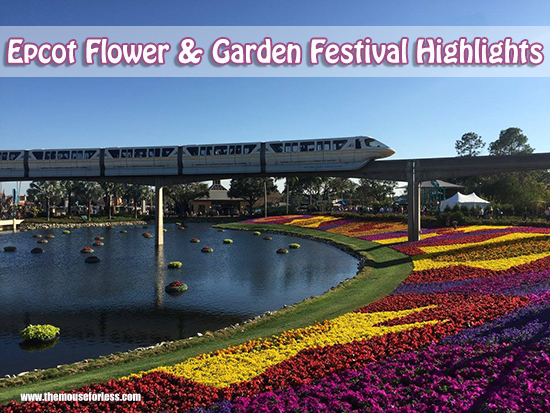 Topiaries
You'll find 70 Disney character topiaries among the over 100 topiaries arranged throughout Epcot. Also look for more than 200 floating mini-gardens, dozens of flower towers and sweeping beds of multi-colored blooms. At themed flower and garden displays you'll learn new tips and techniques that you can try at home.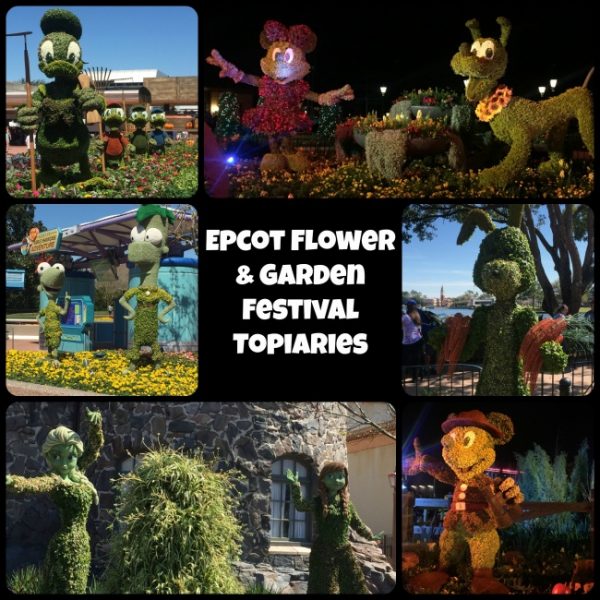 The following character topiaries can found throughout Epcot:
Anna and Elsa – Norway Pavilion
Bambi & Friends – Canada Pavilion
Beauty and the Beast – France Pavilion
Belle – France Pavilion (NEW!)
Bromeliad Dragon  – China Pavilion
Buzz Lightyear – Mission: SPACE
Cruz Besouro (Cars 3) – Test Track (NEW!)
Donald, Daisy, Heuy, Dewey and Louie – Main Entrance
Fantasia – Future World West
Figment – Behind Spaceship Earth (NEW!)
Lady and the Tramp – Italy Pavilion
Mickey, Minnie and Pluto – Showcase Plaza
Panda – China Pavilion
Peter Pan, Tinker Bell & Pixie Hollow Fairy Houses – United Kingdom Pavilion
Phineas and Ferb – Odyssey Bridge
Ranger Mickey & Friends – Future World
Snow White and the Seven Dwarfs – Germany Pavilion
Stitch – MouseGear (Fountain Side)
The Lion King (Mufasa, Pumbaa, Rafiki, Sarabi, Simba and Timon) – The Outpost
The Three Caballeros – Mexico Pavilion (NEW!)
Winnie the Pooh and Friends – United Kingdom
Woody – American Adventure
Garden Displays

English Tea Garden
Presented by Twinings of London Tea, discover the art and history of tea blending during a free 20-minute tour of this elegant English Tea Garden, featuring classic and new tea blends. Tours are typically held Monday through Thursday at 4:00 p.m. and 6:00 p.m., and Friday through Sunday at 2:00 a.m., 4:0 p.m. and 6:1530 p.m. Register in advance for your guided tour at The Tea Caddy located at the United Kingdom Pavilion on the day of the tour. You will be given a ticket for your tour that you can exchange at the end of the tour for several free tea packets. You'll also get the opportunity to sample several cold brew teas. Sign up early as it fills up fast!
Illuminated Gardens
Select Disney topiaries and Festival playgrounds will glow with light as the Epcot Flower and Garden Festival fun continues into the night.
Butterflies on the Go Presented by Go Go SqueeZ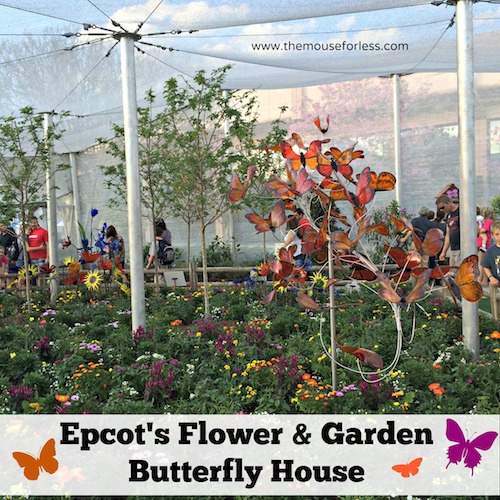 Follow the story of the Monarch butterfly as it journeys across the continent. Guests will see butterflies emerge from their chrysalis and enjoy hundreds of butterflies living in the Butterfly House.
Additional Gardens
Alpine Containers (NEW!) – Take your knowledge of high-elevation plants to new heights as you learn about life as it exists above the tree line!
Bonsai Collection – In the Japan Pavilion, cultivate an appreciation for an ancient art form that produces the most amazing miniature trees.
Floating Mini-Gardens – 225 plants drifting on the ponds that border the walkway between Future World and the World Showcase.
Geranium Grandeur (NEW!) – Enjoy these popular annual, biennial and perennial plants, and the vibrant petals they have to offer.
Health & Healing Garden – At The Land to discover ancient plants that have the ability to heal!
Nature Works Everywhere (NEW!) – With this exhibit from Nature Conservancy, kids can learn how to create gardens that help their school yards filter water, provide wildlife habitats and improve the soil.
Pepper Fire Garden – Head to The Land Pavilion to take a peek at the world's hottest peppers.
Prehistoric Plants – Examples of greenery that existed when dinosaurs roamed the earth at Future World East.
Purple Martins Presented by Audubon Florida – Listen to the tranquil sound of this special species of songbird at Future World East.
Shakespeare Garden – Match up famous quotes to flowers found within this vibrant garden at the United Kingdom Pavilion.
Festival Fun for the Kids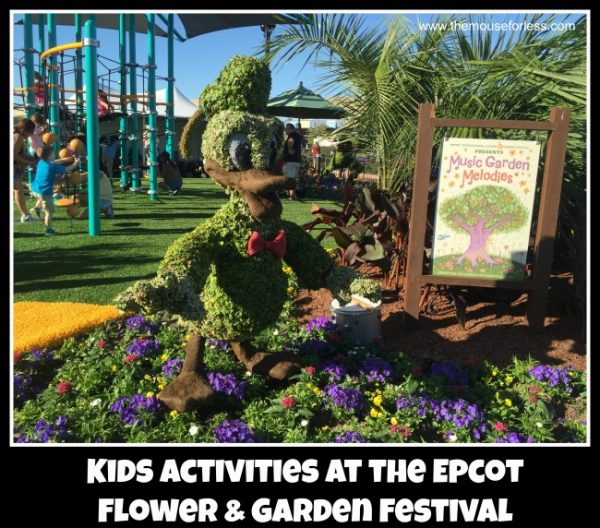 Festival fun includes special displays and interactive areas for kids.
Music Garden Melodies Playground: Along the Imagination Walkway between Future World and World Showcase this play area will include interactive drums, chimes, and xylophones where children can create their own musical sounds or have fun at the innovative outdoor playground. The area will also debut debut featuring topiaries of the Fab Five with "band leader" Mickey Mouse plus Minnie Mouse, Goofy, Pluto and Donald Duck. There's even a shaded area for parents to sit and relax.
Road to Florida 500 featuring Mater, Lightening McQueen and Cruz Besouro: Have fun with this Cars-themed stop near Test Track. Relax and recharge while your kids race around in a desert-themed mini park. This playful area features a canopied jungle gym and eye-catching cacti.
Butterflies on the Go gives the opportunity to see up to 10 species of butterflies up close. Stand still and the butterflies will come very close for a visit.
A new Kidcot Garden Stop Field Guide developed specifically for the Festival is available at all Kidcot locations throughout Epcot. Younger Guests can use this booklet as they explore World Showcase to learn more about fruits and berries from around the globe.
Themed Weekends and Special Happenings
Each weekend, there will be the Fun Fresh Weekends which help to add a fun element to the event. Upcoming weekends for 2017 include
Disney's Animals, Science and Environment and Conservation Specialists: March 31 to April 2 and April 28 to 30, 2017
Interact with team members from Disney's Animal Kingdom during this unique opportunity. Learn what we can do to protect the planet.
Celebrate Earth Day: April 22 to 24, 2017
Share in a celebratory occasion and enjoy an assortment of special activities.
Discover the Bounty of Florida Agriculture: May 5 to 7, 2017
Interact with a whole cornucopia of Florida Agriculture specialists inside the Festival Center.
Florida Federation of Garden Clubs: May 12 to 14, 2017
Marvel at amazing flora designs that defy description.
The Gardens of the World Tour
Be treated to fanciful floral displays on this 3-hour tour held only during the Epcot International Flower and Garden Festival on Monday, Tuesday, Thursday & Friday from 9 a.m. to noon. A Disney Horticulturist will be your host on a tour of special displays and award-winning international gardens. The tour cost $84.00 + tax per person and guests must be age 16 and up. To book, call 407-WDW-TOUR (939-8687) or register at Guest Relations. Discounts for DVC members, or Disney VISA members are available.
Epcot Flower and Garden Festival Gallery From 2017 Festival
Outdoor Kitchens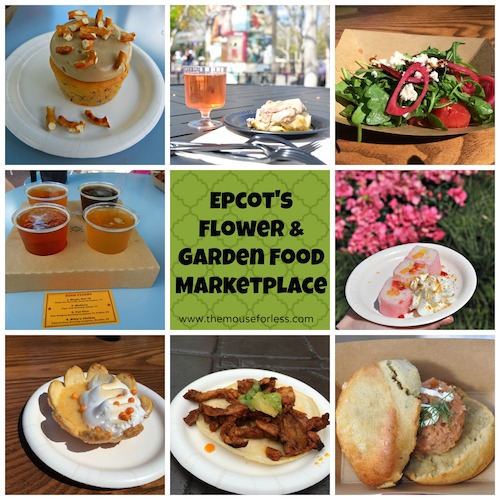 The Outdoor Kitchens will return with new and favorite menu items. Prices average from $4 – $6 per dish. As with the Epcot Epcot Food & Wine Festival, many of the marketplace menu items will be available for snack credits on the Disney Dining Plan.
Each country will have a kiosk with food and beverages highlighting produce growing in the areas nearby and making the connection of food from field to table. Last year's top menu picks such as the Watermelon Salad with local baby arugula, feta cheese, pickled red onions and balsamic reduction will be back for an encore at the Florida Fresh marketplace. You'll want to look for all of the outdoor kitchen locations at World Showcase.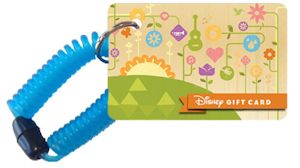 Look for mini Disney Gift Cards with an exclusive Epcot International Flower & Garden Festival design for a limited time during the festival. The Disney Gift Cards can be activated with as little as $15. Wear it around your wrist and just swipe to pay for food and more. The Disney Gift Card can be reloaded as many times as you want at most festival kiosks. When the festival is over, you can continue using your card since, like all Disney Gift Cards, it's good for practically all things Disney at the Walt Disney World Resort and beyond.

In addition to the the Epcot guide map located near the entrance of the park, a complimentary Flower and Garden Festival Garden Passport will also be available to be stamped at each Garden Marketplace you visit. Each marketplace will have its own unique stamp design, making the Garden Passport the perfect scrapbook souvenir. Pick up your Garden Passport at the Festival Center, Epcot Flower and Garden Festival merchandise locations or any Outdoor Kitchens to ensure you see and do everything the Flower and Garden Festival has to offer.
Festival Center Highlights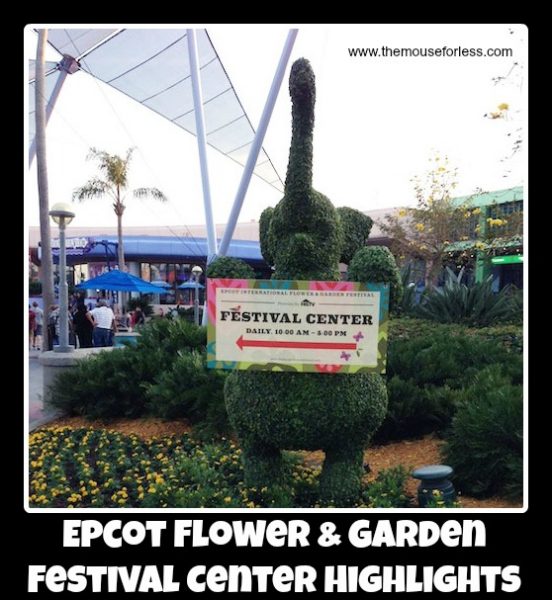 At the Festival Center, guests can shop for festival merchandise, attend demonstrations and get ideas and tips from master gardeners, and enjoy delicious refreshments. Located in Future World between Universe of Energy and Mission:SPACE, the Festival Center open is open on Fridays, Saturdays, and Sundays from 10:00 a.m. to 5:00 p.m. Highlights typically include:
Garden Information Desk – From 10:00 a.m. to 5:00 p.m., connect with Master Gardeners from the University of Florida's Institute of Food and Agriculture Sciences.
Intermissions Cafe – Enjoy fine wines by the glass, cold sandwiches, salads and light snacks.
Greenhouse Stage – At 11:00 a.m. and 2:00 p.m. see local gardening experts and Disney Cast Members as they share tips and secrets you can plant in your own garden. Visit the Festival Center for daily topics.
Fresh Epcot Stage – Live demonstrations at 12:00 p.m. and 3:00 p.m.
Garden Theatre – From 10:00 a.m. to 5:00 p.m. See the "making" of the Epcot International Flower & Garden Festival.
Heritage of Disney's Horticulture Exhibit – From 10:00 a.m. to 5:00 p.m. learn how horticulture has played a key role in creating Walt Disney's vision.
Tips at the Spotlight Stage – At 1:00 p.m. and 4:00 p.m. Soak up planting pointers from the experts at University of Florida's Institute of Food and Agriculture Sciences.
Conversations at the Festival Stage – From 10:00 p.m. to 5:00 p.m. catch lively discussions on a variety of horticulture topics.
For a full list of speakers that will take stage at the Festival Center for the Epcot Flower and Garden Festival, as well as the location and times of seminars, make sure to check out this guide.
Festival Merchandise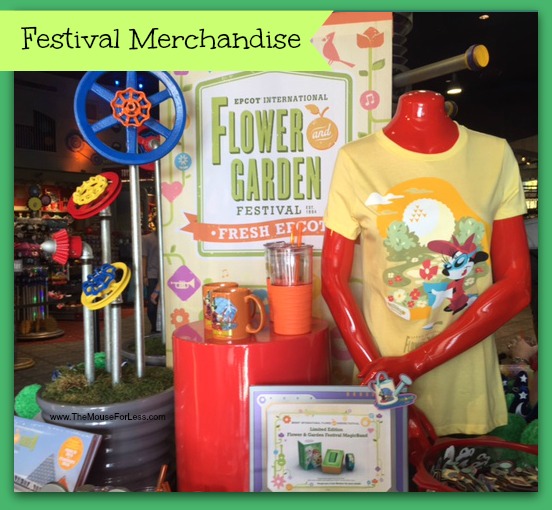 Epcot Flower and Garden Festival merchandise destinations are located in the Festival Center and around the World Showcase promenade. New and returning artisans will be taking part in the festivities. Consult your Festival Guide Map for locations.
This year's Epcot Flower and Garden Festival merchandise heavily features that lovable purple friend, Figment! He's featured on clothing, a limited edition MagicBand, and even a flower pot. Also featured on merchandise will Yoda be. You'll find him on pavers and a Yoda gnome.
TheMouseForLess Tips:
You may already be familiar with the miniature trains that operate daily in Germany. But, when you visit the Epcot Flower and Garden Festival, take a close look! The little town in the display is having a festival of its own!
Did you know that you can get an excellent overview of the Epcot Flower and Garden Festival from the Epcot Monorail? Some of the floating gardens in the waterway under the monorail even have LED lights. Many of the flower beds, playgrounds, topiaries also are illuminated. Plus, colorful flower beds designed to look like butterflies surround the waterway under the monorail. Even if you weren't planning to ride the Epcot monorail, consider taking the ride for a unique view, day or night, that you won't get otherwise.
Epcot Flower and Garden Festival Fun Facts
At 90 days, the Epcot International Flower and Garden Festival is one of the longest flower and garden festivals in the United States.
The festival encompasses more than 300 acres and more than a mile and a half of gardens.
Over 90 individual topiaries are on display with more than 70 Disney characters.
The Fantasia display in Future World West is created from 16 different topiaries.
At nearly 20 feet long, the Dragon topiary in the China Pavilion is the longest topiary at Walt Disney World. It is composed of roughly 650 plants and over 400of them are bromeliads.
30 million blooms blanket the park throughout the festival.
More than 500,000 plants, trees and shrubs are planted for the festival; 250,000 of those are annual blossoms installed for the festival.
Festival plants include 60 different species of trees, 47 types of palms, and 48 varieties of bedding plants.
40 Flower Towers have been added to Future World. Each tower contains 250 four-inch annuals.
209 floating mini-gardens, each three feet in diameter, of multi-hued impatiens provide splashes of color on two ponds that border the walkway between Future World and World Showcase.
700 container gardens of flowers, herbs, plants and vegetables in clay pots, barrels and urns enhance the landscape throughout Epcot.
150 hands-on gardening demonstrations and seminars will be presented.
400 Walt Disney World horticulturists are needed to install the festival landscape, topiaries and many exhibits; 100 Epcot horticulturists maintain topiaries and other festival displays.
It takes more than one full year and about 24,000 cast member hours to prepare for the annual festival.
It takes over 4 nights to plant just one side of the Festival Blooms.
Over 600 native butterflies can be found in Butterflies on the Go.
---
For the latest Epcot Flower and Garden Festival updates, guests may also visit DisneyWorld.com.
Call your travel agent or contact The Magic For Less Travel at (888) 330-6201 to book your Walt Disney World travel during this event.