Early March –  Early July 2024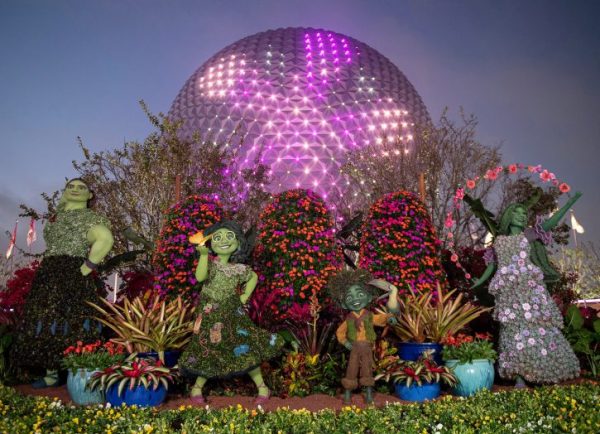 The EPCOT International Flower and Garden Festival is a spring special event filled with Disney character topiaries, a colorful array of flowers, gardens, live music, special presentations, and garden marketplaces featuring festival taste treats. It's where Disney springs to life!
Disney gardeners will paint the landscape with rainbows of blooms while Epcot chefs tempt guests with marketplace tastes during the EPCOT International Flower and Garden Festival from March 1 – July 5, 2023, at Walt Disney World Resort.
EPCOT admission is required. Most EPCOT International Flower and Garden Festival events, including all exhibits, are included with admission to EPCOT.
The following is info about the 2023 EPCOT Flower and Garden Festival. 2024 information will be posted when released. 
Festival Highlights  Video Overview  Outdoor Kitchens Menus Garden Rocks Concerts For the Kids  Tours  Highlights  Merchandise  Tips  Fun Facts
EPCOT Flower and Garden Festival Highlights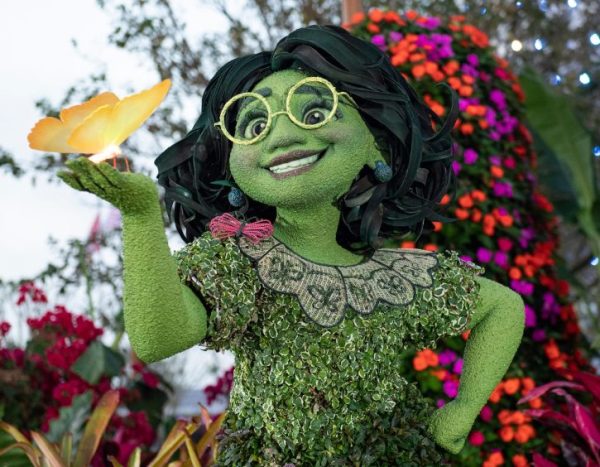 Topiaries
You'll find 70 Disney character topiaries among the over 100 topiaries arranged throughout EPCOT. Also look for more than 200 floating mini-gardens, dozens of flower towers and sweeping beds of multi-colored blooms. At themed flower and garden displays, you'll learn new tips and techniques that you can try at home.
The following are the character topiaries for 2023 that can be found throughout EPCOT:
Encanto, Including Mirabel, Antonio, Isabela and Luisa – NEW!
Main Entrance
Mickey Mouse, Minnie Mouse, Chip, Dale and Pluto
Bridge to World Showcase and World Celebration
Woody, Bo Peep and Her Sheep
World Nature Near The Land Pavilion
Goofy
World Showcase
Tiana – NEW!
The American Adventure Pavilion
Buzz Lightyear
World Discovery Near Mission: SPACE
Donald and Daisy
Community Garden Near Connections Café in World Celebration
Figment
Near Imagination!
The Three Caballeros (Jose, Donald and Panchito)
Mexico Pavilion
Anna and Elsa
Norway Pavilion
Troll
Norway Pavilion
Dragon
Japan Pavilion Near Torii Gate
Pandas
China Pavilion
Simba and Friends (Rafiki, Simba, Mufasa and Sarabi)
Between Imagination! and The Land Pavilion
Pumbaa and Timon
Between Imagination! and The Land Pavilion
Snow White and the Seven Dwarfs
Germany Pavilion
Lady and the Tramp
Italy Pavilion
Beauty and the Beast
France Pavilion
Lumiere and Cogsworth
France Pavilion
Kermit the Frog and Miss Piggy
Between France and Morocco Pavilions
Peter Pan, Captain Hook and Tick Tock Croc
Between United Kingdom and Canada Pavilions
Winnie the Pooh and Friends (Rabbit, Eeyore, Piglet and Tigger)
United Kingdom Pavilion
Tinker Bell's Fairy House Garden
United Kingdom Pavilion
Bambi and Friends
Near Imagination! and Refreshment Port
Geese
Canada Pavilion
Butterflies
Main Entrance, Scentsy Garden, Butterfly House and World Showcase

Planning a Walt Disney World Vacation?
For a Free no-obligation quote, contact our sponsor
The Magic For Less Travel
. Services are provided free of charge, and their expert planning advice will help you make the most of your vacation time and money.
Gardens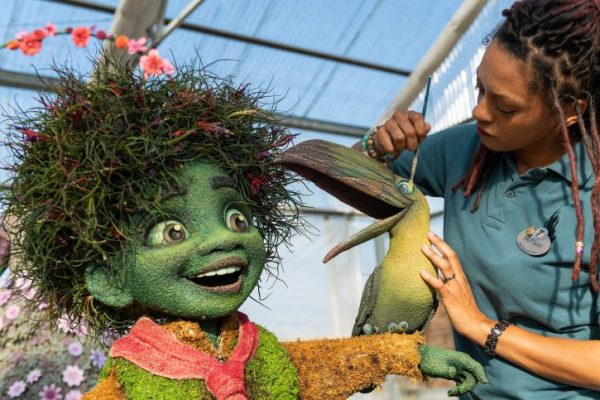 Bamboo Garden – China Pavilion
Visit this garden to see bamboo in a variety of colors, patterns and sizes.
Blossoms of Fragrance Presented by Scentsy – World Showcase Bridge
Follow your nose and form lasting memories with the help of fresh, unforgettable fragrances.
Bold Bromeliads – The Land Pavilion
Observe a variety of unique and colorful plants that can adapt to a wide range of climates and conditions.
Bonsai Collection – Japan Pavilion
Learn about the art of bonsai, some of the finest living sculptures. Bonsai masters carefully shape and tend these miniature works of art, creating peace and balance with the earth.
Bouquet Garden – France Pavilion
See bountiful blooms perfect for a bouquet of cut flowers.
Butterfly Landing Presented by AdventHealth – World Nature Near Imagination!
View a kaleidoscope of butterflies up close, in all their extraordinary color. Learn about butterfly lifecycles and maybe even see one emerge from its chrysalis. Closes at dusk.
China Zodiac Garden – China Pavilion
Realize your finer attributes in this garden inspired by the 12 creatures of the Chinese zodiac.
The Community Garden – World Celebration – NEW!
Connect with the earth and each other at this celebration of a diverse and thriving communal garden plot.
Connections Conservatory Garden – Connections Eatery
Settle into this thoughtful garden full of floral inspirations for your indoor spaces.
Desert Garden – Mexico Pavilion
Discover the special adaptations that allow plants in arid climates to adjust to the harshest of growing conditions.
English Tea Garden Presented by Twinings® – United Kingdom Pavilion
Unearth the history and art of tea-blending at this elegant English tea garden––featuring plants used in some of Twinings' finest blends.
Family-Friendly Garden Presented by OFF!
Explore a camp-themed garden where little ones are invited to jump, play and climb.
Festival Blooms – World Celebration
Admire thousands of flowers that form colorful, living panoramas.
Floating Gardens – World Nature
Peer upon more than 150 petite plots drifting on the ponds that border the bridge to World Showcase.
Garden Italiano – Italy Pavilion
From fresh spaghetti sauce to pizza toppings, this Tuscan kitchen garden features all the produce and herbs needed to create a classic Italian feast.
The Honey Bee-stro Hosted by National Honey Board® – Rosewalk Near Imagination!
Learn about honeybees' critical role in the environment, and delight in sweet and savory treats made possible by their hard work.
Kokedema Garden – Japan Pavilion
Admire fresh expressions of an ancient Japanese art at this tranquil garden.
Miniature Garden – Germany Pavilion
Appreciate the little things in this showcase of diminutive dwellings nestled in a forest of fine shrubs.
Prehistoric Garden – World Discovery Near Mission: SPACE
Imagine life on Earth 65 million years ago with astounding plant life that's thrived since the age of the dinosaurs.
Shakespeare Garden – United Kingdom Pavilion
Explore the works of Shakespeare in this idyllic garden featuring excerpts from some of the bard's most famous sonnets—and the dazzling flowers that influenced them.
Shishi-odoshi – Japan Pavilion – NEW!
Contemplate the methodical movement and soothing rhythm of this traditional Japanese bamboo water fountain.
Spice Garden – Morocco Pavilion
Discover how Eastern cultures flourished, trading signature spices and herb blends once considered more valuable than gold.
Songbird Meadow Presented by Wild Birds Unlimited® – World Discovery Songbirds are an important part of many ecosystems—including the one in your own backyard! Discover simple steps you can take at home to help these feathered friends thrive.
Topiary Heritage Garden – United Kingdom Pavilion
Marvel at the varied techniques employed by the Walt Disney World Horticulture team to create the festival's topiaries.
Tropical Rainforest Garden – Mexico Pavilion
Uncover the rich biodiversity of the Mexican rainforest and learn about its highly adaptive species.
Butterfly House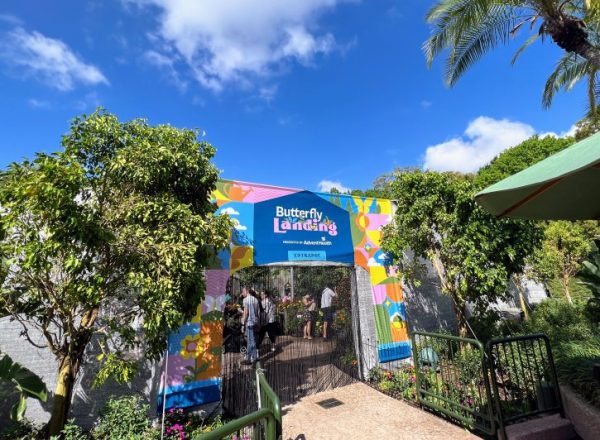 Follow the story of the Monarch butterfly as it journeys across the continent. Guests will see butterflies emerge from their chrysalis and enjoy hundreds of butterflies living in the Butterfly House.
Festival Fun for the Kids
Festival fun includes unique displays and interactive areas for kids.
Outdoor Escapes Play Garden Presented by OFF!® – NEW! – Families can enjoy this camp-themed garden where little ones are invited to jump, play and climb. Located in World Discovery.
Butterflies on the Go allows seeing up to 10 species of butterflies up close. Stand still, and the butterflies will come very close for a visit.
Spike's Pollen Nation Exploration will allow kids to hunt for Disney's favorite honey bee, Spike, who has been pollinating his way around the festival, giving Guests the chance to follow his pollination trail around at EPCOT. You'll pick up a garden map and stickers at Port of Entry. In each garden, you'll have to search for the plant Spike has pollinated, identifiable by Spike himself, as well as a Spike's Pollen Nation Exploration plant stake. Once you find him, add the corresponding sticker to your map. Spike's Pollen Nation Exploration can be purchased for $9.99, plus tax at Port of Entry. Return the map here for a surprise.
Egg-stravaganza Scavenger Hunt allows little ones to embark on an amusing adventure during this magical scavenger hunt! Participate in the Egg-stravaganza, around the Easter holiday which takes place around World Showcase where Guests search of Disney character-themed eggs. Purchase a map from either Disney Traders, Pin Central, or World Traveler. Next, hunt high and low for hidden eggs featuring your favorite Disney character and return the completed map to Disney Traders for a surprise. Maps available for $9.99 plus tax
EPCOT Flower and Garden Festival Video
Outdoor Kitchens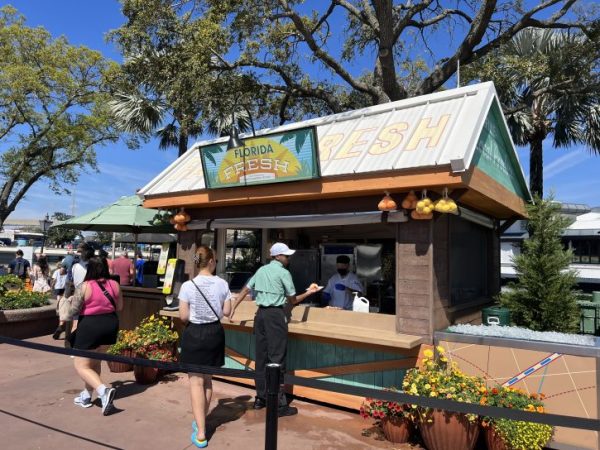 The Outdoor Kitchens return with new and favorite menu items. Prices average from $4 – $15 per dish.
Each country will have a kiosk with food and beverages, highlighting produce growing in the areas nearby and making the connection of food from field to table. You'll want to look for all of the outdoor kitchen locations at World Showcase.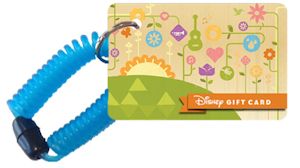 Look for mini Disney Gift Cards with an exclusive EPCOT International Flower & Garden Festival design for a limited time during the festival. The Disney Gift Cards can be activated with as little as $15. Wear it around your wrist and swipe to pay for food and more. The Disney Gift Card can be reloaded as many times as you want at most festival kiosks. When the festival is over, you can continue using your card since, like all Disney Gift Cards, it's good for practically all things Disney at the Walt Disney World Resort and beyond.
In addition to the EPCOT guide map located near the entrance of the park, a complimentary Flower and Garden Festival Garden Passport will also be available to guide you as you visit. Pick up your Garden Passport at the EPCOT entrance, EPCOT Flower and Garden Festival merchandise locations or any Outdoor Kitchens to ensure you see and do everything the Flower and Garden Festival has to offer.
Garden Rocks Concert Series
'Garden Rocks,' EPCOT's popular springtime concert series hosts pop stars spanning a broad range of decades including the '60s, '70s, '80s, '90s, and '00s. These performers rock the open-air America Gardens Theatre during the Epcot Flower & Garden Festival.
Take a look at the performers for the 2023 Garden Rocks Concert Series here.
In addition, for those who would like to secure a spot to see their favorite performer, you can book the Garden Rocks Concert Series Dining Packages. Guests will be able to enjoy a delicious meal paired with reserved seating for one of the Garden Rocks concert performances. When you book a Garden Rocks Dining Package, you'll enjoy either lunch or dinner at select EPCOT restaurants, as well as guaranteed seating at one of the Garden Rocks Concert Series performances later that day.
Festival Merchandise
EPCOT Flower and Garden Festival merchandise destinations are located in Creations Shop and around the World Showcase promenade. New and returning artisans will be taking part in the festivities. Consult your Festival Guide Map for locations.
Be sure to check out the unique merchandise from the festival that includes apparel, headwear, drinkware and much more, featuring Orange Bird, Figment, Minnie Mouse and Spike the Bee.
TheMouseForLess Tips:
You may already be familiar with the miniature trains that operate daily in Germany. But, when you visit the EPCOT Flower and Garden Festival, take a close look! The little town in the display is having a festival of its own!
Did you know that you can get an excellent overview of the EPCOT Flower and Garden Festival from the EPCOT Monorail? Some of the floating gardens in the waterway under the monorail even have LED lights. Many of the flower beds, playgrounds, topiaries also are illuminated. Plus, colorful flower beds designed to look like butterflies surround the waterway under the monorail. Even if you weren't planning to ride the EPCOT monorail, consider taking the ride for a unique view, day or night, that you won't get otherwise.
EPCOT Flower and Garden Festival Fun Facts
The EPCOT International Flower and Garden Festival is one of the longest flower and garden festivals in the United States.
The festival encompasses more than 300 acres and more than a mile and a half of gardens.
Over 90 individual topiaries are on display with more than 70 Disney characters.
At nearly 20 feet long, the Dragon topiary  is the longest topiary at Walt Disney World. It is composed of roughly 650 plants, and over 400 of them are bromeliads.
30 million blooms blanket the park throughout the festival.
More than 500,000 plants, trees, and shrubs are planted for the festival; 250,000 of those are annual blossoms installed for the festival.
Festival plants include 60 different species of trees, 47 types of palms, and 48 varieties of bedding plants.
40 Flower Towers have been added to World Celebration. Each tower contains 250 four-inch annuals.
209 floating mini-gardens, each three feet in diameter, of multi-hued impatiens provide splashes of color on two ponds that border the walkway between World Celebration and World Showcase.
700 container gardens of flowers, herbs, plants, and vegetables in clay pots, barrels and urns enhance the landscape throughout Epcot.
400 Walt Disney World horticulturists are needed to install the festival landscape, topiaries, and many exhibits; 100 EPCOT horticulturists maintain topiaries and other festival displays.
It takes more than one full year and about 24,000 cast member hours to prepare for the annual festival.
It takes over 4 nights to plant just one side of the Festival Blooms.
Over 600 native butterflies can be found in Butterflies on the Go.
Call your travel agent or contact The Magic For Less Travel at (888) 330-6201 to book your Walt Disney World travel during this event.