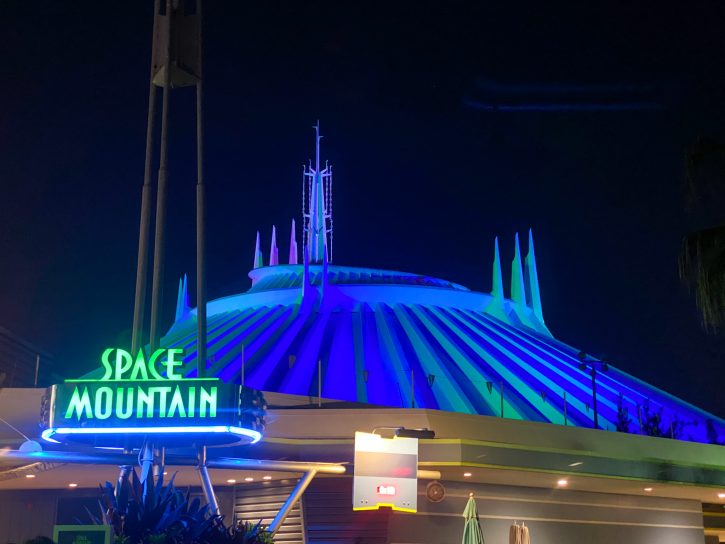 The sound of Space Mountain's 27 miles-per-hour speed may not get your adrenaline pumping, but the actual attraction will!  Space Mountain will take riders of this classic Disney roller coaster  to behold the vistas of outer space while encountering numerous short drops in the dark.
Ride Information  Restrictions  Accessibility  Location  Fun Facts  Top 5 Tips
Ride Information
Opening Day: January 15, 1975
Type of Ride: Roller Coaster
Age Recommendation: Ages 8 and up; best for teens and young adults
Duration of Ride: 2 minutes 35 seconds
Typical Queue Time: Long; often over one hour
Single Rider Line: No
Chicken Exit Available: Yes
Baby Swap Available: Yes
Type of Vehicle: Single-file roller coaster cars
Type of Restraint: Lap bar
Attraction Open During Extended Evening Hours: Yes. See our Extended Evening Hours page for more information.
Ride Photo Available For Purchase: Yes

Planning a Walt Disney World Vacation?
For a Free no-obligation quote, contact our sponsor
The Magic For Less Travel
. Services are provided free of charge and their expert planning advice will help you make the most of your vacation time and money.
Ride Restrictions
Height Requirements: 44 inches. Motion sickness warning. Expectant mothers should not ride.
Flash Photography or Video Allowed: No
Safety, Accessibility, and Guest Policies
Accessibility:
Must Transfer to Wheelchair (from electronic scooters), Then to Ride Vehicle
Service Animals Not Permitted
Guest Policies: Children under age 7 years must be accompanied by a person age 14 years or older.
Location
Park Map of Magic Kingdom: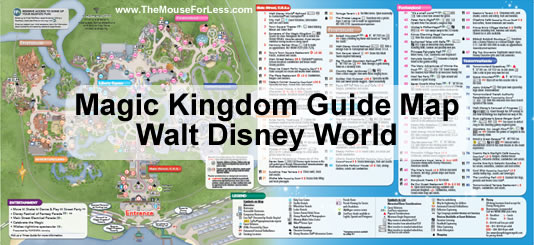 Other Rides/Attractions In the Area:
This attraction is located in the Magic Kingdom's Tomorrowland.
Shopping: On-ride photos are available for purchase in the gift shop at the attraction's exit. A vast array of souvenirs can be purchased nearby at "Mickey's Star Traders."
Dining/Refreshment:  Located in Tomorrowland, Tomorrowland Terrace seasonally offers counter service meals of burgers and sandwiches. Also in Tomorrowland, Cosmic Ray's Starlight Café serves counter service meals of chicken, ribs, burgers, and sandwiches; and Auntie Gravity's Galactic Goodies offers ice cream. For those preferring a sit-down meal, The Plaza Restaurant is located nearby off Main Street USA and offers numerous sandwiches and ice cream treats.
Restroom: Restrooms are located nearby between Space Mountain and Walt Disney's Carousel of Progress
Smoking Location: Smoking is permitted in designated smoking areas only. Magic Kingdom smoking areas can be found on our Walt Disney World Designated Smoking Areas page.
Space Mountain Fun Facts
Did you know?
There are two coaster tracks, Alpha and Omega, in the Space Mountain dome.
Space Mountain is a wild mouse coaster, featuring sharp curves and short, sudden drops.
The interior of Space Mountain can be viewed by riders on the "Tomorrowland Transit Authority PeopleMover."
Space Mountain was the first roller coaster at Walt Disney World upon its 1975 debut and stands alone among the Magic Kingdom mountain attractions, "Big Thunder Mountain Railroad," located in Frontierland, in having debuted before its Disneyland counterpart, which opened in 1977.
The cars on Disneyland's Space Mountain sit riders side-by-side instead of single file.
Each of the five Magic Kingdom parks around the globe includes a Space Mountain.
The most intense version of Space Mountain, at Disneyland Park Paris, travels at 44 miles-per-hour and features three inversions.
Space Mountain makes a cameo in Disney's 2007 film Meet the Robinsons.
Hidden Mickeys:
A rider in the queue's instructional video adorns a Mickey shirt.
Sponsored Ad: Learn more about Hidden Mickey details and location throughout Walt Disney World in A Field Guide to Walt Disney World's Best Kept Secrets
.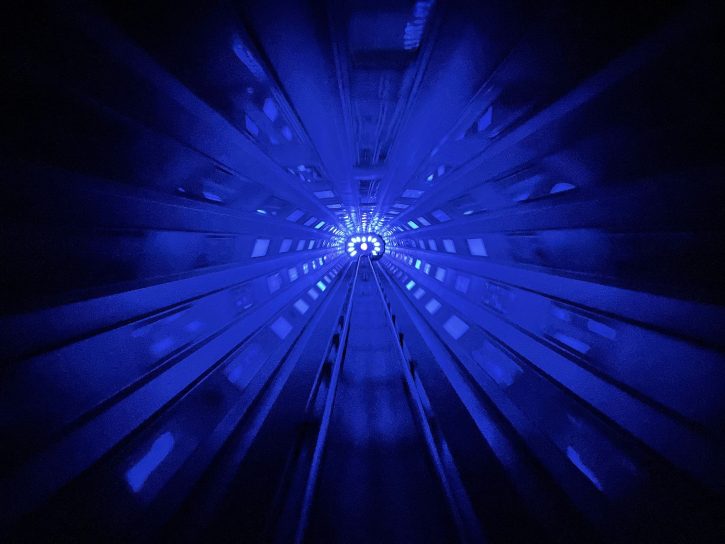 Top Tips for Space Mountain
Disney resort guests can enjoy shorter waits for this popular attraction during Extended Evening Hours.
Interactive games of approximately ninety seconds based on tasks performed by real astronauts are included in the queue. Considering participating if the wait is long.
If Space Mountain is closed for a time, consider riding the Tomorrowland Transit Authority PeopleMover to view the illuminated Space Mountain track.
Consider riding early in the day as waits can get long for this ride.
If you are hesitant about riding, ride the tamer Big Thunder Mountain Railroad first. If you find Big Thunder Mountain Railroad too scary, you are likely better off skipping Space Mountain.