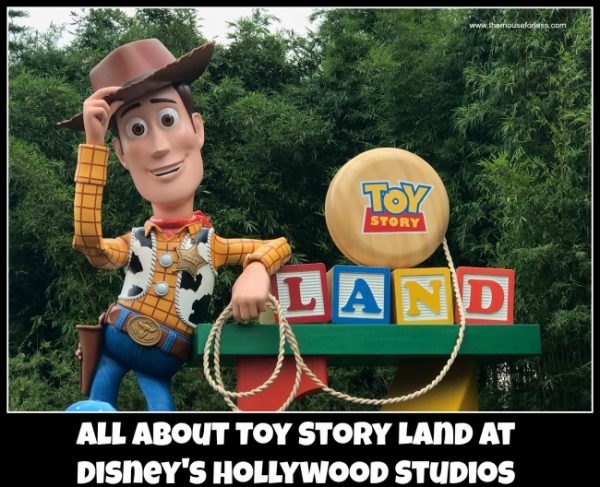 Toy Story Land
Announced at the D23 Expo in 2015, Toy Story Land at Disney's Hollywood Studios is an 11-acre area, which is located behind Walt Disney Presents which takes guests into the world of a toy through Andy's backyard.
Amid a colorful landscape filled with giant building blocks and game board pieces, Guests are immersed in an experience straight out of Andy's imagination—together with Woody, Buzz, Slinky Dog, Rex, the Aliens and many other beloved Toy Story characters. In Toy Story Land, when Guests step inside this world, they shrink down to the size of a toy and join Toy Story friends for fun that never ends.
This land, themed around the popular Pixar film includes a family-friendly roller coaster, called Slinky Dog Dash, where guests ride on the back of Slinky Dog as you glide past some of Andy's toys. In addition there is an alien saucers attraction where Guests will experience music, lighting sound effects, and yes, The Claw will loom over you called Alien Swirling Saucers. In addition, Toy Story Mania has been absorbed into the land is also a key attraction.
Toy Story Land features a quick service dining location called Woody's Lunch Box. In addition, a new table service dining location called Roundup Rodeo BBQ has been announced.
Important Info Slinky Dog Dash Alien Swirling Saucers Toy Story Mania Woody's Lunch Box Roundup Rodeo BBQ Fun Facts
Important Info
Slinky Dog Dash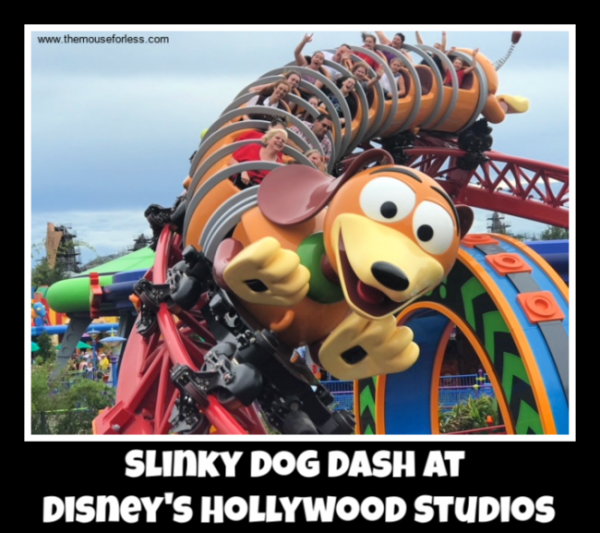 With Slinky Dog Dash, Andy's assembled his awesome coaster kit and Slinky Dog is ready to take you for a wild ride on this crazy coaster. Guests are invited to come along as Slinky Dog bends and twists his coils around curves, hills, bridges and drops. This ride is definitely fun for the entire family!
Slinky Dog Dash has a height requirement of 38 inches.
Alien Swirling Saucers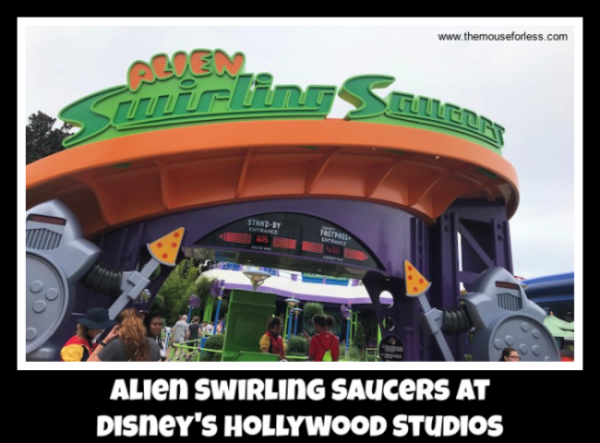 The Little Green Aliens have powered up their flying saucers on Alien Swirling Saucers to take you on a dizzying ride through space! Hang on tight as your toy rocket ride takes off, all while space electronica provides an out-of-this-world beat. This attraction is similar to one at Disney California Adventure called Mater's Junkyard Jamboree.
Alien Swirling Saucers has a height requirement of 32 inches.
Toy Story Mania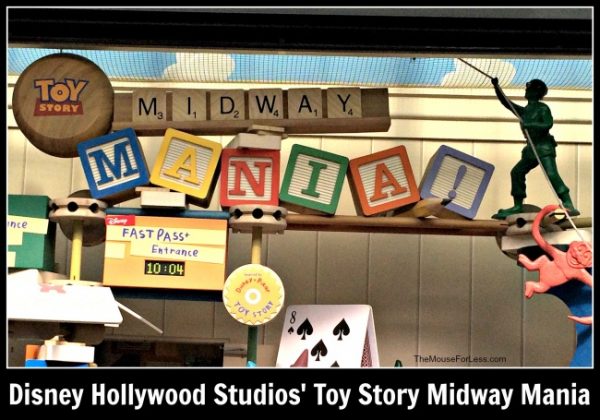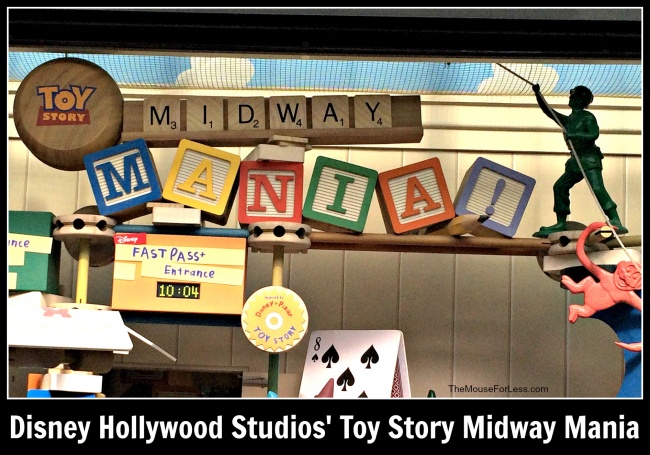 This popular Disney's Hollywood Studios attraction is a part of this new land! A brand new entrance has been built inside Toy Story Land so that Guests can play at one of the park's most popular attractions.
During Toy Story Mania, Guests slip under Andy's bed where the toys have set up a carnival playset. Guests then enjoy virtual games in a carnival-like atmosphere with friends from Disney and Pixar's Toy Story series. This is an interactive target shooting game, where high-score wins bragging rights.
Woody's Lunch Box
Woody's Lunch Box is a walk-up quick-service window that's where Andy has used his lunch box and thermos to create a window that serves up tasty meals and old-fashioned soda floats. To bring this restaurant to life, The Walt Disney World Resort has partnered with Mini Babybel, which is a featured menu item at this location.
Roundup Rodeo BBQ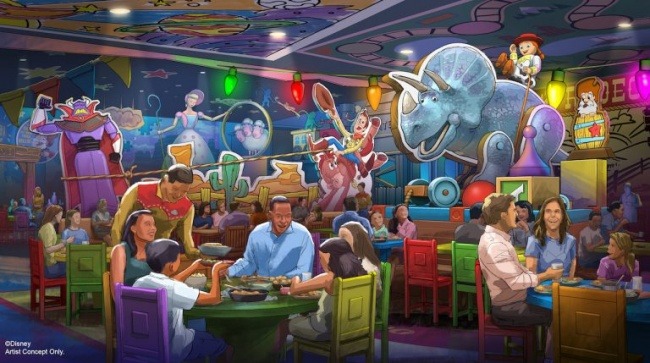 Announced for the land, a brand new table service restaurant called Roundup Rodeo BBQ will be coming to Toy Story Land. This area will be themed after a rodeo where Andy has taken some of his favorite play sets, toys, and games to create a colorful and fun mashup that only a child could create. This immersive restaurant will provide yet a unique, fun, family-friendly dining experience. Find out more information here.
Toy Story Land Fun Facts
More than 400 toy blocks fill Andy's backyard.
In Toy Story Land, Andy's footprint is about 25 feet long or the equivalent of a size 240 shoe.
It would take a Green Army Man roughly 12 steps just to travel the length of one of Andy's shoeprints.
You would need a backpack the size of a school bus to carry the Buzz and Woody figures that tower over Toy Story Land.
The weight of the Slinky Dog Dash track and support columns weighs almost as much as 125,000 gallons of milk.
Together Rex and the Jenga Tower are as tall as 7½ Green Army Men standing on top of one another.
If you want to travel to Toy Story Land or experience any of the fun at Disney's Hollywood Studios, contact the agents at The Magic for Less Travel. Their concierge services are provided free of charge and their expert planning advice will help you make the most of your vacation time and money.