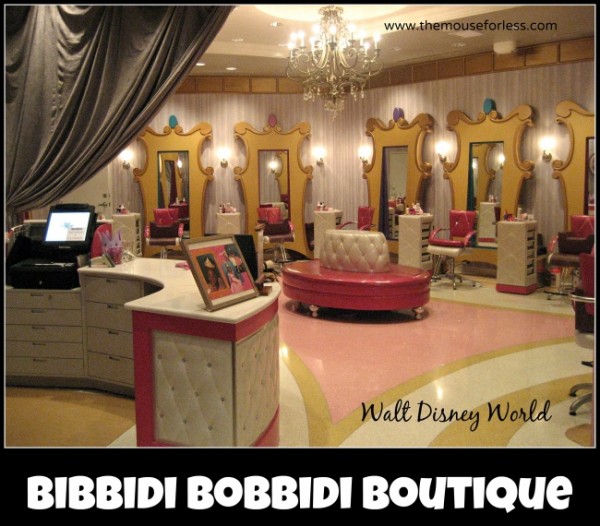 The Bibbidi Bobbidi Boutique is dedicated to every True Princess who ever dreamed her sneakers were glass slippers, and to girls who believe it's better to twirl than walk, sing than talk and that everything goes better with sparkles. Of course, little Princes are welcome as well, and are turned into heroic knights!
Package Prices and Inclusions What You Need To Know Reservations and Cancellations   TheMouseForLess Tips
At Walt Disney World Resort, Bibbidi Bobbidi Boutique is found in two locations, plus one salon aboard the Disney Cruise Line ships.
Disney Springs: Hairstyling, nail polish and make-up services are generally available daily from 8:30 a.m. to 7:30 p.m. in the Bibbidi Bobbidi Boutique at the Disney Springs Marketplace. (Currently unavailable)
Magic Kingdom: Bibbidi Bobbidi Boutique salon is located inside Cinderella Castle. The "castle" shop opens daily from 8:00 a.m. to 7:00 p.m. Theme park admission is required.
Disney's Grand Floridian Resort: A brand new Bibbidi Bobbidi Boutique location is now open at Disney's Grand Floridian Resort. The new boutique is located the former location of the Ivy Trellis Salon. (The Ivy Trellis Salon has relocated into Senses – A Disney Spa.) (Currently unavailable)
Disney Cruise Lines: On all four Disney Cruise ships you can get special boutique packages. Located on Disney Magic & Wonder (Deck 10), the Wish (Deck 4, Midship) and Dream & Fantasy (Deck 5, Midship). Hours of operations are generally from 9:00 a.m. to 9:00 p.m.
"Owned" by the Fairy Godmother and "operated" by Fairy Godmothers-in-Training, Bibbidi Bobbidi Boutique offers a magical menu of salon services to make your little princess or prince, ages 3 to 12, look and feel like royalty.
Package Prices and Inclusions
First, your princess will need to pick a hairstyle.
Fairy Tale Princess: A genuine princess look with hair pulled into a regal bun and topped with a rhinestone tiara and a Mickey-shaped barrette
Disney Diva: This modern hairstyle adds a hair extension that matches the princess' hair color, sparkling Mickey hair pins and glitter.
Color Star: This pop star-styled hair do includes a multitude of bright steaks of color throughout your child's hair with a twist.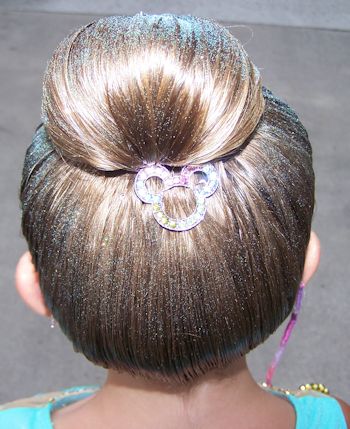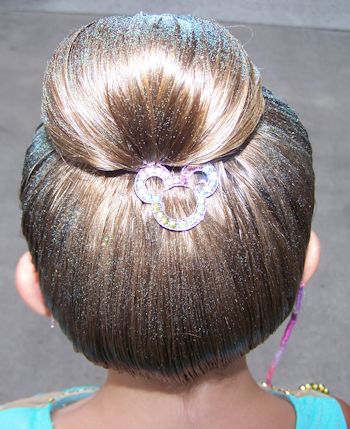 From there, you choose the package you would like to select:
The Carriage Package (starting at $99.95 plus tax)
Includes choice of hairstyling, shimmering makeup  nail polish, princess sash, face gem, princess cinch bag and Bibbidi Bobbidi Boutique T-shirt.
The Disney Frozen Crown Package ( starting at $179.95 plus tax)
Includes Anna or Elsa hairstyling with braided hairpiece, sparkling snowflake hair accessories, shimmering make up, face gem, nail polish, princess sash and cinch sack, and 12-inch Olaf plush toy.
The Courtyard Package (starting at $149.95 plus tax)
Includes exclusive Courtyard hairstyling, shimmering makeup, nail polish, face gem, Bibbidi Bobbidi Boutique t-shirt, trendy tutu, princess sash and princess cinch bag (T-shirt available in youth sizes from S to XL and adult sizes S to XL and Bibbidi Bobbidi Boutique tutu available in small and medium).
The Encanto Package (starting at $179.95 plus tax)
Includes exclusive Encanto hairstyling, shimmering makeup, nail polish, face gem, princess sash and princess cinch bag, Mirabel or Isabela gown, and coordinating accessories (shoes sold separately).
Castle Package (starting at $199.95 plus tax)
Includes everything in the Crown Package plus a complete costume of your choice (excluding shoes) with accessories (princess gown, wand and crown). Costume choices may include Ariel, Snow White, Aurora, Belle, Jasmine, Cinderella, Tinker Bell, Tiana, Rapunzel, and Merida.
Deluxe Castle Package (starting at $229.95 plus tax)
Includes everything in the Castle Package with a Deluxe Disney Princess Costume and coordinating boxed accessory set.
The Princess Signature Dress Collection ( starting at $450.00 plus tax)
Includes Disney princess gown made with quality fabrics and intricate designs, crystal tiara with holding box, garment back for preservation, hair styling, shimmering make up, face gem, nail polish, and princess sash and cinch sack.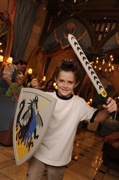 The Knight Package ($19.95 plus tax)
For your little prince, this package Includes hair styling with colorful gel and confetti as well as a mighty sword and shield.
Deluxe Knight Package (starting at $79.95 plus tax)
Prince Costume, Hair styling with gel, mighty sword and shield, and confetti.

Planning a Walt Disney World Vacation?
For a Free no-obligation quote, contact our sponsor
The Magic For Less Travel
. Services are provided free of charge and their expert planning advice will help you make the most of your vacation time and money.
Extra Add-Ons
These can be purchased in addition to your package to make the experience even more magical!
Imaging Package ($32.95 plus tax)
Includes four 4×6 prints and one 6×8 print in a princess-themed photo holder of the Disney Princess after the makeover.
Memory Maker
Any Disney PhotoPass photos taken during the makeover are include in your Memory Maker purchase.
Merchandise (prices vary)
You can enhance any Bibbidi Bobbidi Boutique Package with a sparkling Bibbidi Bobbidi Boutique t-shirt or a Bibbidi Bobbidi Boutique parasol.
Accessories
The  Disney Springs location offers a wide variety of beautiful accessories – including ponytail hairpieces and tiaras.
What You Need to Know Before Arriving
Your princess transformation will take 30 minutes to an hour, depending on the package selected. Arrive at least 15 minutes prior to appointment. Requirements are:
Arrive with brushed, clean hair that is free of all styling products such as hairspray, mousse, etc. Child must be free of scalp conditions for at least 30 days prior to appointment.
Clean fingernails (no polish) with washed hands (for packages including nails)
Princesses should bring their own brush or comb.
Children must be accompanied by an adult at least 18 years of age or older during the entire experience.
When booking the Castle Package, you will need to advise which costume your Princess wants, as well as clothing and shoe size.
Sorry, no adults; ages 3-12 only!
If you arrive late, you may not be accommodated. This experience must be guaranteed with your credit card for advance reservations.
Bibbidi Bobbidi Boutique Reservations and Cancellations
Reserving: Making reservations is strongly recommended, although walk-ins are accepted in rare cases. Start the process by calling 407-WDW-STYLE (407-939-7895) for reservations up to 180 days in advance. You can also now book online appointments. With a new online reservation system Guests now have the ability to search for available dates, schedule appointments, or make cancellations to existing appointments.
The last reservations will be given one-half hour before closing. A valid accepted credit card number is required at time of booking to hold your reservation. Pay for your makeover package upon arrival. Cash, credit card and Walt Disney World Resort room charge are accepted. Fairy Godmothers-in-training are not permitted to accept tips.
Cancellation Policy: Your credit card was used as a guarantee this experience. If you need to cancel, you must notify Disney at 407-WDW-CREW at least 24 hours in advance. A cancellation fee of $10.00 will be applied to your credit card for all no-shows or if reservation is canceled within 24 hours of experience.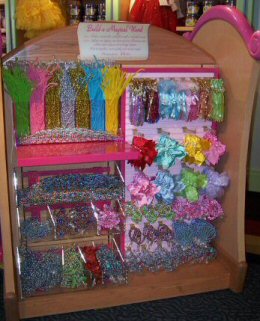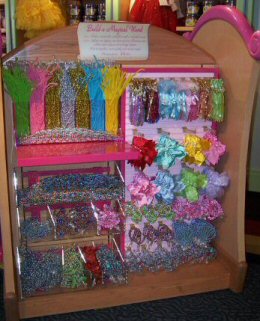 All of the pieces to build a wand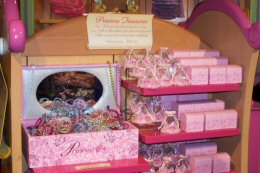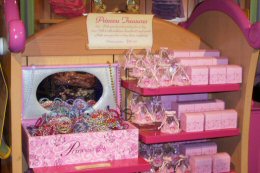 Items to put in your treasure box or bag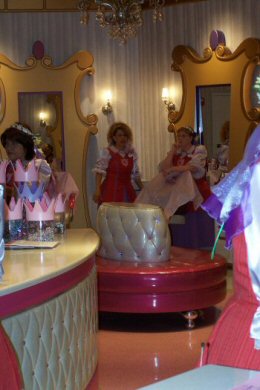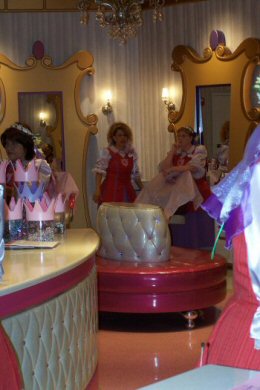 Hair stations ready for business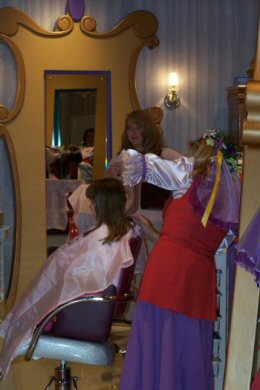 A princess getting her hair done
TheMouseForLess Tips:

 No need for a camera. PhotoPass Photographers are on hand at the Boutique, and will be happy to take candid shots throughout the process at no charge, which can be added to your existing PhotoPass card.

 If you've purchased Memory Maker, photos captured during a Bibbidi Bobbidi Boutique transformation will be added to your My Disney Experience account for no additional charge. Please note that you will not receive prints but your Bibbidi Bobbidi Boutique images will be available for download.

 Undecided whether this experience is for you? Stop by and have a look around. Fairy Godmothers in Training circulating throughout the store will often stop and offer kids a sprinkle of pixie dust (hair glitter) for free.

 Upon arrival, your child will received her "royal invitation" with her name on it. Upon departure, she'll receive a pretty pink bag with her makeup palette, nail varnish, a comb and face jewels or stickers or other trinkets. For hygienic reasons, fresh items are used with each makeover.

 To save money, purchase a princess dress at home and bring it along to wear. These can be found online a lot cheaper. Alternatively, purchase one of the cheaper packages and pick and choose accessories before or after the makeover. Princess accessories can be found at the World of Disney in Disney Springs and Castle Couture in Fantasyland at Magic Kingdom.

 Soak up the magic! Don't be surprised if your little princess receives special attention from cast members for the remainder of the day or is often addressed as "princess".

 Bibbidi Bobbidi Boutique usually has extended hours near Halloween to accommodate those who would like to dress up for Mickey's-Not-So-Scary Halloween Party. Plus, during both the Halloween and Christmas season, look for special holiday makeovers that you can't get at any other time to be available at Bibbidi Bobbidi Boutique.

 If a makeover at Bibbidi Bobbidi Boutique is more than you want to spend, Face Painting Stations in the Disney parks almost all offer a Princess face.

 If your child is too young or too old for Bibbidi Bobbidi Boutique but would still like a special hair makeover, hair wrap stands are located poolside at Wilderness Lodge, Beach Club, Grand Floridian, Caribbean Beach and Port Orleans, as well as on the Boardwalk, at Disney Springs and at Animal Kingdom park. Reservations are not required and stands generally operate between 11 a.m. to 5.p.m.

 Looking for a different sort of makeover? Stop by the Harmony Barber Shop for a pixie-dusted haircut.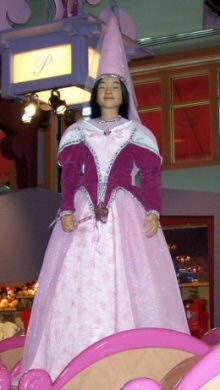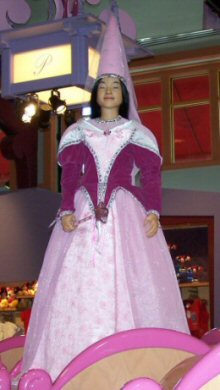 "Mom, I want to look like that."