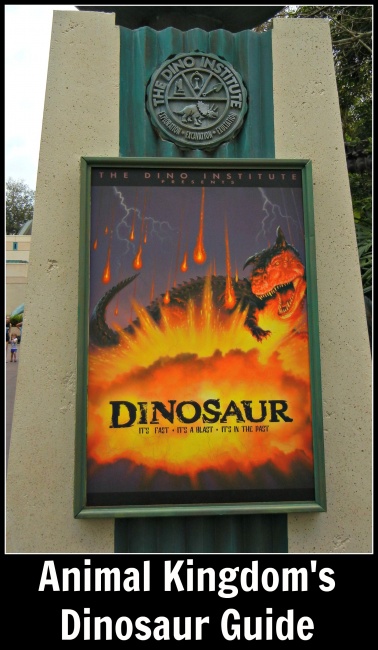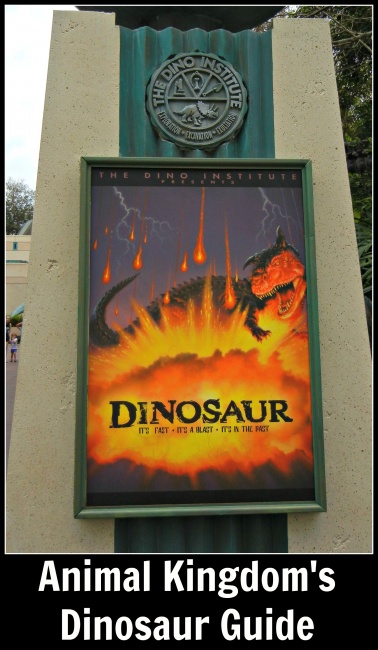 On this bucking bronco jeep adventure, DINOSAUR, allows guests to travel back in time to save an Iguanodon, but need to make sure they return to the present before the infamous meteor strikes.
Ride Information  Restrictions   Accessibility  Location  Fun Facts  Top 5 Tips
Ride Information
Opening Day: April 22, 1998
Type of Ride: Simulator
Age Recommendation: Ages 9 and up
Duration of Ride: About 3 minutes
Typical Queue Time: Moderate to long; usually peaks at about 50 minutes
Single Rider Line: No
Chicken Exit Available: Yes
Baby Swap Available: Yes
Type of Vehicle: Roaming simulator
Type of Restraint: Seat belt
Attraction Open During Early Theme Park Entry: Yes. See our Early Theme Park Entry page for more information.
Ride Photo Available For Purchase: Yes

Planning a Walt Disney World Vacation?
For a Free no-obligation quote, contact our sponsor
The Magic For Less Travel
. Services are provided free of charge and their expert planning advice will help you make the most of your vacation time and money.
Ride Restrictions
Height Requirements: 40 inches
Flash Photography or Video Allowed: No
Safety, Accessibility, and Guest Policies
Accessibility:
Guests must transfer from wheelchair/ECV
Video Captioning
Assistive Listening
Guest Policies:
Service animals not permitted on this ride.
Children under age 7 years must be accompanied by a person age 14 years or older.
Location
Shopping: Guests exit the attraction through "The Dino Institute Shop." Here, a wide variety of Dino-themed souvenirs, including on-ride photographs, clothing, books, and toys, can be purchased.
Dining/Refreshment: Down the path from DINOSAUR, guests can enjoy a counter service lunch or dinner at Restaurantosaurus. Menu offerings include burgers, hot dogs, sandwiches, and salads.
Restroom: Facilities convenient to DINOSAUR are located at Restaurantosaurus and "Chester & Hester's Dinosaur Treasures."
Smoking Location: Smoking is permitted in designated smoking areas only. Disney parks are smoke free.
DINOSAUR Fun Facts
Did you know?
DINOSAUR debuted with Disney's Animal Kingdom on April 22, 1998. For the first two years of its operation, the attraction was called "Countdown to Extinction." The moniker was changed in 2000 to promote Disney's thirty-ninth animated feature, Dinosaur
A statue of Dinosaur's protagonist, Aladar the Iguanodon, sits in front of the attraction. Aside from a brief video clip and the incorporation of Iguanodons, DINOSAUR has no overt connection with Dinosaur.
DINOSAUR's  preshow is themed as a paleontological research center, Dino Institute. This area doubles as a museum, with fossils, assorted dinosaur skeletons, murals, dioramas, and fact cards available for guest observation. An impressive Carnotaurus skeleton occupies the room's center. The Carnotaurus is the antagonist in the attraction proper.
After winding through the museum, guests view a video where the Dino Institute's director, Dr. Marsh, reveals an impending journey to the Early Cretaceous Period, where guests will peacefully encounter dinosaurs. Unfortunately for Dr. Marsh, Dr. Seeker of the control center intentionally redirects the adventure to the Late Cretaceous Period, where guests will retrieve an Iguanodon for Dr. Seeker's benefit. The ensuing adventure provides an exhilarating rush with guests encountering assorted dinosaur genera and rushing back to the present to bypass the landing of the disastrous meteor.
Dr. Seeker provides verbal "instructions," interspersed with corny humor, throughout the experience.
The ride vehicles are called "Time Rovers." These vehicles are roaming motion simulators.
From 1998 to 2008, this attraction was sponsored by McDonalds.
Theming aside, the Time Rovers are the same ride vehicles as those utilized on Disneyland's "Indiana Jones Adventure," which debuted in that park's Adventureland in 1995. Additionally, the track layouts of this attraction and Indiana Jones Adventure are identical.
Hidden Mickeys:
Find Hidden Mickeys embedded in the explosion clouds of the Dinosaur Extinction mural and on a tree in a mural just inside the building entrance.
Sponsored Ad: Learn more about Hidden Mickey details and location throughout Walt Disney World in A Field Guide to Walt Disney World's Best Kept Secrets
.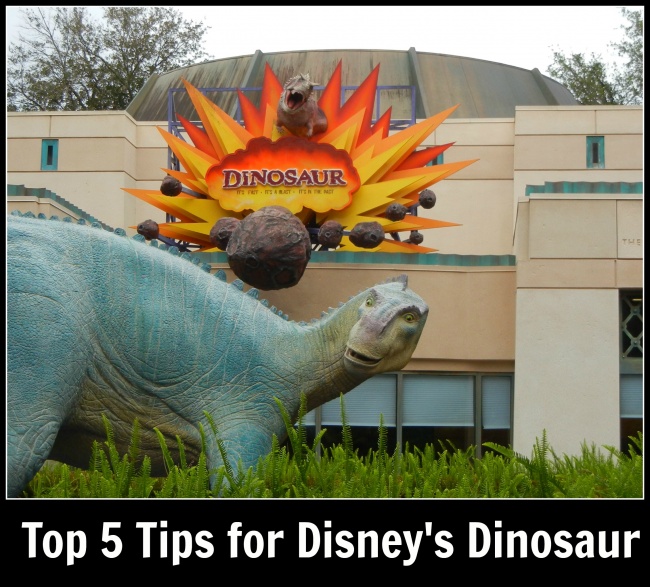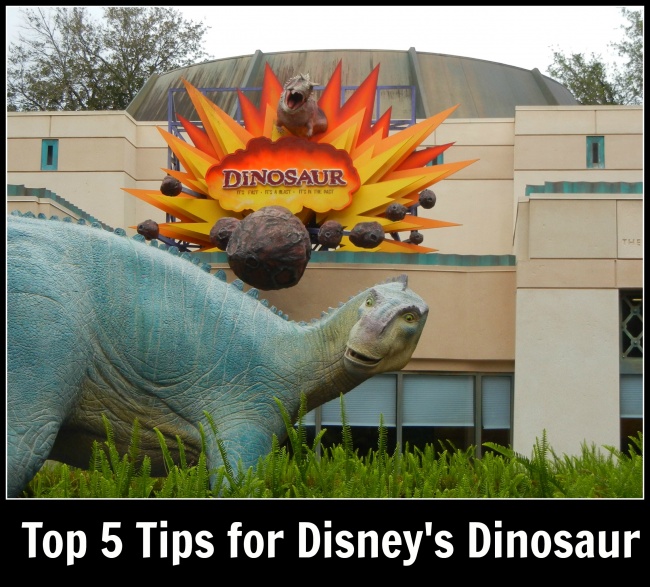 Top 5 Tips for DINOSAUR
Dinosaur connection notwithstanding, DINOSAUR is not recommended for children, and is arguably one of the scariest attraction in all of Walt Disney World. The ride proper is bumpy, dark, and deafening with dinosaur roars. Suffice to say, guests with high blood pressure and back, heart, and neck problems should avoid this experience. Expectant mothers should also avoid this adventure.
A good spot to get out of the heat and enjoy the air conditioning.
Explore the educational preshow offerings.
DINOSAUR is a must-experience attraction for fans of thrill rides.
Consider watching Dinosaur before your visit.