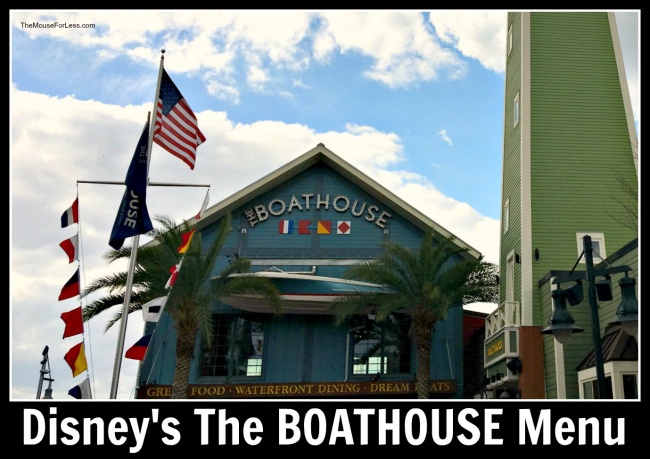 Set sail for upscale, waterfront dining at Disney Springs The BOATHOUSE — complete with retail space, a bar and lounge, live entertainment, and unique experiences such as Amphicars, Italian Water Taxis and floating artwork featuring antique mahogany boats from the '30s, '40s, and '50s.
The BOATHOUSE offers 20-minute tours of the Village Lake in an amphicar which has seating for three guests, plus the boat captain.  Tickets can be purchased inside The BOATHOUSE.  Learn more information about the different watercraft experiences here.
The BOATHOUSE is located in Disney Springs.  Find more Walt Disney World dining locations on our Walt Disney World menus page.
Restaurant Info: Multiple Cuisines; Lunch/Dinner, A la carte; $$ – $15 to $34.99 per adult)/$$$$ – over $60 per adult)
Find out how you can save money on dining at Walt Disney World by using one of Disney's Dining Plans.
Lunch & Dinner Menu  Kids' Menu

Planning a Walt Disney World Vacation?
For a Free no-obligation quote, contact our sponsor
The Magic For Less Travel
. The Magic For Less Travel is an Authorized Disney Vacation Planner and has been helping guests plan magical vacations since 2002. Receive the best prices and free travel planning services. Their fee-free services will help you save time, money, and stress while planning a vacation designed around you and your needs!
THE BOATHOUSE Lunch & Dinner Menu
Menu Date: 08/2022
Raw Bar
Oysters on the Half Shell – (Sold Each) London Dry Gin Cocktail Sauce and Cucumber Mignonette – $4.25
Yellowfin Tuna Poke – Avocado, Mango, Soy-Lime Vinaigrette – $19.00
Wild Caught Sea of Cortez Shrimp – (Sold Each) London Dry Gin Cocktail Sauce – $4.25
Field Day Salads
The Wedge – Iceberg, Grape Tomatoes, Red Onions, Blue Cheese Dressing, Chopped Bacon – $14.00
Classic Caesar – Traditional Dressing, Parmesan Cheese, Fresh Croutons – $9.00
Garden – Iceberg-Romaine Blend, Grape Tomatoes, Carrots, Cucumbers, Herb Vinaigrette – $8.00
Add To Any Salad:
NY Strip Steak – $10.00
Salmon – $9.00
Grilled Baja Shrimp – $2.50 each
Grilled Chicken Breast – $4.00
Market Fresh Fish
Gulf of Mexico Red Grouper – Stir Fried Zucchini, Mushrooms, Red Peppers & Broccolini, Soy Lime Vinaigrette – $39.50
Coriander Seared Yellowfin Tuna – Blistered Shishito Peppers, Soy Lime Vinaigrette, Wasabi Mayo, Sriracha – $36.00
Cedar Planked Gulf of Maine Salmon – Baby Kale, Green Beans, Red Potatoes, Grape Tomatoes, Lemon Vinaigrette – $29.50
Sea & Shore
Maine Lobster Tail Oscar – 8 oz Tail, Asparagus, Jumbo Lump Crab, Béarnaise Sauce, Parsley Potatoes – $61.00
Shrimp & Andouille Mac N' Cheese – Bay Shrimp, Smoked Sausage, and Pipette Pasta in Spicy Cheddar-Beer Sauce | Add Maine Lobster Meat 10 – $24.50
Orecchiette with Vegetables & Garlic Butter – Broccolini, Mushrooms, English Peas, Baby Kale, Zucchini, Grape Tomatoes – $19.00
Roasted Chicken Breast  – Baby Kale, Green Beans, Red Potatoes, Grape Tomatoes, Lemon Vinaigrette – $24.00
Launch
Duo Dips and Chips – Pimento Cheese, Fresh Salsa Roja, White Corn Tortilla Chips – $9.75
Firecracker Shrimp – Sriracha Mayo, Serrano Chilis, Sweet Peppers – $16.00
Hand Breaded Coconut Shrimp – Grilled Pineapple Salsa, Orange Chili Sauce – $18.00
Hoisin Chili Calamari – Bell Peppers, Jalapeno, Serrano Chili – $18.50
Peel and Eat Key West Shrimp – Served hot with Drawn Butter and Cocktail Sauce – $17.00
Maine Lobster Bisque – $8.00 Cup 
Fried Atlantic Clam Strips – Chipotle Tartar Sauce and Lemon – $16.00
Dock Side Classics
Dockside Shrimp Boil – Corn on the Cob, Red Potatoes, Andouille Sausage, BOATHOUSE Seasoning – $26.00
Grilled Fish Tacos – Shaved Cabbage, Salsa Roja, Mexican Crema – $22.50
Jumbo Lump Crabcake – Coleslaw, Chipotle Tartar Sauce – $31.00
Sandwiches
Classic Cheeseburger – BOATHOUSE Custom Grind, Lettuce, Tomato, Onion served with Fresh-cut Fries – $18.50
"Yacht Club" Club – Roasted Turkey Breast, Cucumber, Bacon, Lettuce, Tomato, Avocado, Chipotle-Honey Mayo, Swiss Cheese, and Multigrain Bread served with Fresh-cut Fries – $19.75
Maine Style Lobster Roll – Chilled Maine Lobster, Lemon-Chive Dressing, Butter-Toasted Split Top Bun served with Fresh-cut Fries – $33.00
Filet Mignon Sliders (Two Sliders) – Maitre d' Butter served with Fresh-cut Fries – $16.00
Grilled Fresh Mahi Sandwich – Lettuce, Tomato, Chipotle Tartar Sauce served with Fresh-cut Fries – $24.50
Gibsons Heritage Steaks
NY Steak & Fries  – Maitre d' Butter, Roasted Garlic – $36.00
Filet Mignon – $58.00
Petite Filet Mignon – $47.00
New York Strip – $54.00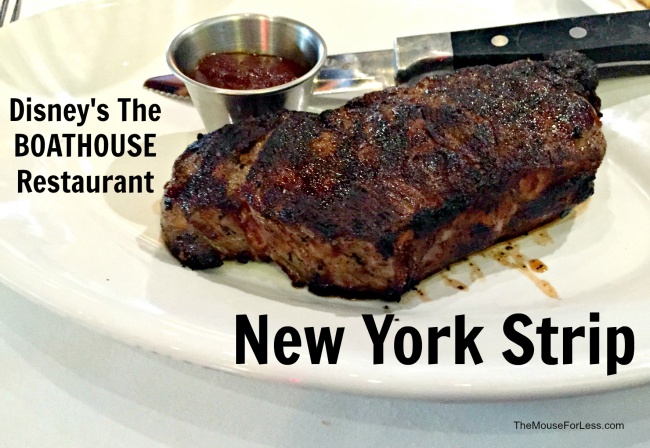 Boneless Ribeye – 75-day Aged Gibsons Grass-fed Australian – $45.00
Porterhouse – $58.00
Steak Enhancements
Main Lobster Tail – $39.00
Classic Oscar – $17.00
Lobster Oscar – $18.00
Roasted Garlic Cloves – $2.50
Béarnaise Sauce – $2.50
Sides to Share
Fresh Cut Fries – $7.50
Truffle Fries – Lemon Aioli – $10.50
Baked Potato – $8.50
Red Potatoes – BOATHOUSE seasoning – $9.00
Mac N' Cheese – Merkts Wisconsin Cheddar Cheese sauce – $12.00
Grilled Asparagus – Hollandaise – $12.00
Roasted Jumbo Sweet Potato – Cinnamon Butter – $10.00
The Not So Bitter End
Key Lime Pie in a Mason Jar – Vanilla Bean Chantilly Cream, Raspberries – $10.00
Triple Chocolate Layer Cake – Homers Vanilla Ice Cream (Serves 2) – $24.00
Old Fashioned Strawberry Shortcake – Fresh Baked Biscuit, Soft whipped Cream – $10.00
Pineapple Upside Down Cake – Traditional, Rum Glazed, Buttercream Icing – $10.00
Coconut Pana Cota – Mango Gelee, Fresh Fruit, Coconut Shortbread Cookie – $9.00
Macadamia Turtle Pie (Serves Two) – Homers Vanilla Ice Cream, Chocolate and Caramel Sauces – $24.00
Brunch Mains (Available Saturdays and Sundays 10:00 – 2:00)
Shrimp and Grits – Spicy Cheddar Beer Cheese Grits, Shrimp, Andouille Sausage, Two Eggs any Style – $19.00
Crabcakes Benedict – Twin Crab Cakes, Prosciutto Ham, Poached Eggs, Old Bay Hollandaise Sauce, Grilled Asparagus – $33.00
Lakeside Breakfast – Two Eggs any style, Home Fries, Choice of Bacon or Smoked Sausage, Ciabatta Toast – $15.00
Belgian Waffle – served with choice of Bacon or Smoked Sausage – $15.00
Avocado Toast – Multigrain Toast, Avocado, Tomato, Feta Cheese Pickled Red Onions, Two Eggs any style – $14.00
Steak and Eggs – Strip Steak, Home Fries, Two Eggs any style – $26.00
Chicken Biscuit & Gravy – Buttermilk Biscuit, Creole-Onion Gravy, Panko Chicken Tenders, Two Eggs any style $15.00
Sides (Available Saturdays and Sundays 10:00 – 2:00)
Two Eggs Any Style – $6.50
Home fries – $5.00
Cheddar-Beer Grits – $5.00
Bacon – $5.00
Breakfast Sausage – $5.00
Biscuits and Gravy – $6.00
Yogurt, Berries and Granola – $7.50
Lil' Skippers (Available Saturdays and Sundays 10:00 – 2:00)
Half Belgian Waffle – served with bacon – $10.00
Scrambled Eggs – served with bacon and home fries – $11.00
For Children 9 and Under
Featured Wines
Assorted Wine – glass $10.00 – $25.00; $40.00 – $100.00 bottle
Boat Drinks (Available Saturdays and Sundays 10:00 – 2:00)
Pearmosa – Kopparberg Pear Cider, White Peach Puree – $6.00
Orange Crush – Stoli Oranj, Solerno, Orange Juice, Soda – $7.00
Strawberry Splash – Kopparberg Strawberry – Lime Cider, White Peach Puree – $6.00
Boaters Sunrise – Camarena, Orange Juice, Pineapple Juice, Grenadine – $10.00
Expresso Martini – Stoli Vanilla, Kahlua, Liquor 43, Espresso – $14.00
Boathouse Bloody Mary – Stoli Hot, Ancho Reyes, Charleston Blue Cheese Olive, Pepperoncini, Jumbo Shrimp – $16.00
Bottle and Can Beer
Assorted Beer – $7.50 – $9.00
Florida Craft Beer
Assorted Florida Craft Beer – $8.50
Sparkling & White Wines
Assorted Wines – glass $10.00-$15.00; $40.00-$56.00 bottle
Red Wines
Assorted Wines – glass $10.00-$16.00; $40.00-$64.00 bottle
Boathouse Signature Cocktails
Coconut Mojito – Rumhaven Coconut Rum, Simple Syrup, Mint, Soda – $14.00

Blueberry Lemonade – Stoli Blueberry, Western Son Lemon Vodka, Homemade Lemonade, Fresh Blueberries – $15.00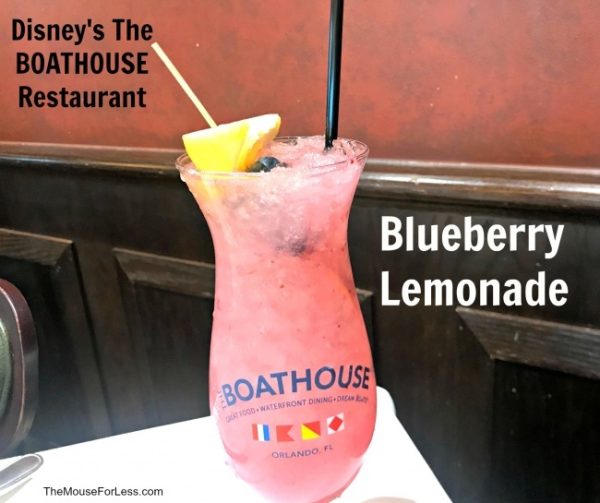 Duck, Duck Razz – Stoli Razz, Peach Schnapps, Blue Curacao, Lemon Juice, Simple Syrup – $14.00
Shipwreck – Marti Gold and Silver Rum, Passoa, Fresh Tropical Juices, Fresh Oranges and Cherries – $16.00
Old Fashioned – Heaven's Door, Cherry Bitters, Orange Peel and Luxardo Cherry – $15.00
Boulevardier – Michter's Rye Whiskey, Carpano Anitca, Campari – $16.00
Margarita – Camarena Blanco, Solerno Blood Orange Liqueur, Agave Nectar, Lime Juice – $15.00
Moscow Mule – Stoli Vodka, Ginger Beer, Lime Juice – $14.00
S.S Politician –  Jack Daniels Single Barrel, Montenegro, Cherry Bitters, Luxardo Cherry – $16.00
Lemon Drop Martini – Stoli Citrus, Western Son Lemon Vodka, Cointreau, Lemon, Sweet and Sour, Rock Candy Swizzle Stick – $15.00
Strawberry Gin Fizz – Hendrick's Gin, Strawberries, Mint, Lime Juice, Soda Water – $13.00
After Dinner Dessert Drinks
Lake Buena Vista Irish Coffee – Tullamore Dew, Coffee, Sugar, Hand Whipped Cream – $12.00
Chocolate Raspberry Martini – Stoli Razberi, Traders Vics, Chambord, Cream – $12.00
Key Lime Pie Martini – Liquor 43, Key Lime Juice, Cream – $12.00
Port Wine by the Glass – $12.00
Whiskey & Bourbon
Assorted Whiskey & Bourbon – $13.25 – $40.50
Scotch
Assorted Scotch – $16.75 – $80.25
THE BOATHOUSE Kids' Menu
Menu Date: 08/2022
Kid's Entrées
Grilled Salmon – Meals Served with Beverage & Choice of: Watermelon or Fries – $11.00
Blue Star Angus Burger – Meals Served with Beverage & Choice of: Watermelon or Fries – $11.00
Popcorn Shrimp – Meals Served with Beverage & Choice of: Watermelon or Fries – $11.00
Macaroni & Cheese – Meals Served with Beverage & Choice of: Watermelon or Fries – $11.00
Panko Chicken Tender – Meals Served with Beverage & Choice of: Watermelon or Fries – $11.00
Kid's Desserts
Oreo Chocolate Fudge Sundae – $5.00
Strawberry Shortcake – $5.00
Chocolate Cupcake with Rainbow Sprinkles – $5.00
For Children 9 and Under
** The BOATHOUSE Menu and Prices are Subject to Change Without Notice **