Disney Springs | The Landings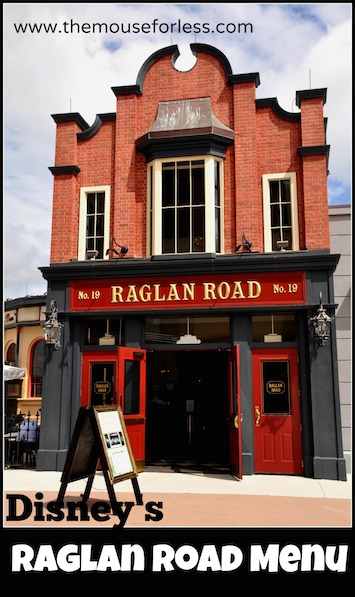 Lunch Menu   Dinner Menu   Kid's Menu     Reviews

Feel the luck of the Irish at this authentic pub and restaurant with jovial charm, homey atmosphere and cheerful service. The restaurant's warm interior of aged walnut and mahogany woods from old Irish bars and churches was built in Ireland and shipped to Orlando. There is always reason to celebrate at Raglan Road, with four elaborate bars, traditional dancing and storytelling, and live Irish music that kicks the party into high gear. Gastronomic delights feature traditional Irish fare with a modern twist. And, since you're visiting an authentic Irish pub, try the make-your-own beer flight!
Restaurant Info: Irish, Lunch/Dinner, A la carte, $$ – $15 to $34.99 per adult
Find out how you can save money on dining at Walt Disney World by using one of Disney's Dining Plans.
Raglan Road Lunch Menu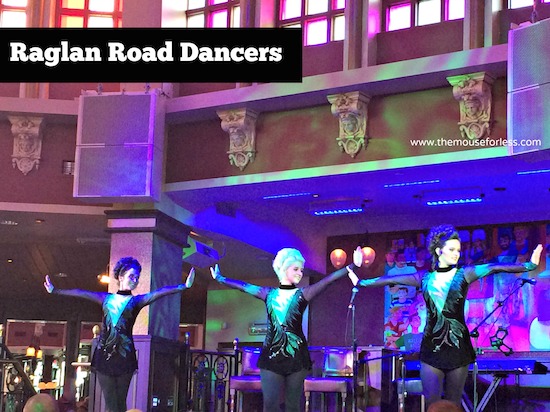 Menu Date: 04/2016
Hours: 11 a.m. – 3 p.m.
Raglan Road It's All For Me (Appetizers)
Soul Soup – Chef's selection of homemade soup made fresh daily – $6
Mighty Mussels – 1/2 lb of fresh Blue Hill bay mussels in a coconut infused curry broth – $12
Tart Art – Asparagus & goat cheese tart with garden peas, leeks & lemon oil dressed argula – $11
Salmon Swoon – Choice Irish smoked salmon served with capers, shallots & creme fraiche – $13
An Irish Egg – Guinness and onion sausage crusted egg, pickled cabbage, saffron aioli – $12
Crock o' Pate – Our crock of rustic chicken liver pate served with apricot chutney – $10
Raglan Road It's All Green (Salads)
Soup and Salad Combo – Choice of Caesar or mixed green salad with a cup of soup – $10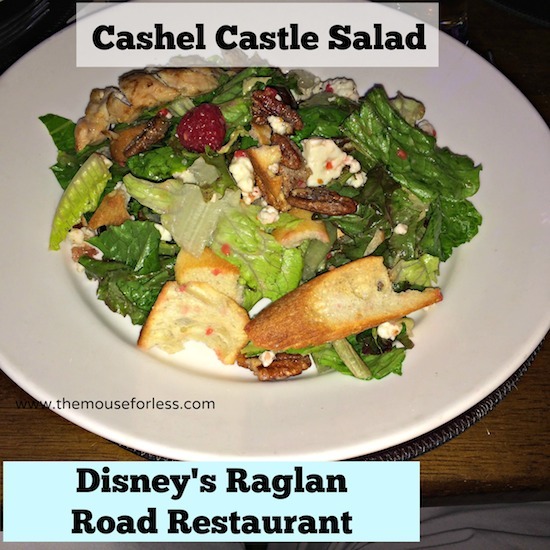 Cashel King Salad – Endive, arugula, Cashel blue cheese, poached pears, candied pecans, pancetta crisps, Cashel and white balsamic vinaigrette – $17
Add chicken or shrimp – $5
Hail Caesar – Mixed romaine and kale with pancetta crisps, grape tomatoes, croutons and shaved pecorino – $13
Add chicken or shrimp – $5
A Peach of a Goat – Irish goats cheese terrines made with sautéed garlic, shallots, shitake mushrooms in a herb breadcrumb crust served with peach jam, roasted beets and toasted walnuts with mixed greens – $16
Add chicken or shrimp – $5
Svelte Salmon – Grilled salmon, cauliflower and kale couscous, apricots, raisins, toasted pine nuts, curry vinaigrette – $19
Meadow Salad – Faro barley, pickled mushrooms, tomato, cucumber, radish, green peas, shallot vinaigrette – $15
Add chicken or shrimp – $5
The Might Sword (Fish) – Grilled Block Island swordfish, grape tomato, cured olives, capers, broad beans, diced potato, arugula, soft boiled egg, lemon vinaigrette and saffron aioli – $19
Raglan Road Sangers (Sandwiches)
All sandwiches served with a choice of side listed below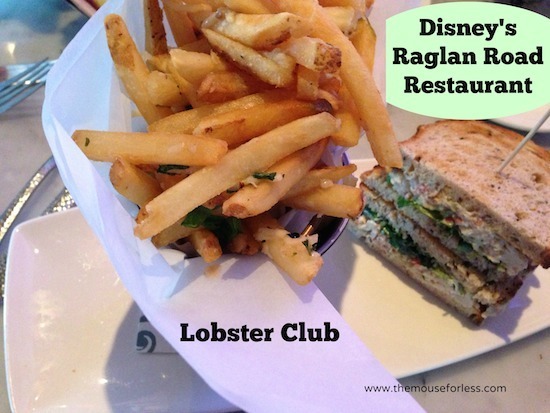 Lobster Club – Lobster and avocado salad, crispy prosciutto, watercress & citrus herb mayonnaise – $18
Pancetta and Chicken Sausage – Chicken breast with crispy pancetta, Dubliner cheese served with lettuce, tomato and a herb aioli. Includes choice of one (1) Side – $15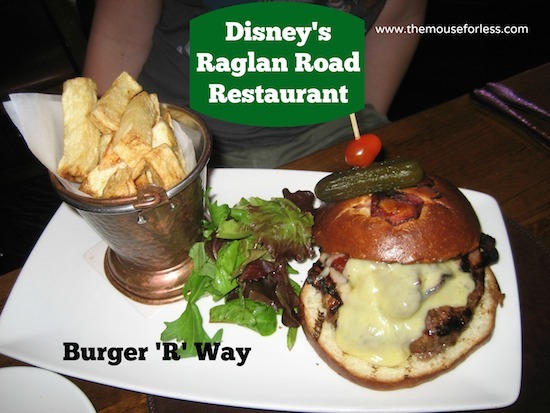 Burger 'R' Way – Char grilled sirloin beef burger with bacon, tomato chutney and Dubliner vintage cheddar served with one (1) side – $15
Portobello Beauty – Portobello mushroom cap with Dubliner cheese, zucchini, and tomato chutney served with one (1) Side – $15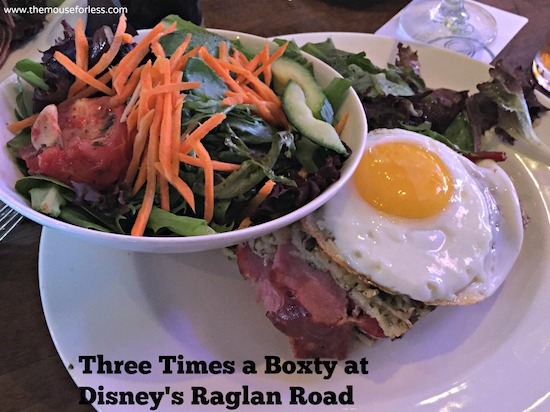 Three Times a Boxty – Sliced Gammon topped with Dubliner cheddar sandwiched between two pan seared boxty potato cakes with a fried egg on top – $16
Steak Sanger – Tender grilled steak served open face with basil grilled vegetables & herb aioli – $18
Raglan Road It's All To Devour (Entrees)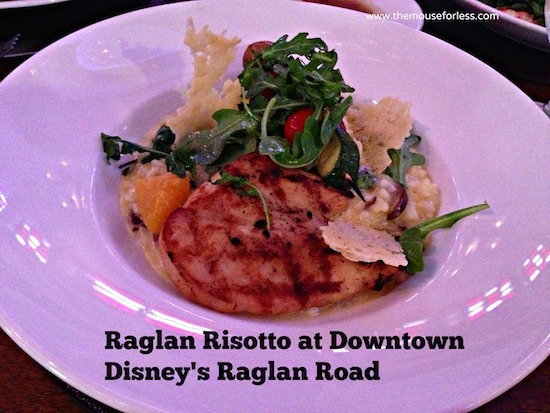 Raglan Risotto – Risotto with shiitake mushrooms, garden peas, shaved parmesan & rocket lettuce – $17
Add chicken or shrimp – $5
Fish and Chips – Our famous beer battered fish n chips served with our fresh tartar sauce. (Ask our lovely server for gluten free option) – $19
Keen eye for the Shepherd's Pie – We give the traditional Shepherd's Pie a little makeover with our contemporary twist to this favorite dish – $18
Salmon of Knowledge – Baked Atlantic salmon filet, topped with smoked salmon, leek and mushroom fondue, served with a maple glaze – $27
Cluck Curry – Chicken breast in curry broth with onions, peppers, leeks, and steamed almond rice – $20
Sod the Stew – It's beef stew infused with a hint of Guinness. The auld sod personified – $17
Our Pie to Try – Try our delicious chef selected freshly baked pie of the day – $19
Banger & Booz – Guinness & onion banger on mash topped with caramelized onions & beef stew – $18
Kevin's Heavenly Ham – Irish Mist glazed loin of bacon with savoy cabbage, colcannon potatoes, parsley sauce and a raisin cider jus – $25
Raglan Road Sides
Beer-battered Onion Rings – $5
Caesar Salad – $5
Chips – $5
Crushed Garden Peas – $5
Mixed Green Salad – $5
Colcannon Potatoes – $5
Smoked Bacon Baked Beans – $5
Garlic Parmesan and Truffle Oil Skinny Chips – $5
Roasted Vegetables – $5
Raglan Road Desserts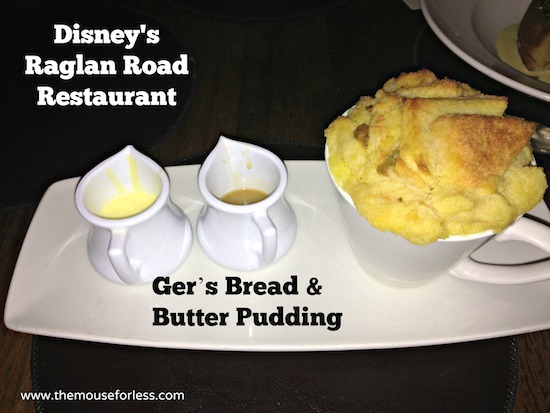 Ger's Bread & Butter Pudding – Like no other pudding you have ever tried. Believe us – $9.50
Dunbrody Kiss – Chef Dundon's gift to America. Chocolate. Add chocolate. Then add some more. With us? – $9.50
Sweet Flanberry – Strawberry flan, Sweet Life Farms strawberries, strawberry infused crème caramel, pink peppercorn tuile and dried strawberries – $8.50
Triful Sinful – Kitchen baked swiss roll, Grand Marnier, berries, custard & cream – $9.50
Apple and Peach Crumble – Fresh Granny Smith apple and peach crumble with vanilla ice cream and fresh cream – $8.50
Granny Dundon's Famous Steamed Orange Pudding – Steamed sweet orange pudding with a touch of lovely whipped cream – $9.00
Wibbely Wobbely Healthy Wonder – Seasonal fruit set in apple jelly, topped with crème fraiche – $9.00
Fluffy Lemon Clouds – Intense lemon curd tart topped with fluffy meringue – $9.50
Chocolate Heaven – Chef Dundon's gift to America. Chocolate, add more chocolate, then add some more – $9.50
Uisce Berry – Whiskey poached Sweet Life Farms strawberries, Irish oat and firewater bar, mead emulsion and vanilla ice cream – $8.50
* Dessert contains nuts
Coffee
Dark Horse European Blend – $2.75
Decaffeinated European French Roast – $2.75
Irish Coffee – $8.75
Baileys Coffee – $8.50
Tea
White Lion Decaffeinated Tuscan Garden – $2.75
White Lion Green Passion – $2.75
White Lion Organic Earl Grey – $2.75
Bewley's Irish Black Tea – $2.75
Raglan Road Dinner Menu
Menu Date: 04/2016
Hours: 3 p.m. – 11 p.m.
It's All For Me (Appetizers)
Soul Soup – Chef's selection of homemade soup made fresh daily – $6
Heritage Tomato Salad – Heirloom tomato & rocket salad with shallots, parmesan crisps & balsamic reduction – $12
Mighty Mussels – 1/2 lb of fresh Blue Hill bay mussels in a coconut infused curry broth – $12
Tart Art – Asparagus & goat cheese tart with garden peas, leeks & lemon oil dressed argula – $11
Salmon Swoon – Choice Irish smoked salmon served with capers, shallots & creme fraiche – $13
Crock o' Pate – Our crock of rustic chicken liver pate served with apricot chutney – $10
An Irish Egg – Guinness and onion sausage crusted egg, pickled cabbage, saffron aioli – $12.00
Its' All for Sharing (Sharable Appetizers)
Scallop Forrest – George Bank scallops in a golden batter served with citrus lime dipping sauce & sweet chili jam – $15
Dalkey Duo – Battered cocktail sausages with a Dalkey mustard dipping sauce – $12
Heaven on Earth – Baby back ribs in a Guinness and honey glaze – $14
Nom Nom Wings – Sweet 'n spicy wings tossed in a honey, chili flake, soy & ginger sauce – $13
Kiss Before Shrimp – Pan seared local Florida coast shrimp in a garlic and chili lemon butter sauce with sliced baguette – $15.00
Smokie City – Creamy smoked haddock & Dubliner cheese dip with potatoes, tomatoes & grilled baguette – $14
Appetizer D'Lirrah – Our Dalkey duo, Scallop forrest, Heaven on Earth & Nom Nom Wings as described above – $27
It's All Green (Salads)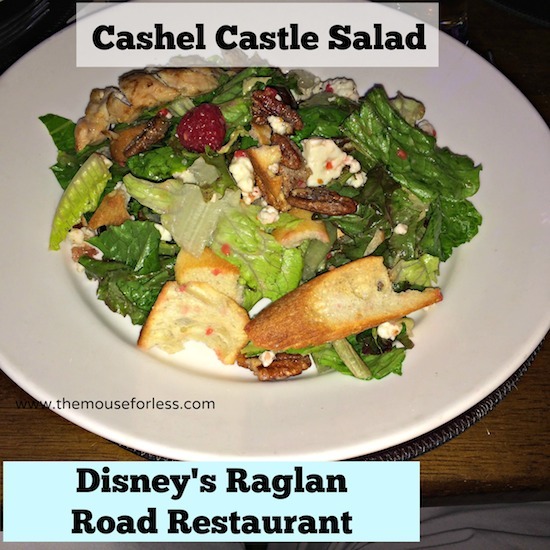 Cashel King Salad – Red and green oak leaf tossed with Cashel blue cheese, caramelized pecans, grape tomatoes, raspberries, pancetta crisps, crostinis & a raspberry vinaigrette – $17
Add chicken or shrimp – $5
Hail Caesar – Classic Caesar with prosciutto crisps, grape tomatoes, croutons & shaved parmesan – $13
Add chicken or shrimp – $5
A Peach of a Goat – Irish goats cheese terrines made with sautéed garlic, shallots, shitake mushrooms in a herb breadcrumb crust served with peach jam, roasted beets and toasted walnuts with mixed greens – $16
Add chicken or shrimp – $5
Svelte Salmon – Grilled salmon, cauliflower and kale couscous, apricots, raisins, toasted pine nuts, curry vinaigrette – $19
Meadow Salad – Faro barley, pickled mushrooms, tomato, cucumber, radish, green peas, shallot vinaigrette – $15
Add chicken or shrimp – $5
The Might Sword (Fish) – Grilled Block Island swordfish, grape tomato, cured olives, capers, broad beans, diced potato, arugula, soft boiled egg, lemon vinaigrette and saffron aioli – $19
It's All to Devour (Entrees)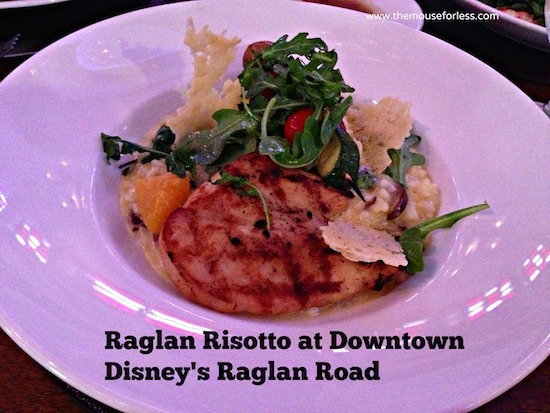 Raglan Risotto – Risotto with shiitake mushrooms, garden peas, shaved parmesan & rocket lettuce – $18
Add chicken or shrimp – $5
Fish and Chips – Our famous beer battered fish n chips served with our fresh tartar sauce. (tip-sprinkle some vinegar on both-tasty! – $19
Lambo – Lamb shank braised in rosemary jus with mash, leeks, shitake mushrooms & baby carrots – $29
Salmon of Knowledge – Baked Atlantic salmon filet topped with smoked salmon, leek and mushroom fondue served with a maple glaze. It'll give you brains to burn – $28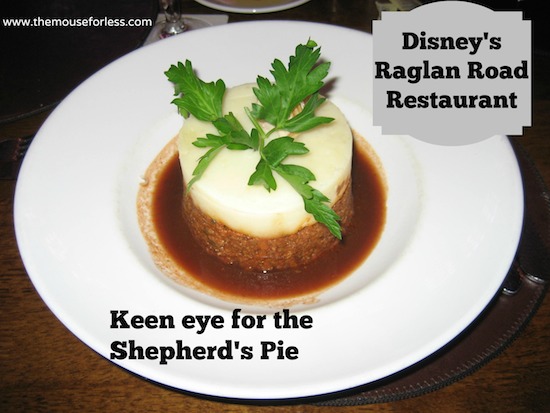 Keen eye for the Shepherd's Pie – We give the traditional shepard's pie a little makeover with our contemporary twist to this favorite dish – $19
Duckberry – Confit duck leg, root vegetable puree, strawberry and balsamic glaze – $24
Mighty Mixed Grill – Lamb chop, Guiness banger, sirloin steak, black pudding, chicken drumstick and bacon. Mighty! – $29
Kevin's Heavenly Ham – Irish mist glazed loin of bacon with savory cabbage, colcannon potatoes, parsley cream sauce and a raisin cider jus – $25
Cluck Curry – Chicken breast in curry broth with onions, peppers, leeks & steamed almond rice – $21
Sod the Stew – It's beef stew infused with a hint of Guinness – $17
Banger & Booz – Guinness & onion banger on mash topped with caramelized onions & beef stew – $20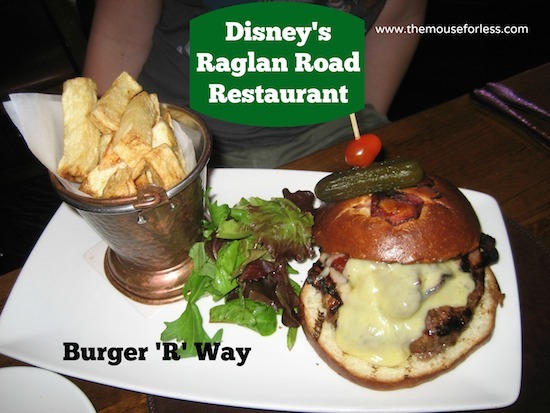 Burger 'R' Way – Char grilled sirloin beef burger with bacon, tomato chutney & Dubliner vintage cheddar – $16
Portobello Beauty – Portobello mushroom cap sandwich with Dubliner cheese, zucchini, and tomato chutney – $15
Braised Be Beef – Braised beef with horseradish mashed potatoes, roasted carrots & parsnips – $26
Serious Steak – 12oz NY strip, mashed potatoes, battered onion rings and whiskey peppercorn sauce – $35
It's not bleedin' Chowder! – That's what Master Chef said! It's the freshest cuts of seafood and potatoes in a white wine infused cream broth. But it's not chowder. Ok? – $26
Our Pie to Try – Try our delicious chef selected freshly baked pie of the day – $19
Mammy's Roast Chicken – Lemon thyme roasted half chicken with mashed potatoes, creamy herb bread sauce and a red wine jus – $22
King Cod – Horseradish crusted filet of cod with chive mashed potatoes, sautéed kale and fresh tomato vinaigrette – $28
Pork by Pork – Sage and onion stuffed pork loin, cider braised pork and apple fricassee, mashed potatoes, applesauce – $27
Sides
Chips – $5.00
Mixed Green Salad – $5.00
Caesar Salad – $5.00
Crushed Garden Peas – $5.00
Beer-battered Onion Rings – $5.00
Smoked Bacon Baked Beans – $7.00
Garlic and Herb Roasted Potatoes – $7.00
Colcannon Potatoes – $7.00
Au Gratin Potatoes – $7.00
Garlic Parmesan and Truffle Oil Skinny Chips – $7.00
Roasted Vegetables – $7.00
Cauliflower Au Gratin – $7.00
Desserts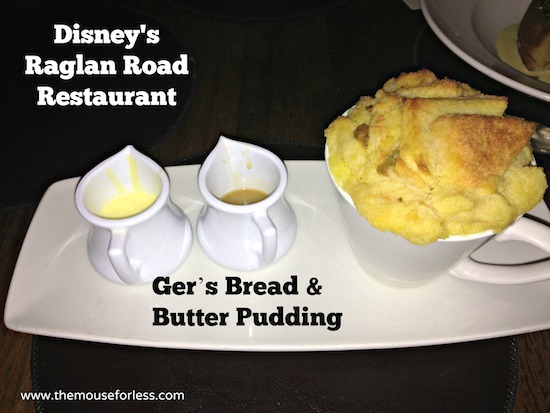 Ger's Bread & Butter Pudding – Like no other pudding you have ever tried. Believe us – $9.50
Dunbrody Kiss – Chef Dundon's gift to America. Chocolate, add more chocolate, then add some more – $9.50
Sweet Flanberry – Strawberry flan, Sweet Life Farms strawberries, strawberry infused crème caramel, pink peppercorn tuile and dried strawberries – $8.50
Triful Sinful – Kitchen baked swiss roll, Grand Marnier, berries, custard & cream – $9.50
Apple and Peach Crumble – Fresh Granny Smith apple and peach crumble with vanilla ice cream and fresh cream – $8.50
Wibbely Wobbely Healthy Wonder – Seasonal fruit set in apple jelly, topped with crème fraiche – $9.00
Granny Dundon's Famous Steamed Orange Pudding – Steamed sweet orange pudding with a touch of lovely whipped cream – $9.00
Fluffy Lemon Clouds – Intense lemon curd tart topped with fluffy meringue – $9.50
Chocolate Heavens – Chef Dundon's gift to America. Chocolate, add more chocolate, then add some more – $89.50
Uisce Berry – Whiskey poached Sweet Life Farms strawberries, Irish oat and firewater bar, mead emulsion and vanilla ice cream – $8.50
* Dessert contains nuts
Coffee
Dark Horse European Blend – $2.75
Decaffeinated European French Roast – $2.75
Irish Coffee – $8.75
Baileys Coffee – $8.50
Tea
White Lion Decaffeinated Tuscan Garden – $2.75
White Lion Green Passion – $2.75
White Lion Organic Earl Grey – $2.75
Bewley's Irish Black Tea – $2.75
Raglan Road Kids' Lunch & Dinner Menu
Menu Date: 04/2016
Kids' Entrees
Silly Steak – 5 oz steak with an onion ring garnish and choice of garden vegetables, fresh salad with ranch dressing, mashed potatoes, or Irish chips – $14
Grillin' Chicken – tender chicken breast served with mashed potatoes and veggies – $11
Little Big Burger – Sirloin beef burger char-grilled topped with Dubliner cheddar cheese and choice of garden vegetables, fresh salad with ranch dressing, mashed potatoes, or Irish chips – $8
Dalkey Duo – Dalkey-battered cocktail sausages with a Dalkey mustard dipping sauce and choice of garden vegetables, fresh salad with ranch dressing, mashed potato, or Irish Chip – $8
Crispy Shrimp – Succulent deep fried shrimp and choice of garden vegetables, fresh salad with ranch dressing, mashed potato, or Irish Chip – $9
Atlantic Fish – Fresh Atlantic fish deep fried in a crispy batter and choice of garden vegetables, fresh salad with ranch dressing, mashed potato, or Irish Chip – $9
Gold'n Chickin' – 2 deep fried chicken goujons and choice of garden vegetables, fresh salad with ranch dressing, mashed potato, or Irish Chip – $8
Macaroni Cheese – Macaroni pasta with Dubliner cheese and choice of garden vegetables, fresh salad with ranch dressing, mashed potato, or Irish Chip – $7
Young Shepherd's Pie – Traditional sheperd's pie with our contemporary twist to this favorite dish and choice of garden vegetables, fresh salad with ranch dressing, mashed potatoes, or Irish chips – $8
Raglan Chicken Risotto – creamy mushroom and pea risotto with grilled chicken and choice of garden vegetables, fresh salad with ranch dressing, mashed potatoes, or Irish chips – $10
Kid's Desserts
Ice Cream – Vanilla ice cream with butterscotch sauce – $3
Juicy Fruit – Freshly chopped fruit with a drizzle of honey – $5
Chocookberry – Ice cream with Cookies and berries smothered in a chocolate sauce – $5
Strawberry Delight – Vanilla Ice cream with pavlova, cream, fruit coulis and fresh strawberries – $5
** Menu and Prices are Subject to Change Without Notice **