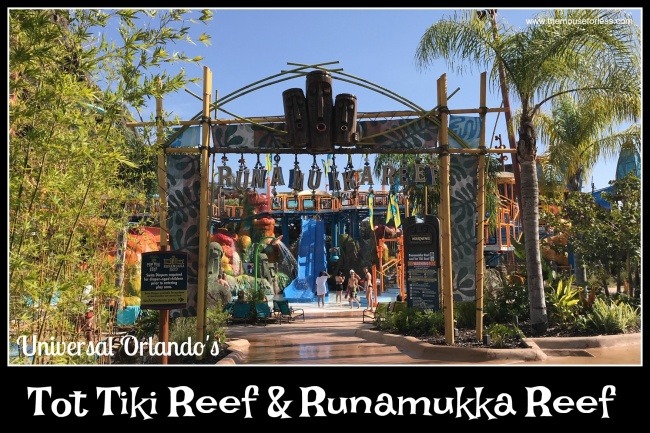 Tot Tiki Reef & Runamukka Reef at Universal Orlando's Volcano Bay are two play areas with a number of activities to keep your little ones entertained. As it sounds, Tot Tiki Reef is for toddlers to play  in the water while small whales are "motion activated" to squirt water and play music. Runamukka Reef has smaller scale water slides, dump cups, water guns, and more. Both play areas are located at the bottom of the volcano, Krakatau.
Ride Information  Ride Restrictions  Location  Tips

Planning a Universal Vacation?
Ride Information
Opening Date: May 27, 2017
Type of Ride: Play Area
Age Recommendation: Young Children
Typical Wait Time: None
Single Rider Line: No
Express Pass: No
Child Swap: No
Wheelchair Accessible: No
Ride Photo: No
Ride Restrictions
Height Requirements: Runamukka Reef – maximum 54″(137cm)
Tot Tiki Reef – Maximum 48″(122cm)
Location
Nearby Attractions: Krakatau Aqua Coaster | Kopiko Wai Winding River | Honu ika Moana
Dining: Whakawaiwai Eats | The Feasting Frog
The Mouse For Less Tips
Tot Tiki Reef & Runamukka Reef is be a great place for visitors with younger children. Take turns riding your favorite attractions while the little ones splash and play, creating your own "child swap".
Volcano Bay's TapuTapu allows you to do many things inside the water park, including activating special play points. These spots throughout the park allow for guests to make certain totem poles and other objects spew water, light up, etc. These hidden spots can be found around both Reefs.
Weather permitting, Volcano Bay is open every single day of the year. Parents can still feel comfortable with their little ones playing in the water during the off season because the water is heated to 85 degrees Fahrenheit.