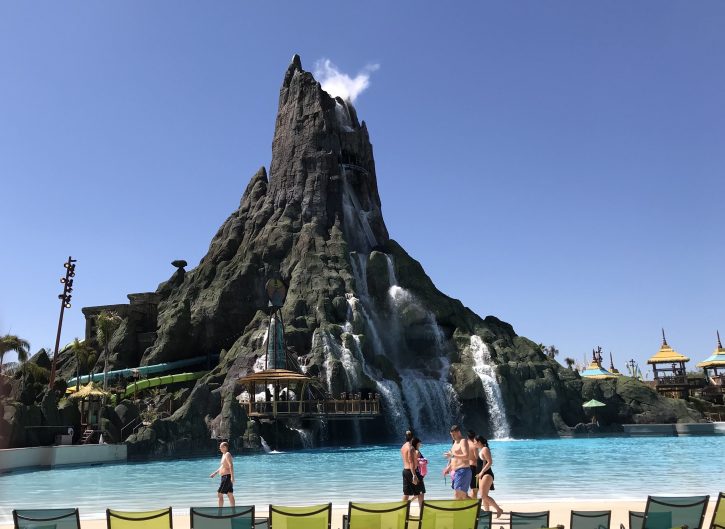 The Ko'Kiri Body Plunge is just what it sounds like, a full 70ft drop down the side of the volcano Krakatau. This ride features a drop door to keep the suspense building. In total, the slide is 125 feet from start to finish. Be ready to have the thrill of your life as you race down this massive water slide.
Ride Information  Ride Restrictions  Location  Tips

Planning a Universal Vacation?
Ride Information
Opening Date: May 27, 2017
Type of Ride: Water Ride
Age Recommendation: All Ages (per height requirement)
Typical Wait Time: TapuTapu (Virtual Line)
Single Rider Line: Yes (single person ride)
Express Pass: Yes
Child Swap: Yes
Wheelchair Accessible: No
Ride Photo: No
Ride Restrictions
Height & Weight Restrictions: Minimum 48″ (121.9cm) | Max 300lb (135kg)
Accessibility Information: All guests will need to be able to climb the stairway to get to the top, as well as exit out of the water at the end without assistance.
Location
Nearby Attractions: Kala & Tai Nui Serpentine Body Slides | Krakatau Aqua Coaster
Dining: Dancing Dragons Boat Bar | Whakawaiwai Eats
Shopping: Krakatoa Katy's
The Mouse For Less Tips
The Ko'okiri Body Plunge is one of Volcano Bay's most popular water slides. Be sure to check in with your TapuTapu wristband early on to minimize wait time.
Wait times for this attraction, and others are not specified due to the TapuTapu wristband. This new technology is free with admission and limits the amount of time you spend standing in a real line.
Guest visiting with children should use their best judgement when allowing them to ride. Given the height and speed it is one of the more intense, adrenaline fueled attractions in the park.
Ko'okiri Body Plunge participates in Universal Orlando Resort's Express PLUS pass, which means you can skip even the virtual lines to ride sooner!