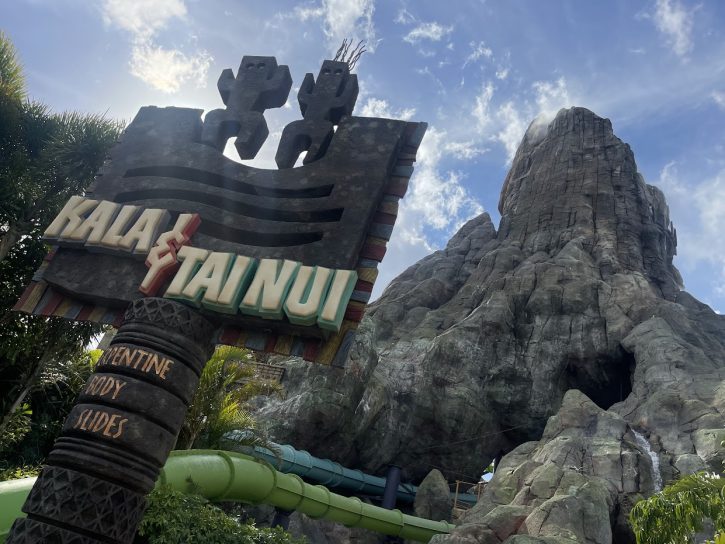 Similar to the Ko'okiri Body Plunge these two slides also begin with a drop door. Taking the rider by complete surprise its a race to the bottom. Two riders will enter each of the clear tubes to wait. The slides (Kala & Tai Nui) then intertwine with each other as the riders are zooming through and landing in a pool of water.
Ride Information  Ride Restrictions  Location  Tips

Planning a Universal Vacation?
Ride Information
Opening Date: May 27, 2017
Type of Ride: Water Thrill Ride
Age Recommendation: All Ages (per height requirement)
Duration of Ride:
Typical Wait Time: TapuTapu (virtual line)
Single Rider Line: Yes (single rider attraction)
Express Pass: Yes
Child Swap: No
Wheelchair Accessible: No
Ride Photo: No
Ride Restrictions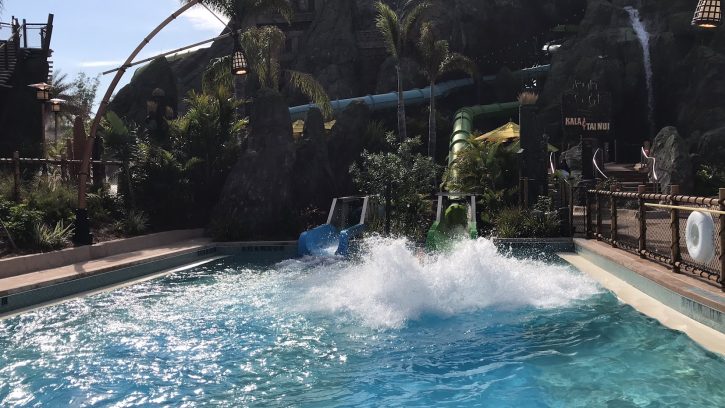 Height & Weight Restrictions: Minimum Height 48″  (121.9 cm) | Maximum Weight 275 lb (125 kg)
Accessibility Information: Guests must be able to climb the stairway to the top, as well as exit landing pool without assistance.
Location
Nearby Attractions: Ko'okiri Body Plunge | Ohno of Ohyah & Ohno Drop Slides| Punga Racers| Krakatau Aqua Coaster
Dining: Bambu | Feasting Frog
The Mouse For Less Tips
Kala & Tai Nui Serpentine Body Slides participates in Universal Orlando Resort Express PLUS pass.
This attraction is made up of two slides. One blue and one green. Keep in mind the green slide (Tai Nui) has a large drop at the end, and the blue slide (Kala) is a little gentler.
While this is a single rider slide, these are great for pairs. Arrive to the water park early in the day to have plenty of time to swap and race again!