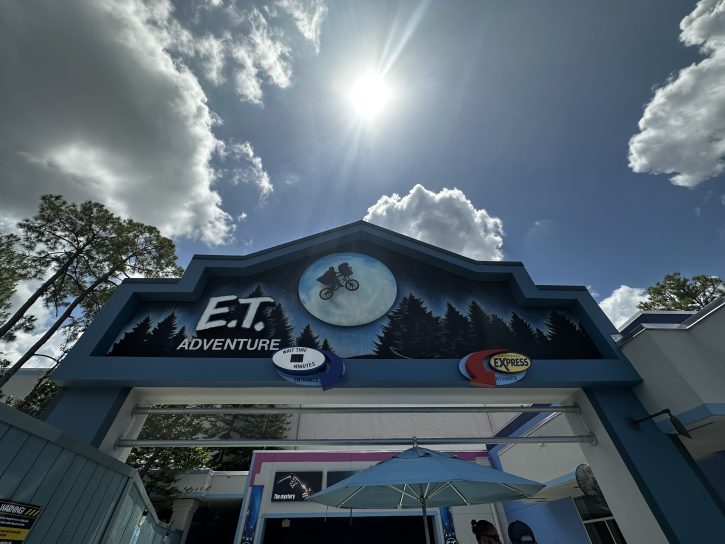 E.T. Adventure at Universal Studios Florida is a kid-friendly ride where you can soar above the world to help get E.T. back home. During this Universal Orlando Resort classic attraction, Riders will float into the night sky on a flying bike just like the movie where you will find E.T.'s home planet is struggling to survive. It is up to you to save this planet and all of its unknown creatures.
Ride Information  Ride Restrictions  Location  Fun Facts  Tips

Planning a Universal Vacation?
Ride Information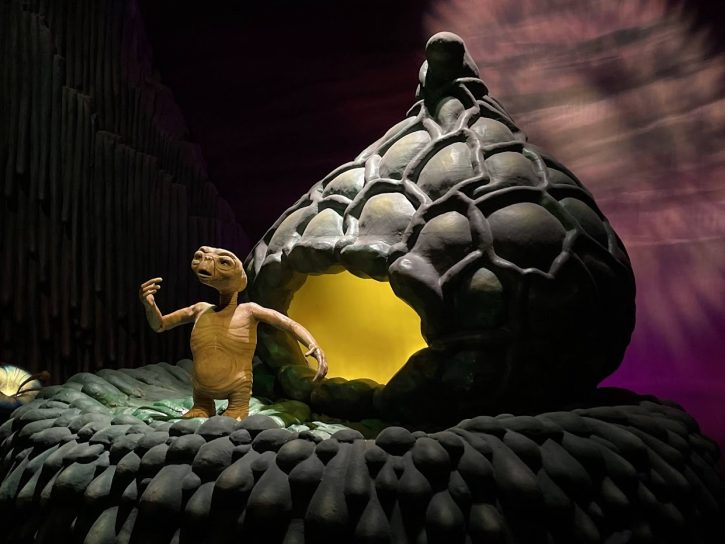 Opening Day: June 7. 1990
Type of Ride: Motion Simulator
Age Recommendation: All Ages
Ride Duration: 8 Minutes
Typical Wait Time: 35-45 Minutes
Single Rider Line: No
Express Pass: Yes
Child Swap: Yes
Wheelchair Accessible: Yes
Ride Photo: No
Ride Restrictions
Wheelchairs: Guests may remain in a wheelchair for the duration of the E.T. Adventure ride, however it must be a manual wheelchair, not an electric-powered chair. For more on disability assistance click here.
Height Requirements: 34″(86.4cm) Guests under 48″(121.9cm) must ride with a supervising companion.
Location
Nearby Attractions: Animal Actors on Location!
Dining: KidZone Pizza Company & Café La Bamba
Shopping: E.T.'s Toy Closet & Photo Spot
Did You Know?
The original composer (John Williams) for the E.T. movie also wrote the music for E.T. Adventure. E.T. Adventure is the first ride to have an original musical score.
At the end of E.T. Adventure E.T. thanks you (by name) personally for helping him save his home planet.
Get a good look at E.T. as he will only appear in your actual basket of the bike when you are about to fly.
The Mouse For Less Tips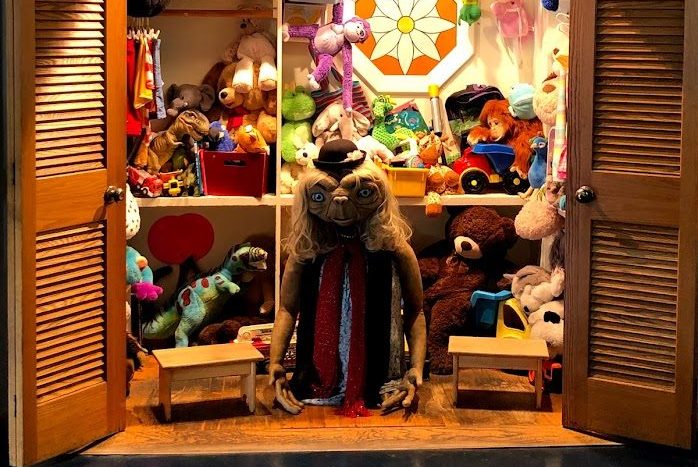 E.T. Adventure is a very laid back slow moving ride. It is great for all ages, however some pf the creatures on E.T.'s home planet may look a little odd to those who are very young. If your child is weary of new things pick up a copy of E.T. the movie before you go and make it a movie night!
E.T. Adventure does not have a photo taken while you are on the ride itself, it does have a photo area in the gift shop though. At E.T.'s Toy Closet & Photo Spot you can recreate two of E.T.'s magical movie moments.