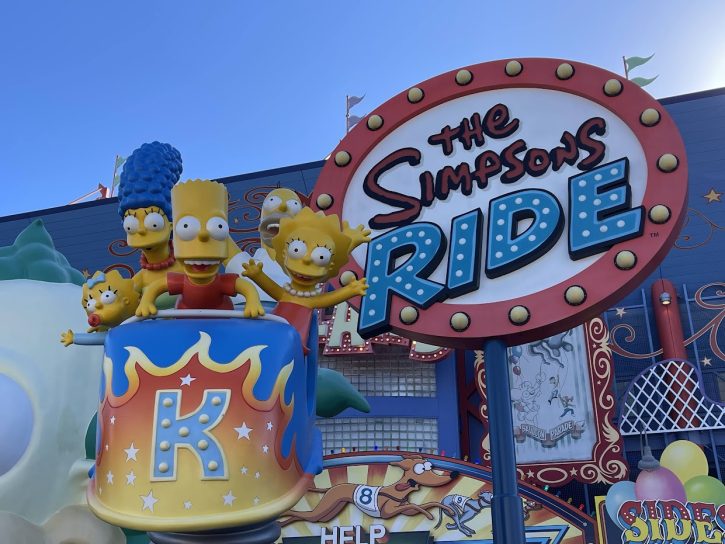 The Simpsons Ride at Universal Studios Florida is an great ride for the whole family. In this Universal Orlando Resort ride you will help Bart, Homer, Lisa, Marge, & Maggie save the low-budget Krustyland theme park. See all your Simpsons favorites, plus while you wait to ride play any of the entertaining carnival games as if you really were inside the Krustyland theme park.
Ride Information  Ride Restrictions  Location  Fun Facts  The Mouse For Less Tips

Planning a Universal Vacation?
Ride Information
Opening Day: May 15, 2008
Type of Ride: 3D/4D Motion Simulation
Age Recommendation: All Ages (meeting height requirements)
Ride Duration: 4.5 Minutes
Typical Wait Time: 15-60 Minutes (varies on crowd size)
Single Rider Line: Yes
Express Pass: Yes
Child Swap: Yes
Wheelchair Accessible: No (while riding)
Ride Photo: No
Ride Restrictions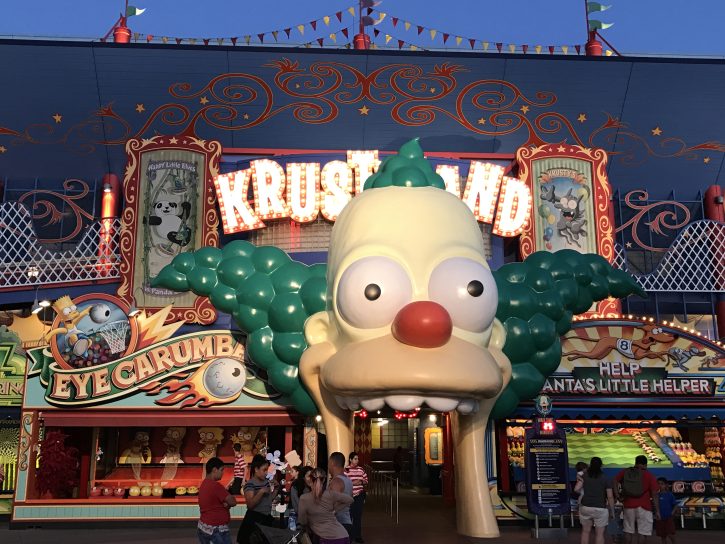 Disability: Guests will need to transfer to the ride itself for The Simpsons Ride. For more information on disability assistance at Universal Orlando Resort click here.
Height Requirements: 40″(101.6cm) Minimum. Riders under 48″(121.9cm) must have a supervising companion with them.
Location
Nearby Attractions: Kang & Kodos' Twirl 'n' Hurl & Men in Black: Alien Attack
Dining: Duff Brewery, Moe's Tavern, & Fast Food Boulevard
Shopping: Kwik-E-Mart
Did You Know?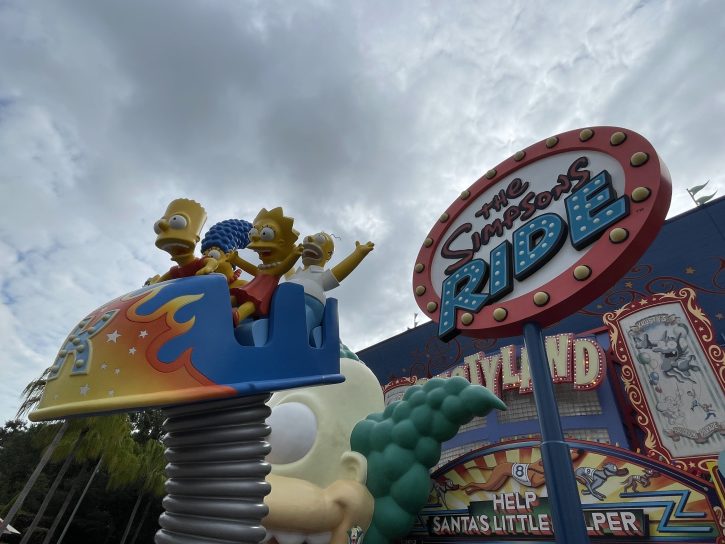 Rather than pulling clips from the show, The Simpsons Ride was created with brand new animation. This is also true for the pre-show and the queue area.
The Simpsons Ride replaced the Back to the Future ride in 2008. In order to keep Marty's spirit alive, you can see Comic Book Guy wearing his futuristic jacket from Back to he Future Part 2.
May 15, 2008 was the grand opening date of The Simpsons Ride, however the ride actually opened April 23, 2008 as a soft opening to see how it would do.
The Mouse For Less Tips
The Simpsons Ride is fun for all ages, especially those who are true Simpsons fans. If you are not as familiar with the show you should know that much of the humor is adult-oriented.
If this makes you a little uneasy with the little ones you can always watch a few episodes of The Simpsons ahead of time to know what you should expect. Who knows, you just might get hooked!
Wait times can be so tricky. They vary on everything; weather, time of day, time of year, etc. If you are at the park and want to know a current wait time for The Simpsons Ride (or any of the Universal Studios or Islands of Adventure attractions) you can always download the official Universal Orlando Resort app and view their real wait times.
The Simpsons Ride can make Guests a little queasy, as it is a traditional motion simulator. Be aware if you have issues with motion sickness.