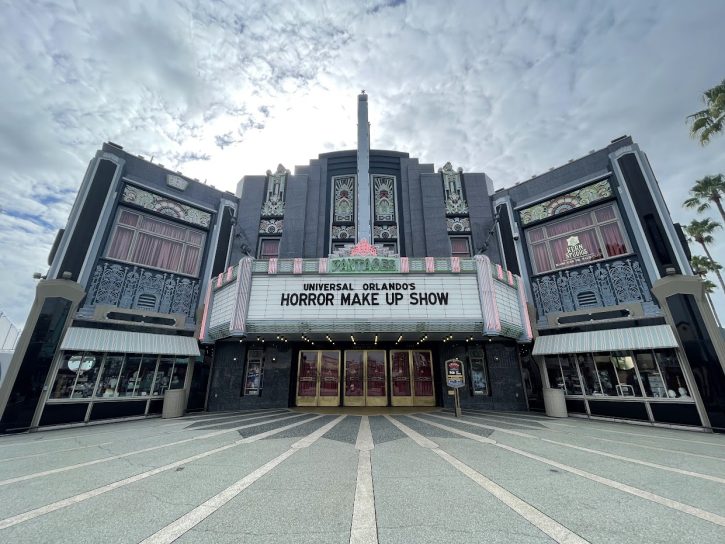 If you have ever wondered what it truly takes to create a horror film? Universal Orlando's Horror Make-Up Show at Universal Studios Florida gives you a first-hand look at creating costumes, gory scenes, and more. This show is top-notch from head to toe.
As guests enter the lobby area of the theater there are authentic props and costumes from your favorite Universal horror classics. Once the show has started everything you know about movie changes! You will learn how actors end up with sliced off limbs, werewolf features, and even how to make quality fake blood! While the show is on the gory side, there is a wide range of comedy throughout. The Horror Make-Up Show is full of surprises, anyone watching will not be disappointed.

Planning a Universal Vacation?
Location
Nearby Attractions: E.T. Adventure | The Bourne Stuntacular
Dining: Mel's Drive-In | Café La Bamba
Shopping: Studio Styles | Cyber Image
The Mouse For Less Tips
While this show is full of comedy and interesting know-hows, the clips shown and even some scenarios portrayed can be a little too gruesome for some young children. All Ages are welcome, but parental advisory is recommended.
Show times generally start around 11:30am each day, running about 45 minutes per show. ASL is provided at select show times. Guests can easily check the official Universal App for specific details that day.
This theater is wheelchair (ECV) accessible, and service animals are welcome. For more details on assistance at Universal Orlando, visit our disability assistance page.
The Horror Make-Up Show does not accept the Universal Express Pass. However, the show is not too long and Hollywood is filled with great restaurants. Plus a few shopping spots where guests can pass the time but also stay close.