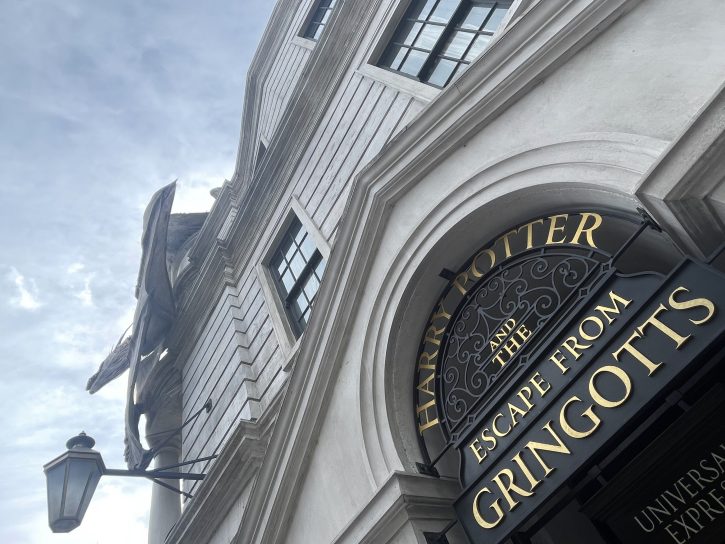 Harry Potter and the Escape from Gringotts is a wild 3-D motion simulated roller coaster at Universal Studios Florida. While you maneuver through Gringotts Bank, trying to escape, you will encounter Harry, Ron, and Hermoine. Use their help to run from Voldemort and Bellatrix Lestrange! If you've seen Harry Potter and the Deathly Hallows Part 2, you'll be familiar with the ride's theme, as Guests ride the carts that take Guests into the vaults on Gringotts that were featured in the film.
Ride Information  Ride Restrictions  Location  Fun Facts  Tips

Planning a Universal Vacation?
Ride Information
Opening Day: July 8, 2014
Type of Ride: Thrill Coaster
Age Recommendation: All Ages
Duration of Ride: 4.5 Minutes
Typical Wait Time: 45-120 Minutes
Single Rider Line: Yes
Express Pass: Yes
Open to Early Park Admission: Yes
Child Swap: Yes
Wheelchair Accessible: Must Transfer to Ride
Ride Photo: No
Ride Restrictions
Standard Wheelchair: While walking through the "queue" or line waiting to get on the ride, guests using electric-powered wheelchairs will need to transfer to a standard wheelchair. Then transfer from that wheelchair to the ride itself.
Height Requirements: Minimum 42″. Anyone under 48″ must have a supervising companion to ride with them.
Safety Restraint: Includes lap bar, shoulder harness, and seatbelts. For safety reasons guests of a certain size who are not able to properly fasten all restraints will not be allowed to ride.
Location
Nearby Attractions: Hogwarts Express
Dining: Leaky Cauldron & Florean Fortescue's Ice Cream Parlor
Shopping: Olivanders in Diagon Alley & Knockturn Alley
Did You Know?
At the top of Gringotts Bank there is a fire-breathing dragon. The real fire bellowing from it's mouth reaches a hot 3,560 degrees Fahrenheit.
While you're waiting in the queue looking at all the amazing animatronics and details of the bank itself. Also, take a moment to notice the 4 chandeliers; there are 62,000 crystals in all of the chandeliers combined.
Warner Bros and Universal Creative began planning this ride well before the first Wizarding World was finished.
The Mouse For Less Tips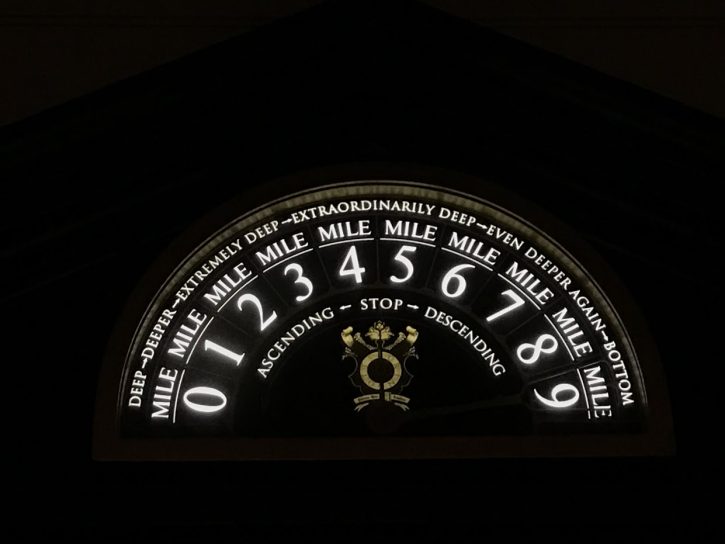 Though your child may meet the height requirements, this ride can be a bit scary with scenes depicted from Harry Potter and the Deathly Hallow Part 2. Some young children may find this to be a bit too intense.
Harry Potter and the Escape from Gringotts can be one of Universal Orlando Resort's busiest attractions, especially in the middle of the day or during peak season. This ride is open during Early Park Admission so your best bet for a shorter line is then. For more ticket options please visit our ticket options page.
Although this ride does not have a ride photo (due to the 3D simulation goggles), the queue offers a photo opportunity for Guests to experience for your memories!
Strollers are not allowed inside Gringotts Bank through the queue. If you are planning to use the child swap feature make sure you grab all of your belongings so you can leave the stroller outside.  There are also lockers areas inside to store any loose items you may have while you ride.
Harry Potter and the Escape from Gringotts features two unique preshow elements. The first takes you into the depths of Gringotts Bank and the second includes a scene with Bill Weasley and the goblin, Blordak.