Select Nights – September 15 – November 4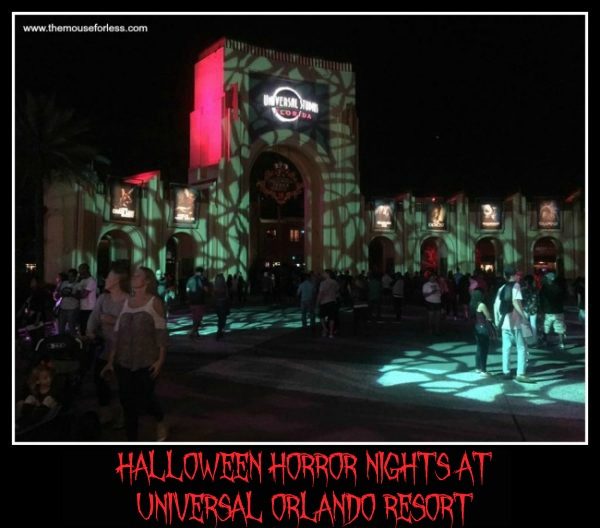 Universal Orlando Halloween Horror Nights
Universal Orlando Halloween Horror Nights, the nation's premier Halloween event, puts you right into some of the most pulse-pounding moments in horror history. On select nights from September 15 through November 4, 2017, the streets of Universal Studios Florida theme park come alive with hordes of horrifying mutants, monsters and maniacs. With over 25 years of experience to draw from, nobody creates a more nightmarish Halloween event filled with truly original scares and authentic horror movie moments. Each night of Halloween Horror Nights, you can explore terrifying haunted houses, make your way through multiple scare zones where creatures lurk around every turn, enjoy outrageous live shows, and experience many of the park's most exciting rides and attractions.
This year marks the 27th year for the event and there will be a record number of 34 nights that Halloween Horror Nights will be held. Dates for this year are:
September
15, 16, 17, 21, 22, 23, 24, 29, 30
October
1, 4, 5, 6, 7, 8, 11, 12, 13, 14, 15, 18, 19, 20, 21, 22, 25, 26, 27, 28, 29, 30, 31
November
3, 4
Please keep in mind due to the intense nature of this event, it is not recommended for children under the age of 13.
Information will be updated for 2017 as it becomes available. 
Ticket Options
In order to experience this event, guests must purchase separate Halloween Horror Night ticket media.
General Admission
There are four different options that can be purchased that relate to Halloween Horror Nights. Gusts can purchase the General Admission ticket, where you choose which date you would like to experience the horrifying fun. Genrael Admission tickets start at $69.99 and range to $80.99.
For those who would like to experience Halloween Horror Nights on multiple evenings, you can purchase the Frequent Fear Pass.
Vacation Packages
Guests wishing to enjoy a full Halloween Horror Nights experience can choose to purchase both tickets to the spooky fun, as well as their on-site hotel stay. Vacation packages provide Guests with on-site hotel accommodations, Park-to-Park daytime admission to theme parks, admission to Halloween Horror Nights. and more. Packages start at only $225 per adult, per night, tax inclusive.
Vacation Package Includes:
3-Night Hotel Accommodations
2 Park, 3-Day Park-to-Park Ticket to Universal Studios Florida and Universal's Islands of Adventure
1-Night Admission to Halloween Horror Nights (Sunday–Friday)
Early Park Admission – one hour before the theme park opens to one Universal Orlando theme park
Access to select live entertainment venues at CityWalk
More Options
In addition, due to the popularity of Halloween Horror Nights, (the haunted houses can quickly shoot up to having 1 to 2 hour waits) one of the best suggestions for those wishing to participate in the fun is to purchase the Halloween Horror Nights Express Pass. This pass allows you to cut past the regular lines at all the haunted houses, as well as at participating rides and attractions. Do be aware that only a limited number of these Express Passes are sold each night.
Finally, guests can choose to participate in the R.I.P. VIP Tours where they can receive in-depth behind-the-scenes tour of some of Horror Nights' most intriguing houses.
Attractions
Haunted Houses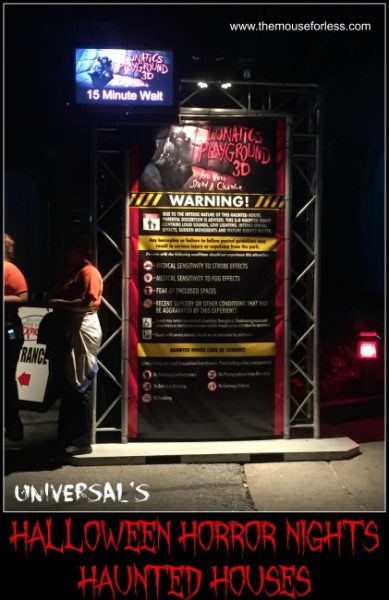 Each year, Halloween Horror Nights features multiple haunted houses. Many are themed after horror intellectual properties. Previous experiences include The Walking Dead, Halloween, Texas Chainsaw Massacre, The Purge, American Horror Story, and Insidious.
In addition, each year, the creative and demented minds of Universal Creative include unique creations that are designed to frighten. Last year saw Ghost Town, Tomb of the Ancients, and A Chance in Hell.
The first house for 2017 has been announced! American Horror Story will return, this time focusing on brand new content from Season 2: Asylum, Season 3: Coven and Season 6: Roanoke.
Scare Zones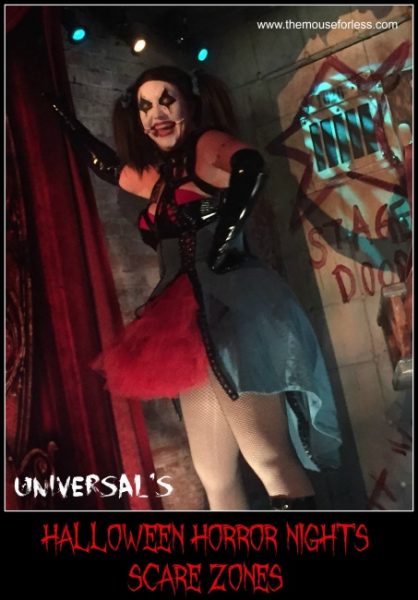 The scares are all around during Halloween Horror Nights and that couldn't be more true in the various Scare Zones located throughout the park. Terror is lurking behind ever corner to jump out and scare you courtesy of scare actors. Whether you're just walking through or watching others get the snot scared out of them, the Scare Zones can't be missed!
Live Shows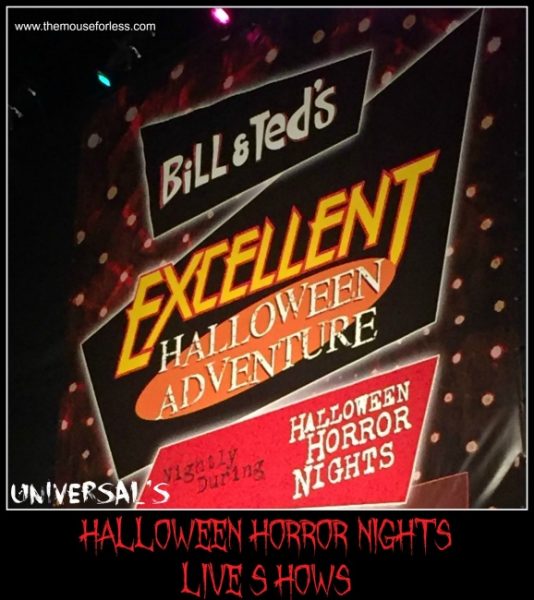 The terror continues with live shows during Halloween Horror Nights. Bill and Ted's Excellent Halloween Adventure is a staple year in and year out, with their irreverent look at some of the year's most interesting pop culture events. Additional shows also take the spotlight each year.
Universal Orlando Attractions
During Halloween Horror Nights, it's not only about the frights. Sometimes you need a breather. Many of Universal Studios Florida's popular attractions are opening throughout the evening to enjoy.
Dining
Each year during Halloween Horror Nights, there are special food and beverage options specific to the event.
TheMouseForLess Tips

Arrive early. Due to the massive popularity of the event, the earlier you arrive, the more you will have the opportunity to experience the thrills and chills!

Halloween Horror Nights has a pretty active social media presence. Make sure to follow along for all the latest details and while you're there, make sure to use the hashtag #HHN27

For more information about Halloween Horror Nights, visit their event website.
Save
Save
Save
Save
Save
Save