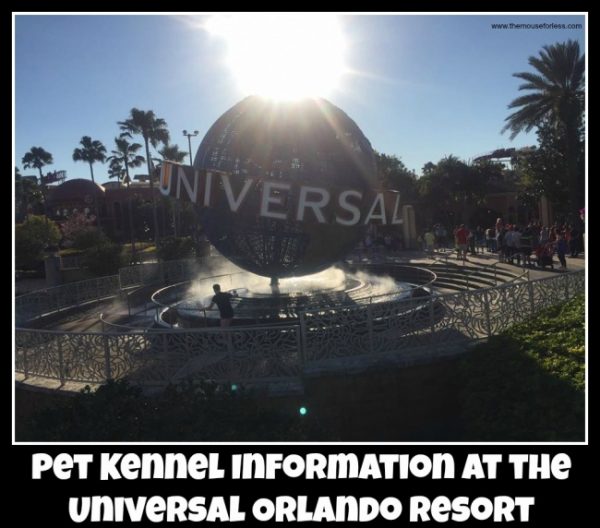 For those who prefer to travel with their pets, you should be aware that your pets cannot visit the Universal Orlando theme parks with you. This means you cannot take Fido into Universal Studios Florida, Islands of Adventure, Volcano Bay, or CityWalk. However, thanks to the pet kennels at Universal Orlando Resort, Guests can board their dog or cat for the day rather than leaving them alone in a crate until you return.

Planning a Universal Vacation?
Requirements
All animals must have proof of current vaccinations and their expiration dates.

Dogs must have proof of Rabies, Bordetella and D.H.P.P. vaccinations
Cats must have proof of Rabies, Calicivirus, Panleukopenia and Rhinotrachetitis vaccinations

Owners will need to bring their pet's own food, blankets, and/or toy.
Dog owners should return at least once a day to walk them.
A fee of $15.00 per day per pet is required.
Kennel Dimensions
Dogs and cats weighing less than 39 pounds will be boarded indoors in a 3′ x 2 1/2′ kennel.
Dogs weighing more than 39 pounds or more are boarded outside in 7′ x 4′ covered area with plenty of cooling fans.
Hours
The kennel is open daily from 8:00 a.m. until 2 hours after the parks close.
Extended hours are offered unattended until 3:00 a.m. For an extended stay pick up simply use the phone outside of the building to notify an employee when you have arrived.
Directions
When you come to the intersection of Universal Boulevard and Hollywood Way follow the signs towards parking. once you've gone through the toll plaza follow the RV and Camper parking lot signs. When you arrive park on the left side. You will see the Boarding facility on the corner.
General Information
The kennel only accepts dogs and cats.
You may drop off your animal as soon as they open at 8:00 a.m.
Space is provided on a first come, first serve basis.
Reservations are not accepted.
While boarding the animal loving staff will provide water and keep kennels clean.
The kennel is minutes from Universal's parks so visits from pet owners is encouraged.
Vaccination records are easily accessible through your pet's Veterinarian. Just ask your Vet's receptionist to print it out for you.
The pet kennels at Universal Orlando Resort are for dogs and cats only. No native or exotic species are permitted.
For any other questions or concerns please call 407-224-9509 or fax 407-224-9516.
Pets are allowed at many of the Universal Orlando Resort Hotels.