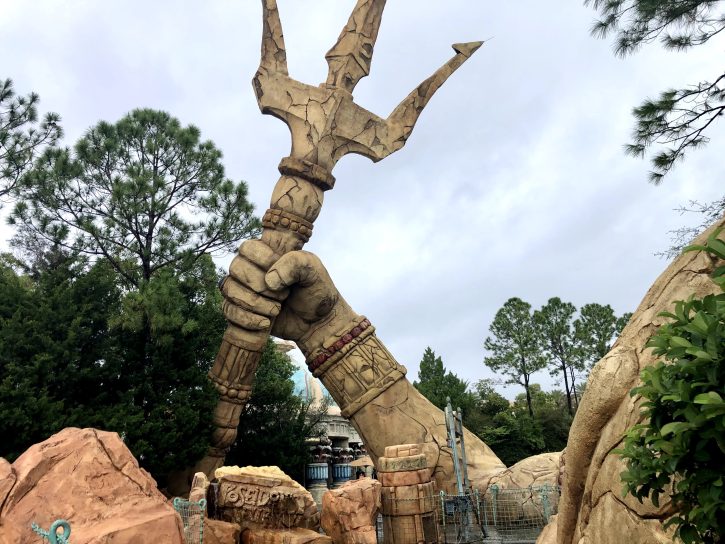 Poseidon's Fury is a live-action attraction you won't want to miss. As you walk through the Temple of Poseidon you make your way deeper below sea level. Pretty soon guests will be in the cross fire of Poseidon, God of the Sea and Lord Darkenon's epic battle. Poseidon's Fury includes all types of special effects the whole family will love.
This attraction will close on May 9, 2023. More information about this closure can be found here.
Ride Information  Location  Fun Facts
Ride Information
Opening Day: 1999
Type of Ride: Live Action
Age Recommendation: All Ages
Ride Duration: 25 Minutes
Typical Wait Time: 20-30 Minutes
Single Rider Line: No
Express Pass: Yes
Child Swap: Yes
Wheelchair Accessible: Yes
Ride Photo: No
Ride Restrictions
Height Requirements: Supervising companion required for guests under 48″(121.9cm).
Wheelchair Restrictions: None – Guests using both standard or ECV wheelchairs are welcome.
Location
Nearby Attractions: The Mystic Fountain | The High in the Sky Seuss Trolley Train Ride!
Dining: Fire Eater's Grill | Mythos Restaurant
Shopping: Treasures of Poseidon | Mythical Metals
Did You Know?
This ride uses 4 types of lasers, and over 200 flame effects.
Poseidon's Fury has been a part of Universal Orlando Resort attractions since Islands of Adventure opened in 1999.
In Poseidon's Fury you will walk through a water vortex. In order to bring this aspect of the attraction to reality the creators designed the water to shoot at speeds of 100mph. Thus, creating the vortex effect.