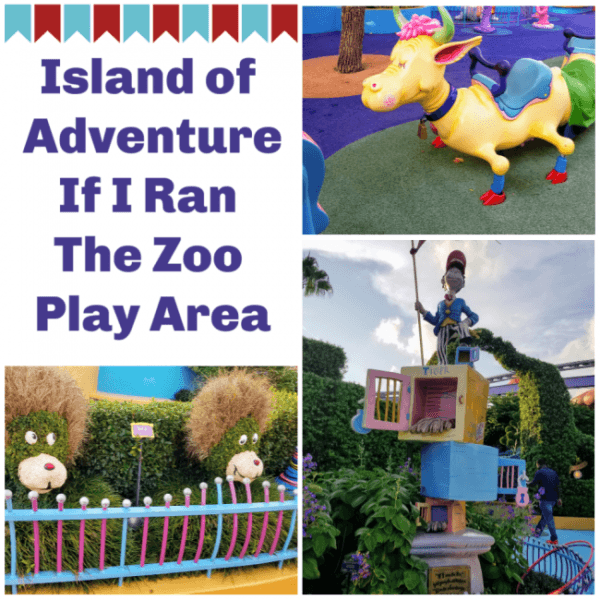 Located inside Seuss Landing this is a wonderful spot for kids to let loose. At If I Ran the Zoo, you can find interactive games, climb on original Seuss animals, and there is even a splash area. Your kiddos will absolutely love the playground as there is so much to do. Watch as they run through the tunnels in Zomba-ma-tant, and play a game of Tic Tac Joe!
Location
Nearby Attractions: The High in the Sky Seuss Trolley Train Ride! | The Cat in the Hat | Caro-Seuss-el
Dining: Moose Juice, Goose Juice | Hop on Pop Ice Cream Shop
The Mouse For Less Tips
This play area is a great spot for mom and dad to take a quick break from walking throughout the park and give children some time to run around.
The If I Ran the Zoo play area is not shaded so be sure to bring sunscreen, hats, etc. when you stop here, and plenty of water.
Although it may not be shaded you and your little one will love watching as The High in the Sky Seuss Trolley Train Ride! rides above.
Here is also a good time to create your game plan for the next few rides or dining trips. Conveniently If I Ran the Zoo is located right in the middle of all things fun and yummy inside of Seuss Landing.