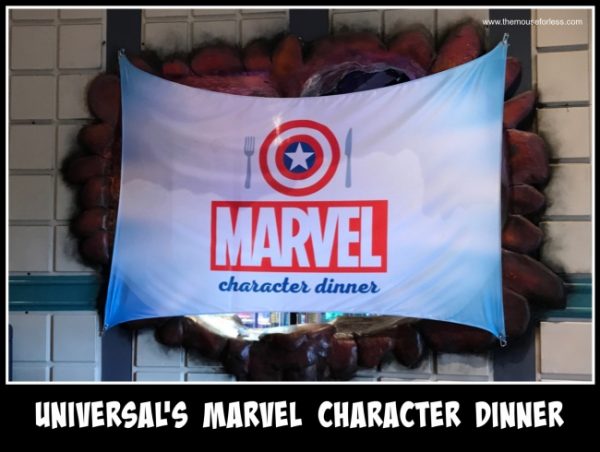 Marvel Character Dinner
Join your favorite Marvel Super Heroes for a character dinner to remember. With your separately purchased ticket you'll dine at Café 4 at Islands of Adventure at the Universal Orlando Resort and enjoy a full service dinner. Just when you are ready to eat, Captain America, Spider-Man, Wolverine, Storm, and Rogue come through the doors. The Marvel Character Dinner is an experience that no true believer can miss.
Do keep in mind that the Super Heroes that appear are subject to change without notice.
Marvel Character Dinner is Temporarily Closed
General Information
My Universal Photos
While you and your family are enjoying dinner with these amazing super heros, you  can also get autographs and professional photos taken. You get 1 free photo and can view them at the My Universal Photos location with your My Universal Photos card. You will get your card from the photographer, so be sure to put it somewhere safe.
Tickets
When you purchase the Marvel Character dinner ticket it includes 1 dinner (buffet style) with 1 non-alcoholic drink, and your complimentary photo. Reservations are required, so you will need to purchase your ticket at least 24 hours in advance. Reservations can be made by calling 407-224-3663. Tickets are available for any day Thursday through Sunday.
Adults (10+) $49.99 Child (3-9) $24.99
*Tickets are non-refundable.*
Location & Time
Café 4 is located on the Marvel Super Hero Island. Dinner at Café 4 begins at 5:00 p.m. Guests will you will need to arrive 15 minutes prior to your reservation.
Dinner Buffet Menu
Menu Date 02/2020
Pre-Made Salads
Orzo, Marinated Artichoke,Bow Tie Pasta, Fresh Fruit, Fresh Mozzarella & Tomato, Chef-Tossed Caesar, Tossed House
Assorted Breads
Pastas
Pasta (Tomato Basil or Alfredo), Penne Bolognese, Stuffed Jumbo Shells with Pesto
Meats
Roasted Rosemary Lemon Chicken, Chicken Scaloppini, Shrimp Scampi
Specialty Pizzas
Tuscan, Roman Bianco, Mediterranean Vegetable, Hawaiian, Cheese
Assorted Desserts
Assorted Non-Alcoholic Beverages
***Marvel Character Dinner Information Subject to Change***