November 10, 2017 – January 7, 2018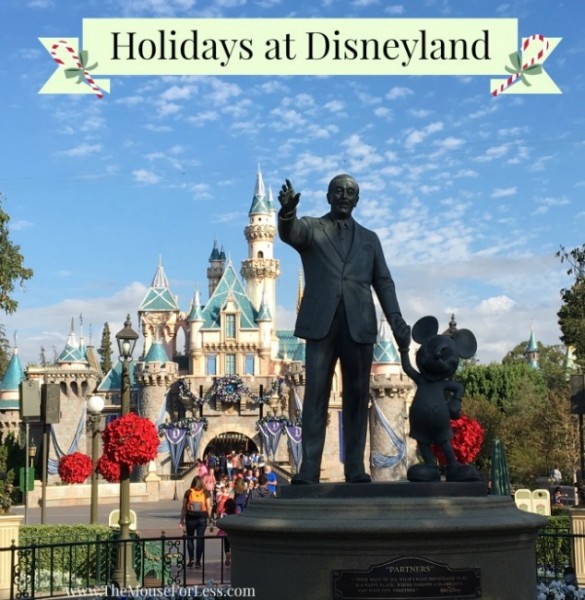 Enjoy the Disneyland Holidays as they are always a very special time at the Disneyland Resort with themed entertainment, sparkling decorations, delicious treats and holiday shopping.
Disneyland Holidays begin on November 10, and the season will welcome the return of beloved Disneyland Park holiday traditions such as "A Christmas Fantasy" parade, Sleeping Beauty's Winter Castle, "it's a small world" Holiday and "Believe…in Holiday Magic" fireworks followed by a holiday snowfall on Main Street, U.S.A., New Orleans Square and "it's a small world". Of course, Santa Claus appears in the parade throughout the season and also will be greeting guests and listening to holiday wishes through December 24.
New for Disney California Adventure will be some holiday fun on Route 66 as two Cars Land attractions put the magic in overdrive as they transform for the first time ever this holiday season. Luigi's Rollickin' Roadsters becomes Luigi's Joy to the Whirl and Mater's Junkyard Jamboree becomes Mater's Jingle Jamboree. Mater and Luigi add even more cheer to the seasonal fun by singing new holiday tunes for the occasion.
Returning to Disney California Adventure is the Festival of Holidays which invites guests to celebrate the season like never before at Disney California Adventure. The park will also feature seasonal makeovers with festive – and often whimsical – holiday décor in Cars Land, "a bug's land," Paradise Pier and Buena Vista Street.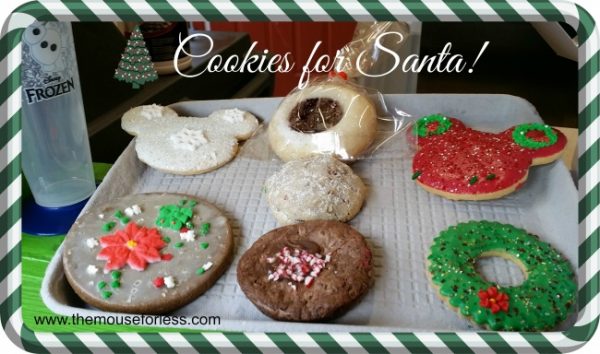 Disneyland Resort hotels also join in the Disneyland Holidays festivities with twinkling lights and ornaments, special entertainment and holiday dining with themed menus.
Expanded hours at both Disneyland Resort theme parks will extend the family fun and offer more time for guests to enjoy all there is to see and do at the Disneyland Resort.
Note: Each year information is "tweaked" as it becomes available and this page will continuously be updated with specific dates and details as the holiday draws near. Some information may be based on what is "expected" based on the experience of previous years.
Disneyland Events Disney California Adventure Events Downtown Disney Events  Holiday Dining Holidays at the Resorts New Years Eve
Disneyland Holidays at Disneyland Park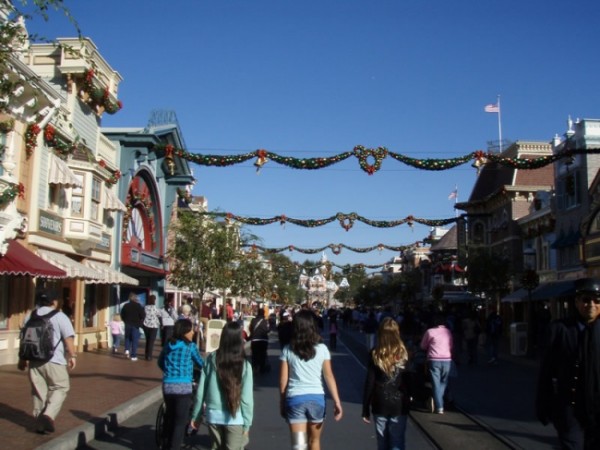 The Holiday Season begins at the Disneyland Resorts on November 10 with the Christmas Parade, 'Believe … in Holiday Magic' Fireworks and Snowfall in Disneyland Park. It's the Most Magical Time of the Year as the park is transformed with with seasonal attractions, joyful entertainment, jolly décor and themed treats that make every day feel like a holiday. Find out more about celebrating the holiday season at Disneyland here.
Disneyland Holidays at California Adventure Park
Celebrate the holidays with a merry and bright time during the Christmas season at Disney California Adventure. Here, Guests can experience fun new holiday attraction overlays for Cars Land, large than life decor in a bug's land, holiday treats, Viva Navidad!, Festival of Holidays Marketplace Booths, a holiday version of World of Color and more. Learn about the great holiday fun at Disney California Adventure here.
Downtown Disney District
Olaf's Frozen Ice Rink
You can skate at Downtown Disney this holiday season! Located between Earl of Sandwich and the ESPN Zone in the midst of a holiday village, guests will find Olaf's Frozen Ice Rink.  The custome 50 by 90 foot rink is the perfect place to get into the holiday spirit as you glide along to holiday tunes. Operating hours are 3 – 10:00 p.m. Monday through Thursday,  2 – 11:00 p.m. Friday and Saturday and 2 – 10:00 p.m. on Sunday. Skates and helmets are included in the admission fee.
Winter Village
At Winter Village, guests can visit six quaint holiday cottages, browse for gifts in the "shopping chalets and admire a 30-foot Christmas tree, the centerpiece of Olaf's Frozen Ice Rink. From live music to dance performances, there will be festive activities for the whole family. Shops in the chalets and carts offer a variety of holiday gift ideas, including Star Wars-themed items from World of Disney; magic, gags and novelties from Houdini's Magic Shop; yo-yos and juggling kits from Duncan Yo-Yo; crystal art from Arribas Brothers; hot chocolate, snacks and desserts from Ghirardelli; personalized objects from You Name It; surfboard themed art are from Laguna Beach Surfboards; and personalized holiday ornaments from Ice-Land Workshop. A Working to Give/ACT Anaheim chalet will offer handmade holiday stockings with all proceeds going to Accelerate Change Together.
Other Downtown Disney Holiday Activities
A temporary Ghirardelli holiday store is open in Downtown Disney. The shop will offer wrapped gifts, limited edition Ghirardelli Peppermint Band, novelties and more. Only merchandise will be offered (you will have to get your Ghirardelli ice cream fix inside the Disney California Adventure Park.)
Other activities in the Downtown Disney District scheduled for various dates and times during the holiday season include:
Holiday Carolers nightly December 4-25
40s Jazz/Pop Vocal Group from December 25-January 1
Horse & Carriage Rides offered November 27 – January 2
Annual Tuba Christmas Concert
Hundreds of tuba players will gather at Downtown Disney for the annual Tuba Christmas concert at noon on December 17, 2016. Over 450 tuba players are expected to perform at the free concert outside ESPN Zone. In addition to playing tradition Christmas music, the tuba players decorate their instruments and wear bright festive clothing.
Holiday Gingerbread House Building Workshop"
Start a new holiday tradition by attending the "Holiday Gingerbread House Building Workshop" at Ralph Brennan's Jazz Kitchen in Downtown Disney. For 2016, there will be three days available for the Holiday Gingerbread House Building Workshop. They will be held on Saturday, December 10, Saturday, December 17 & Sunday, December 18 from 12 p.m. to 2 p.m. The two hour sessions begins with participants decorating their own chef hat, followed by a demonstration on how to assemble the gingerbread houses. Participants will decorate their houses and be able to take them home. Be on the lookout for a "surprise" visit from Santa. Cost is $48 per Gingerbread Kit, plus tax & online service charges, and includes gingerbread house and candy, 1 chef's hat, 2 jingle bells, unlimited sodas, and 2 seats. Additional seats may be purchased for $18 per seats. Tickets for these workshop are available online.
Disneyland Holidays Dining
Celebrate Christmas or New Year's Eve with dinner at a Disneyland Resort Restaurant!
Disneyland Resorts Christmas Restaurant Menus
Disneyland Resorts New Years' Eve Menus

TheMouseForLess Tip: During the holidays, many Disneyland quick-service restaurants issue dining receipts with a coupon for 20% off merchandise at select shops during hours before noon. While coupons have an expiration date, they do not have to be used the same day they are issued.
Disneyland Resorts Hotels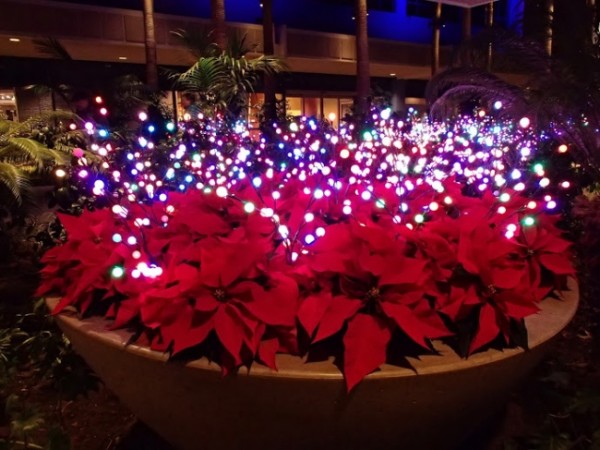 Disneyland Resort hotels join in the holiday merriment with twinkling lights and ornaments, special entertainment and holiday dining. More information for both the Disneyland hotels will be added as it becomes available.
Carolers at Disneyland Resort Hotels
Carolers in traditional Victorian holiday garb make regular appearances throughout the season at each of the three Disneyland Resort hotels: Disney's Grand Californian Hotel, the Disneyland Hotel and Disney's Paradise Pier Hotel.
Santa Meet & Greets at Disneyland Resort Hotels
During the Disneyland Holidays from November 26- December 24, 2016, guests can usually pose daily for paid photos with Santa at select times in the Disneyland Resort's three hotels. Santa can be found at
Disney's Paradise Per Hotel: Crystal Cove Foyer
Disney's Grand Californian Hotel & Spa: Great Hall
Disneyland Hotel: Near the Grand Ballroom
Resort Hotel Christmas Trees & Gingerbread Displays
A fun free activity during the Disneyland Holidays can be found at each of Disneyland Resorts.   Each of the three hotels will have a huge Christmas tree as the centerpiece in the lobbies. Don't miss the tree at Disneyland Hotel which is decorated with space-age ornaments and smells like marshmallows! Located in the lobby of Storytellers Cafe is a giant gingerbread house display. Be sure not to miss it; it's the only one at the Disneyland Resort hotels.
Trader Sam's Enchanted Tiki Bar
Trader Sam's Enchanted Tiki Bar at the Disneyland Hotel is all decked out for the holidays in retro plastic Santa decorations and lounge renditions of favorite Christmas songs playing in the background. If you stop by, be sure to try one of their special holiday drinks, such as "Mele Kaliki Mocha," "Red Nosed Zebra," and "Gorilla Nog" in a souvenir mug.
Disneyland Holidays Sweets and Treats
Chocolate Coffee Yule Log (available Dec. 2-Jan. 5)
Snowman Shortbread Cookie
Eggnog
Eggnog Latte
Pumpkin Spice Latte
Peppermint Mocha
Caramel Apple Muffin with streusel
Black Forest Bundt Cake
Mint Chocolate Whoopie Pie
Gingerbread Cookie
Trader Sam's Enchanted Tiki Bar
Red-Nosed Zebra – Aged rum, strawberry purée, lemon and lime juice
Tropical Snowstorm – Honey-flavored whiskey, coconut rum and flavors of coconut, cream, ginger, cloves and almond, topped with a cinnamon and nutmeg dusting
Jungle Bells – Ginger liqueur, aged rum and anise-flavored liqueur with vanilla yogurt and extract
Gingerbread Man Cookie
Eggnog Latte
Peppermint Mocha
Gingerbread Shingle Cookie
Holiday Crispy
Black Forest Bundt Cake
Mint Chocolate Whoopie Pie
Selection of seasonal holiday desserts
Black Forest Bundt Cake
Mint Chocolate Whoopie Pie
Gingerbread Man cookie
Holiday Brownie
Holiday Crispy
Snowman Shortbread Cookie
New Years Eve at Disneyland Resort
Disneyland Holidays are one of the busiest times at Disneyland Resort and crowds can and do swell to their maximum. Guests are encouraged to choose a park to celebrate at, arrive early and remain at the same park throughout the day. Once a park begins to near capacity, it is not uncommon for Disney management to enact crowd-control restrictions that prohibit park entry. Be prepared for long lines to view shows and ride attractions as well as extremely heavy crowds at restaurants and restrooms. Collect your Fastpasses as early in the day as possible. If you need a locker get one as soon as you arrive as these go quickly.  Dress in layers, it is typical for Southern California weather to be very cold in the morning, warm to the 70's in the middle of the day, then dip down again as the sun sets.
For even information about dining at Disneyland Resort on New Year's Eve, visit our Disneyland NYE Menus page.

TheMouseForLess Tip: Disney's "Glow with the Show" interactive Mouse ears light up on their own at midnight, as part of the Disneyland Holidays celebration, in four spots: the mall near "It's a Small World" and near Rivers of America in Disneyland, as well as at the Mad T Party and the "World of Color" in Disney California Adventure. The special ears are available at select merchandise locations.

TheMouseForLess Tip: Guests should use the regular Disneyland Resort Parking lots on New Years Eve. We recommend the Toy Story lot or Pumba lot. Beginning at 5 p.m., Downtown Disney will start charging a flat fee to park. Refunds will be given to those with validation from applicable Downtown Disney locations.

TheMouseForLess Tip: The special holiday bread loaves created by the Boudin bakery during the Disneyland Holidays have been expanded to include a New Year's Eve clock design. You can find these loaves at the Pacific Wharf Cafe, DCA bread cart, Mortimer's Market and Boardwalk Pizza and Pasta on December 31 and January 1, 2017.

TheMouseForLess Tip: Special New Years cupcakes will be available during the Disneyland Holidays at Jolly Holiday Bakery and Pacific Wharf Cafe on December 31 and January 1, 2017. The dark chocolate treats come filled with Nutella and topped with Belgian white chocolate frosting, edible silver glitter, a chocolate Mickey Mouse and bow tie, and a chocolate truffle ball. From the New Year's Cupcake to the Napa Rose New Year's Eve Bash, the Disneyland Resort will ring in 2017 with something fun for everyone! For more info on available New Year's Eve dining at Disneyland Resort, visit our Disneyland Holidays New Years Eve Offerings page.