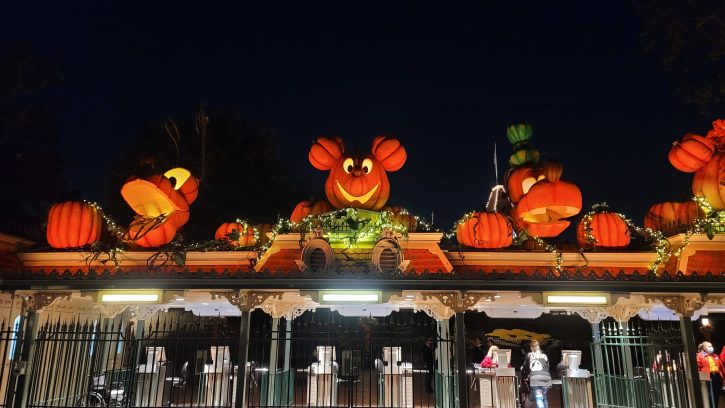 September 1, 2023  – October 31, 2023
Halloween at Disneyland is an especially fun time to visit.  Celebrate the return of Halloween Time at Disneyland Resort this fall with Disney villains, Mickey Mouse and his friends in Halloween costumes, special Halloween parties, along with the seasonal transformations of Haunted Mansion into Haunted Mansion Holiday and Space Mountain into Space Mountain Ghost Galaxy.
Disney California Adventure Disneyland Halloween Extras Tips
Disney California Adventure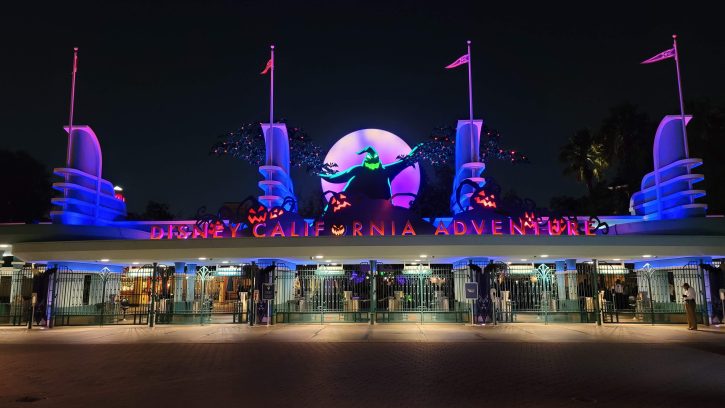 Disney California Adventure has introduced a number of great and spooktacular fun activities for Guests to experience to get into the Halloween spirit.
Cars Land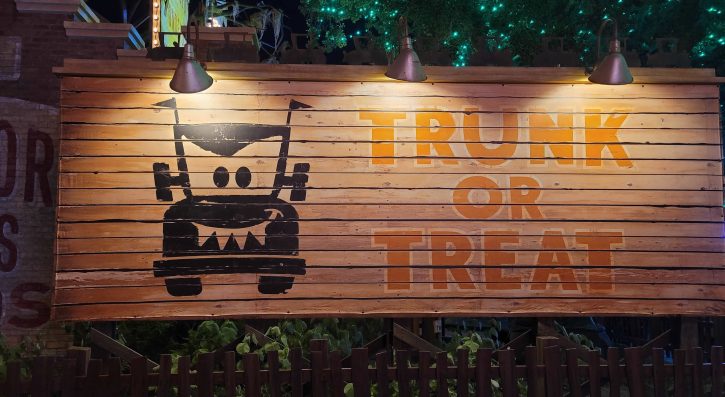 At Disney California Adventure, Cars Land transformed with a special Haul-O-Ween makeover as the citizens of Radiator Springs donned Halloween costumes and decorated their respective homes for the season. This Fall see Lightning McQueen, Mater, Cruz, Red and DJ all dressed up–as a super hero, a "van-pire," a pirate, a clown and a punk rocker, ready to go "trunk-or-treating." Attractions transform, too, with Mater's Junkyard Jamboree turning spooky as the Graveyard JamBOOree, and Luigi's Rollickin' Roadsters getting a seasonal twist to become Luigi's Honkin' Haul-O-Ween. In addition, Scary the Scarecar will stand guard over the entrance to Route 66, a preview to the Haul-O-Ween transformation awaiting guests in Cars Land. With Fillmore's Jack-Oil Lanterns, the web spun over Flo's by a Spider-Car, and the Cozy Cone dressed up in car-stumes, the townsfolk turn Radiator Springs into Radiator Screams.
Buena Vista Street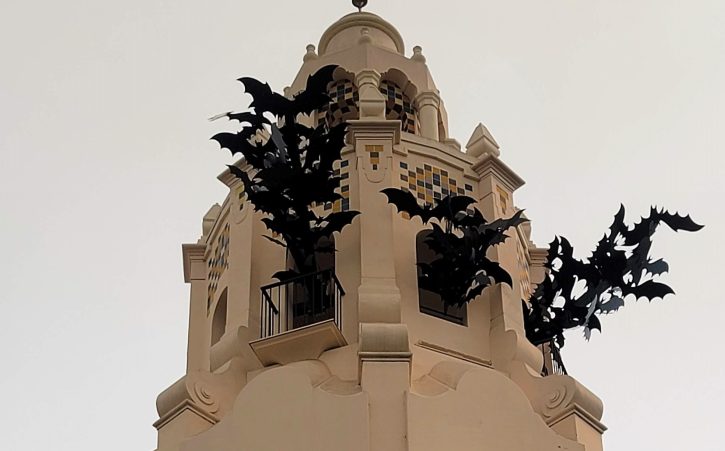 Oogie Boogie appeared for the first time in 2017 at Disney California Adventure, taking over with his twisted tale of a forever Halloween, inspired by "Tim Burton's The Nightmare Before Christmas." Oogie Boogie's oversized silhouette beckons guests through the main entrance of the park and he brings to life a swarm of bats around Carthay Circle Restaurant and Lounge. New for 2019 the bats will swarm around, energy pulses will be seen from within, and projections which will transform the iconic tower structure with spellbinding moments.
Guardians of the Galaxy – Monsters After Dark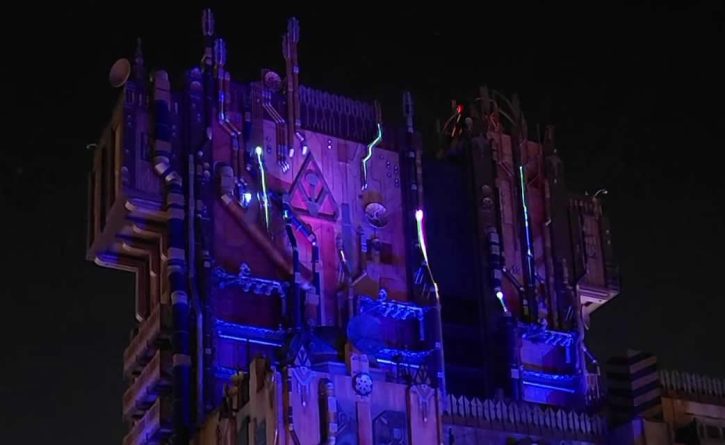 Once the sun sets each evening, Guardians of the Galaxy – Mission: BREAKOUT! will transform into Guardians of the Galaxy – Monsters After Dark. There will be an all-new song, "Monsters After Dark," was created especially for this attraction by Tyler Bates, composer of the Guardians of the Galaxy films. Your adventure picks up moments after the events of the popular Guardians of the Galaxy – Mission: BREAKOUT! attraction. The Guardians have successfully escaped The Collector's Fortress, but they have accidentally left Groot behind! Rocket enlists you to distract the creatures that have been released so he can find and rescue Groot. While The Collector's ever-resourceful assistant, Apheta, may try to assure you that it is all just a momentary setback, you should proceed with caution!
Paradise Gardens Park
In Paradise Gardens Park, the Plaza de la Familia will return for a celebration inspired by Día de los Muertos. Guests will find live entertainment, craft making, food, interactive experiences and special merchandise all themed after the film Coco. You also won't want to miss A Musical Celebration of Coco where Miguel joins the Storytellers of Plaza de la Familia and the Mariachi Divas.
Oogie Boogie Bash Information
If you are looking for a way to celebrate Halloween, the new Oogie Boogie Bash is the event for you.
The evening includes the Frightfully Fun Parade, Villains Grove, Mickey's Trick and Treat show, special dance parties, Disney character meet and greets, and treat stations that offer both candy and healthy goodies.
Halloween at Disneyland
Haunted Mansion Holiday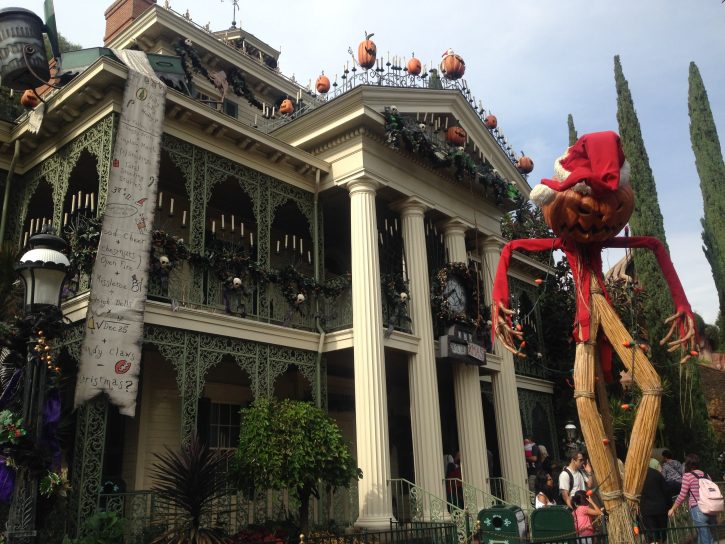 Jack Skellington returns to take over Disneyland's Haunted Mansion. Every year, the Haunted Mansion in New Orleans Square at Disneyland is transformed to a mix of Halloween spookiness and Christmas tradition. Haunted Mansion Holiday is inspired by the classic animated film "Tim Burton's Nightmare Before Christmas". The spookiness begins the moment Guests enter the Stretching Portrait Gallery, where a new animation effect will stretch imaginations to the screaming point. Think stained glass windows shattering and a peek-a-BOO appearance by that master of scaremonies, Jack Skellington. The famous changing portraits in the hallway just past the stretching room have also received an update, featuring Zero the ghost dog flying through each one. Haunted Mansion Holiday will remain in place at Disneyland throughout the Halloween and Christmas seasons until early January.
Jack's return to the Haunted Mansion also includes the traditional Halloween/Christmas gingerbread house in the Mansion Ballroom with a unique design each year at Halloween Time at Disneyland Resort.
Halloween Screams
Guests will be able to catch "Halloween Screams" which will feature supernatural projection and special effects on most nights of the season. This is the first time that this show has been shown for regular park Guests in nearly a decade. Then on select nights, the show will be enhanced with the addition of fireworks.
Halloween Dining Package
Pricing is for 2022. Updated pricing will be shared when released. 
Enjoy villain-inspired treats that are sure to thrill a the Plaza Inn! Each meal package comes with reserved viewing of the Halloween Screams fireworks.
September 16, 17, 18, 23, 24, 25 and 30
October 1, 2, 7, 8, 9, 14, 15, 16, 21, 22, 23, 28, 29, 30, 31
Dining Time: 7:30 PM to 9:00 PM
Package Includes:
An assortment of sweet and savory treats
One specialty beverage
One lanyard and specialized credential
Reserved space for fireworks viewing
Package Pricing
$55 per Guest (ages 3+)—tax not included
Disneyland Park admission and park reservation is required and not included in the package price. A reservation for this dining package does not guarantee Disneyland Park admission or a park reservation.
Adult Dining Package Menu
Chef's selection of cured meats, cheeses, artisanal breads and condiments
Berry cheesecake
Forbidden apple tart
Specialty villain-themed beverage with a pineapple glow cube
Choice of beverage: 20-ounce fountain beverage, 20-ounce Dasani water, hot chocolate or coffee
Child Dining Package Menu
Pepperoni and cheese pinwheels
Berry cheesecake
Forbidden apple tart
Specialty hot chocolate with a Halloween-themed stainless-steel tumbler
Choice of beverage: Small Dasani water or small low-fat milk
How to Book
To make reservations, book online or on the Disneyland app. Guests under 18 years of age must have a parent or guardian's permission to call. Reserve a dining time between 7:30 PM and 9:00 PM to pick up your sweet and savory treats. Same-day reservations for dining packages are based on availability and can be made at the location.
Halloween Extras
Pluto's Pumpkin Pursuit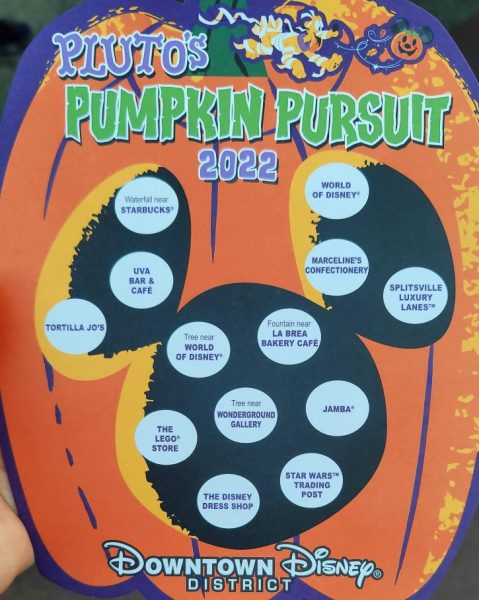 Peruse the Downtown Disney District to pinpoint a pleasant patch of pumpkins and pick up a spooky surprise. Get into the spirit of the Halloween season by partaking in this very special pumpkin hunt from September 8 to November 1, 2023 or while supplies last. Guests will be able to pick up a game board and stickers for $9.99 plus tax at select merchandise locations. They can then have fun searching for hidden decorative pumpkins themed around Disney characters and placing the corresponding stickers on your game board. When done, you'll return your game board to a redemption location for a prize.
Where to Purchase:
Acorns Gifts & Goods (Located at Disney's Grand Californian Hotel & Spa)
Disney Home
Disney's Fantasia Shop (Located at the Disneyland Hotel)
Disney's Pin Traders
The Disney Dress Shop
Wonderground Gallery
World of Disney
Where to Pick Up Your Prize:
Disney's Pin Traders
World of Disney
Bibbidi Bobbidi Boutique
Of course, for little princesses and valiant knights (ages 3 – 12), Bibbidi Bobbidi Boutique will transform you into something a little more be'witching for Halloween Time at Disneyland Resort. Call 714-781-STYLE as soon as possible for reservations.
Halloween Gift Card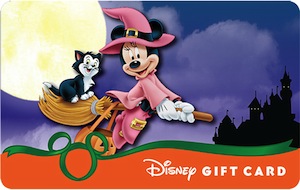 Special Halloween Disney Gift Cards will be available at select locations throughout the the Disneyland Resort. Guests can load this Disney Gift Card with as little as $5. These and other Disney Gift Card designs are also available in a non-glow-in-the-dark versions online at DisneyStore.com.
Halloween at Disneyland Resort Halloween Room Celebrations
If you'll be staying at the Disneyland Resort this fall, Disney Floral & Gifts Dream Maker have a special offering for Halloween. Mickey's Spooktacular Celebration features a one-of-a-kind light-up Mickey pumpkin banner that will be hung on your resort room door to greet you when you return from the parks. Upon entering your room, you'll find a note letting you know that treats await! A keepsake bin filled with seasonal treats is next, along with creepy candelabra, luminaries, activities, and more! And once you've found all the lurking treasures and haunts, the kids can cozy up with a new Mickey plush and fleece blanket to complete one thrilling Halloween family memory. To learn more about Mickey's Spooktacular Celebration at Disneyland Resort, call Disneyland Dream Makers at 714-781-GIFT or visit Disneyflorist.com.
Halloween Treats
Across the Disneyland Resort there are a number of great Halloween treats to pick up. Take a look at the various options here.
Mouse For Less Tips

Guests to Disneyland park can uncover the most popular barbershop quartet from beyond the grave—the Cadaver Dans. This fearsome foursome is taking a break from pushing up daisies to harmonize on a ghoulish medley of familiar "tombs." Come tap your toes—and maybe your pulse too—as the Cadaver Dans entertain grim, grinning ghosts and Guests alike, outside of the Haunted Mansion in New Orleans Square. This is your chance to catch them outside of Mickey's Halloween Party during Halloween Time at Disneyland Resort!

Main Street, U.S.A. in Disneyland is transformed for the Pumpkin Festival. More than 300 pumpkins will be on display and none of them are the same! The biggest one is the 16-foot Mickey Mouse Pumpkin at "Pumpkin Point. "Plus, did you know that props and set décor used in window displays along Main Street are reproductions of original turn-of-the-century Halloween décor?

Rancho del Zocalo in Frontierland honors Dia de los Muertos (Day of the Dead) with traditional skeleton figures on display and brightly colored altars with marigolds and sugar skulls. During Halloween Time at Disneyland Resort guests can even get their faces painted for free and enjoy festive traditional music during this celebration.

The Halloween Tree, commemorating Ray Bradbury's 1972 fantasy novel, returns to Frontierland. On Halloween evening, 2007, Disneyland honored Ray Bradbury's 35 year old book with the Halloween Tree. It's to be decorated every Halloween at Disneyland for evermore!

Dapper Dans sing a special Halloween set on Main Street, U.S.A. The set include: "Grim Grinning Ghosts (The Screaming Song)," "Candy Crony Baby (Coney Island Baby)," "This Is Halloween," "Main Street Trick or Treat (Sidewalks of New York)," "Cruella De Ville," "Let's Go Trick or Treating (Let Me Call You Sweetheart)," "Way Down Upon the Lovely Graveyard (Way Down Upon the Suwannee River)," "Good Ol' Halloween Time (Good Ol' Summer Time)."

Catch a capella performers who will stroll throughout the Downtown Disney District harmonizing tunes such as "I Put a Spell on You" and "Grim Grinning Ghosts."

At Disney's Grand Californian Hotel & Spa, Guests will find a large confectionery sculpture of Oogie Boogie in the lobby. They can also enjoy sweets from the Halloween holiday cart. The Disneyland Hotel and Disney's Paradise Pier Hotel will also have themed décor. Hotel Guests will be able to participate in complimentary trick-or-treat festivities across all three hotels.

Halloween specialties and goodies will be available throughout Disneyland Resort for Halloween Time at Disneyland Resort. Look for these spooky treats:
Spooky Caramel Apples & Other Treats: Look for the Halloween Minnie apple, the Pumpkin or Ghost Mickey apple, a Jack Skellington apple, and the Skull Apple at Candy Palace in Disneyland park, Trolley Treats in Disney California Adventure park, and Marceline's Confectionery in the Downtown Disney District. Spider, mummy, pumpkin and ghost cake pops; Mickey ghost marshmallow cones, Mickey bat cookies, and R.I.P. cupcakes are also available.
Pumpkin-inspired Sweets: You'll find items like pumpkin beignets, pumpkin fritters, pumpkin pie, pumpkin muffins with streusel and pepita seeds, and pumpkin cheesecake throughout the parks. And last but not least, there's the pumpkin fudge at Candy Palace.
Starbucks Seasonal Goodies: On the Fiddler, Fifer & Practical Café at Disney California Adventure park and Market House on Main Street, U.S.A., in Disneyland park are the popular seasonal drinks such as pumpkin spice latte, salted caramel mocha and chocolate chai tea latte, along with pumpkin scones, pumpkin cream cheese muffins and pumpkin bread.
Pumpkin-shaped Loaf of Boudin Bakery's famous Sourdough: This popular seasonal treat is available only during Halloween weekend at Boudin Bakery at Disney California Adventure park at at Pacific Wharf Café, the Disney California Adventure bread cart, Mortimer's Market, and Boardwalk Pizza & Pasta. Perfect to carry home for a party!