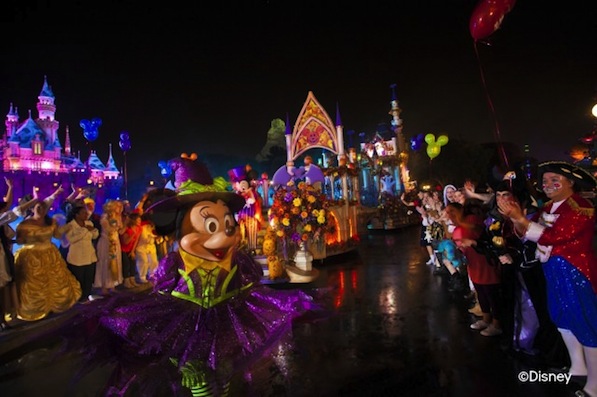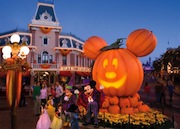 The spirit of Halloween Time will invade Disneyland Resort this fall with Disney villains, Mickey Mouse and his friends in Halloween costumes, special Halloween parties, along with the seasonal transformations of Haunted Mansion into Haunted Mansion Holiday and Space Mountain into Space Mountain Ghost Galaxy.
---
Mickey's Halloween Party Information  Special Halloween Attractions & Events at Disneyland Resort  Other Halloween Highlights at the Parks  Halloween Extras (for an additional fee)
Mickey's Halloween Party Information
If you are looking for a way to celebrate Halloween Disney-style, Mickey's Halloween Party is the event for you. Adults and children can Trick-or-Treat their way through the Disneyland while experiencing Halloween magic throughout the park. Guests of all ages are encouraged to dress up in their favorite Halloween costumes.
The evening includes Mickey's Costume Party Cavalcade (performed twice nightly) and Halloween Screams fireworks spectacular, special dance parties and treat stations that offer both candy and healthy goodies. You won't want to miss the special character greeting opportunities that feature some of your favorite Pixar pals and Disney Villains dressed up for Halloween, either. Plus, experience your favorite Disneyland rides and attractions, including special Halloween-themed attractions Haunted Mansion Holiday and Space Mountain Ghost Galaxy.
---
Be sure to get your Mickey's Halloween Party tickets early at Disneyland.com/Halloween!
---
Mickey's Halloween Party 2016 Dates and Prices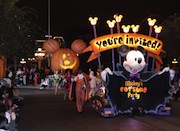 Mickey's Halloween Party is an after-hours, separate-ticket event that takes place in Disneyland park on select nights:
September: September 23, 26, 28, 30
October: October 3, 5, 7, 10, 12, 14, 17, 19, 21, 24, 26, 19, 31
On Monday, Tuesday & Wednesday nights and on Halloween night, the party takes place from 6:00 pm to 11:00 pm (with park admission beginning at 3:00)
On Friday nights, the party takes place from 7:00 pm to 12:00 pm (with park admission beginning at 4:00)
Note: Guests staying at any of the 3 Disneyland Resort hotels "may" be able to purchase tickets to "sold out" Mickey's Halloween parties directly from the hotel front desks. Check with your hotel for availability during your trip.
Purchase of an event admission ticket is required to attend Mickey's Halloween Party. Complimentary parking for one standard-size vehicle is included. Separate theme park admission is not required and you can enter the park up to 3 hours prior to the event's start time with your party ticket. Mickey's Halloween Party is a non-smoking event. Smoking will be permitted only in the Esplanade outside the Disneyland Main Entrance.
On select nights, Annual Passholders, Disney Visa and Disney Vacation Club Members can save $7 by purchasing tickets in advance. Annual passholders may purchase up to 10 tickets per transaction online and must enter the park with the entire non-passholder party using the discounted tickets. The General Public can save on advance purchase tickets too! A limit of eight tickets per order, per event date may be purchased. Each ticket is valid for admission to the event and parking for one vehicle (larger vehicles may require an additional fee) on the specified event date. Advanced purchase prices are available until one day prior to applicable event date. Purchase your tickets early on Disney's web site (not available for Disney Visa early purchase discount) or by calling (714) 781-4400. No ticket is required for Guests ages 2 and under. Unless sold out in advance, tickets will also be available at the gate the day of the event. Weekends in October and the Halloween night party almost always sell out in advance. The party goes on rain or shine and there is no refund for inclement weather.
Rides, Food & Merchandise: Guests have unlimited use of popular attractions, including including all the Halloween-themed attractions such as Space Mountain Ghost Galaxy and Haunted Mansion Holiday. Most attractions will operate during the party and lines will be shorter than on regular park days. Dining is also available at select counter service locations, however, table service restaurants stop seating guests once the Party begins. In previous years, the following dining locations have remained open during the party: Jolly Holiday Bakery, Gibson Girl Ice Cream Parlor, The Plaza Inn, Refreshment Corner, Royal Street Veranda, Bengal Barbecue, The Golden Horseshoe, Stage Door Cafe, and Tomorrowland Terrace. Plus, during Mickey's Halloween Parties, special holiday treats and dining offerings. Special Halloween and/or Party exclusive merchandise will be available at Disney Showcase, Emporium, Pieces of Eight, Pioneer Mercantile or Star Trader. Be sure to grab a party map when you enter Disneyland park. You can use the map to locate Treat or Treat stops, dining options, dance parties, and even shops that offer Halloween-themed merchandise and goodies.
About Trick-or-Treating: Trick-or-treat bags are provided atthe gate as you enter the party or at any of the candy stations; guests may also bring their own. Trick-or-treating locations are marked on the party guide maps. For 2013, there were 10 trick-or-treat locations to explore. Both children and adults are welcome to participate. Disney gives out a pretty nice selection of candy at the party and there is no shortage – collect as much as you want! If sugary candy is not your thing, there are healthy options available, too, such as gluten- and sugar-free treats. Those with dietary restrictions should ask a cast member what healthy treats are available at each treat station or at the first stop along treat trails.
About Costumes: Guest are welcome to wear costumes but they must not obstruct vision or drag on the ground. Costumes with sharp or pointed objects are also prohibited. Costumes should not contain any weapons which resemble or could easily be mistaken for an actual weapon. Those dressed in Disney costumes may not pose for photos or sign character autographs. Lastly, use good judgment when selecting costumes. Disney may ask those with costumes deemed offensive to remove it or exit the park. Guests may only wear costumes to the Disneyland Resort Halloween event to which they have valid tickets.
TheMouseForLess Tips:


Beware of purchasing Mickey's Halloween Party tickets from anywhere but through Disney. The Orange County Register reported once that some "online ticket brokers were attempting to resell them at up to three times face value."

Those with party tickets will be given a wristband at the gate, which will be necessary to remain in the park once the party starts. If you've entered the park earlier in the day, you may also pick up your wristband at one of several distribution stations in the park. Ask a cast member about their locations.

 Frightfully Fun Parade debuts in 2016. Leading the parade is the Headless Horseman of Sleepy Hollow as he arrives on his black steed carrying a flickering jack-o-lantern. Look for Jack Skellington, Grim, grinning ghosts, and Dr. Facilier from "The Princes and the Frog."

"Halloween Screams" fireworks show takes place at 9:30 p.m. and is hosted by Jack Skellington and Oogie Boogie from Nightmare Before Christmas. This show is quite possibly the best fireworks show Disney offers and is exclusive to Mickey's Halloween Party. Glow with the Show Ear hats will be available that interact with the Halloween fireworks show. Best viewing is from Main Street U.S.A. or the castle hub. Look for Zero to replace Tinker Bell in a castle fly around. With it's spooky music and narration, this show may be scary for very young children.

Occasionally "Halloween Screams" fireworks are canceled due to inclement weather. If you missed this spectacular fireworks show during the party, do not despair. In recent years, Disneyland has replaced its regular fireworks shown on non-party nights with the "Halloween Screams" fireworks on the evening following a cancellation of the party fireworks. So…you still may have an opportunity to catch the show as part of your regular admission to Disneyland park on the following night.

Disney villains will arrive amid thunder and lightning to transform Town Square, Main Street, U.S.A., into Villains Square during the party. Look for character greetings with Malificent, Evil Queen, Hades, Lady Tremain & Wicked Step Sisters, Dr. Facilier, Queen of Hearts, Jafar and Cruella de Vil. You can also meet Disney Villains prior to the party at the Halloween Carnival at Big Thunder Ranch.

 The best way to locate characters is the use the Disneyland app.

Keep an eye out for eerie entertainers, like The Cadaver Dans – The Dapper Dans dressed as ghost and performing from a drifting graveyard-themed raft on the Rivers of America in New Orleans Square and Frontierland.

Don't miss the photo op with the giant Pumpkin in Town Square; Rivers of America, which features special lighting and fog effects; the spinning spider projections in New Orleans Square; or the spooky lighting and thunder-and-lightning effects along Big Thunder Trail.

You'll get one last photo opportunity when all of the Disney Villains surprise guests as they line the Train Station at the end of the night in a rather unconventional "farewell" moment.
Special Halloween Attractions and Events at Disneyland Resort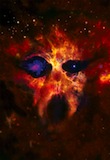 Space Mountain Ghost Galaxy
For Halloween fun at Disneyland, guests will enjoy Space Mountain Ghost Galaxy in Tomorrowland. The experience begins as a typical Space Mountain adventure, but suddenly launches voyagers into a haunted section of the universe. Ghosts appear out of the starry darkness and swirling galaxies of Space Mountain, reaching out as if to grab guests as they speed through space. The exhilarating drops and curves of the journey are punctuated by piercing screams, creepy sound effects and haunting music.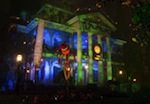 Haunted Mansion Holiday
Jack Skellington returns to take over Disneyland's Haunted Mansion. Every year, the Haunted Mansion in New Orleans Square at Disneyland is transformed to a mix of Halloween spookiness and Christmas tradition. Haunted Mansion Holiday is inspired by the classic animated film "Tim Burton's Nightmare Before Christmas". The spookiness begins the moment Guests enter the Stretching Portrait Gallery, where a new animation effect will stretch imaginations to the screaming point. Think stained glass windows shattering and a peek-a-BOO appearance by that master of scaremonies, Jack Skellington. The famous changing portraits in the hallway just past the stretching room have also receive an update, featuring Zero the ghost dog flying through each one. Haunted Mansion Holiday will remain in place at Disneyland throughout the Halloween and Christmas seasons until early January.
Jack's return to the Haunted Mansion also includes the traditional Halloween/Christmas gingerbread house in the Mansion Ballroom with a unique design each year.
TheMouseForLess Tip:

Be sure to commemorate your Haunted Mansion Holiday visit with a specially designed Haunted Mansion Holiday pin or a decorate-it-yourself Zombie cookie kit at The Nightmare Before Christmas merchandise cart located outside the mansion. Plus, fans of Tim Burton's The Nightmare Before Christmas can pick up some eerily entertaining treats at the Port Royal store in New Orleans Square.
Other Halloween Highlights at the Parks

Guests to Disneyland park can uncover the most popular barbershop quartet from beyond the grave—the Cadaver Dans. This fearsome foursome is taking a break from pushing up daisies to harmonize on a ghoulish medley of familiar "tombs." Come tap your toes—and maybe your pulse too—as the Cadaver Dans entertain grim, grinning ghosts and Guests alike, outside of the Haunted Mansion in New Orleans Square. This is your chance to catch them outside of Mickey's Halloween Party!

Look for a special edition of the Buena Vista Bugle while on Buena Vista Street at Disney California Adventure park. The news paper is filled with stories about the "emerging holiday" of Halloween.

Main Street, U.S.A. in Disneyland is transformed for the Pumpkin Festival. More than 300 pumpkins will be on display and none of them are the same! The biggest one is the 16-foot Mickey Mouse Pumpkin at "Pumpkin Point."Plus, did you know that props and set decor used in window displays along Main Street are reproductions of original turn-of-the-century Halloween decor?

Rancho del Zocalo in Frontierland honors Dia de los Muertos (Day of the Dead) with traditional skeleton figures on display and brightly colored altars with marigolds and sugar skulls. Guests can even get their faces painted for free and enjoy festive traditional music during this celebration.

The Halloween Tree, commemorating Ray Bradbury's 1972 fantasy novel, returns to Frontierland. On Halloween evening, 2007, Disneyland honored Ray Bradbury's 35 year old book with the Halloween Tree, which will it declared would be decorated every Halloween at Disneyland for evermore!

At Disneyland, Disney villains will be conjured up in the Magic Cauldron Sideshow tent at the Halloween Carnival at Big Thunder Ranch in Frontierland. Plus make Halloween masks and join Mickey and his friends in a mini "mask-arade" or enjoy the spellbinding music of Billy Hill and the "Haunted" Hillbillies. And don't miss the pumpkin carvers, Disney characters in their Halloween costumes and free spooky carnival games. Open daily 10:30 a.m. – 6 p.m.

Jack Skellington and Sally can often be found hanging out by the Haunted Mansion FastPass area.

Dapper Dans sing a special Halloween set on Main Street, U.S.A. The set include: "Grim Grinning Ghosts (The Screaming Song)," "Candy Crony Baby (Coney Island Baby)," "This Is Halloween," "Main Street Trick or Treat (Sidewalks of New York)," "Cruella De Ville," "Let's Go Trick or Treating (Let Me Call You Sweetheart)," "Way Down Upon the Lovely Graveyard (Way Down Upon the Suwannee River)," "Good Ol' Halloween Time (Good Ol' Summer Time)."

Halloween specialties and goodies will be available throughout Disneyland Resort. Look for these spooky treats:
Spooky Caramel Apples & Other Treats: Look for the Halloween Minnie apple, the Pumpkin or Ghost Mickey apple, a Jack Skellington apple, and the Skull Apple at Candy Palace in Disneyland park, Trolley Treats in Disney California Adventure park, and Marceline's Confectionery in the Downtown Disney District. Spider, mummy, pumpkin and ghost cake pops; Mickey ghost marshmallow cones, Mickey bat cookies, and R.I.P. cupcakes are also available.
Pumpkin-inspired Sweets: You'll find items like pumpkin beignets, pumpkin fritters, pumpkin pie, pumpkin muffins with streusel and pepita seeds, and pumpkin cheesecake throughout the parks. And last but not least, there's the pumpkin fudge at Candy Palace.
Starbucks Seasonal Goodies: On the Fiddler, Fifer & Practical Café at Disney California Adventure park and Market House on Main Street, U.S.A., in Disneyland park are the popular seasonal drinks such as pumpkin spice latte, salted caramel mocha and chocolate chai tea latte, along with pumpkin scones, pumpkin cream cheese muffins and pumpkin bread.
Pumpkin-shaped Loaf of Boudin Bakery's famous Sourdough: This popular seasonal treat is available only during Halloween weekend at Boudin Bakery at Disney California Adventure park at at Pacific Wharf Café, the Disney California Adventure bread cart, Mortimer's Market, and Boardwalk Pizza & Pasta. Perfect to carry home for a party!
Halloween Extras (additional fee)
Bibbidi Bobbidi Boutique
Of course, for little princesses and valiant knights, Bibbidi Bobbidi Boutique will up something a little more be'witching for someone 3 – 12 years of age. Call 714-781-STYLE as soon as possible for reservations.
Happiest Haunt Tour
Dedicated fans of Halloween and the Disney parks will want to experience all the "hot and cold running chills" of the season on Disney's Happiest Haunt Tour. The tour, conducted by a "unique" Disneyland Resort tour guide, includes the stories behind some of Disney parks' spookiest attractions, told from the perspective of Disney villains. Stops at thrilling attractions at both parks, such as – Twilight Zone Tower of Terror, Haunted Mansion Holiday, Big Thunder Mountain Railroad and Snow White's Scary Adventure – are among the highlights. The cost of the tour is about $75 per person for all ages. Deluxe, Premium and Premiere Annual Passholders, Disney Vacation Club Members, Disney VISA and AAA cardholders save 20% on this tour. For booking or information call (714) 781-4400 up to 30 days in advance, or stop by City Hall on Main Street, U.S.A.
For even more Halloween fun, be sure to ask about the Ultimate Experience! On select nights, you can combine Disney's Happiest Haunts Tour with the trick-or-treating fun of Mickey's Halloween Party. The Ultimate Experience includes Disney's Happiest Haunts Tour, admission to Mickey's Halloween Party (after the tour) and a private meet-and-greet with a Disney Villain. Deluxe, Premium and Premiere Annual Passholders, Disney Vacation Club Members, Disney VISA and AAA cardholders save on this tour.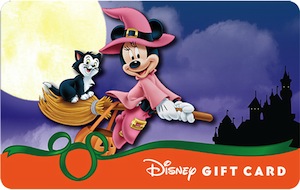 Halloween Gift Card
Special Halloween Disney Gift Cards will be available at select locations throughout the the Disneyland Resort. Guests can load this Disney Gift Card with as little as $5. These and other Disney Gift Card designs are also available in a non-glow-in-the-dark versions online at DisneyStore.com.
Disney Resort Halloween Room Celebrations
If you'll be staying at the Disneyland Resort this fall, Disney Floral & Gifts Dream Maker offering for Halloween. Skellington Mickey's Haunted Adventure features a one-of-a-kind Halloween light-up banner that will be hung on your resort room door to greet you when you return from the parks. Upon enter your room, you'll find an illuminated Jack Skellington head, a candy filled jack-o-lantern, a cobwebbed candelabra, a personalized note to the family, Tim Burton's The Nightmare Before Christmas-themed playing cards and tiny tombstones scattered throughout your room. And once you've found all the lurking treasures and haunts, the kids can cozy up with a new Mickey plush and fleece blanket to complete one thrilling Halloween family memory. To learn more about Skellington Mickey's Haunted Adventure at Disneyland Resort, call Disneyland Dream Makers at 714-781-GIFT or visit Disneyflorist.com.