Select Nights September 6 – October 31, 2022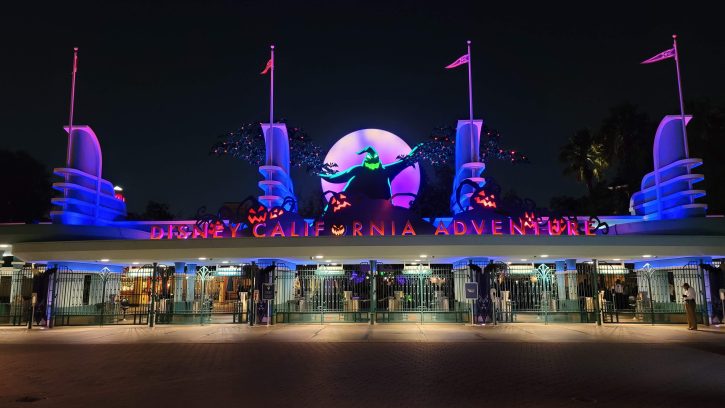 Oogie Boogie Bash
If you are looking for a way to celebrate Halloween Disney-style, hang with Oogie Boogie and his band of baddies at a new celebration called Oogie Boogie Bash.  Adults and children can Trick-or-Treat their way through Disney California Adventure while experiencing Halloween magic throughout the park. Guests of all ages are encouraged to dress up in their favorite Halloween costumes.
The evening includes the Mickey's Trick and Treat nighttime show, the Frightfully Fun Parade, special dance parties and treat stations that offer both candy and healthy goodies. You won't want to miss the special character greeting opportunities that feature some of your favorite Pixar pals and Disney Villains dressed up for Halloween, either. Plus, experience your favorite Disney California Adventure rides and attractions, including special Halloween-themed attractions Guardians of the Galaxy – Monsters After Dark, Mater's Junkyard JamBOOree, and Luigi's Honkin' Haul-O-Ween.
Tickets Parade Fireworks Additional Halloween Activities Attractions Dining Merchandise Trick-or-Treating Costumes Tips
Oogie Boogie Bash Ticket Information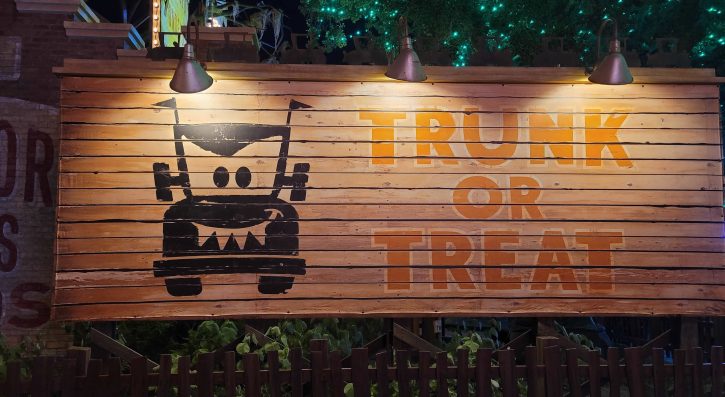 Oogie Boogie Bash is an after-hours, separate-ticket event that takes place in Disney California Adventure on select nights:
2022 Dates, Times and Ticket Prices
Tickets for 2022 Oogie Boogie Bash are sold out. 
2022 Dates and Ticket Prices
Dates/Pricing
Tues, Sept 6, 2022
$129
Sat, Sept 10, 2022 (D23 Member exclusive night)
$179
Tues, Sept 13, 2022
$129
Thurs, Sept 15, 2022
$139
Sunday, Sept 18, 2022
$149
Tues, Sept 20, 2022
$129
Thurs, Sept 22, 2022
$139
Sun, Sept 25, 2022
$149
Tues, Sept 27, 2022
$129
Thurs, Sept 29, 2022
$139
Sun, Oct 2, 2022
$159
Tues, Oct 4, 2022
$139
Thurs, Oct 6, 2022
$149
Sun, Oct 9, 2022
$159
Tues, Oct 11, 2022
$139
Thurs, Oct 13, 2022
$149
Sun, Oct 16, 2022
$159
Tues, Oct 18, 2022
$139
Thurs, Oct 20, 2022
$149
Sun, Oct 23, 2022
$159
Tues, Oct 25, 2022
$159
Thurs, Oct 27, 2022
$159
Sat, Oct 29, 2022
$179
Mon, Oct 31, 2022
$179
Note: Guests staying at any of the 3 Disneyland Resort hotels "may" be able to purchase tickets to "sold out" Oogie Boogie Bash parties directly from the hotel front desks. Check with your hotel for availability during your trip.
Be sure to get your Oogie Boogie Bash tickets early at here!
Purchase of an event admission ticket is required to attend Oogie Boogie Bash and includes complimentary Disney PhotoPass. Separate theme park admission is not required and you can enter Disney California Adventure beginning at 3:00 p.m. Oogie Boogie Bash is a non-smoking event. Smoking will be permitted only in the Esplanade outside the Disneyland Main Entrance.
Weekends in October and the Halloween night party almost always sell out in advance. The party goes on rain or shine and there is no refund for inclement weather.
Oogie Boogie Bash – Parade
The Frightfully Fun Parade takes to the streets of Disney California Adventure and features a spectacle of spooky spirits, including favorite Disney Characters, Disney Villains and Characters from Tim Burton's The Nightmare Before Christmas.
Guests will be able to see Jack Skellington and Sally from "Tim Burton's The Nightmare Before Christmas," Guests will be able to spot Dr. Facilier from The Princess and the Frog who will call on mystical powers and summon his Shadow Men from the bayou. The mischievous Disney Villains will appear out of the darkness, ready to stir up some trouble, as a dark and dungeon-like lair appears bringing with it a wicked gathering of villainy like Hades, the Evil Queen, Jafar, Cruella and more!
The Frightfully Fun Parade takes place at 8:50 p.m. and 10:20 p.m.
Mickey's Trick and Treat
Join Mickey Mouse and pals for a costume party where trick-or-treaters laugh, dance, enjoy a spooky-but-fun story and take home a special treat!
Mickey and Minnie Mouse love dressing up and celebrating Halloween with their friends, especially when Goofy and Donald Duck drop by. Things get pretty wacky when their pal Parker really gets into a silly "mad scientist" costume and brews up a potion! Soon everyone's running from bats, spiders and ghosts—eeks!
This music-filled show features 2 original Halloween songs, colorful video projections, spooky special effects, bubbles, surprises and lots of family-friendly, interactive fun.
Additional Halloween Activities
Redwood Creek Challenge Trail Transformed
Hauntingly Boo-tiful
Explore Redwood Creek Challenge Trail as some of your favorite Disney villains transform the forest into an enchanted grove of mystical lights, sights and sounds! Meander through scenes that reveal the bewitching worlds of popular Disney villains—including Dr. Facilier, Frollo, Scar, the Wicked Queen and others. Make your way through the woods' misty twists, turns and curves to see what moonlit magic awaits for adventurers of all ages! Here's a sneak peek of what you'll find:
Frollo's Sanctuary – Head into an otherworldly cathedral of trees infused with incense smells and chanting voices.
Maleficent's Will – Roam through a region replete with eerie ravens, thorn-spiked vines and a seemingly spellbound waterfall of cascading color!
Queen of Hearts Garden – Wander 'round a charming garden of roses that paint themselves red right before your eyes!
Scar's Elephant Graveyard – Descend into a vast expanse that echoes with hyena laughter!
Dr. Facilier's Friends on the Other Side – Summoned by the great beyond, shadowy hands and colorful spells lure Guests deeper into the grove's darkest corners.
The Wicked Queen's Lightning Forest – See the forest come alive as an electrifying storm flashes from branch to branch.
Home of the Wisps – Watch these winged caretakers guide Guests to safety amid a magical bastion of endless light.
Dawn – Escape in the nick of time as flickering lanterns lead the way toward a brilliant sunrise and the conclusion of this mythical trip!
Attractions
Guests have unlimited use of popular attractions, including all the Disney California Adventure Halloween-themed attractions such as Guardians of the Galaxy – Monsters After Dark, Mater's Junkyard JamBOOree, and Luigi's Honkin' Haul-O-Ween during Halloween Time at Disneyland Resort. Most attractions will operate during the party and lines will be shorter than on regular park days.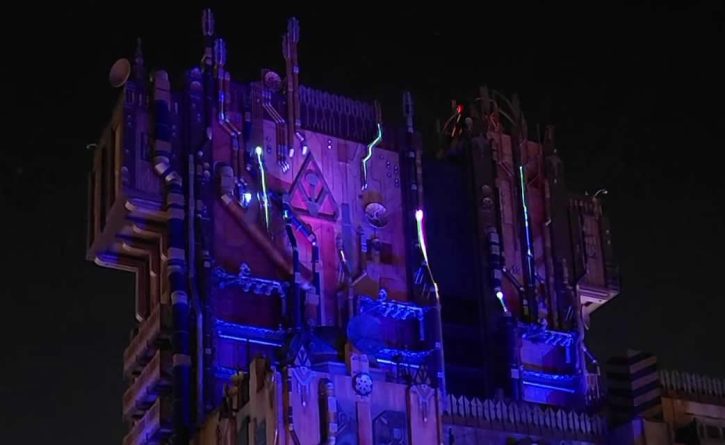 Dining
Dining is also available at select counter service locations, however, most table service restaurants stop seating guests once the Party begins.
Oogie Boogie Bash Dining Parade Package
Enjoy a special 3-course meal before the event, plus take in the magical mayhem of the Frightfully Fun Parade from a reserved viewing area.
Package Details
A 3-course, prix-fixe meal (starter, entrée and dessert) at Wine Country Trattoria prior to the parade
Access to a reserved viewing area separate from the dining location for the Frightfully Fun Parade
Package Available: 12:30 PM to 6:00 PM on Oogie Boogie Bash dates
Package Pricing
Lunch: $59 for Guests, age 10+; $35 for Guests, age 3 to 9 ($10 upcharge for those ordering the rib-eye steak)
Dinner: $59 for Guests, age 10+; $35 for Guests, age 3 to 9 ($10 upcharge for those ordering the rib-eye steak)
How to Book
You can make a dining reservation for your party at Wine Country Trattoria, subject to availability, on any night of the Oogie Boogie Bash. When you arrive for your reservation, you can upgrade to the Oogie Boogie Bash Dining Parade Package, subject to availability, by alerting the host or server. Advance reservations are not available for the dining package itself. Walk-ins may be accommodated until 6:00 PM, subject to availability. Dining packages are available on a first-come, first-served basis and are subject to availability.
Oogie Boogie Bash Dessert Party at Sonoma Terrace
Dig into some deviously delectable Halloween-themed desserts and beverages, then enjoy preferred seating to the Frightfully Fun Parade when you add this package to your Oogie Boogie Bash ticket.
Each person in your party must purchase a package in order to enter the preferred seating area.
The package includes:
A special selection of haunting Halloween-themed desserts
Beverages
Reserved seating in front of Sonoma Terrace for Frightfully Fun Parade on Oogie Boogie Bash party nights
Pricing
$89 per Guest (Full pre-paid price is due upon booking) Price includes tax and gratuity.
Merchandise
Special Halloween and/or Party exclusive merchandise will be available for purchase.
Oogie Boogie Bash – Trick-or-Treating
Trick-or-treat bags are provided at the gate as you enter the party or at any of the candy stations; guests may also bring their own. Trick-or-treating locations are marked on the party guide maps. Previously there were 10 trick-or-treat locations to explore. Both children and adults are welcome to participate. Disney gives out a pretty nice selection of candy at the party and there is no shortage – collect as much as you want! If sugary candy is not your thing, there are healthy options available, too, such as gluten- and sugar-free treats. Those with dietary restrictions should ask a cast member what healthy treats are available at each treat station or at the first stop along treat trails.
Also, at the Oogie Boogie Bash, with the immersive treat trails, collect goodies along trails featuring eerie music, themed décor and the Villains themselves—including Oogie Boogie and the Mad Hatter.
Oogie Boogie Bash – Costumes
Guests are welcome to wear costumes but they must not obstruct vision or drag on the ground. Costumes with sharp or pointed objects are also prohibited. Costumes should not contain any weapons which resemble or could easily be mistaken for an actual weapon. Those dressed in Disney costumes may not pose for photos or sign character autographs. Lastly, use good judgment when selecting costumes. Disney may ask those with costumes deemed offensive to remove it or exit the park. Guests may only wear costumes to the Disneyland Resort Halloween event to which they have valid tickets. Before deciding on your costume, make sure you check the official Disney costume guidelines.
TheMouseForLess Tips:

Make sure to enter Disney California Adventure early for the pre-party mix-in for the Oogie Boogie Bash. This option is included with your ticket to the event and is available beginning at 3:00 p.m.

Capturing memories during the party will be easier than ever as guests who have admission to the Oogie Boogie Bash will enjoy the added bonus of unlimited Disney PhotoPass downloads during the party, for up to 45 days after the date of capture.

Be sure to grab a party map when you enter Disney California Adventure. You can use the map to locate Trick or Treat stops, dining options, dance parties, and even shops that offer Halloween-themed merchandise and goodies.

Beware of purchasing Oogie Boogie Bash tickets from anywhere but through Disney. The Orange County Register reported once that some "online ticket brokers were attempting to resell party tickets like these at up to three times face value."

Those with party tickets will be given a wristband at the gate, which will be necessary to remain in the park once the party starts. If you've entered the park earlier in the day, you may also pick up your wristband at one of several distribution stations in the park. Ask a cast member about their locations.

 The best way to locate characters is the use the Disneyland app.