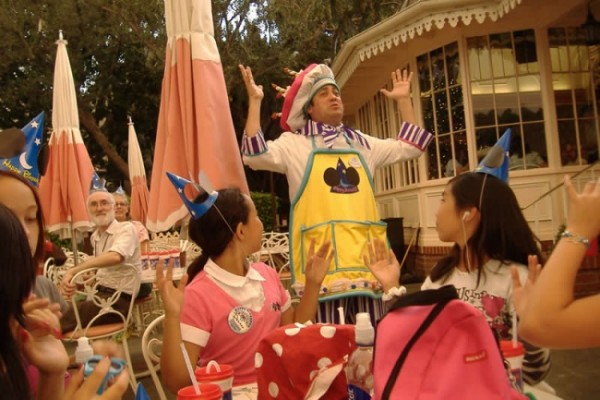 Celebrating in the Parks
Disneyland is the perfect place to celebrate an occasion with all-new entertainment. Guests can focus their celebration on favorite characters, favorite attractions and favorite stories to create a custom celebration in the park. And while you're celebrating, enjoy some of these magical touches.
Complimentary celebration buttons will help Disney cast members and fellow guests recognize you and your celebration. Pick one up at City Hall on Main Street or the Guest Relations Lobby in Disney's California Adventure Park. This alerts all Disney Cast Members that there is a celebration and the guest of honor may receive special attention. Usually, it's a simple greeting like "Happy Anniversary" or "Happy Birthday", but sometimes you'll get more fun such as a free dessert or happy birthday sung to them at an attraction.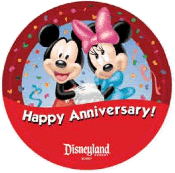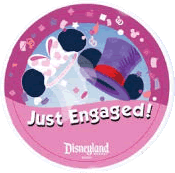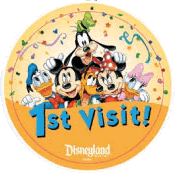 Customizing Your Celebration
In-Room Celebrations
Whether you want to mark a birthday, send special congratulation wishes, or just give your family a magical "vacation welcome", the celebrating can start right in your Disneyland resort room. Let Disney create the perfect setting with surprise presents, magical treats, gift baskets and more. Call Hotel Amenities at (714) 300-7526, Option 2.
Celebration Dining Enhancements
To make advance arrangements for any of the following celebration options call (714) 781-DINE. Booking available 60 days prior.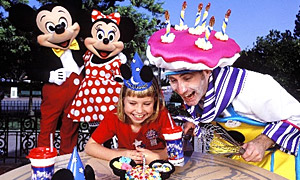 Disney Custom Bakery Cakes: Choose from a regular cake, a Mickey Mouse-shaped cake, or a custom cake with enhanced decoration. Cakes can be ordered with a minimum of 48 hours notice and a maximum of 60 days in advance through Vacation Planning or Disneyland Dining and can be delivered to any full-service restaurant.

Fantasmic Dessert Package: On select dates, you can reserve your front row riverside seats for the show at Disneyland while also enjoying a special dessert. Take in dazzling views of the fireworks, dancing water jets and breathtaking action of Fantasmic! Call 714-781-4400 to reserve in advance.

Goofy's Kitchen: A winningly whimsical buffet awaits—with Chef Goofy and pals dishing up the culinary surprises. At this great place to throw a party, kids can eat Mickey-shaped waffles, peanut butter & jelly, pizza and more Goofy creations!
Magical Experiences

PhotoPass Services: Cast Members are on hand in the Park to snap your photos. Simply get a Disney's PhotoPass Card to magically retrieve your images online and get all your picture-perfect memories on a CD (online registration required).

Mandara Spa at Disney's Grand Californian Hotel & Spa: Let trained professionals help you pamper yourself with luxurious body treatments, therapies and massages developed to rejuvenate, invigorate and nourish. This full-service spa delivers bliss daily! Call (714) 300-7350 in advance to reserve. For a complete list of Spa services available, visit MandaraSpa.com.

Bibbidi Bobbidi Boutique: Girls have the opportunity to be transformed into royal princesses at this glamorous boutique in Disneyland. Let Fairy Godmothers-in-training apply your selections for hairstyle, make-up and a flowing princess gown.  Also available is a magical experience for boys that transforms them into gallant young knights. Bookings available 60 days prior. Call (714) 781-DINE in advance to reserve.

Pinocchio's Workshop: For an additional fee, guests of Disneyland Resort Hotels can drop their kids (ages 5-12) off at a "toymaker's workshop," where they can snack and tinker happily for hours with treats, crafts and games while their parents enjoy a night out. Guests over 18 may make a reservation by stopping by Guest Services or calling (714) 635-2300. Pinocchio's Workshop is located at Disney's Grand Californian Hotel & Spa.

Jedi Training Academy: Your Jedi training begins! Hone your light saber skills from a Star Wars Jedi Master with other Padawans at Disneyland park. Then, put your training to the ultimate test when you battle the Dark Side. May the Force be with you! located at the Tomorrowland Terrace Stage in Tomorrowland. For times, consult the Entertainment calendar online.

Customized Parties: Available for breakfast, lunch, dinner or a dessert reception—groups of 8 to 25 can celebrate an anniversary, birthday or any special event, customized with different themes, shows, events, and custom decorations and cakes. Call (714) 781-7290 to begin planning!

Welcome to Disneyland Tour: Fascinating information, enchanting stories and handy tips enhance an introductory journey through both Disneyland Park and Disney's California Adventure Park. This tour is intended for first time guests. Includes priority seating at one stage show or parade and two bonus FASTPASS tickets. Approximately 2.5 hours. Deluxe and Premium Annual Passholders receive a 20% discount. Visit our Disneyland Resort Tours and Experiences for prices and more information.  Call (714) 781-4400 to begin planning!

A Walk in Walt's Footsteps Tour: Take a guided tour through Disneyland Park and gain insight into the unique vision, challenges and determination that went into creating everything we associate with the name—and the man—Walt Disney. This tour is not recommended for small children. Includes ride on the Disneyland Railroad, a peek at the Lobby of the exclusive members only Club 33, private lunch on Main Street, and an exclusive, collectible "A Walk in Walt's Footsteps" pin. Approximately 3.5 hours. Deluxe and Premium Annual Passholders receive a 20% discount. Visit our Disneyland Resort Tours and Experiences for prices and more information.  Call (714) 781-4400 to begin planning!

Discover the Magic Tour: Test your sleuthing skills in this interactive scavenger hunt. Save the day from villainous clutches, using Disney trivia to find clues. Kids team up with parents to enjoy this dynamic tour. This tour is recommended for children ages three to nine. Guests under the age of 18 must be accompanied by an adult. Includes six classic Disneyland Park attractions, frozen treat, and an exclusive souvenir collectable pin. Approximately 2.5 hours. Offered on most Fridays, Saturdays and Sundays. Discount tickets available for Deluxe and Premium Annual Passholders, AAA Members or Disney Visa cardholders. Visit our Disneyland Resort Tours and Experiences for prices and more information.  Call (714) 781-4400 to begin planning!
Other Magical Experiences
For even more Disneyland Experiences, visit the following TheMouseForLess Resources.
Visit our Menu Section for information on park dining. And don't miss these Character Meals: