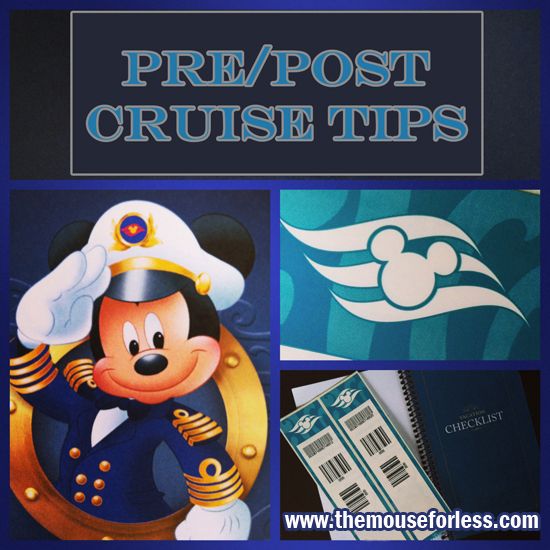 Sailing on Disney Cruise Line is exciting! But there are a few things to think about both pre/post-cruise that will help to make the trip that much more successful. These include when to arrive, should you stay in your port city after your cruise, transportation options, what Embarkation Day is like, and more.
Passport  Online Check-In  Disney Cruise Line App  Pre-Arrival  Transportation  Embarkation Day  Post Cruise

Planning a Disney Cruise Vacation?
For a Free no-obligation quote, contact our sponsor,
The Magic For Less Travel
. Receive the best prices, free concierge travel planning & a shipboard credit of up to 5% of your cruise price when you book any new Disney Cruise Line vacation with The Magic For Less Travel
Consider Getting a Passport
All US and Canadian citizens must travel with a valid passport, or a certified birth certificate (with an official raised seal) and a picture identification, if the cruise is a closed-loop cruise. (Meaning you depart and arrive back in the same port.) If you are traveling to a location that is not closed-loop, where you end up in a different location where you started, you will need a valid passport that does not expire at least six months after your cruise.
All Guests who are not US or Canadian citizens must have valid passports and necessary visas at the time of embarkation. Any Guest traveling without proper documentation will not be allowed to board the vessel and will not be entitled to any refund.
Please remember that this is the minimum requirement. We recommend that all guests have a valid passport (that expires more than 6 months from the conclusion of your trip with you during your cruise. Air travel outside of the US will require a passport. So among the reasons we highly recommend a passport is that should have to cut your cruise short and travel home via air, having a passport will make that much easier. Remember emergencies happen, whether it is something that happens in your travel party or something that happens back at home. It's very beneficial to be prepared.
More information on documentation can be found on our Required Documentation and Customs page.
Online Check-In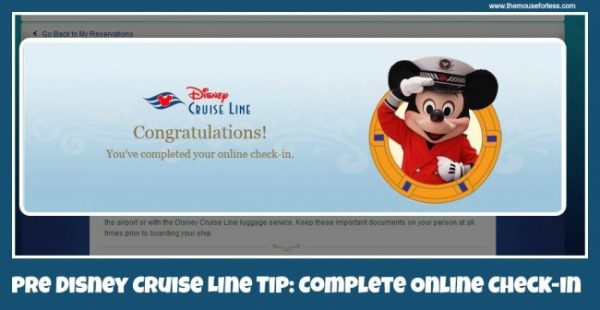 Once your final payment has been made and once your check-in window opens, you can check-in for your cruise online. Completing this process ahead of time makes things go a little more smoothly when arriving at the port. You will need to have an online account on Disney Cruise Line's website in order to complete this.
When you complete the online check-in process, Guests will need to provide for each cruiser the following:
A security photo of you to upload during the process (the photo will need to be shoulders up with a blank background).
A photo of your passport or citizenship documentation to upload during the process
The check-in process will include providing
Guest identification and contact information
Travel arrangements before and following the cruise
A credit card number for expenses onboard
Your estimated port arrival time (you will need to select a port arrival time based on available times)
Review and sign the cruise contract
Youth Activity registration and forms for Traveling with Minors will be completed if this applies to your traveling party.
Once you complete the online check-in, you will have a status of Pending. The documents and information will be manually reviewed. You will receive an email letting you know that your documentation is approved. If there are any questions or any further required documentation, you will also be notified via email.
Once you are approved, your Port Arrival Form that will need to be brought with you when you board the ship along with your citizenship documentation.
Online check-in is available based on you Disney Cruise Line Castaway Club status.
Pearl Castaway Club members and Concierge Staterooms: 40 days prior to sailing
Platinum Castaway Club: 38 days prior to sailing
Gold Castaway Club: 35 days prior to sailing
Silver Castaway Club: 33 days prior to sailing
First Time Cruisers: 30 days prior to sailing
Download the Disney Cruise Line Navigator App
The Disney Cruise Line Navigator app itself is free for iOS and Android, and Guests should download it before getting on the ship.
Once onboard, Guests will need to switch their phones to airplane mode, then turn on WiFi, then connect to DCL-GUEST. You'll also want to make sure to turn on your notifications so you can be kept up to date on when you have messages, as well as when other booked activities are coming up. The good thing to know is that the use of the app is complimentary on the ship; there's no need to purchase an internet package.
While onboard, the app will allow you to stay in touch with your friends and family through the chat feature that can be found on the app. Guests can chat both one on one, as well as in a group experience. (Oh, and yes, there are Disney touches like emoticons!) The app will also let you be aware of what is happening when and where onboard the ship, like daily activities, dining options, entertainment schedules, port info, deck plans, and more.
Arrive the Night Before
If you are taking a flight to your cruise, it is always recommended that you add a pre-cruise stay to your cruise itinerary. There are many reasons for this recommendation:
Possibility of flight delays — With the increase in security measures and the fickle nature of airline travel, flights are often delayed. Add that to the unpredictability of weather, and you'll have a sure recipe for stress. This is especially true for pre-cruise flights. If your flight happens to get delayed and you miss the boat…well, you are up a creek without a paddle.
Possibility of misplaced/missing luggage — If you have the unfortunate bad luck of having your bags delayed, and your flight arrives the same day as your cruise departs. Then, you will have to do without whatever you've packed in that piece of luggage for the duration of your journey.
Start your vacation right — When you arrive the day before your cruise, you have a chance to relax and be ready for your vacation before boarding the ship. You'll be able to arrive at the port refreshed and prepared for the total experience of the cruise.
Know what to pack in your day bag — Arriving the day before gives you a sense of what the weather will be like. You'll be better prepared with your carry-on day bag without having to either carry too much or not enough with you. It's convenient to have some necessities with you while waiting for the rest of your luggage to arrive at your stateroom.  Some of the items to consider are any medication you might need for the following 24 hours, a swimsuit, a possible change of clothes (especially if you have early dining), phone/camera chargers, and anything else you could need if there is a delay getting your bags up to your stateroom.  If you are bringing any type of beverages on the Disney Cruise Line, those will have to be hand-carried with you as well.
Are you not flying? You should still consider arriving the day prior. You never know if on the way you'll get a flat tire if there will be a problem with the train, or something else. Arriving just one day early can help to make things run so much smoother on the day your cruise sets sail.
Transportation
Car Rentals
Car rentals are something you can consider both pre or post-cruise.   If you are planning on staying at a hotel not offering transportation options, consider renting a car, depending on the port, returning it on cruise day can be very easy (or in some cases not so easy, it depends on the port).   Port Canaveral is very easy to return or pick up a car, Miami is more difficult due to the location of the car rental agencies.
Additional Transportation
Not wanting to rent a car? Many other options range from rideshare services, town cars, shuttles, public transportation, and more. Take a look at the various transportation options to consider.
Embarkation Day
It's the best day of the cruise! Why? Because it's the day when all the excitement is ahead of you! Embarkation Day on Disney Cruise Line is a magical day.
Luggage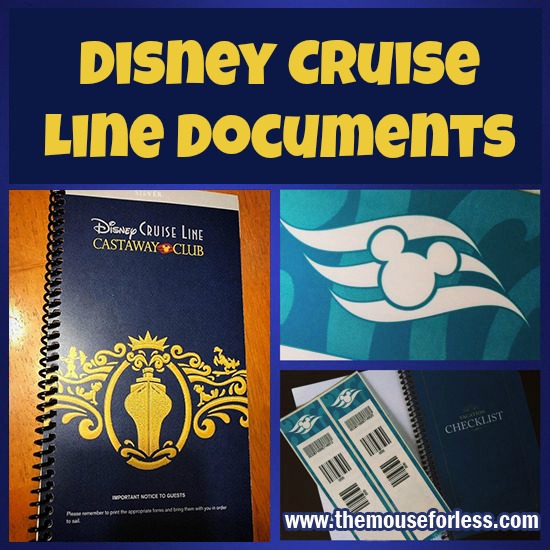 Before your trip, you will receive a Guest travel booklet from Disney Cruise Line; this will hold two luggage tags per person. Luggage tags come with your name, ship name, stateroom number, sail date, and reservation number on them, so all you have to do is attach them to your bags. Once you board, your luggage will show up in your stateroom. However, staterooms are usually not ready until about 1:30 p.m., so be sure to put necessities in your carry on.
If you are flying to get to your port, be sure to obtain your luggage from the airport before leaving. The Orlando International Airport is the only airport that will deliver your luggage directly to the ship.
Carry-On Luggage
Each guest is allowed 1 carry-on bag plus 1 personal bag ( such as a purse or backpack). You will want to be sure all of your travel documentation is easily accessible in one of your carry on items, so you don't lose them in your checked luggage. Because the staterooms are not ready until 1:30 p.m., you will also want to put things like bathing suits, sunscreen, cell phone chargers, etc. into your carry on bags.
Post Cruise Stays
A post-cruise stay is not as essential but would be a great way to explore the area before departing for home. What better way to complete your trip than to take the day (or two) exploring attractions close to the port to end your vacation?  Many of the destinations Disney cruises sail from are vacation areas in their own right.
 Port Canaveral includes Cocoa Beach, Kennedy Space Center and Merritt Island National Wildlife Refuge, as well as a short distance to Walt Disney World, Universal Studios and Sea World.
Miami offers beaches and all the culture Miami has available, as well as a short distance to the Everglades and the Keys.
Galveston is a great seaside escape.
Vancouver has more things to see than you could do in a week.
Any of the European ports almost scream for an extension to your cruise. Luckily, some opportunities are available through Adventures By Disney to coincide with your journey.
The two common areas for pre/post-cruise stays are either near the airport or near the cruise port, although anywhere in between would be good possibly as well. However, keep in mind transportation availability. (A good idea would be to make your vacation a land/sea vacation and visit Walt Disney World before cruising if you are sailing from Port Canaveral.)
Airport area hotels generally have complimentary shuttle service to/from the airport, so that you will not have to pay for one extra leg of travel if you are not renting a car. Cruise port area hotels give the added excitement of being near the port, and some have special pre/post cruise deals as well. Many hotels close to the cruise port will offer some sort of transportation to the ships at a nominal fee. Be sure to check with the hotel before making a reservation to see what your transportation options are pre/post-cruise.