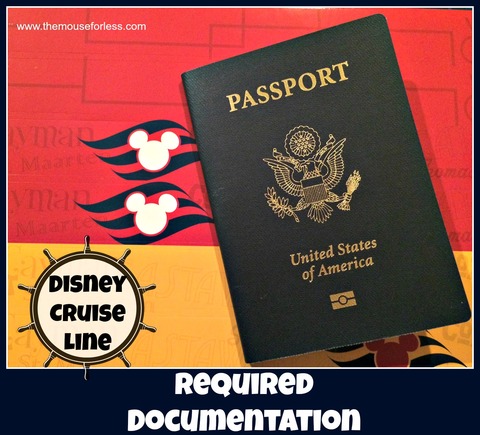 Planning a Disney Cruise Vacation?
For a Free no-obligation quote, contact our sponsor
The Magic For Less Travel
. Receive the best prices, free concierge travel planning & a shipboard credit of up to 5% of your cruise price when you book any new Disney Cruise Line vacation with The Magic For Less Travel
Documentation
All U.S. citizens must travel with proof of citizenship, which is a valid passport, or certified birth certificate (with official raised seal) and picture identification, or a certified naturalization certificate with a picture identification. Acceptable forms of picture identification are state driver's license, or federal, state, or local government photo I.D. card. Guests age 17 and under who are U.S. citizens are only required to have proof of citizenship, excluding picture identification. These guidelines are based on U.S. government regulations which are subject to change at any time.
While a passport is not always required for a cruise, it is highly recommended. If an unexpected emergency arose requiring a guest to fly home from a port, the guest with a passport already has the proper documentation. The guest without proper documentation, is not going to be able to fly home.  Please be sure to check with the U.S. Department of State for current regulations. It is the guest's responsibility to check with government agencies, embassies or consulates prior to their vacation to ensure that they have proper documentation.
Please ensure that you have the proper identification and required documentation when planning your cruise. Without proper proof you will be denied boarding, and will not be entitled to a refund. We suggest that all U.S. and Canadian Citizens travel with a valid passport as their documentation.
Security guidelines require all adult guests to show a picture I.D. to embark and disembark the ship in all ports, excluding Castaway Cay. Please be advised that anyone under the age of 18 wishing to go ashore unaccompanied will be required to have a consenting parent, guardian or other responsible adult with them at the gangway, to provide their signature as authorization. Announcements about required documentation, etc. will be made onboard the ship before guests arrive in port. See Guest Services with any questions.
If you are flying, there are different requirements for documentation in place regarding identification.   Please check https://www.tsa.gov/ for all the latest information.
Customs Regulations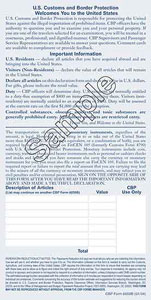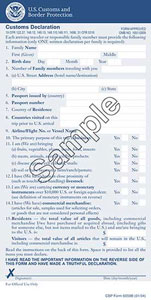 U.S. customs regulations are often confusing. As a rule of thumb, if your travel as taken you out of the United States, you must declare all articles acquired during your trip and in your possession at the time of your return. This includes:
Items that you purchased.
Items purchased in duty-free shops or on board the ship.
Items you have been requested to bring home for another person.
Repairs or alterations made to any articles taken abroad and returned, whether or not repairs or alterations were free of charge.
All items you intend to sell or use in your business. Promotional items and samples for Customs purposes are only those items that are valued at $1 or less.
If you are celebrating any occasion on your cruise and have gifts presented to you while abroad. These would be items such as wedding and birthday presents or inherited items.
The limits to the amount of duty-free merchandise differs depending on the cruise itinerary.
At the conclusion of your Disney Cruise, on guest per family must complete one U.S. Customs Declaration Form per family to submit to U.S. Customs upon return to U.S. soil. Forms will be placed in each stateroom prior to the conclusion of the cruise. Additional forms and forms in languages other than English are available form Guest Services onboard the ship.
For more information on Customs and regulations visit U.S. Customs. Instructions on how to fill out the form visit can be found here.
Below is a sample of what is allowed by Customs and Boarder Patrol. For a great resource and current information about other destinations, visit the Customs and Boarder Patrol website.
All Bahamian/Caribbean Itineraries not including USVI
There are lots of exciting duty-free shopping right on board in the shops on Disney the Disney Wonder, Disney Magic and Disney Dream as well as on shore in the ports! Each Guest returning from a country outside of the United States including the Bahamas, Caribbean, Mexico and European Countries to the U.S. can bring back up to a total of U.S. $800 worth of duty-free merchandise (retail price). Each Guest 21 and older is limited to 2 liters of alcohol, of which 1 liter must be produced in the Bahamas and Guests 18 and older are limited to 200 cigarettes and 100 cigars (excluding Cuban cigars). These limits are mandated by U.S. law and are subject to change.
7 Night Eastern Caribbean Itinerary
Each Guest returning from the Eastern Caribbean to the U.S. can bring back up to a total of U.S. $1,200 worth of duty-free merchandise (retail price). However, no more than $800 in combined purchases can be made on board the ship, St. Maarten and Castaway Cay. Or, the entire U.S. $1,200 exemption may be used on purchases from St. Thomas alone. Each Guest 21 and older is limited to 5 liters of alcohol (only 1 liter can be acquired in St. Maarten or on the ship, with an additional 4 liters being exempt if purchased on St. Thomas, provided at least 1 liter is produced in the U.S. Virgin Islands). Each Guest 18 and older is limited to 5 cartons of cigarettes (only 1 carton can be acquired in St. Maarten or on the ship, with an additional 4 cartons being exempted if purchased on St. Thomas) and 100 cigars (excluding Cuban cigars). These limits are mandated by U.S. law and are subject to change.